I can honestly say that I did a little bit of crafting this past weekend! I attended my Singer Confidence Sewing Machine intro class. I am hosting a House Party this weekend — a sewing House Party. The class I attended last weekend to get familiarized with the machine was only suppose to be an hour long and it ended up being 3 hours long! I learned "sew" much in those 3 hours. It was like sewing 201! I learned how to sew a button hole and a button… on the machine! I also learned about the various foots and learned how to do a french hem! Last night, I made mother's day cards and a few birthday cards. I also got to work on a secretive mother's day project for my mama! I'm attempting to take full advantage of having this amazing machine in my home for the next two weeks!
Remember, if you aren't doing so already and would like to get our blog post delivered to your e-mail inbox, please subscribe via email!
Here are a few of my favorite projects linked up from last week!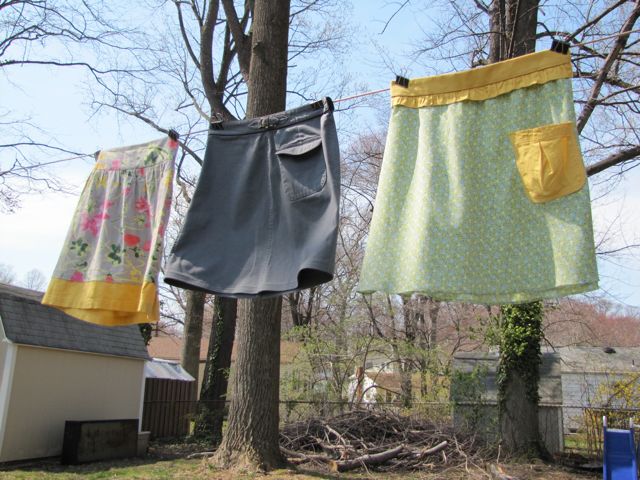 I absolutely love all three skirts. Especially the green and yellow! I once
turned a dress
that I loved that no longer fit on top into an awesome everyday elastic wasteband skirt. I still wear it to work to this day and everyone thinks I bought it!
If I was a little girl I would fall in love with these times 10!!! They are so cute!
Super cute art themed birthday party! I want one of these parties for me! 🙂
oh my… you have my wheels turning! I'm ready to go make one now! Love this grown-up version!
I am not an Angry Birds addict, but Mr. Woodsy (secretly) is! This is too darn cute.


Rules for the link party:
-Please make sure you're following us (we'll follow you back as long as you leave us a 
comment telling us that you're a new follower)!
-PLEASE display our party button either on your home page or on your post. 
–
Make sure your link is to your specific post and not your main URL & add a short description.
-Please try to view and/or follow at least two other participants. 
-You can enter as many 
craft
 projects as you'd like. (No recipes!)
-No advertising please (that means etsy). 
-Entering into this party gives us the rights to blog about and feature your blog post.