Last Wednesday of the month. Pretty crazy if you ask me–even crazier that I've done very little to get ready for Halloween and our party is quickly approaching!
I had some challenges last week with the party. The script was not working. Please bare with me if the party gets off to a late start (and if not–then disregard this message)! It's part of the whole learning curve being on WordPress!
I've also had challenges in the past week with our buttons. Our basic standard button is working. I've tested the code. It should be all set for this week; however, the featured and reader's choice are still acting up. Once again, bare with me while I get acclimated on this new platform!
Just a reminder we are giving away 100 postcards this week! Make sure you go enter!!! (Giveaway ends Friday)
Ok, now let's start this party. I'm excited to see what everyone has been creating!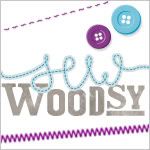 Rules for link party:
1. Be a follower of Sew Woodsy (GFC, RSS, Email)
2. Display our button somewhere on your blog.
3. Make sure our link is to your specific post not your mail URL.
4. Craft projects only (NO recipes please).
5. Get social and visit a few projects!
Disclaimer: Entering into this link party gives Sew Woodsy the rights to blog/Facebook/Tweet about and feature your blog post linked to the party.
Powered by Linky Tools
Click here to enter your link and view this Linky Tools list…