Thank you to everyone who participated last week. We had some great projects linked up which always makes it difficult for me to pick a few projects to feature.
I'm still having button issues… if anyone wants to give a fellow blogger a hand and figure out why my HTML isn't working–I'd greatly appreciate the help. I've also recently learned that my feed-burner feed has changed… so for those of you who haven't seen a post of mine come up in your feed over the past 3 weeks… that's why. It's time to update your feed with my new link!
On a Halloween note… our home is about 90% finished being decorated. Thanks to a crazy weekend rain storm we had this weekend we had nothing better to do than to start and finish decorating. We also started on a project and recorded a video. Now that the weather is looking better I think we can finish our project (it requires a good amount of spray paint), and finish our video so we can begin editing and blog about it! We still have about 85% to go on our front yard… hopefully by tomorrow we can really get a good start on the yard (weather permitting). I'm trying not to freak out that there is only 20 days until Halloween!
Giveaway Alert–Have you entered our Spray Blood giveaway yet? One lucky reader will received 2 cans of this gory fake blood in a can! *Low entries so far, so your chances of winning are good!
Here are a few of my favorites from last week…
Living Room Pallet Frame from PB&J Stories
I absolutely love this pallet frame!!! I'm digging the way it was "distressed". Wish I had extra wall space to do something cool like this for my home.
Snow White Spell Book from Polish The Stars
Last year I featured a spell book from Through My Looking Glass similar to this one. Spell books are dear to my heart, yet I still haven't made one, and since our theme this year is Mad Scientist I won't be making a spell book this year… I love how this book turned out!
Dresser Turned Media Center from a wee Meenit
Loving the way this dresser/media stand was revamped. Once again… exactly what I want to do in our bedroom. Still haven't found a dresser… this one is perfect!!!
Marilyn Monroe Retro Pillow from Happy Hour Projects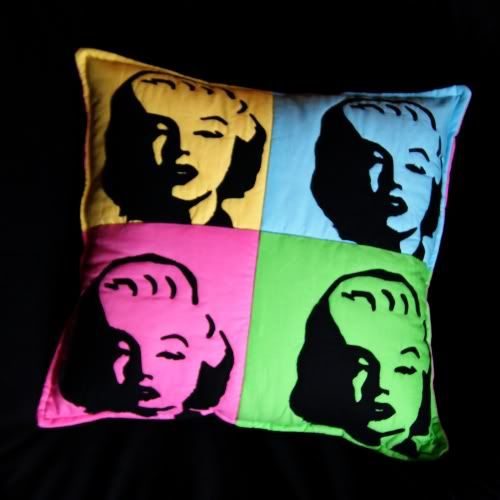 This pillow is awesome and the fact that this was hand cut and hand sewn on… is amazing!
Black Lace Candles from La Petite Vie
I'm loving these candles. I love the fact that they could work year round. Not just for Halloween!
Reader's Choice:
Halloween Printable from The Creative Paige
If you haven't done so already… go get this free printable!
How awesome is it?