Happy Wednesday! Although we are in the heart of the 12 Days of Handmade Ornaments I still wanted to have a link party this week! I look forward to seeing everyone's amazing projects! Which ever holiday you chose to celebrate I hope you've finished up your decorating so you can simply enjoy your decorations, family, and friends.  We are about to start (some more) major home decorating/revamp projects in the coming weeks. Plus I hope to make a few more Christmas decorations for our home this weekend!
Here are just a few of my favorites from last week!
I love this skirt and the bow adds such beautiful detail to it! I want to make some more skirts for myself next year!
I love this idea of turning your fall pumpkin into a holiday decoration! For once our pumpkins lasted to Thanksgiving and could have lasted longer, but Mr. Woodsy threw them away! I wish I would have seen this a few weeks sooner!
I love this easy to make headboard!!!
Paper Ornament from A Pumpkin And A Princess
I love this paper ornament and the other ones that Crystal created! Super easy and best of all inexpensive since you can use existing materials you already own!
Wall Art Sign from Creatively Living Outside the Box
I'm loving this sign and the fact that they used all materials they already owned!
Reader's Choice:
Glitter Balls from Easy Peasy Grandma
I love how simple these are to make! I can't wait to make some this weekend for my tree!
Have you signed up for Social Spark yet? If not… What are you waiting for? Sign up today and start getting offers that will pay you about brands and products you love!
Ok… let's party!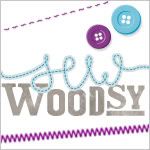 Rules for link party:
1. Be a follower of Sew Woodsy (GFC, RSS, Email)
2. Display our button somewhere on your blog.
3. Make sure our link is to your specific post not your mail URL.
4. Craft projects only (NO recipes please).
5. Get social and visit a few projects!
Disclaimer: Entering into this link party gives Sew Woodsy the rights to blog/Facebook/Tweet about and feature your blog post linked to the party.