Happy Wednesday & Leap day at that! This makes for a very unique link party since it's leap day and a Wednesday! Who knows when both of these occurrences will happen again?
If you read our blog post on Friday about Multiple Ways to Follow a Blog then you know that we are now going to offer a monthly newsletter. We hope you'll sign up to receive our first ever monthly news letter (next month)!
This week's link party is sponsored by Pick Your Plum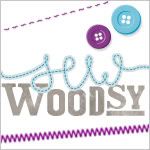 Rules for link party:
1. Be a follower of Sew Woodsy (GFC, RSS, Email)
2. Display our button somewhere on your blog.
3. Make sure our link is to your specific post not your mail URL.
4. Get social and visit a few projects!
Disclaimer: Entering into this link party gives Sew Woodsy the rights to blog/Facebook/Tweet about and feature your blog post linked to the party.