I'm often asked how I manage so many extracurricular activities outside of my day job and my home life. For the most part I'm very organized. Being organized does not have to be a daunting task. Maybe I was just born with the skill. Lately, I've become a bit over whelmed with life in general. With work life, home life, and blog life. It's a lot of life for one person to handle, but I do it with a smile on my face daily!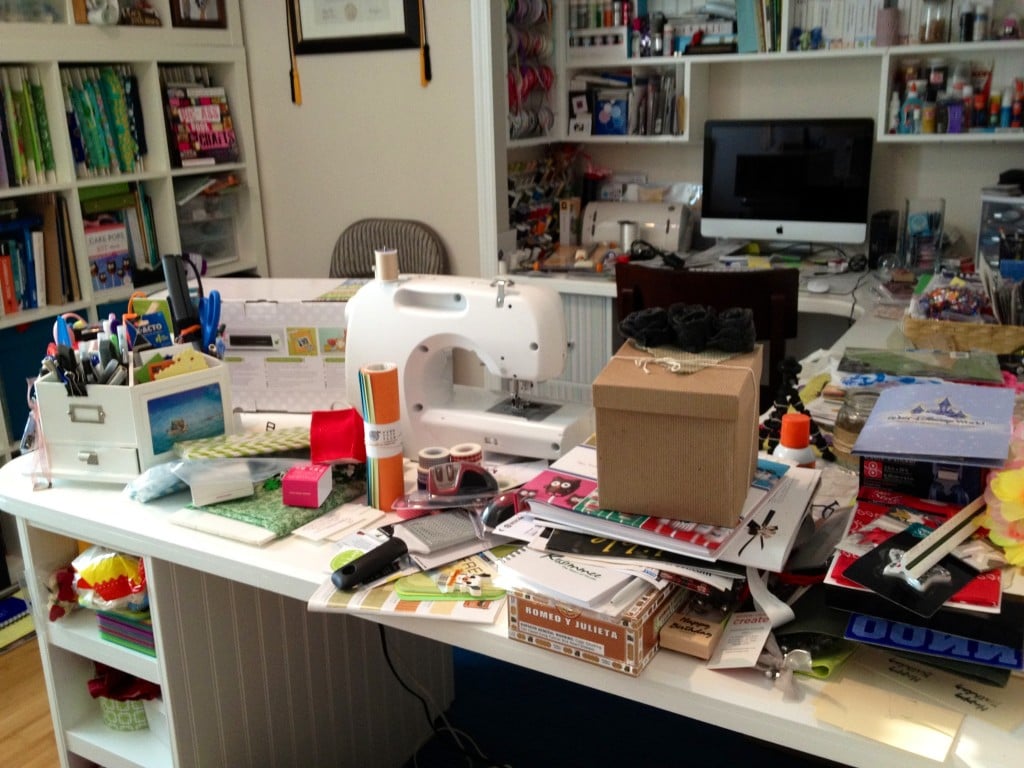 Today I want to talk about staying organized in the office whether this is a craft room or a business. First impressions are everything and let's face it your desk and office area reflects you. This would probably account for why I feel like my life is spinning out of control. My craft room looks like a bomb went off in it. It is no longer manageable. I'm sure when Mr. Woodsy sees this post he is going to have a heart attack just knowing I've exposed my messy messy craft room to the world. Let's face it–we are human.
Make a clean sweep of your office for all the papers. Place all your papers in one pile and get organizing! I typically like to make two key piles:
1. Trash
2. File
Invest in a home filing cabinet and folders. We found the pictured file cabinet above for free. We weren't crazy about the color so we spray painted it and then I mod podged scrapbook paper on it to give it more personality! We have a folder for just about everything and take time once a month to file papers that we have received in the past month. Whether its paper bills that came in the mail like our mortgage or water bill or doctors visit receipts. Typically my craft room gets a good cleaned once a month and/or if we have special guest coming over then I clean it up then.
Being organized and filing papers doesn't stop in the paper form–let's talk about the digital form. 
If your anything like me you have multiple email accounts. Each email account has a purpose. I have 6 active email accounts (not including the still active wedding plan email address that I used while planning our wedding a mere 5 years ago). Staying digitally organized can get way out of control way too quick!
I'm all about making folders, reading an email and then filing it or deleting it.
Let's take a look at my three main email accounts (not including my day job email).
By far my personal email has the most folders at of all 6 of my email accounts! I have a folder for just about everything. I have a blog folder in my personal email since I handle some commitments and billing through my personal email address.  I counted and am proud to report I have 53 folders! My advice if you have this many folders–know where you put stuff. Anything vacation related that you want to save should go in a "travel" folder. ALL coupons that come in that you might use should go in a coupon folder, etc.
For my blog email accounts I've found that I have similar folders for both craft & cooking blogs.
-Charity Work
-Conferences
-Features
-Giveaways
-Guest Blog
-Opportunities
-Personal (this is the folder that I put anything I want to save but not sure if I'll ever need it again)
Make sure you visit BlogHer.com to read about the Ten Ways to Organize Your Papers – Online and Offline, and don't forget to enter the current Life Well Lived Sweepstakes! You could win an iPod Touch and a $50 iTunes gift certificate to go with it!
I'd love to read about how you manage paper clutter whether its in the physical or digital form. Any additional tips you'd like to give?