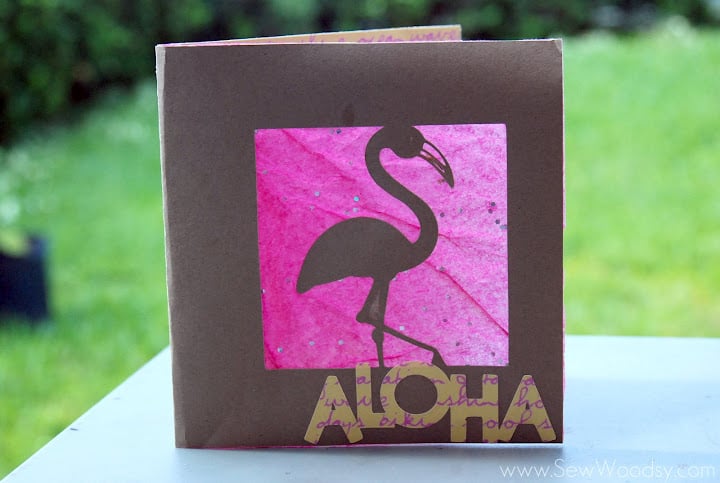 I like to make cards for all occasions, but every now and then I just want to make a card to say hello to someone. Especially my great aunt Millie: she is 89 and lives in an assisted living facility. She enjoys getting the mail and of course receiving homemade cards for her darling niece (whom she also dubs her grand daughter). I know she will love this card since it's fun and hip just like she is. My Aunt Millie still drives (which is a bit scary), still gets her hair and nails done weekly, plays cards with her girlfriends, and even frequents the eliptical. The women has got it going on for being 89!
So let's get started on this super easy card!
Gather all of your supplies:
(1) 6 x 12 piece of recycled card stock
(1) Me & My Big Ideas Destination Paradise Paper Pack
Life is a Beach Cricut Cartridge
EK Success Zig Carded Jumbo Tip 2-Way Glue
Pink Glitter Tissue Paper
Place your reclyced card stock on your cricut mat. Cut out the square flamingo shaped card.
This is what it will look like once its cut out.
Next, get out your piece of pink sparkly tissue paper.
Cut your piece of tissue paper into a square so that it will cover the entire back of the flamingo cut out.
Next, using your EK Success Zig Carded Jumbo Tip 2-Way Glue apply glue to the back side of the flamingo as pictured above.
Then apply the square piece of pink sparkly tissue paper to the back of the glue. Press down so that the tissue paper adheres to the glue.
 Using your scissors cut the excess tissue paper off the card.
Next, you will want to trim a piece of paper to fit the inside of the card.
Then using your Purple Cows 9 Blade Trim It cut a piece of paper using a sqwingly cut to place on top of the printed paper.
Next up, cut out the "Aloha" phrase using your Cricut Machine. Using your scissors cut the hibiscus flower off the word. Adhere the word on to the front of the card.
Your card is finished and ready to be given to someone you just want to say hello too!
Who would you make this "aloha" card for if you were to make one? I'd love to read!
Disclaimer: This post includes affiliate links which means if you buy something that I recommend I'll make a few pennies off your sale!