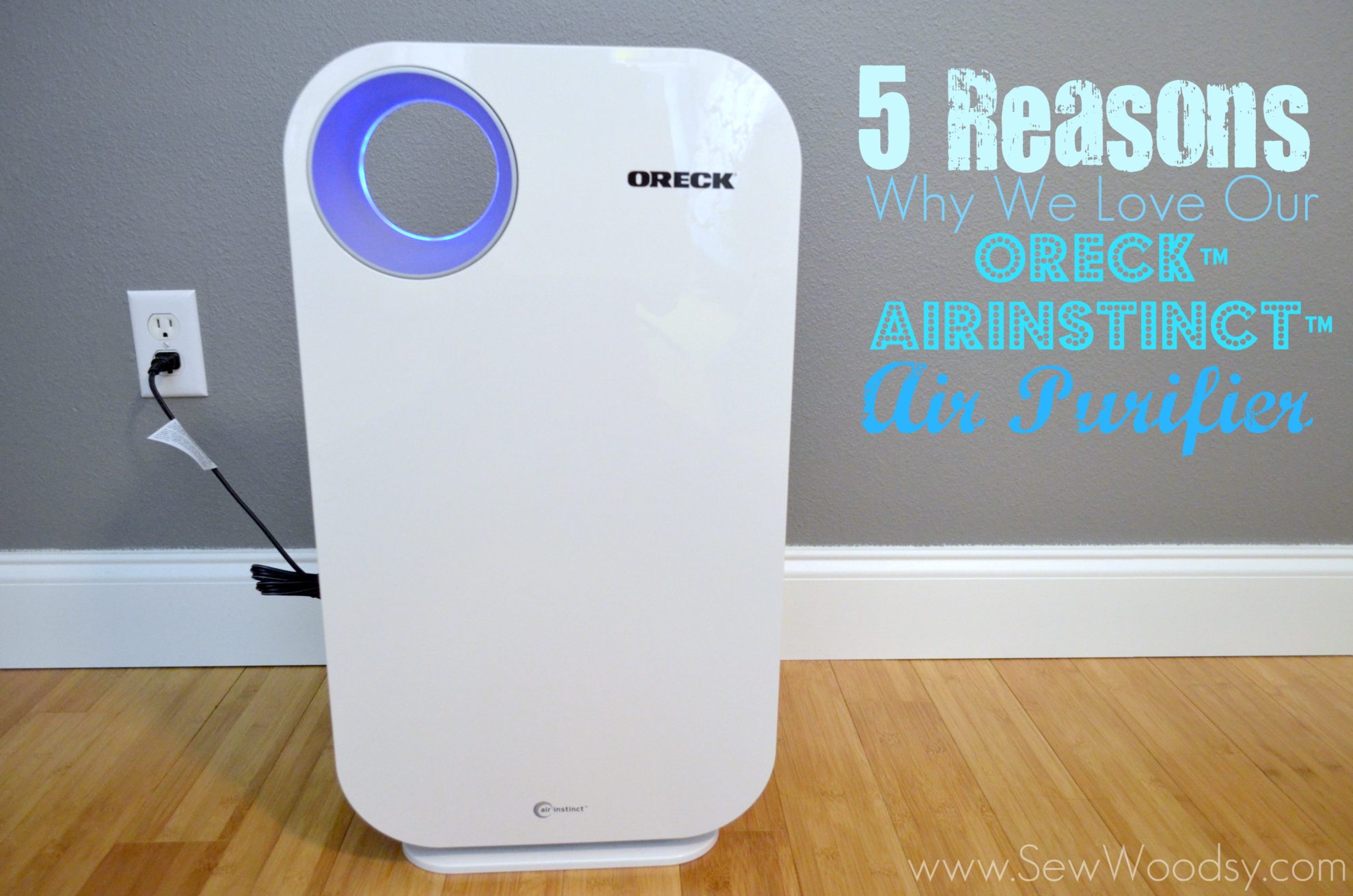 We met a few team members from Oreck two months ago while attending Haven. The first thing I saw was a variety of air purifiers at their booth! I instantly told the man (who I had not yet introduced myself too) that I could be their spokesperson (I'm not a spokesperson for them–don't worry)! We have been in the market for an air purifier for a while now. In hopes to improve my daily quality of life (and lessen on our tissue bill). If you've ever met me in person you would know that I have some pretty extreme allergies that I suffer with on a daily basis (year round). The only thing to cure them is allergy shots and well… I'm deathly terrified of needles of all kind. My mom use to joke with me as a teen telling me that she knew I would never do any drugs that involved needles nor would I ever get a tattoo because of my phobia… both are true to this day! lol.
Ok, I digress… back to this fabulous air purifier.  We owned an old-school 90's style air purifier a few years back. Let me tell you–this is night and day and to be honest the two can't even be compared in the same group. Technology has grown leaps and bounds throughout the past few years. In my opinion, this system is revolutionary. Watch the quick video we put together to see what we are talking about.
And if your still not convinced… let me tell you the 5 reasons why we love our new Oreck AirInstinct™ 200!
1. It's powerful and efficient.
With three speeds and an automatic feature this baby is efficient. I love how each speed changes to a different shade of blue going all the way to purple! At night you can turn the light off so you can sleep at ease! Then add the ENERGY STAR® qualified rating and we have a match made in heaven! I love knowing that our air purifier can run 24 hours a day and not rack up our electric bill!
2. It's a smarty pants!
We set our air purifier to "automode" and that was all that was needed! The machine has been thinking for US! Changing its speed when it feels it is necessary. You see that fancy circle on the AirInstinct? That is where it monitors when pollen or dust passes through. Based on what it detects it will kick on to low, medium, or high. We owned an air purifier years ago and never knew what speed to put it on–this is perfect we never have to guess again!
3. It cleans
The AirInstinct that captures 99.97% of pet dander, allergens, dust, and smoke from the air! Since we never have to worry about changing settings the air purifier will kick into high gear once it senses the air is dirty! The picture above is what our first filter looked like after just 1 month of being on in our bedroom! It also circulates the air ever 13 minutes in our room–talk about efficient.
4. It's quiet
A good 75% of the time when our air purifier is on low we have no idea it is even on. I can say the same for medium; however, it always seems it either goes from low to high–never medium in our home! But I could be wrong. I don't sit around and watch it all day. Even when it is on high it is still extremely quiet. Mr. Woodsy & I have both mistaken the air purifier for a light rain shower outside. It is hard for us to determine if it is outside or in!
5. This baby is built to last
Not only does the Oreck AirInstinct™ 200 come with a 5-year limited warranty it also contains two filters that only have to be replaced every 3 years! The 3-year odor filter and the 3-year HEPA filter. Oh, and it is slim! Take a look at the picture above the AirInstinct is only 7-1/2 inches thick.
In honor of our 2nd Bloggiversary (yes, it was earlier this month) we have teamd up with Oreck to give one reader an Oreck AirInstinct™ 200 Air Purifier! Oreck Corporation provided the prize for the sweepstakes but is not the sponsor of the sweepstakes. The giveaway winner must be a resident of the U.S. 48 contiguous states. Please allow for rafflecopter to load. If you don't see your comment immediately it is because we need to approve the comment! Contest closes at 12:01 am September 14th, 2012. One winner will be chosen at random using Rafflecopter via Random.org. The winner will be emailed and have 5 days to respond. If the winner does not respond another winner will be chosen at random.
If you don't win–don't worry. Right now until 10/1/2012 you can save an additional 10%off already reduced Oreck Air Purifiers! 
Disclosure: I received the Oreck AirInstinct™ 200 to review for free, and one lucky reader will win one Oreck AirInstinct™ 200 for free! As always all opinions are always my own (that's how we keep it real here)! There are affiliate links in this post.