You may not realize it but there are so many common DIY tools that require proper hearing protection! We didn't realize it until we met the fine people at 3M TEKK Protection a few months ago at Haven. Protecting your hearing is so important! According to 3M TEKK Protection did you know that 72% of DIYers are concerned about injuring their eyes, while only about 25% are concerned about their ears?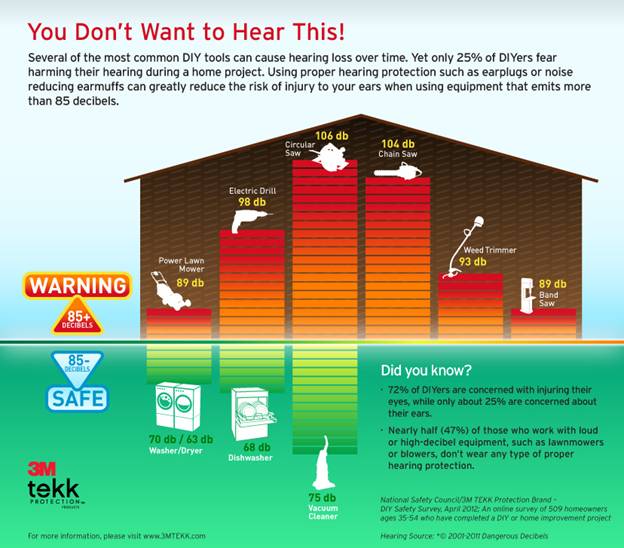 Before Mr. Woodsy received the Digital WorkTunesTM Hearing Protector & AM/FM Stereo Radio he never wore hearing protection to mow the lawn. His form of  mowing the lawn was blaring music through his earbuds (a double no in any safety conscious persons book)!
Now, as he cuts our lawn weekly, he is rocking out and rocking out safely! Whether it's the lawn mower or the hedge trimmer (as pictured above) I don't have to worry about him damaging his hearing!
He even uses them when he isn't using something motorized like the pull saw to cut the palm frawn downs off our palm tree. Most of the time it is because he forgot he even had them on! They are lightweight for having so much technology packed inside of them! Plus, they are comfortable with soft foam ear cushions. 
 This man loves his WorkTunes Hearing protection because they are easy to use! The LCD display makes it easy to see what station you are turning too. Put the hearing protection on, turn on the radio, and get to work! That easy!
And of course Mr. Woodsy wears them non stop when he is cutting anything in the garage. I no longer have to nag and ask him to put on protection. He enjoys wearing them. He even wears them when he cleans around the house (like vacuuming). Yes, Mr. Woodsy also cleans our house. I definitely score the holy grail of a man–he builds stuff and cleans!?!?!
Like I said above… he just wears them around every where. Whether or not he is doing something that is noisy he wears them because he can easily plug in his iPod and listen to his music or listen to his favorite radio station. You may be wondering what type of music he enjoys? He listens to 70's, 80's, and early 90's station. He isn't too big of a fan of all the new music out there. He loves the classics!
Pictured working on our Restored Wood Outdoor Table!
And I'm not going to lie… we fight over who is going to wear the WorkTunes set and who is going to wear the regular sans music set! I'll tell you a little secret… I typically win if I'm going to be working in the garage with Mr. Woodsy. I think he is just happy to see me in the garage with him so he doesn't fight me on it! I love that the Digital WorkTunes are full adjustable. They fit my teeny tiny head comfortably giving me the opportunity to rock out and work!
Disclaimer: We received one pair of Before Mr. Woodsy received the Digital WorkTunesTM Hearing Protector & AM/FM Stereo Radio to review. We were not compensated to write this post nor do any of our opinions reflect 3M TEKK Protection.