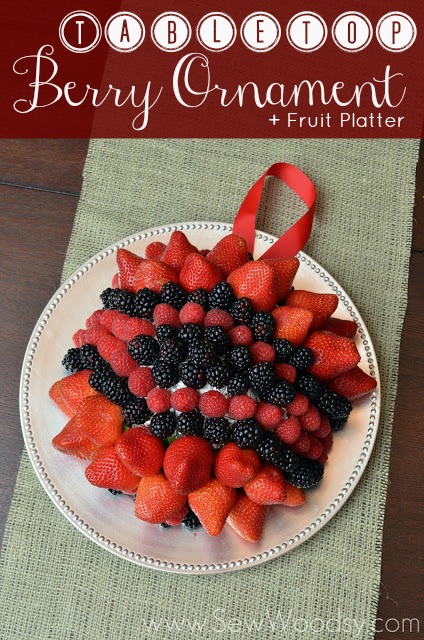 Some of you might know this about me, but I have a food blog. I know. I'm crazy. Everyone asks me how the heck do you manage two blogs and work full time? The answer… I DON'T KNOW!??!!? While attending a Driscoll's event last month for my food blog; Katie's Cucina, they told me about a Berry-tastic Virtual Holiday Workshop and Competition that they were hosting towards the end of November. I knew I had to participate in this campaign. It combined my love for food and crafting in one challenge!
I love Driscoll's berries. Fun fact: Mr. Woodsy has to have at least 3-4 pieces of fruit each day. I say pieces I mean like a mixed berry salad, banana, apple, orange, peach, plums, etc… the man is addicted to fruit! Which, I guess I can't complain. That is a fabulous addiction to have! Today, I'm going to show you how to make what I like to call a "2 for 1" craft. You'll make a beautiful edible centerpiece that will wow all of your friends and family this holiday season!
Supplies:
Tear a piece of tinfoil at least 20 inches in length.
Then wrap it around the half circle as smooth as possible, tucking in all the loose ends on the bottom of the half circle.
Place the half circle on the charger.
Decide what your pattern is going to be. I decided to do a layer of blackberries then raspberries on the ends of each of the circle. Poke a hole in the foam using the toothpick.

Then place the toothpick int he top of a blackberry.
 I placed 4 blackberries on the bottom row. Then I placed about 9-10 toothpicks into the floral foam above the blackberries.
I carefully placed the raspberries on the toothpicks. Raspberries are a very delicate fruit so you need to handle them with care.
Next up, I began layering strawberries on the floral foam. For the XL strawberries like the one pictured above I placed two toothpicks on the top of the fruit. You'll notice that I kept the green tops on the strawberries. If I were to cut them they would spoil quicker. If you don't want the green tops to show a great way to preserve the berry to ensure it stays fresher, longer… carefully pluck the leaves off the top of the berry.
I did two rows of strawberries.
Followed by a row of blackberries.
After the blackberries I began adding a row of raspberries to the middle. You'll notice that my lines aren't perfect–that's ok! This is a homemade decorative edible centerpiece. It does not have to be perfect and best of all you can do whatever design you want to make!
Lastly, I finished my tabletop berry ornament with a row of blackberries.
This took me about 30 minutes to make. I used the tinfoil to ensure that this could be an edible centerpiece! Nothing goes to waste in our home. If you were making this for a party I would suggest making it no more than one day in advanced. Wrap it plastic wrap and store it in the refrigerator.
Always store your berries in a dry cool location. Only rinse them right before your about to eat them. When selecting strawberries you should look for symmetrically shaped berries with a brilliant sheen and rich, even red color. One serving of strawberries has more vitamin C than a medium orange!
I hope you'll consider making this edible centerpiece for your next holiday party!
For more berry facts visit Driscolls.com or follow them on Facebook, Twitter, Pinterest, YouTube, and Instagram. You can also look at other contestants berry crafts by logging into instagram and searching under the hash tag "driscolls!
Disclaimer: I received product to complete this project. I was not compensated for this campaign. My project is part of a craft competition. If my project is selected I will win Driscoll's Berries for the year. As always all opinion are always my own.