I am a Filtrete Brand blogger ambassador and was compensated for this post, but all opinions and selection of additional products used in this project are my own.

Have you ever fried bacon on the stove top for breakfast and smelled it all day and night? If their is one thing we don't like it's lingering odors. We've come up with a list of nine things we do in our home to help combat odors in our home, specifically in the kitchen.
Here are nine tips for reducing lingering odors in the kitchen:
1. If you have a window in the kitchen and you know you'll be cooking something that will leave a lingering smell like bacon, open the window.
2. Always use the exhaust fan when cooking. Turn it on before you start cooking.
3. Remove rubber piece from sink drain and clean the bottom of it. Most of the smell comes from that.
4. Spray a mix of vinegar and lemon juice into the garbage disposal and let it sit for at least 15 minutes. Then run hot water and the disposal for at least 15-20 seconds.
5. Use Filtrete Odor Reduction Filter. Change per instructions every 3 months. The Filtrete Odor Reduction Filter is the most effective carbon filter for removing household odors, beginning just minutes after furnace fans are turned on. Some of those household odors can be cause from cooking, tobacco smoke, pets, mildew and cleaning chemicals.
6. This is a no brainer, but remove your trash frequently from the kitchen. Don't wait until it starts to stink.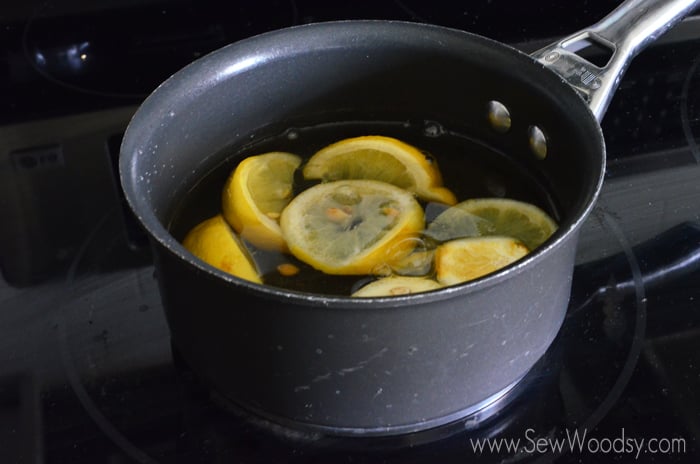 7. Cook stove top potpourri; 2 cups of water, 1 fresh lemon, a few sprigs of fresh mint. Bring to a boil and reduce to low. Let it simmer on the stovetop for hours (make sure water remains in the pot–refill with water when needed.)
8. Clean out your refrigerator on the first of each month. Go through and make sure you aren't storing spoiled food that will eventually turn into a science project!
9. Keep baking soda in a bowl in the refrigerator to keep it smelling fresh and odorless.
I hope you found these tips for reducing lingering odors in the kitchen helpful. Do you have any other tips or tricks that you use to help reduce odors in your home? Leave a comment below and let us know what they are!
Remember: You can register to receive seasonal e-newsletters that feature filter change reminders, better living tips and more, which can help you maintain your home. For more helpful tips get social with Filtrete on Facebook and Twitter.