I've been working on this pillow for over a month now. True story–that's life with a baby. I've been weeding this glitter iron-on vinyl for a few weeks and finally committed to getting it done before Halloween has came and past. So at least I'll get to enjoy my pillow for the next week until I have to pack it up. Well technically I can keep this pillow up until Thanksgiving. I went with a nursery rhyme phrase for this autumn inspired pillow. I read a lot of nursery rhymes these days and I felt that Peter, Peter Pumpkin Eater was the most appropriate for this time of year!
This is my project for this month's round of Cricut Design Space Star. My team's theme was put some glitter on it… what better way than to use Cricut Glitter Iron-On Vinyl! It has glitter on it — yet doesn't shed one fleck of glitter anywhere in your house. Which makes Jon extra happy.
Just so you know–this pillow should not take you over a month to make. Collectively if you have uninterrupted time it should take you a little over an hour! That's it.
Supplies:
3/4 yard of fabric
Scissors
Invisible Ink Pen
Measuring Tape
Straight Pins
Sewing Machine
Coordinating Thread
Iron
Ironing Board
Cloth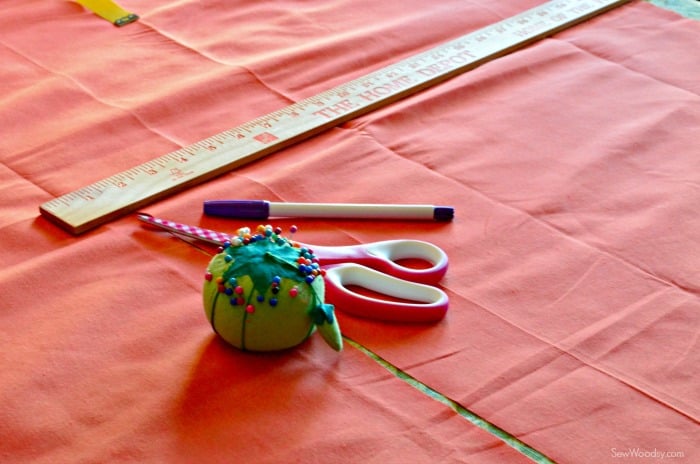 First up, measure your fabric. I had a 20×20 pillow form, so I cut my fabric at 20.5 inches long. I made an envelope pillow so I cut one piece at 20.5 x 20.5 inches and the other two pieces at 15 inches x 20.5 inches.
Fold over and iron a half-inch piece of fabric on each of the 15 inch long pieces. Then sew a straight line on one end.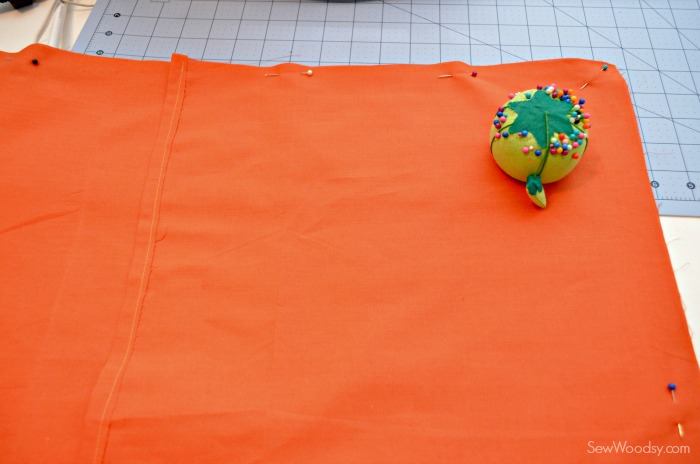 Using straight pins, secure the two pieces of of 15 inch fabric to the 20.5 inch piece of fabric.
Sew around the edge with a 1/4-inch inseam. I used a zig-zag stitch and reinforced in the middle where the two flaps overlap. (not pictured) Next up, turn your pillow inside out and iron flat.
Next, go into Cricut Design Space, choose the Peter, Peter Pumpkin Eater image (from the Nursery Rhymes cartridge). Add to the canvas.
Cut your image out–make sure you hit "mirror image" before cutting".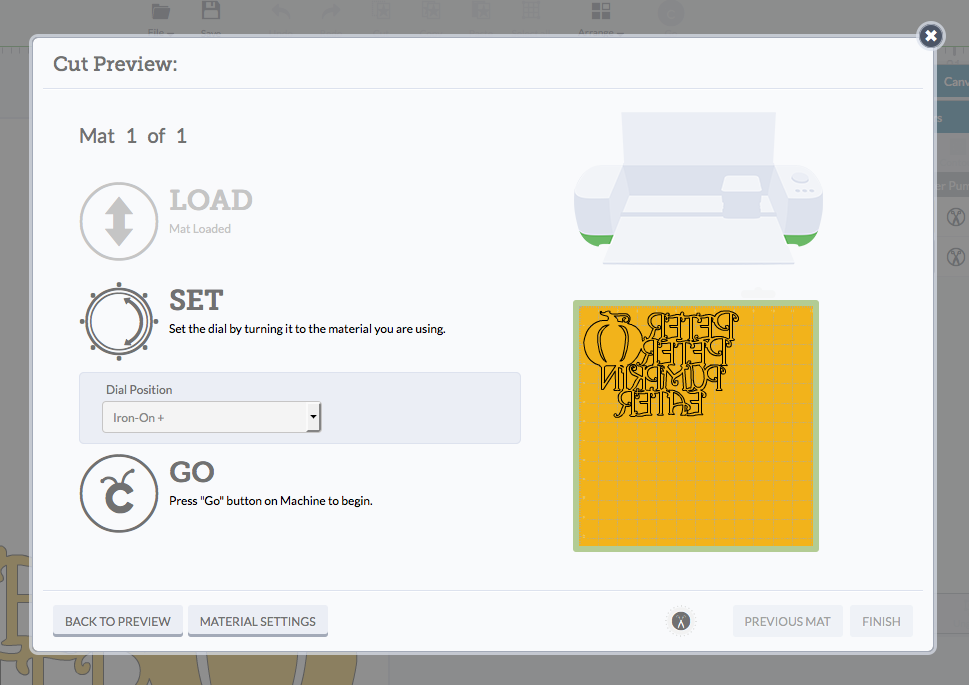 Set the dial to Iron-On+ vinyl. This works best when cutting glitter iron-on vinyl.
Weed out the negative to the image.
Place the Cricut Iron-On Vinyl image on to the pillow.
Place a piece of fabric over the iron-on vinyl. Place the iron on cotton setting on cut-out for 15-20 seconds moving it around over the time span.
Remove the plastic and the glitter iron-on vinyl should stay in place. If not, replace plastic and cloth and place iron on for a few more seconds until glitter iron-on vinyl sets.
Then place the cloth over the glitter Iron-On Vinyl and run your iron over it for another 5 seconds.
Display your pillow!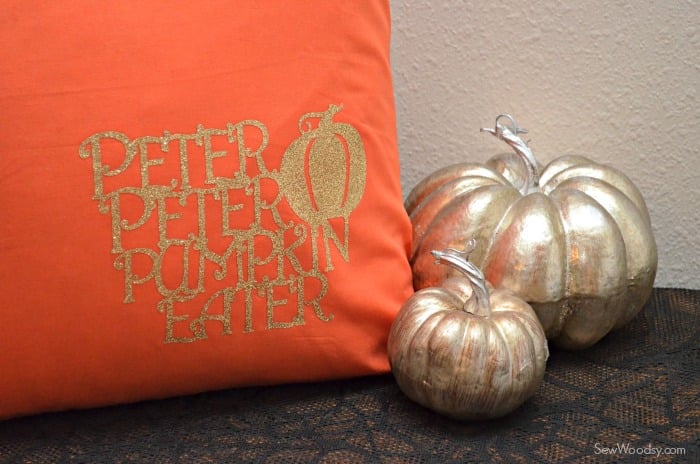 Easy as that… I have a festive glitter-iffic (yes that is a word) fall pillow!
I didn't show it in this post, but I have a post coming in the future about the new "Print and Cut" feature that Cricut has recently rolled out. You can print your design on your printer then transfer the card stock to your Cricut to cut out! How cool is that?!?!
Disclaimer: There are affiliate links in this post. I was not compensated to create this project; however, I've entered in to the Cricut Design Space Star challenge. If my project is chosen I will win a cash prize.