This is a sponsored post on behalf of Martha Stewart Crafts. As always all opinions are my own. 

New Year's Eve is TOMORROW! Ahhh how the heck did that happen? 2014 flew by in a flash and now it is time to ring in 2015. I created seven different paper crafts that anyone can do and within an hour. So if you're hosting a party tomorrow night, or just decided that you're hosting here are a few simple craft projects anyone can do to ring in the new year in style.
I recently received the Martha Stewart Crafts ® Fringe Cutter. I started playing with this during a nap the other day. That's when it hit me that I could create an entire New Year's Eve party bar with this product. I loved the gold and black theme–I think it's a classic look for any New Year's party. I practiced first on used Christmas tissue paper and then got to work with the Martha Stewart Crafts ® Tissue Paper, Gold Chevron. 
1. Tissue Paper Fringe Table Runner – this was the base of all my crafts. I decided I would make a tissue paper fringe table runner. After a party the last thing you want to do is wash–using tissue paper is perfect because at the end of the night you can just throw it away.
Here is what I did to make this tissue paper fringe table runner:
I folded 2 pieces of tissue paper down to just one fold exposed.
I placed the gold tissue paper in the fringe cutter and set the length. (Be sure to lock the length in at the beginning.)
Cut the fringes from the top to the bottom. If you do it the other way the tissue paper will tear.
Line up the last cut fringe with the 1/4-inch mark. Then repeat, until all of your tissue paper is fringed on one end. I overlapped the tissue paper and placed a single piece of tape in the center to keep them in place.
2. Layer Paper and Decorative Circles on Bar – this is super simple to do. Just find your favorite paper and layer it on the bar. If it gets messed up at the end of the night throw it away (if it stays in tact with no spills save it for another craft project). I used the circle edge punch to create a "charger" look.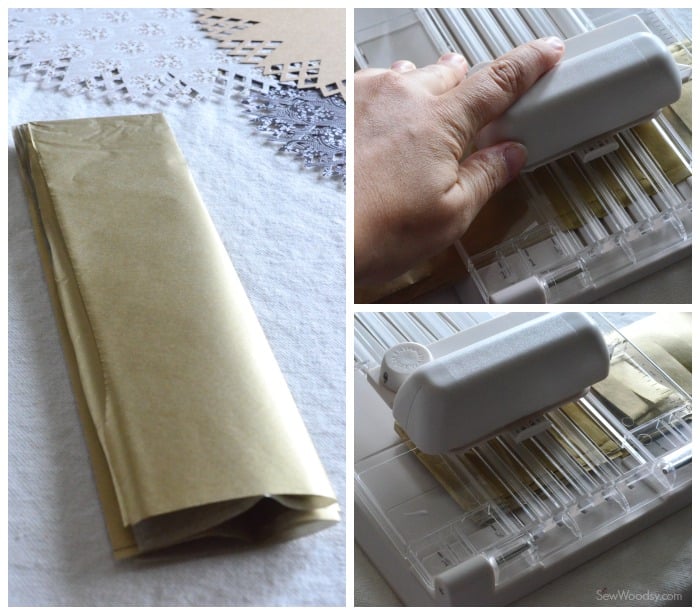 3. Mini Tissue Paper Fringe Decor – I cut one strip from the back of the tissue paper on the bar. Folded it in half and then made mini fringes.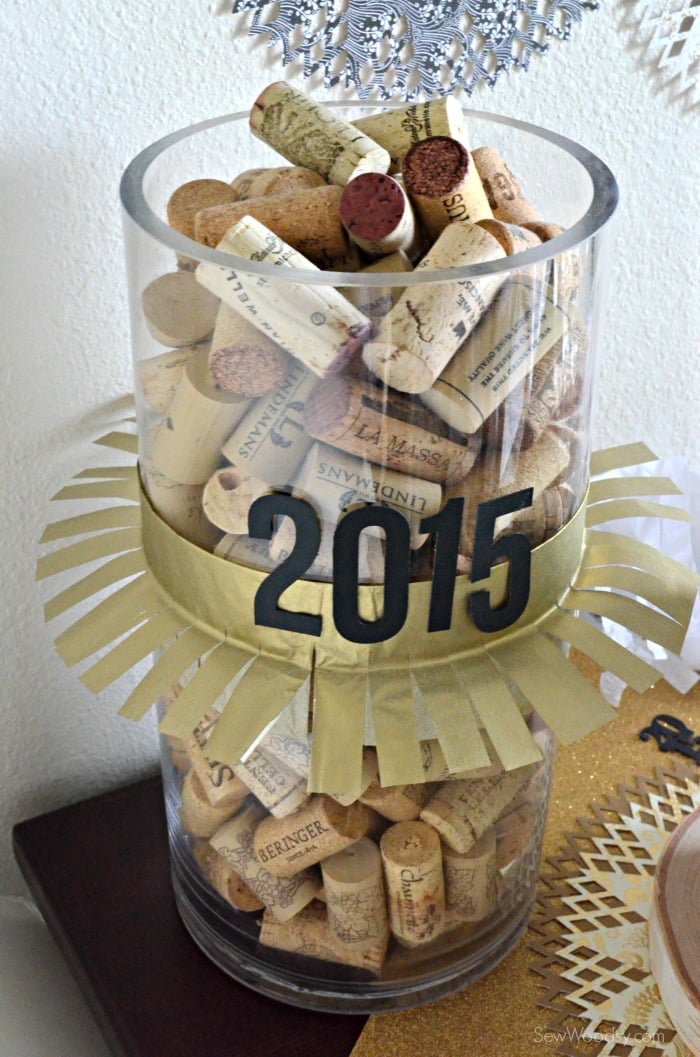 Then I took a piece of the mini fringe and wrapped it around my glass wine cork display. I cut out the numbers using my Cricut Explore and adhered them to the glass jar. Super simple!
4. Decorated Champagne Flutes – I took a few tiny pieces of the mini fringe and wrapped them around the champagne flutes. I just used tape to adhere them and placed the tape facing the back of the bar. Super simple and gives the glasses flare.
You could even put a pen at the bar and have your guest write their name on the fringe.
5. Easy 2015 Banner – using the circle edge punch I created four large circles. Then I used my Cricut Explore and cut out the numbers. I just alternated the colors and position and taped it to my wall!
6. Homemade 2015 Confetti – using my Cricut Explore I cut out the 2015. This was 100% free and easy to make! While the 2015's were cutting I worked on other parts to my NYE bar.
This is what it looked like when I went to cut. I could have made more but this worked for my space! If you want your own 2015 confetti you can use my cut file HERE.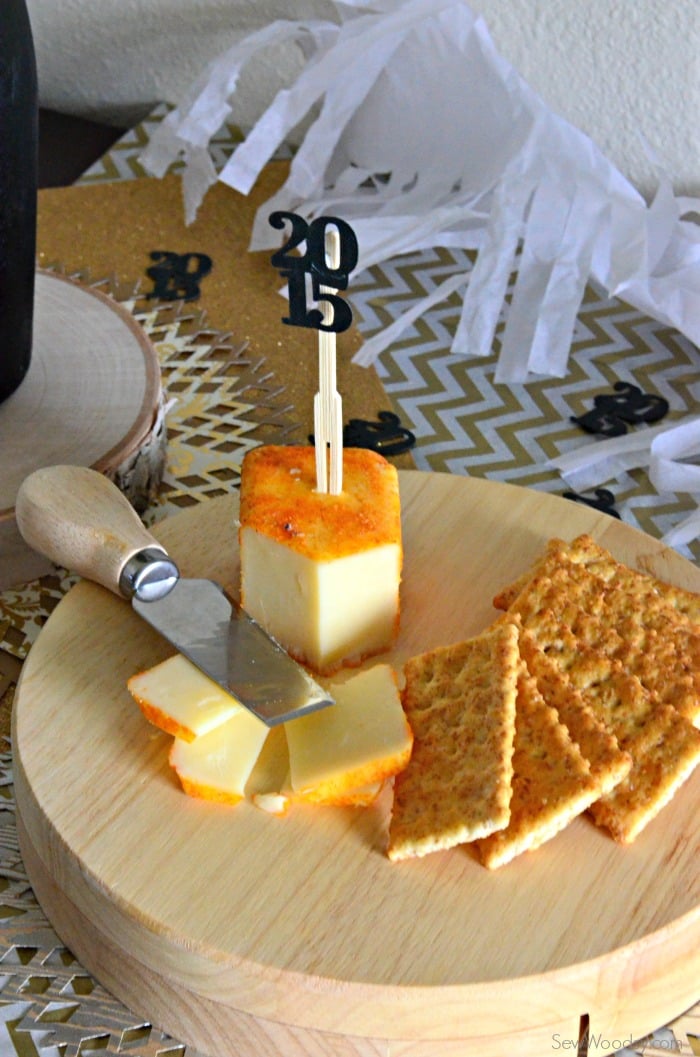 7. 2015 food pick – using that same confetti I just took a glue dot and a flat food pick and adhered it to the top of the pick. Then I stuck it in the cheese. If you have a wide variety of food or you make a cake you could do the same thing.
Now, what are you waiting for. New Year's Eve is tomorrow and you need to go craft to make a glamourous party for your family and friends! They will all think you spent lots of money on decor and hours decorating. Don't worry I won't tell them that all of this is stuff you had on hand and it took you a whopping hour to make!
We hope you have a happy and healthy New Year!