You guys… Christmas is in 37 days. Say what!?!? How the heck did that happen. We officially started decorating over the weekend. If you follow me on Instagram then you saw what my formal living and dining room really looks like right now… it's a mess. Bins of Halloween, half a fall tablescape, rugs rolled up, Christmas tree up, decorations every where… yeah you get the point. Jon worked on decking our attic this weekend so the good news is that Halloween is about to go up in the attic and then I can really concentrate on decorating for Christmas! One thing that I did work on over the weekend was making this DIY Holiday Advent Calendar Kit made by Hazel & Ruby. My sweet friend Katie, from Sweet Rose Studio created this kit. How cool is that? When she asked if I wanted to try it out, I jumped on the opportunity. Jon loves a good advent calendar. And after it was done the first thing he asked was "who is this for… me or Ryder?". lol… I told him it was for him and smiled from ear-to-ear!
Each Crafternoon Kit includes 126 pieces: Die-cut papers, clothes pins, chipboard numbers, treat bags, twill tape! Everything you need to put together your advent calendar. The only thing you need to provide is the glue gun and hot glue! As I was making this project I thought to myself how awesome it would have been to do this with a few girlfriends! This is the perfect afternoon craft project to do with friends!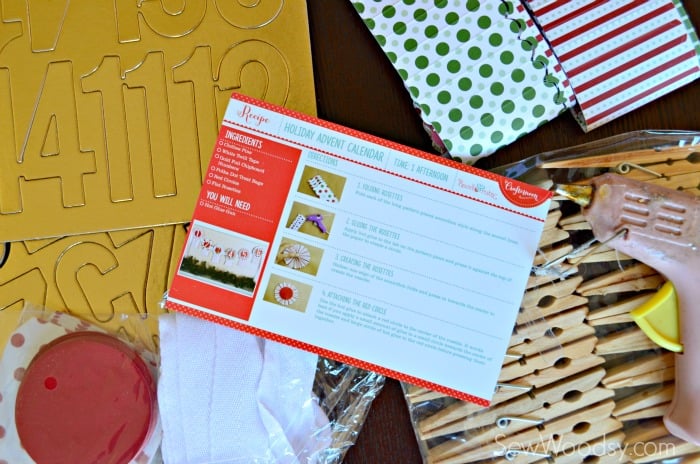 Each kit comes with a "recipe card" with all the instructions on how to put together the holiday advent calendar.
First you'll want to fold all the paper that will make the rosettes. They are pre-scored so you won't have to worry about  making uneven folds.
Next up, hot glue one end. 
Then once you've adhered it to the other end you push it down to make a paper rosette.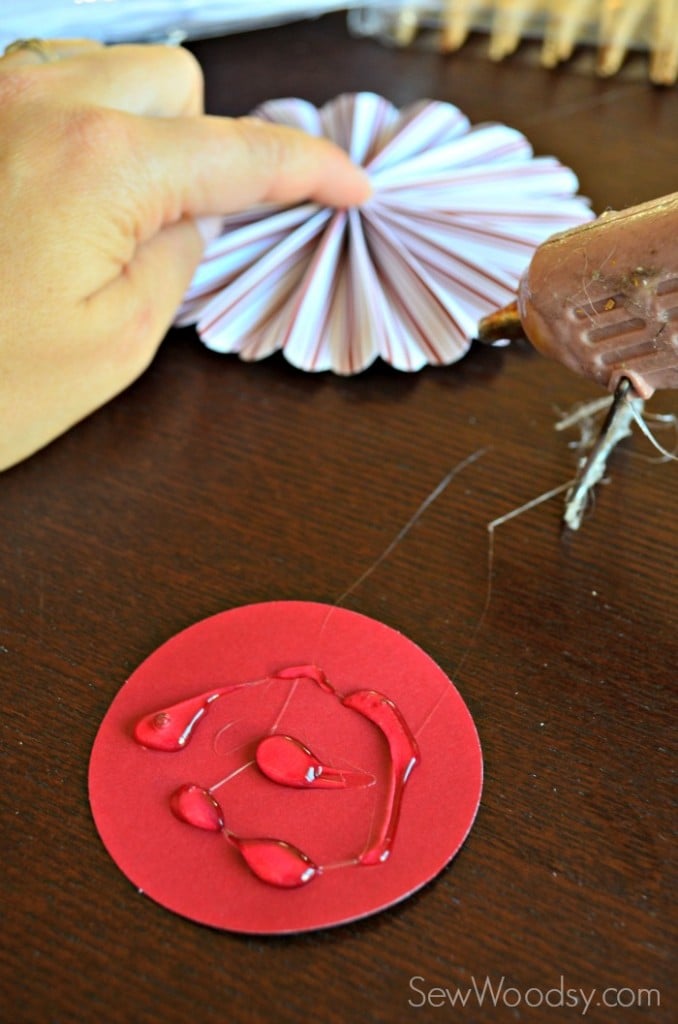 Hold it down and place hot glue in the middle of the red circle plus around the outer circle.
Carefully, place the red circle in the middle. Hold it down for a few seconds to make sure it adheres. 
Then glue on the number. 
Followed by glueing a close pin on the back. You'll want to make sure the close pin is centered to the number so when you go to clip the bag it will clip and read correctly! 
This is what my table looked like once I had all my rosettes made, numbers and close pins glued on. 
Next up, time to fill up the treat bags. Luckily, we have quite a bit of leftover Halloween candy so that's what I used. However, normally I would just buy a bag of Holiday chocolates. I try to switch it up so that my husband is surprised each day. Hopefully he likes all the candy I put in the bags. He's such a big kid.
Next up, it's time to hang up the advent calendar. I choose a blank wall in my formal room. I cut the twill tape into 3 pieces. 
Here is a close up of our new DIY Holiday Advent Calendar! 
I added a wreath to the wall that I had to give the wall a little more flare! 
I'm honestly in love with this wall and how it came out. Now, I need to figure out what I'm going to put on the wall for the rest of the year! And Ryder just so happened to wake up from his nap while I was in the process of hanging so I was able to see first hand how high he could reach and his little fingers could not touch the lowest bags. Let's all pray now he doesn't have a growth spurt in the next month! lol
I hope you'll run out to your local JoAnn Fabrics and pick up open of Katie's Holiday Advent Calendar Kits!
Disclaimer: I was provided a Holiday Crafternoon Holiday Advent Calendar to share with my readers. As always all opinions are my own!