I love using OXO products, and when I found out last year that OXO had a blogger outreach program I knew I needed to be a part of it! You see… most of you might not know this but Mr. Woodsy LOVES to clean. He is a clean freak–like OCD clean freak. I do clean and I am all for helping out, but the problem we face is that my cleaning standards do not reach Mr. Woodsy's cleaning standards. Therefore why waste the energy and time to clean when someone else is just going to clean over what you just cleaned.
When we received all these cleaning and organizational products from OXO Mr. Woodsy was like a kid on Christmas morning. He was so excited and couldn't stop "ooh and aweing" over all the new "toys" he got. A few of his favorites: Household Squeegee (the man literally was jumping up and down), Cleaning Mitt, 3-Roll Toilet Paper Holder (seriously why didn't we own one of these sooner), the Plug-In Charging Shelf, and last but not least the Compact Sink Set.
I caught Mr. Woodsy in action using his new OXO products and decided to document him cleaning the bathroom. Needless to say he was not happy to see me following him around with a camera and ultimately documenting how messy our bathroom can really get!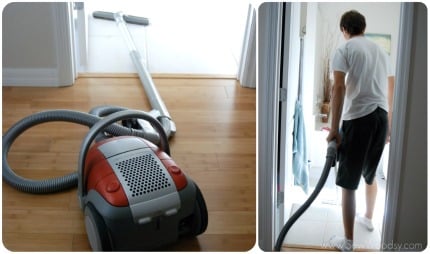 Before Mr. Woodsy dives into cleaning he typically always vacuums. I just so happen to shed more than our 10lb yorkie! You might notice that he has earbuds in… I don't think the man has ever not cleaned with an ipod on his hip. Well, I take that back… maybe when he was a kid and ipods had yet to be invented.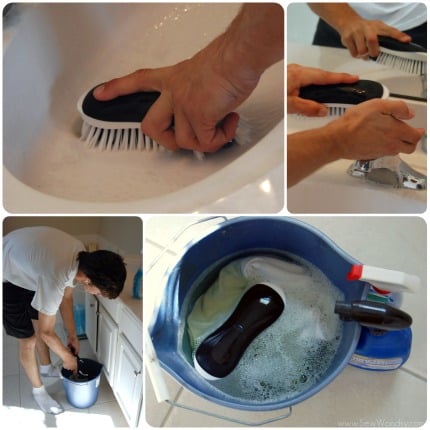 After Mr. Woodsy is done vacuuming he grabs his bucket thats filled with soapy suds along with his new Heavy Duty Scrub Brush. This brush is great for large spaces like countertops, sinks, tiled walls, tubs, and even floors!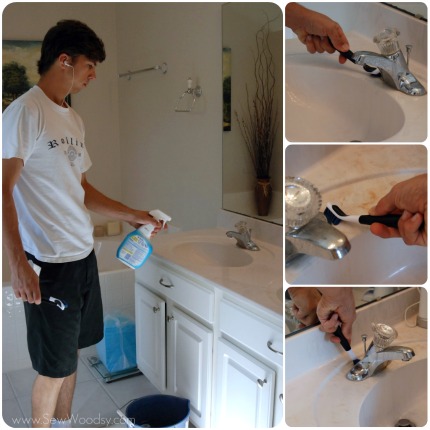 Lastly, Mr. Woodsy's new favorite cleaning tool… meet the Deep Clean Brush!  This brush is great to use in hard to reach nooks and crannies. Mostly for around the faucet where my makeup tends to creep into. Some might think why buy one when you could use a toothbrush? Well the last time I checked a toothbrush did not have a soft, comfortable non-slip grip. 
Disclaimer: We received all of these products for free and were asked to blog about how we liked them. Our opinions are our own and do not reflect OXO.