Today, Lauren from The Thinking Closet is here to share her round-up of 25 Handmade Gift Ideas! Lauren is a fellow CFL blogger. We worked on the children's home office volunteer project together, attended Haven (see photo below), and attended CFL Blog Con together. Plus we chat via email, text, and Facebook! I'm super greatful she is here today to share her round-up of 25 Handmade Gift Ideas!
————-————–
Greetings Sew Woodsy fans! My name is Lauren, and I am tha-rilled to guest post here today. I blog over at The Thinking Closet where share all things crafty and d.i.y…and yes, I even include the messes, too. (Gotta keep it real, yo.)
Katie and I both happen to live in Orlando, Florida, but believe it or not, we didn't get to meet face-to-face until Haven Blog Conference in Atlanta last summer. Since then, we've been to Florida Blog Con together, gave a local Children's Home office a total makeover, and co-planned a baby "sprinkle" for our friend Rachel. I love it when blogger friends so quickly become real life friends.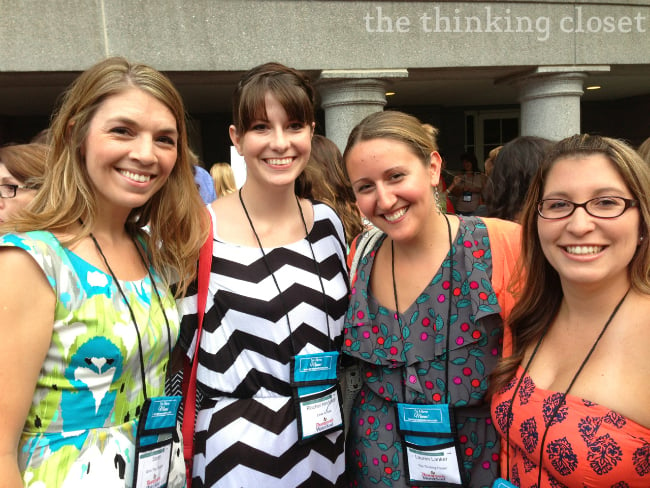 Central Florida Bloggers at Haven Blog Conference: (L-R) Sarah, Rachel, Lauren (me!), and Katie
So, since Katie is on maternity leave bonding with baby Jasiewicz (as well she should be), I thought I'd pop by to share a round-up with you of some of my favorite projects. And not just any ole projects, but my favorite D.I.Y. gifts!
Spring is such a season of gift giving, isn't it? Between baby showers and anniversaries, Mother's Day and Father's Day, the celebrations never stop. Well, don't you fret because I've got you covered with 25 different handmade gift ideas below, all complete with step-by-step instructions and photos. I even divided the list up by category, too, so you can easily find what you're looking for. Let's dive in, shall we?
25 Handmade Gift Ideas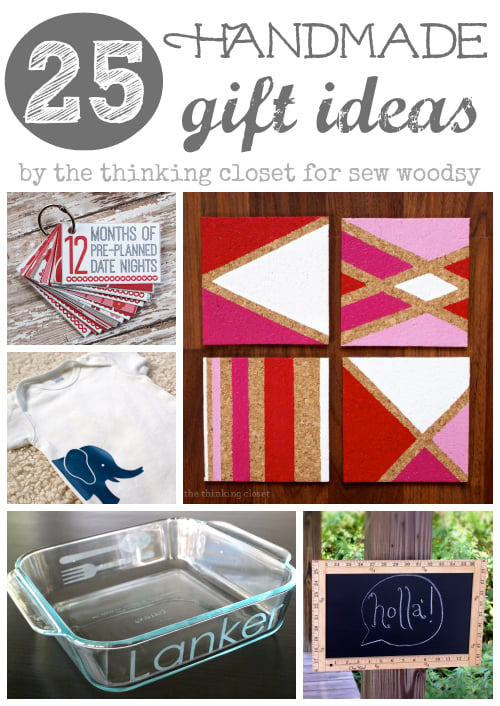 Baby & New Mom Gifts
2. Gender Neutral Onesies with Heat Transfer Vinyl
3. "Keep Calm" Onesie with Freezer Paper Stenciling
4. Burp Cloth Tutorial for the Beginner Sewist
Jewelry & Accessory Gifts
9. Layered Fabric Flower Embellishment
Gifts for The Man Who Has Everything
11. T-Shirt for the Pun-Loving Dad
12. 12 Months of Pre-Planned Date Nights: FREE Printable
13. A Cowboy's Toothpick Holder
14. Wood Pallet Sign
Practical Gifts
16. Personalized Insulated Mug
17. Color-Blocked Cork Coasters
18. Etched Glass Casserole Dish
19. Birthday and Anniversary Calendar
20. Merry Moving Kit
Gifts to Flex Those Sewing Skills
21. Nautical Anchor Pillow & Felt Fish Pillow
Gifts That Are Too Cool to Fit in a Category
25. Ruler-Framed Chalkboard Sign
To Close
A heartfelt thanks to Katie for the invitation to share this round-up with you lovelies. I hope it serves you well as you churn out the DIY gifts this spring.
And feel free to stop by The Thinking Closet anytime. The closet door is always open to new visitors! And here's a great place to start.
Toodle-oo!
-Lauren