Halloween fans rejoice! If you're a fan of DIY projects and decorating, you've come to the right place. Below I've compiled a list 25 spooky & eye-catching DIY Outdoor Halloween decorations.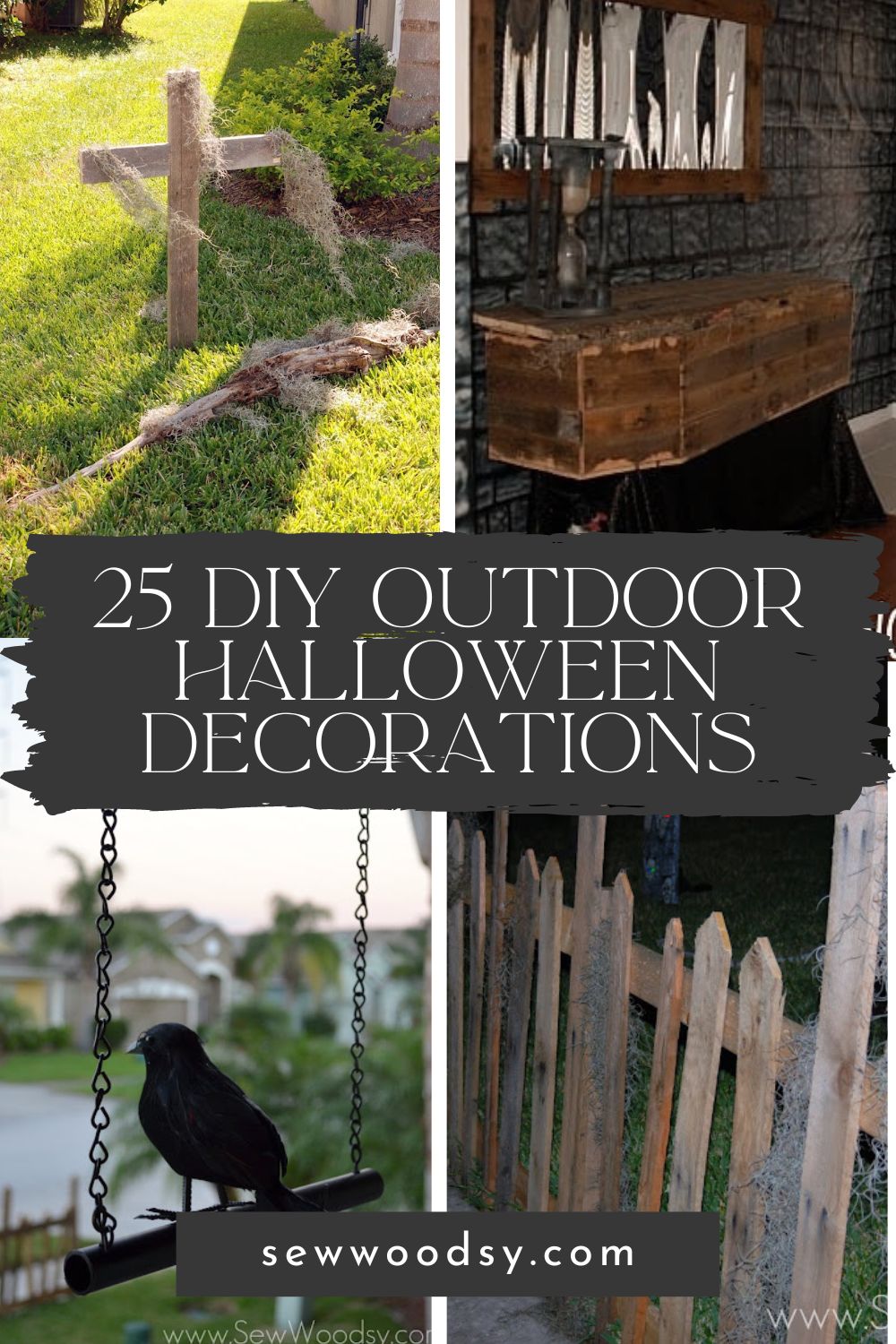 Halloween is my favorite holiday. I absolutely love it! Especially when it comes to decorating. If you're a fan of all things spooky like me, then you'll definitely enjoy looking at the many DIY Halloween decorations for outside that I feature below. Some are from my own blog posts, and others are from other Halloween-obsessed creatives!
There is nothing better than making your own DIY Halloween yard decorations especially when you can do mostly on a budget! This is how we have a wide-variety of outdoor decorations because we have utilized materials like wood pallets that are free and found near the dumpster! You can find our Halloween wood pallet fences, graveyard crosses, and rustic wood coffin made from pallets! It takes a little bit of strength to remove the nails, but worth the price tag of free! Whether you're a beginner or a seasoned professional, there are projects for all levels of experience!
FAQs
How can I decorate my outside for Halloween on a budget?

I feel that the best and cheapest way to decorate your outside for Halloween is to make your decorations yourself! DIY decor is fun, cost-effective, and customizable for whatever you are looking to decorate. You can often find cheap materials for projects at the Dollar Store and other cheap retailers. However, if you do prefer store-bought decorations, I recommend purchasing decorations for the next season after the last one has passed, when the sales and clearance prices are marked!
When should you decorate for Halloween outside?

Either at the end of September or beginning of October I'll start prepping for Halloween and putting decorations in the front yard and around the house. Whatever you prefer!
Should I decorate for fall or Halloween first?

I usually start decorating for fall time end of August or early September, then at the end of September or first week of October I start decorating for Halloween.
DIY Halloween Costumes
Still looking for a costume to make? Check out a few of my favorite homemade Halloween costumes.
I hope this list of 25 Halloween DIY Yard Decor Ideas helps you get to decorating for this upcoming Halloween season! What DIY outdoor decor projects are you going to tackle?
If you make any of these DIY Halloween yard decor items, I would be honored and love for you to take the time to leave a comment! I spend hours developing and testing these projects, and always love to hear feedback and user experience!
Don't forget to FOLLOW ME on Facebook, Pinterest, and Instagram, and subscribe to my email list!