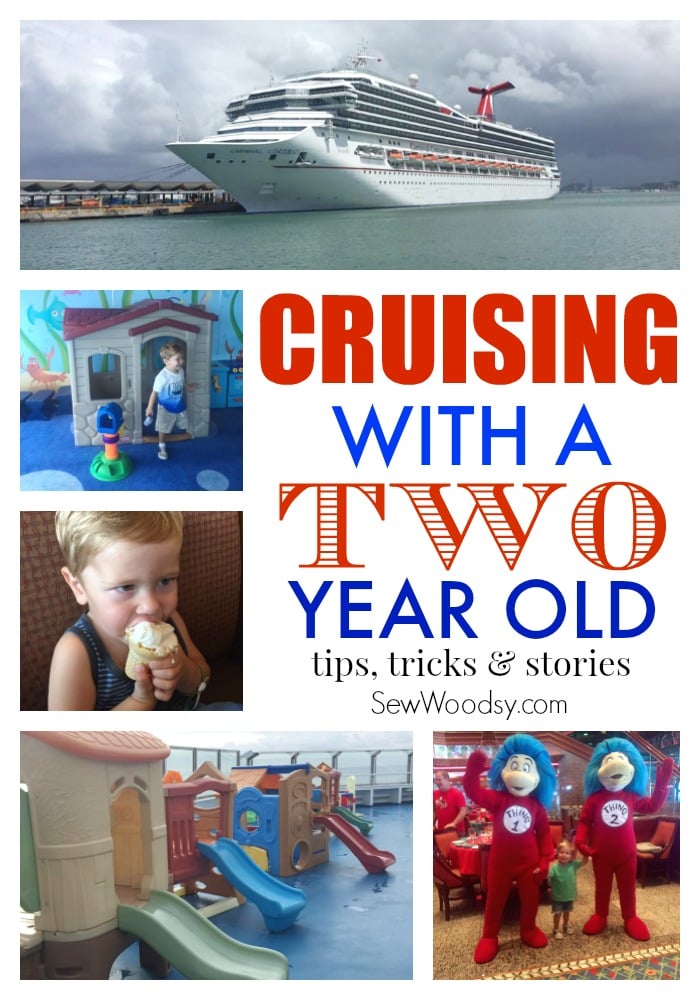 Oh boy. We've been back from vacation for over a month, and I've had the post written, but haven't had the time to sort through the 500-million+ photos we took. I've finally finished and am happy to share with you today! All I can say is when cruising with a 2 year old… Expect the unexpected. Two year olds can be very unpredictable and let's face it–if you breath wrong they meltdown. I both love and hate this age. Hate the meltdowns but love watching their little minds work, figure out stuff, and imagine. I knew we would face quite a few challenges and new experiences this go around while cruising. The last time we cruised, our son, still wasn't walking yet. In case your new to the blog check out the following cruising related post:
Cruising with a 6 month old
,
Cruising with a 1 year old
, and
Cruise Packing List for Babies & Toddlers
.
Fast forward to present day and we have a rough, tough, running, skipping, climbing active boy. We choose to cruise with Carnival Cruise Line this go around. We choose this cruise line for a few reasons:
Ages 2 and up can go in the kids club for FREE! *and they don't have to be potty trained!
We have platinum status on Carnival giving us access to a wide variety of amenities including free laundry!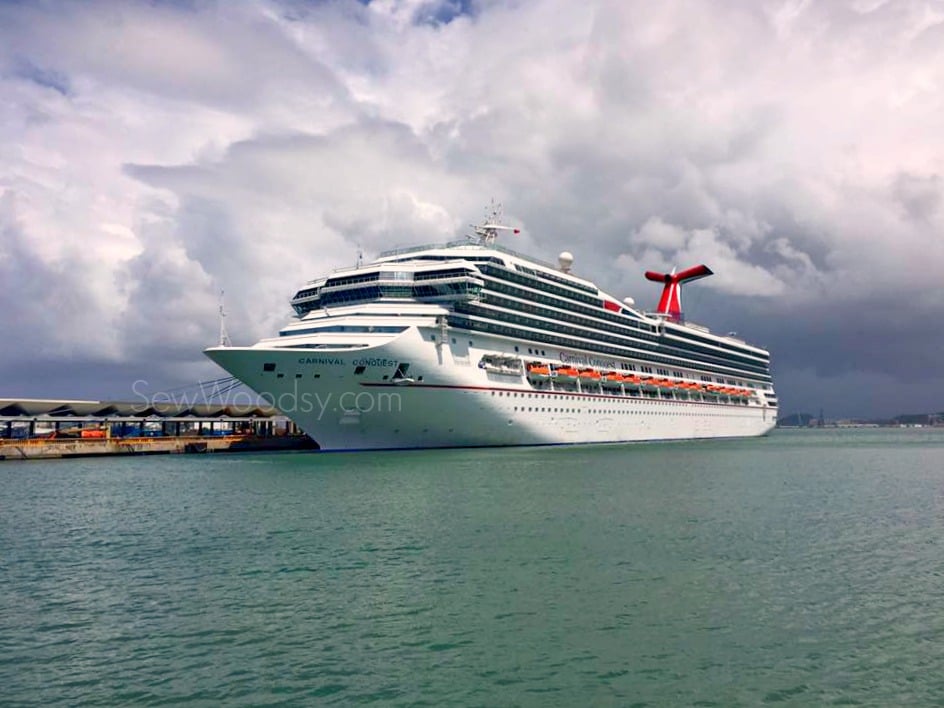 We have genuinely loved Carnival in the past and we really wanted to cruise this line with our son again. This go-around we opted for a 7 day cruise. Our last two cruises were both 4 day cruises. We know we would be taking a gamble but since we decided to cruise in June during "high season" we were gonna spend a lot of money either way–might as well spend the extra little bit and take a week long vacation.

I feel like the first day is always the hardest. Now having 3 cruises with a baby/toddler under my belt I've learned to roll with the punches and throw all expectations out the window. Our first day was just as rough as I imagined it was gonna be. We left 2 hours later than planned which threw everything off. At the end of the day, my husband, Jon, realized how important it is to stay on schedule. My original goal was to get to the port just before lunch time, giving us enough time to check in with minimal lines, get on the ship to eat lunch, and then get Ryder down for a nap. Instead we stopped at a rest stop at 11:30 for lunch in hopes he would nap during the last hour and a half drive. Nope. Never happened. Nor did a nap at all that day resulting in a lot of tantrums and meltdowns.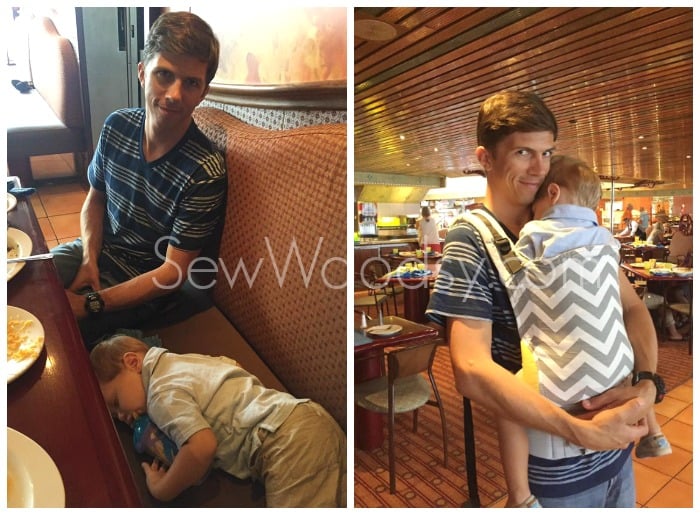 We've learned the kids club is never really open on the first day so we took the gamble and took Ryder to the dining room with us. We got there right when it opened and the crowds were insane. So… We had a big meltdown resulting in us leaving before even receiving our menu. We walked up to Lido deck, grabbed a milk for Ryder and before I even sat down to cut his food he fell asleep! He was asleep just after 6! Guess that's what happens when you don't take a nap. So we opted to just eat buffet for dinner and had him sleep on the booth seat!
Jon ran down stairs to grab the Tula and we carried him around the ship after dinner while we did a little exploring! We got him dressed and successfully in bed without having to start the bedtime process all over again. He slept until just after 5am and we were both thrilled he slept through the night! We also expected a very early wake up call from him so we went to bed around 8:30!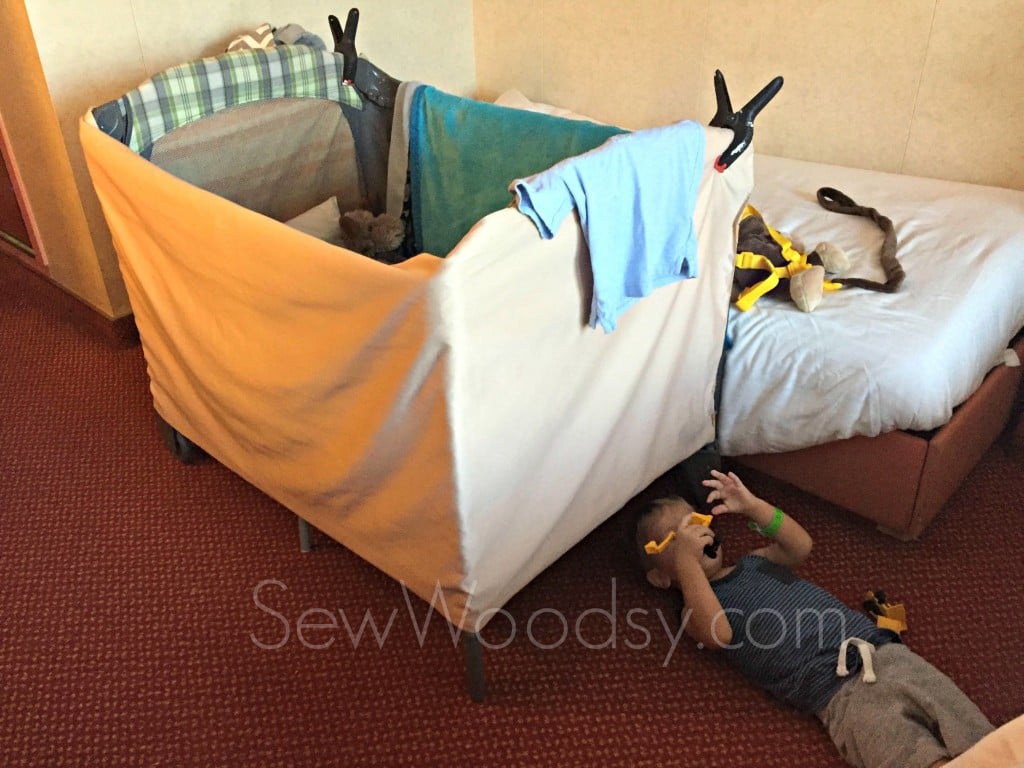 Sadly, this was the only night he slept through the night. We were hoping that this cruise he would fully sleep through the night since he has been since about 13/14 months. Nope. Since we were all in the same room he would start to stir around midnight and fully wake up ending up in our bed. Let's face it, crying it out is not an option when your in just 185 square foot room! Jon even brought the clips and clipped the bedding to the pack and play in hopes the barrier would help. During our cruise, Ryder even learned how to climb in and out of the pack and play while on vacation resulting in the last couple of nights he climbed out of the pack and play and directly into our bed.
Also, just note that Carnival will not provide you with a pack and play if your child is over age 2. So we ended up having to carry on our own pack and play. We were trying to keep our sleeping arrangements consistent with home, but clearly our mighty toddler had other plans.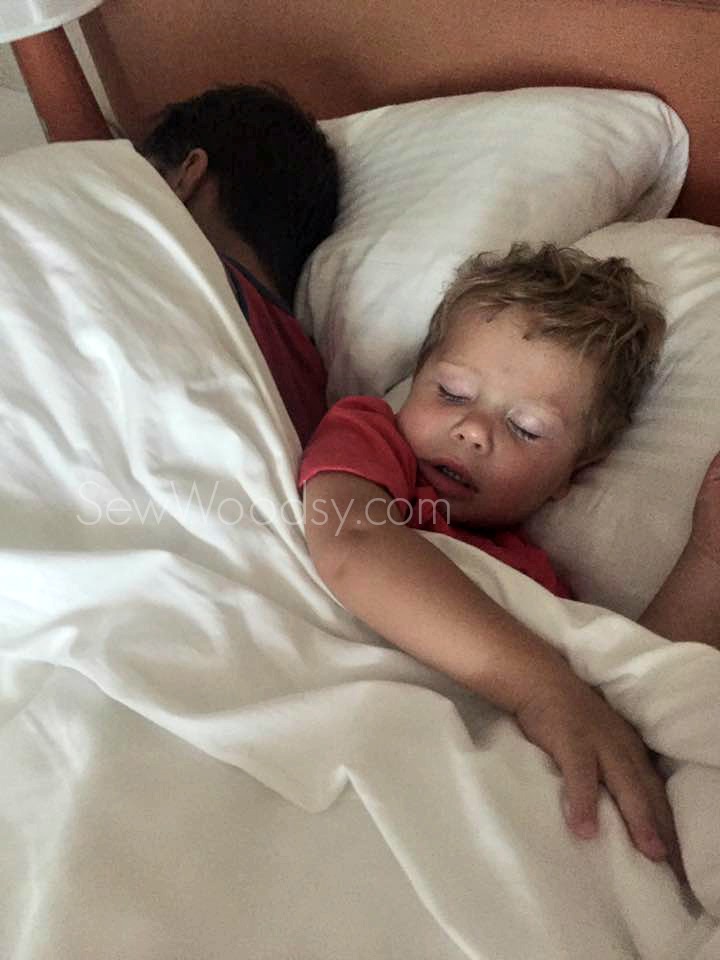 This pretty much depicts how our entire time sleeping on the cruise ship went!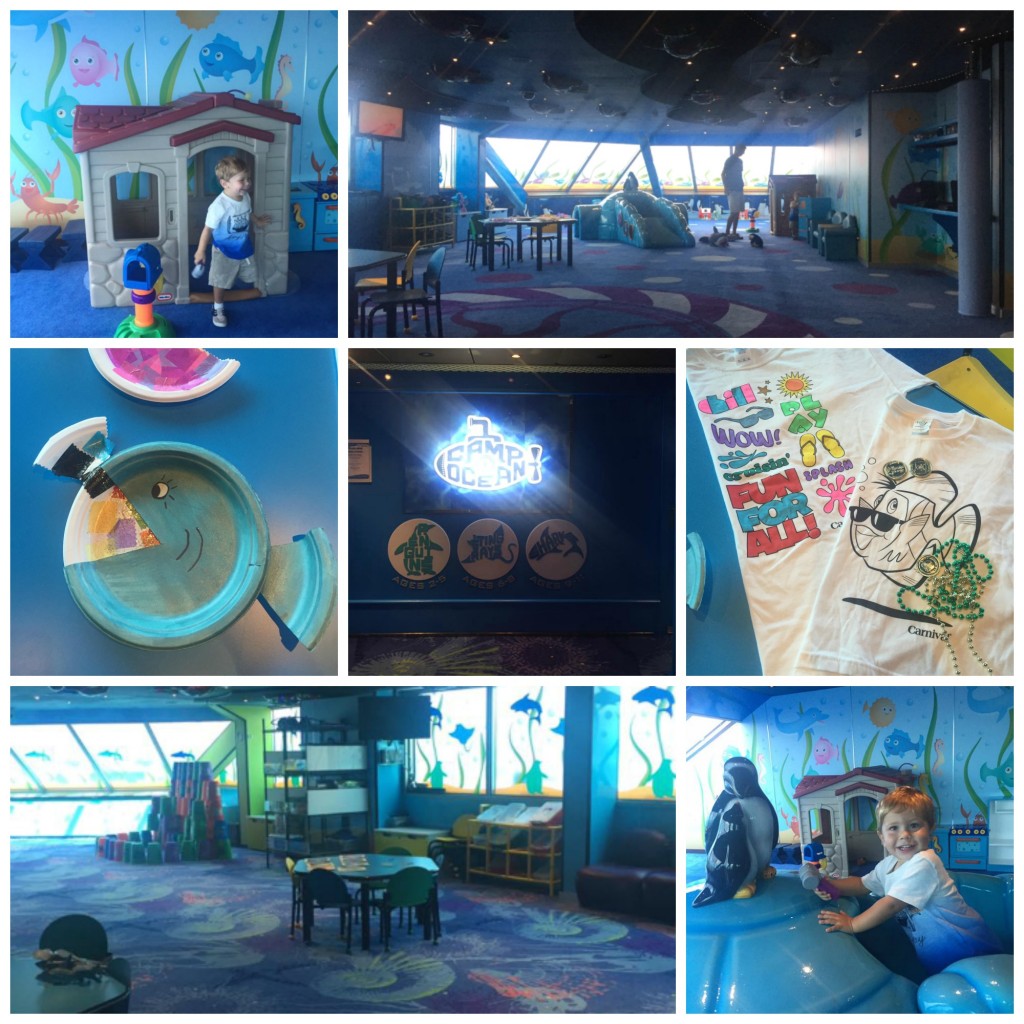 Let's talk about the kids club, Camp Ocean. It's awesome! Ryder loved it and couldn't wait to go play with "friends"! And we were happy he liked it so much! Since he's 2 he doesn't follow too many directions but from what the ladies told me he had fun–some nights participating in dance parties, chasing bubbles, and even playing with Play-Doh! He also found a tool set and truck so he was a happy camper. The hours are a bit tricky and when working with a nap schedule don't always work best with our schedule. Basically on days at sea we would put him in as soon as they opened and pick him up just before noon. Then we would feed him lunch and if he was still up to it–swim then take a nap. We did this 4 out of our 7 days.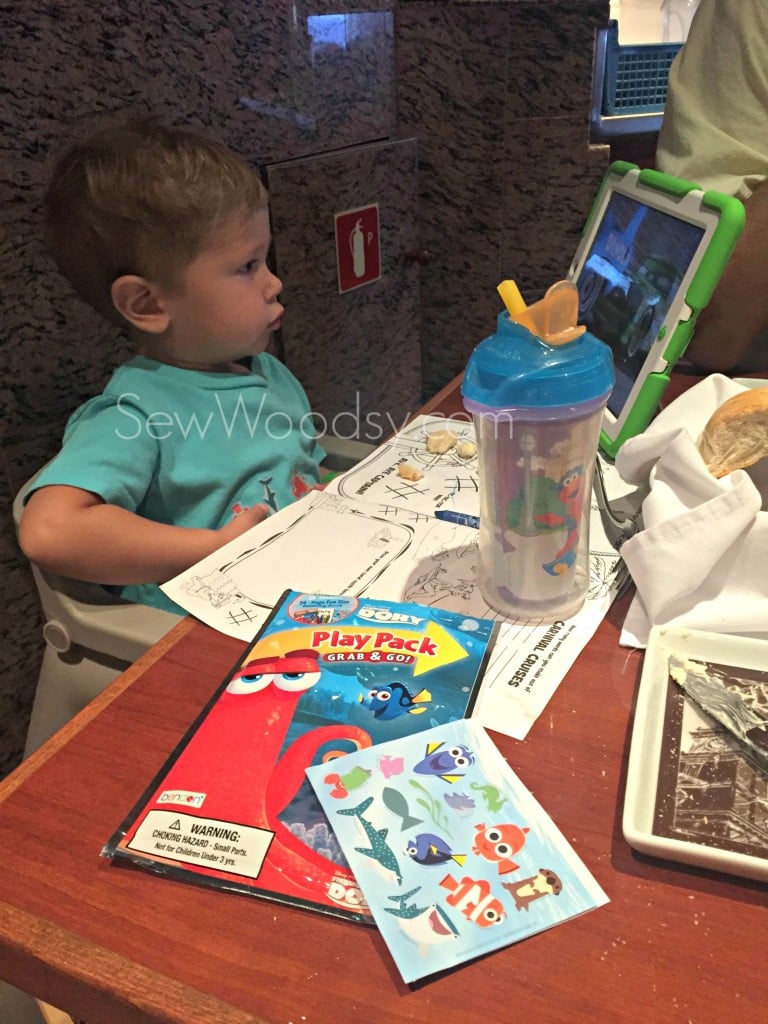 We took him to the sit down dining room (we had 6:00 dining; however, I wish we would have opted for anytime like we normally do) and he ate while we started on our appetizers. We would bring the iPad (loaded with a few movies and tv shows on it) plus a $1 coloring pack that had stickers, crayons, and a coloring book. I found it in the Target dollar spot. We used it every night! The kids club does serve dinner to the kids from 6-7 but it's on the other side of the ship (opposite the kids club) and they fully need to be able to feed themselves. The staff will not cut any food and they give a pretty big portion. Since Ryder is only 2 he still needs a little help. Plus, let's get real my child is not going to sit for an hour in a high chair eating and waiting for others! So that's why we ended up taking him to dinner with us every night.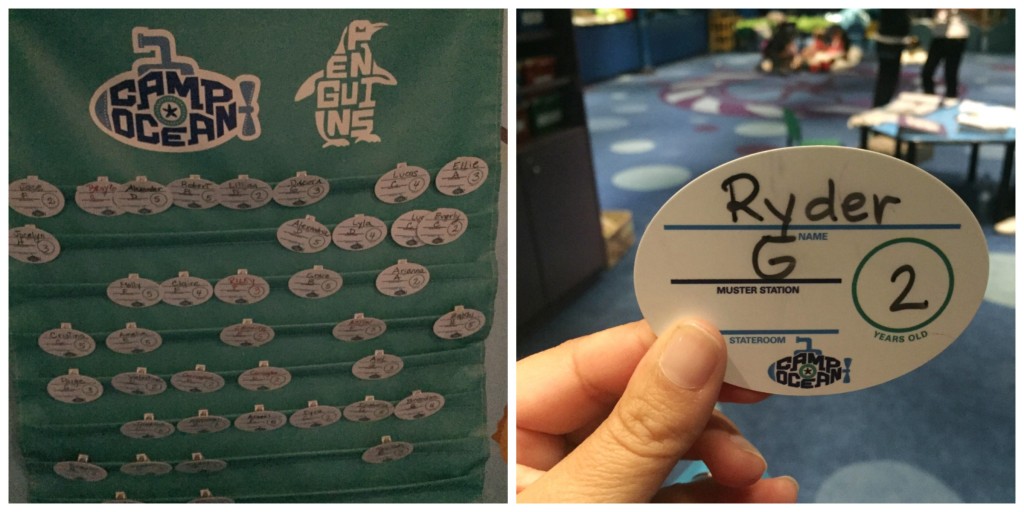 After Ryder was done with his dinner and it was 7:00 pm one of us would run him up to the kids club in the middle of dinner. When the kids check into Camp Ocean they receive a name rag that they wear. Most of the time it's on there backs but they have it on them at all times while in the club. And parents receive a phone free of charge where the kids club can call and talk with you at any moment. Or you can call to check in on them. Our waiter was awesome and would hold off on bringing our entrees until we were both at the table. We essentially ate our main course and dessert in piece and quiet. Then we would walk around the ship, watch a movie on lido deck, or listen to live music until we were ready to pick him up. We typical picked him up between 8-9pm. Never later. He stayed in the kids club without any problems until that Thursday night. Then he wanted nothing to do with the kids club resulting in our last day at sea spent together as a family. I'm just happy he embraced it for as long as he did. He doesn't go to daycare so he's not use to leaving us for long periods of time. So to ensure he was good we would only leave him for 2 hours tops.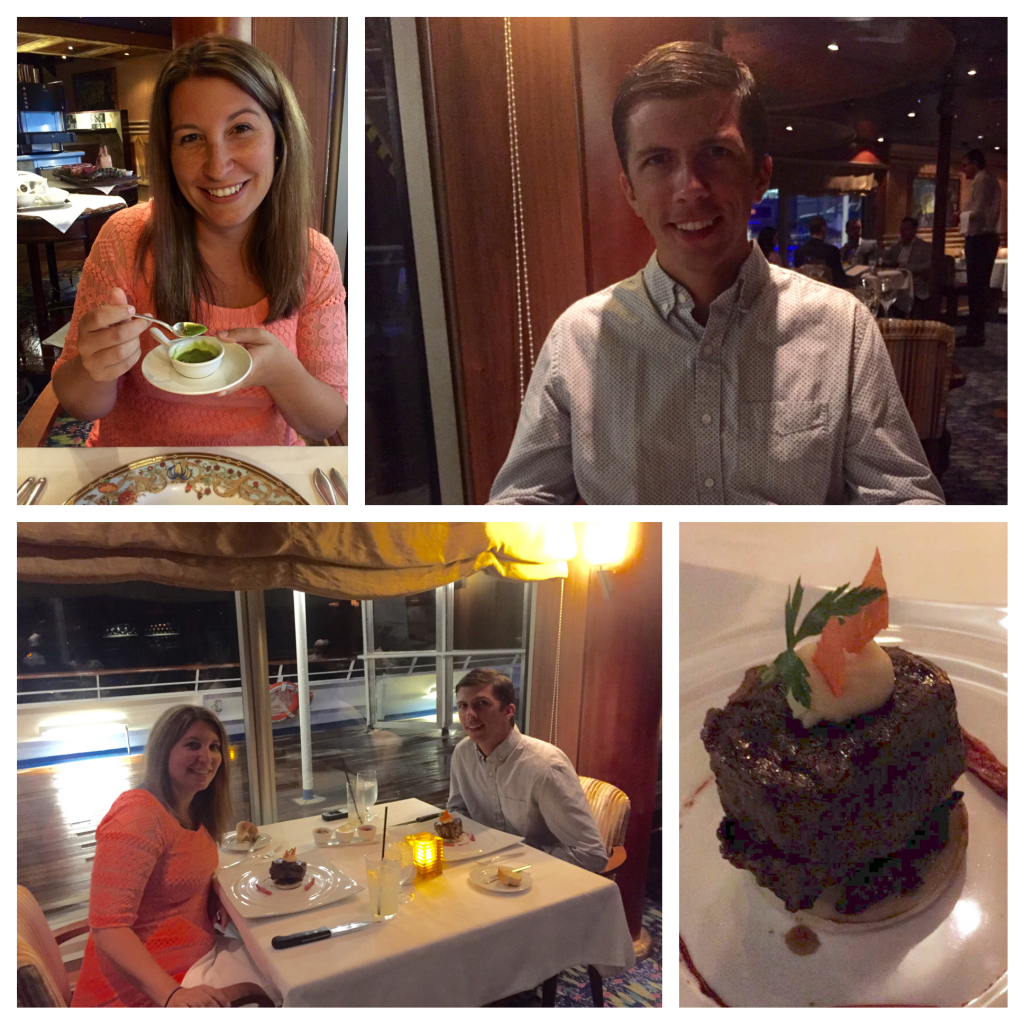 We happened to be cruising during our anniversary so we took advantage of Camp Ocean and treated ourselves to a steak dinner! We had to move our reservations back a little since the kids club doesn't open until 7. Our friends at Carnival treated us to a nice dinner and it was honestly a delicious treat! We had appetizers, both dined on filet mignon and lobster tail, with sides like creamed spinach and wasabi mashed potatoes. The Steakhouse has an addition fee of $35 per person. Totally worth every penny. The food, service, and attention to detail is magical. We got a phone call close to 9:00 informing us that Ryder was tired and crying for us, so the folks at the Steakhouse wrapped up our dessert and we ate it in bed as a family.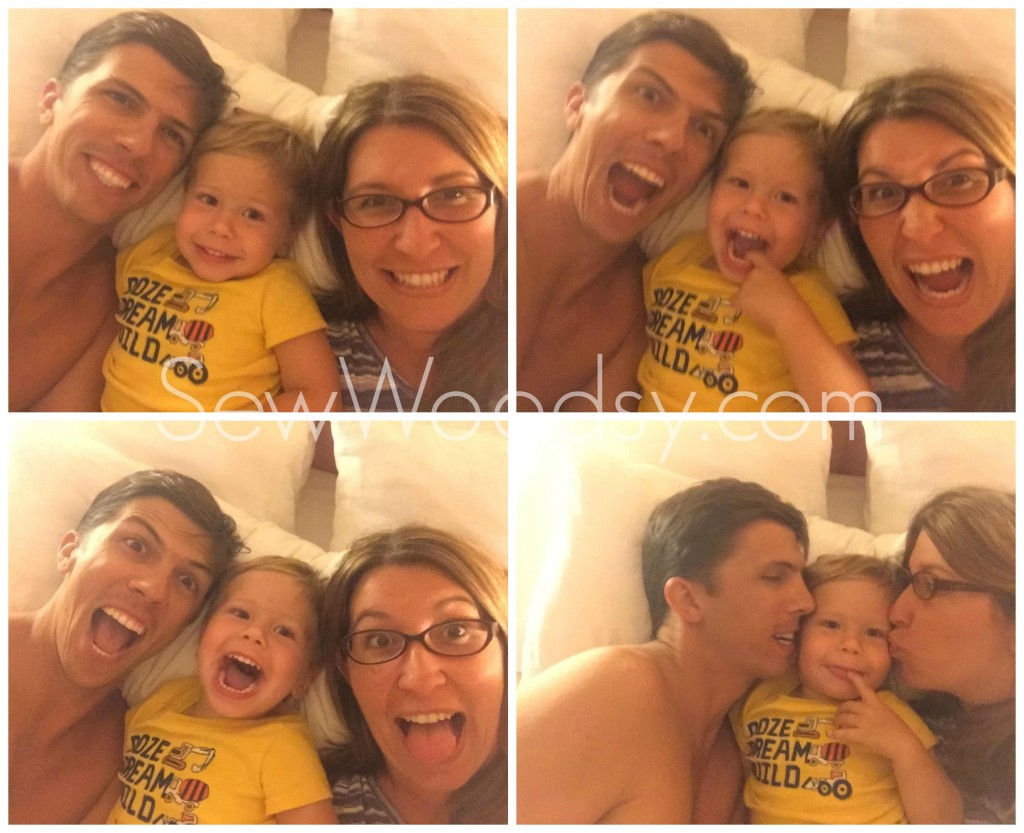 And then we took a series of cute, funny, and random pictures. Love these photos and memories.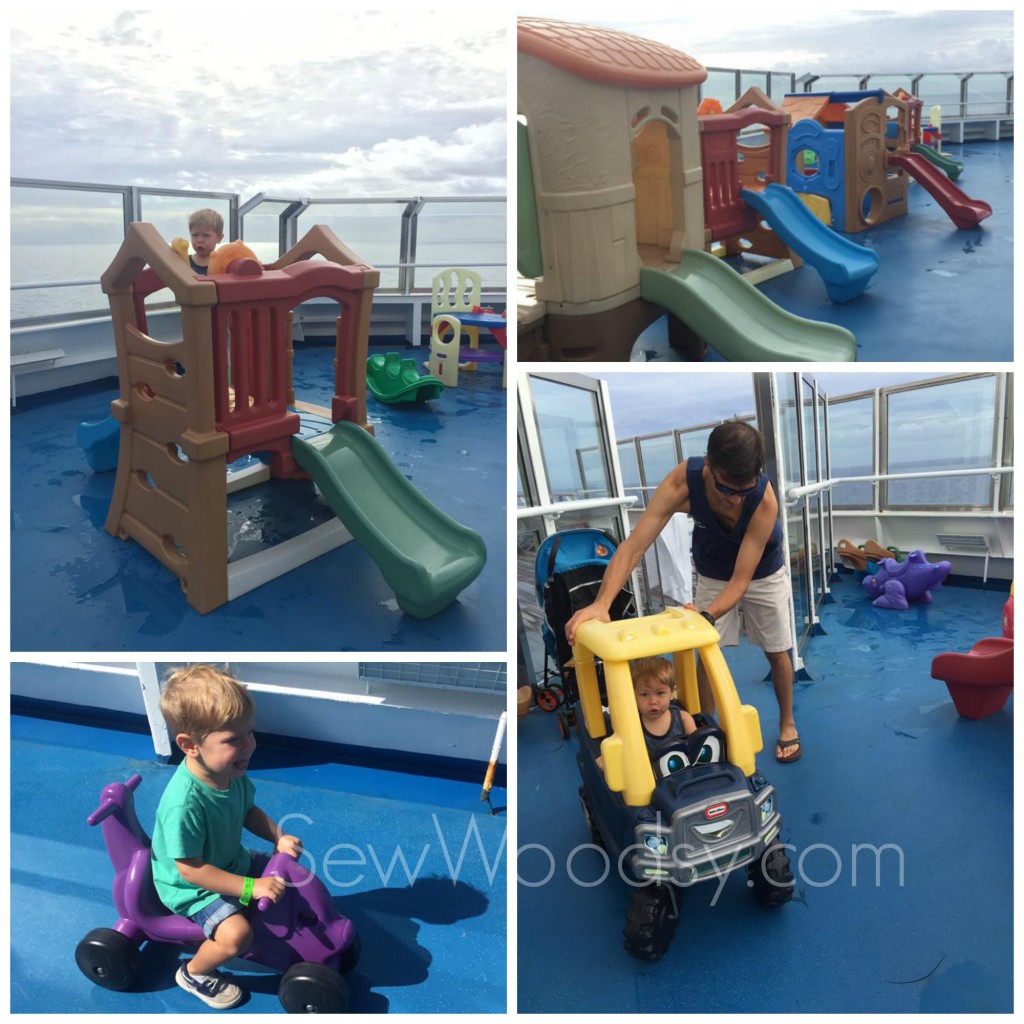 We sailed on the Carnival Conquest. It's an older ship and does not have the splash pad parks like some of the other Carnival ships have. It did; however, have an outdoor playground at sea which we visited quite a few time on our trip. Sadly, a few of the pieces were broken–of course the truck that my son gravitated toward every time. I had wished they had removed those pieces from the playground because it resulted in a few tantrums because of course, that's what he wanted to play with–but it was a bit unsafe. We spent a few hours at the playground during our trip and maybe had 2-3 other kids in the playground the entire cruise. And our cruise had over 150+ 2-5 year olds on board! The one thing the playground lacks is seating for the parents. We ended up bringing a chair over from the outside lounge area so we had a place to sit while he played. Overall, we loved this area and hope that future cruises we cruise on will have this area as well.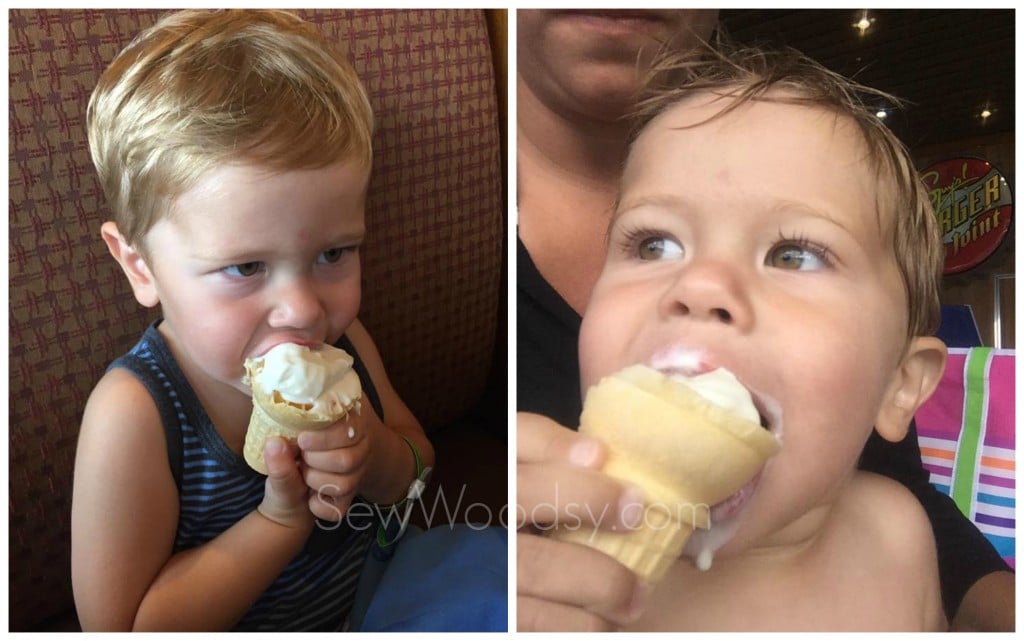 If your toddler loves ice cream, they will quickly discover the free ice cream machines. We limited to a small cone every day typically around lunch time or late afternoon. He loves it and loved eating from a cone! After-all–we were on vacation!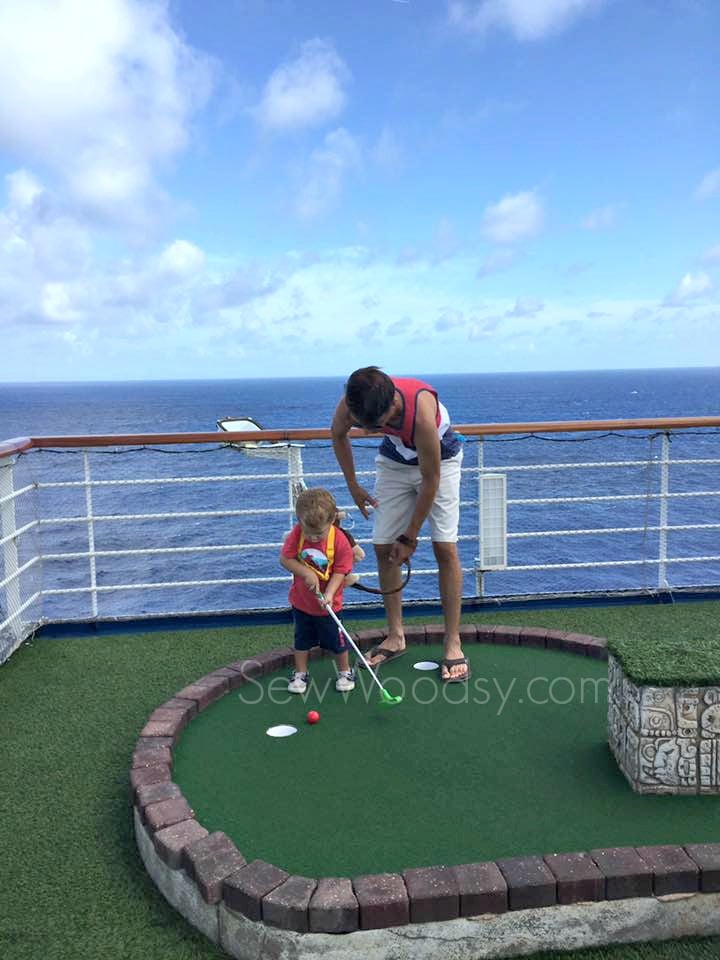 Jon and I have always taken advantage of the mini golf at sea, and since we take Ryder to our local golf course almost nightly we figured he would like mini golf. He did surprisingly well despite the 100 mile per hour winds we were experiencing on the top deck! It's free to golf and you can pick up clubs and balls on lido deck to use.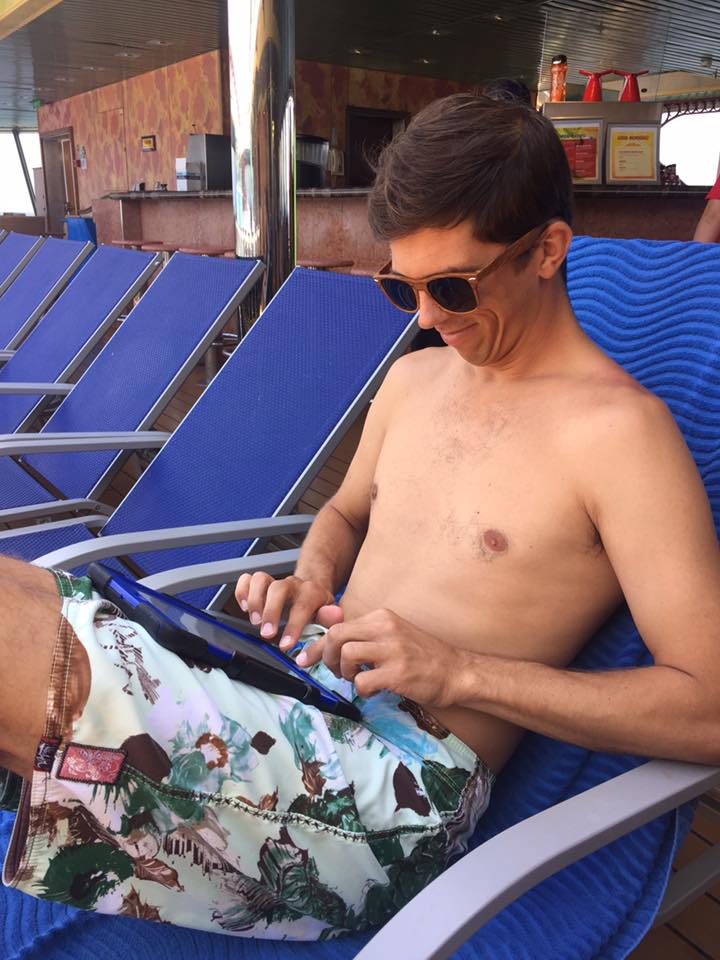 One thing that we've never done on past cruises (and we've been on 18) is purchased internet. Vacation has always been our time to disconnect and reconnect with one another. But now that Jon is the main man at work he couldn't disconnect the full week. My friends at Carnival were nice enough to give use Internet for the week. I was really surprised on how quick it was. I'll admit I tried internet back in 2006 on the cruise ship and it was about as slow as dial up internet in the 90's! That's what I was expecting this go around. Fast forward 10 years and the internet is just as good as you get at home! Jon only worked a few hours on the cruise ship and just about every time he did he was either sitting on our balcony or on a lounger chair next to the pool!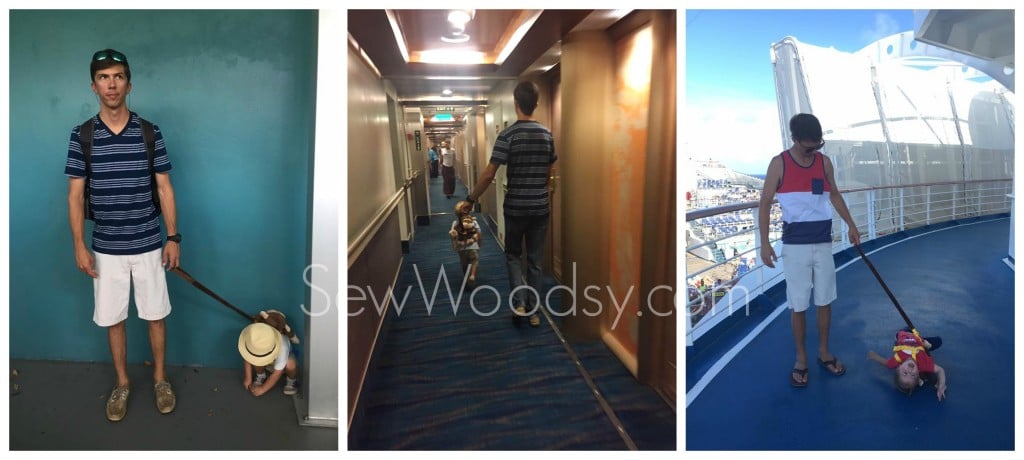 One thing that I opted to do on this cruise since Ryder is not only walking but running was cave in and buy a leashed book bag. I always swore I would never put my child on a leash and then I gave birth to a runner… a full on explorer! It did come in handy the few times we used it. Most of the time we would stick him in the stroller; however, we found he would get a little claustrophobia in the elevators being in his stroller so most of the time we would try to walk the stairs with him. We also found the leash was great for when he was having tantrums… he would roll around and we would still have control of him and he wouldn't run away. We had plenty of tantrums on this trip. He clearly doesn't understand the full meaning of vacation just yet!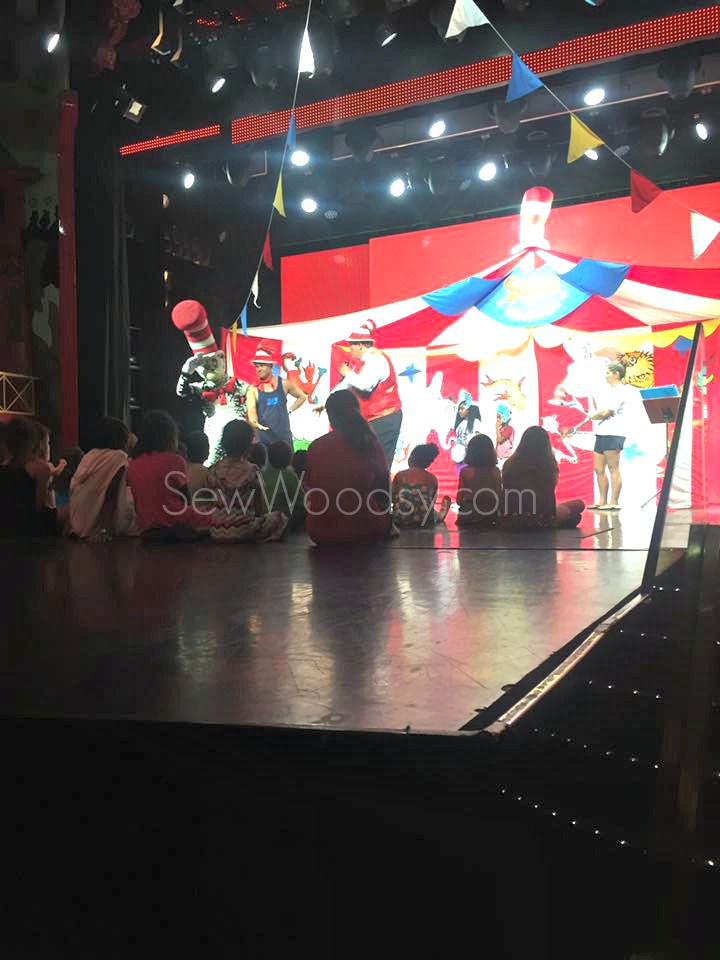 One of the things we were really excited about was the Dr. Seuss at Sea program that Carnival has on most ships. Our ship, happened to have this program, and although we missed out on the parade we were able to catch the tail end of the Cat and the Hat reading (followed by an epic tantrum that had all eyes on us).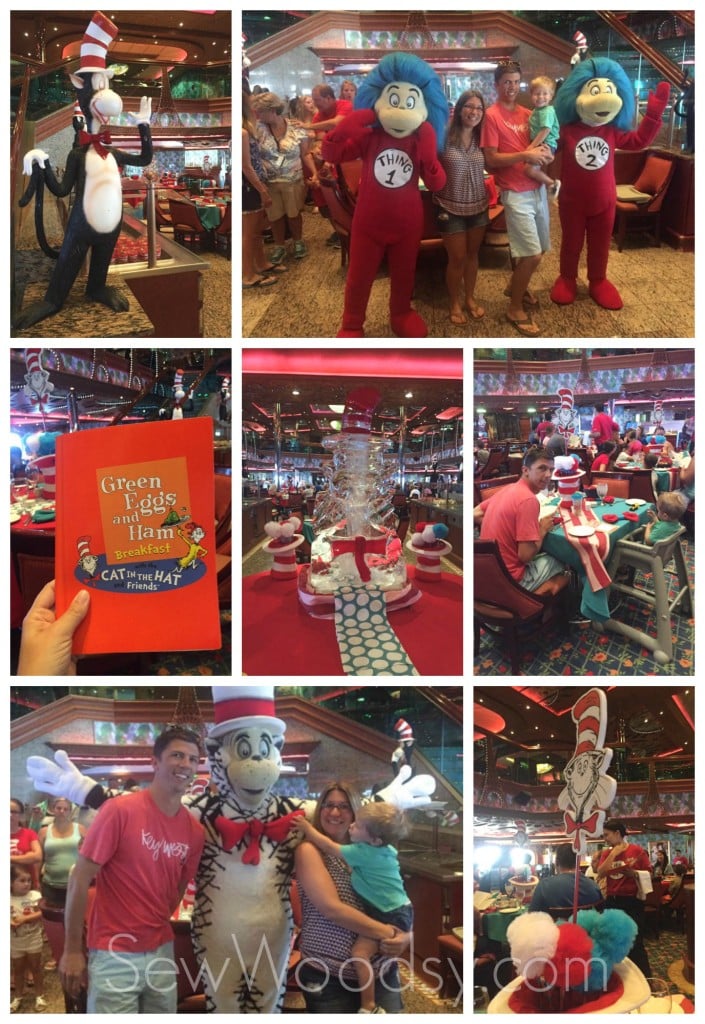 On our last day at sea they had the Green Eggs and Ham breakfast. You can reserve this in advance and it cost $5 per person for this one of a kind breakfast experience! We opted for the earliest available which was 8:30am. The room is decorated and they have a special menu just for brunch. You also get to take photos with the characters.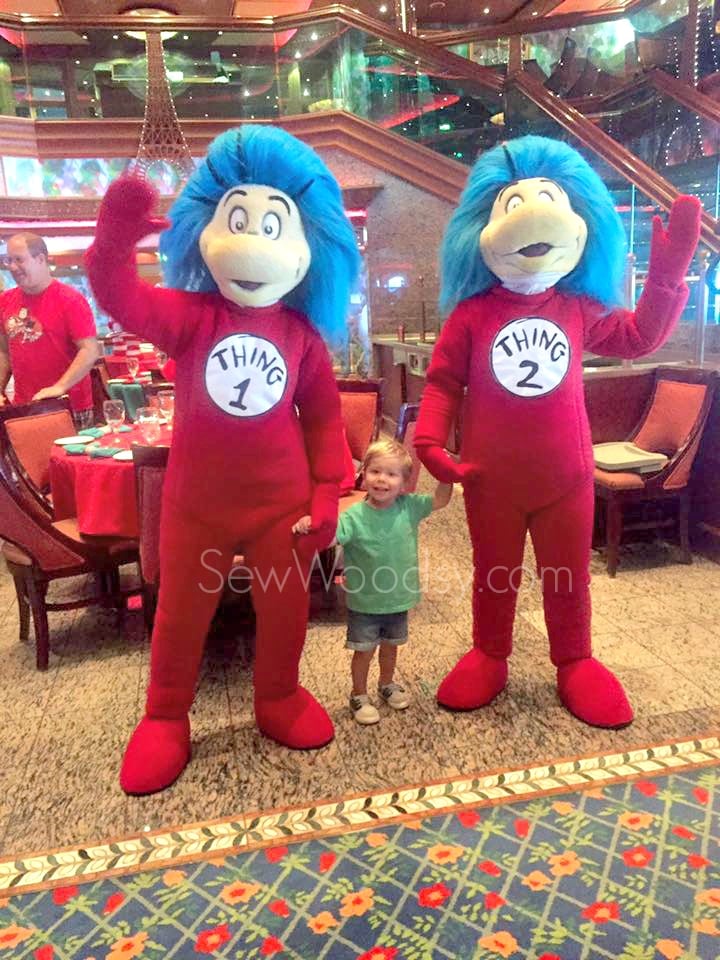 The downfall is that every time you go to sit down to eat another character comes out and you are forced to get up and go wait in line to take photos. We are use to Disney character meals where they walk from table to table verse having to wait in lines. Since it was only 3 times it wasn't that bad, but a little annoying. The one thing we did really like and appreciate was that you could give your own camera to a Carnival employee and they would also take your photo so you weren't forced into buying the expensive professional photos. I will say that I really liked this and appreciated this because when we were on Royal Caribbean they had character meet and greets with Dreamworks Characters and you were prohibited from taking your own photos. They straight up would ban you from meeting with them! Overall, we would definitely do this breakfast again–it was a lot of fun and gave us a little change of scenery!
Overall, we had a good cruise. Our expectations on how our toddler would act were very low and that's what you have to do going into any vacation. Would we do a 7 day cruise with a 2 year old again? Probably not. We would probably plan better in advance, grab a great deal and limit it to 4 days tops! Would we cruise with Carnival again? Yes, but on a newer ship that has a wide variety of amenities for all ages.
Disclosure: Carnival Cruise Lines provided us with Dinner at the Steakhouse, The Dr. Seuss Brunch, and free internet access. There are affiliate links in this post. As always, all opinions are our own.