Create a personalized Cookies for Santa Plate using a Cricut die-cutting machine, vinyl, and a plate. This inexpensive Christmas craft comes together in a half hours time. You can give this Santa cookie plate as a gift or keep to use for your own family tradition.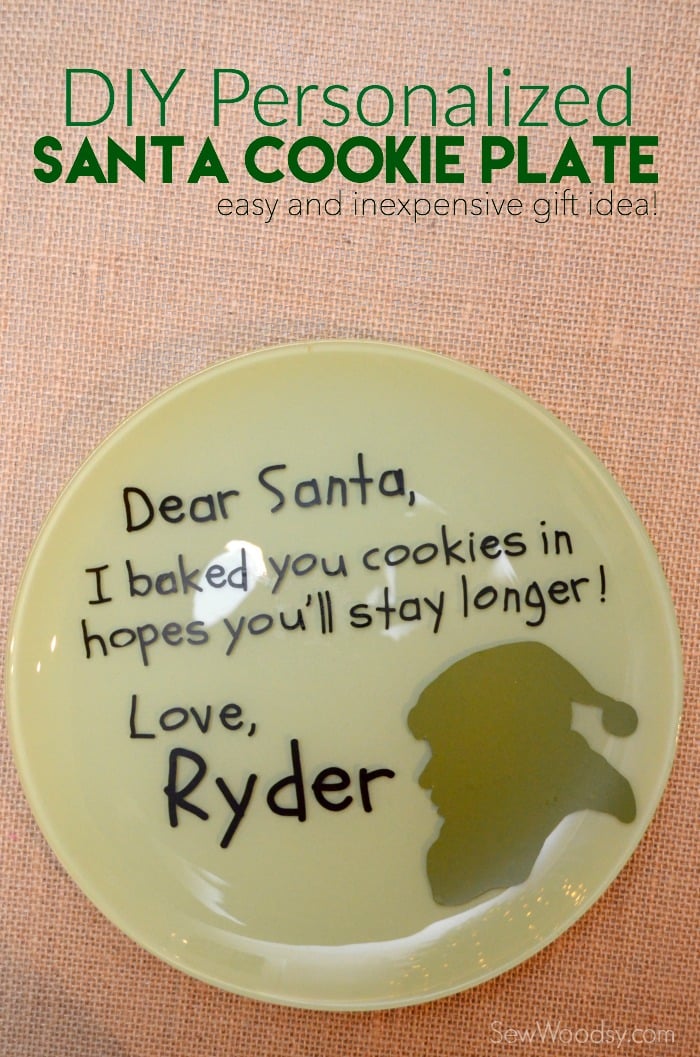 Don't spend extra money on those adorable cookie plates that you put out for Santa. Instead, head to the Dollar Store to grab an inexpensive plate, grab a roll of vinyl (or two) and dust off your Cricut. Create your very own personalized Cookies for Santa Plate in minutes.
I made this for my son's first Christmas and we used it every year up until my daughter was born. Then it was time to make a new one that had both kids names and was grammatically correct for two kiddos! Because you can customize this cookie plate the sky is the limit as to what you decide to put on it. You can simply put one name, multiple names, or even your families last name.
If you are looking to make a Santa cookie plate I hope you will find these step-by-step instructions helpful as you create your own. I also created a tutorial on how to make the Santa's Milk and Cookies placemat.
Supplies
Computer
Transfer Tape
Vinyl Applicator
Plate
Design the Santa Cookie Plate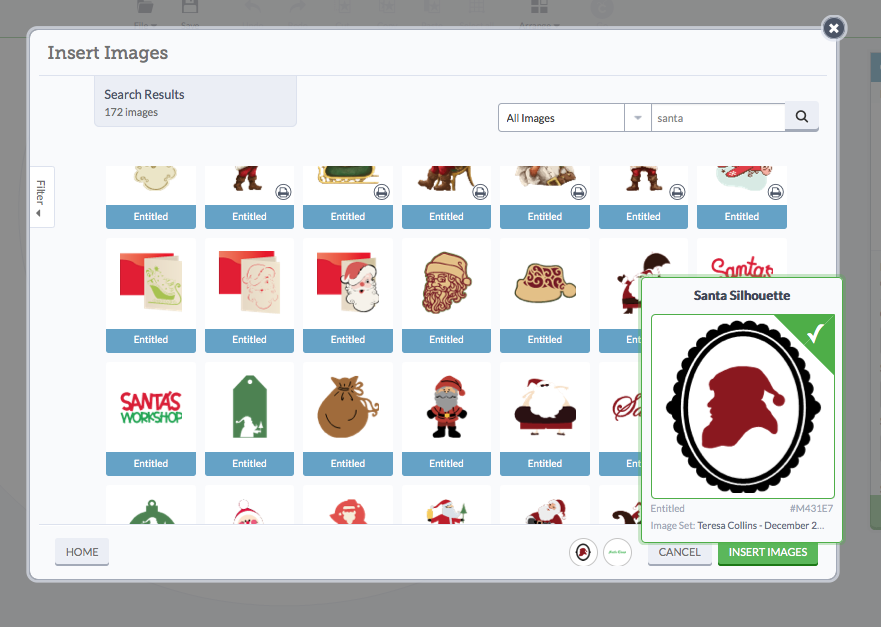 First, look for a silhouette of Santa in Cricut Design Space.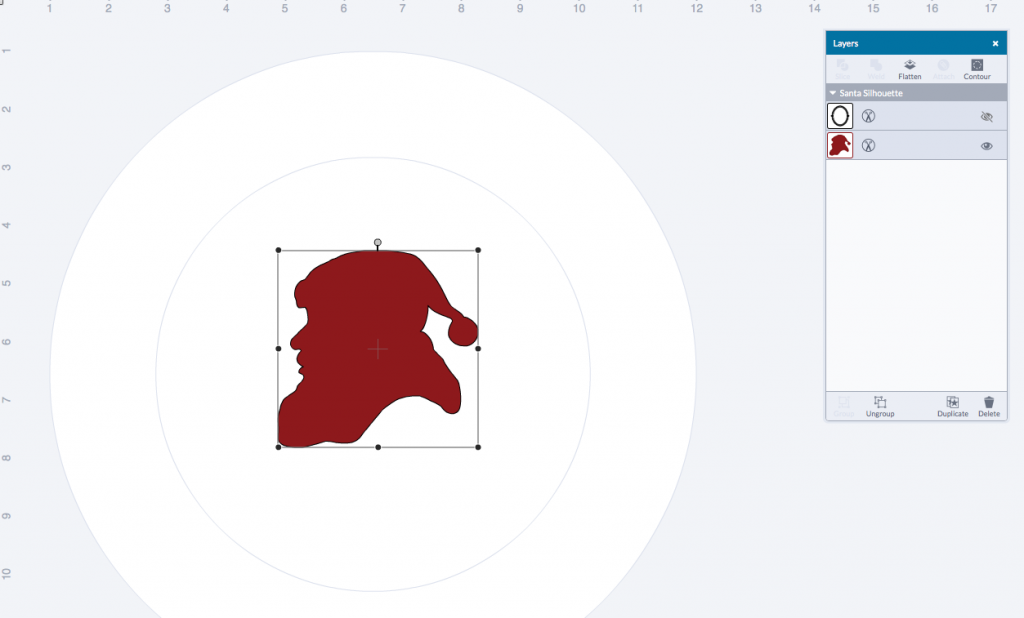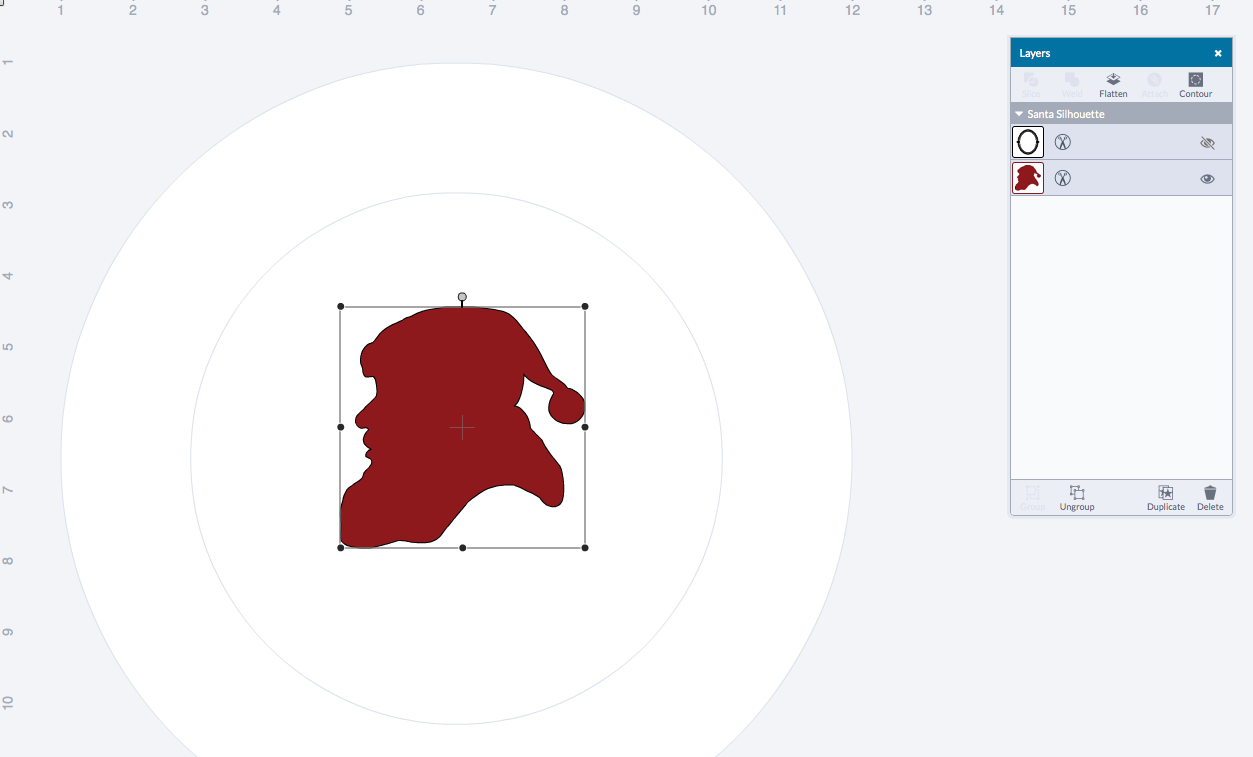 In the layers panel, I clicked on the eye symbol to remove the black frame around Santa.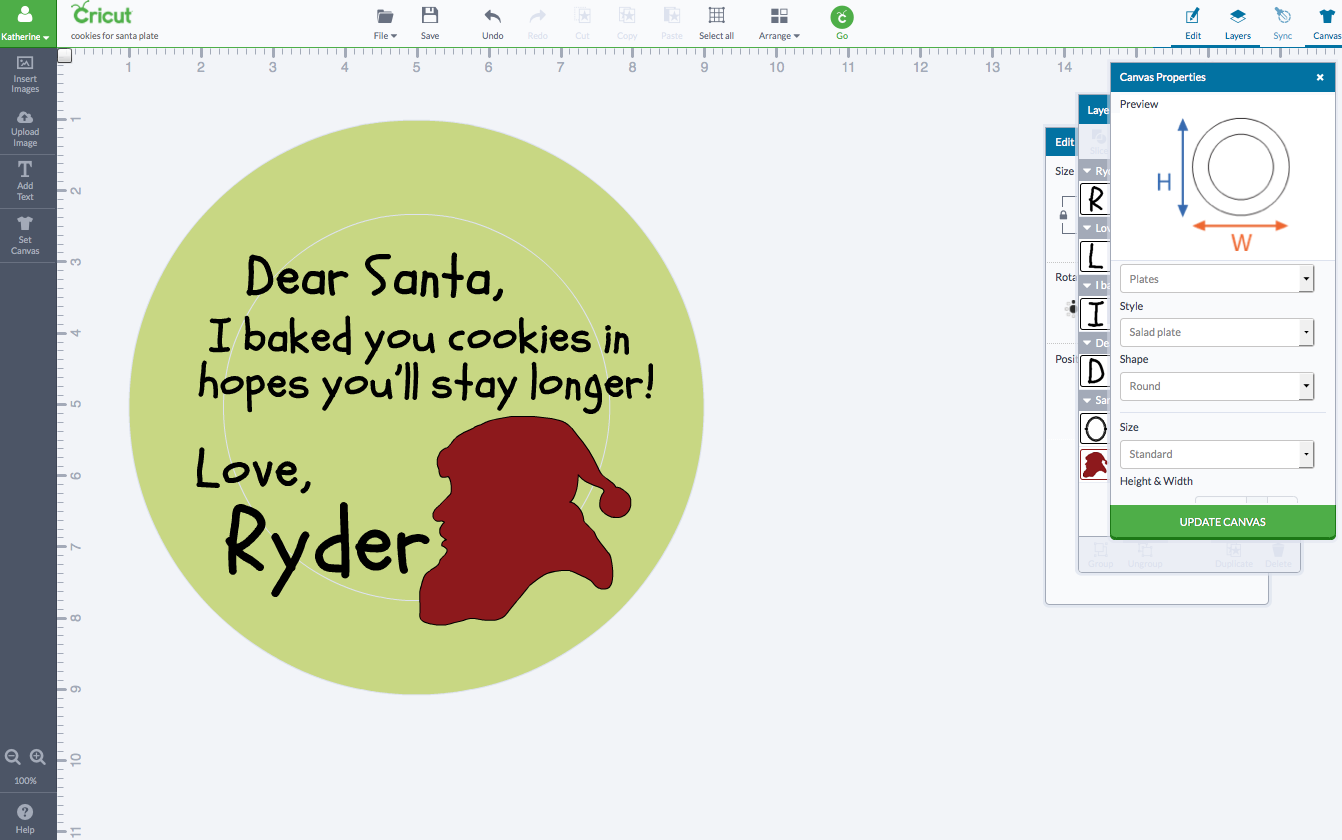 Next, up I added the text (I used the free front Schoolbell to achieve the child-like handwritten note to Santa). I also changed my plate in Design Space to a light green to replicate how it would look like in real life.
Side Note: When I first made this project in 2014, Cricut Design Space did not allow to change the height of the text. Since then, you now have this capability. When I created this project I cut each line out individually then added it to the plate. Now, you can simply hit the return and change the line spacing to be closer together.
Cut the Design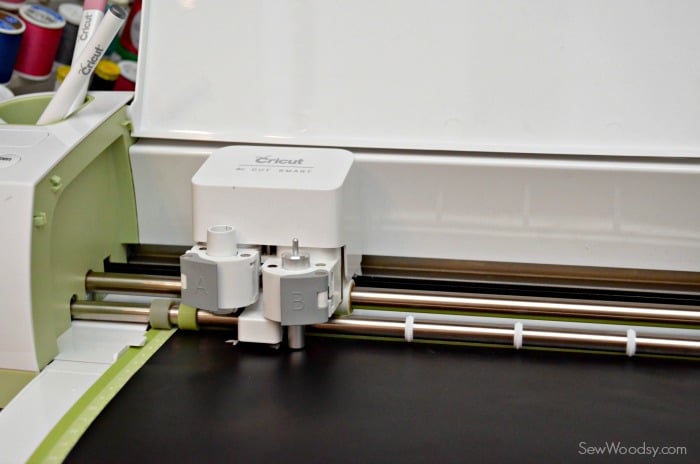 Once you have the design set you will be ready to cut out the vinyl . Pictured is the original Cricut Explore. You can cut this on any of the Cricut machines including the Cricut Joy.
Weed the Vinyl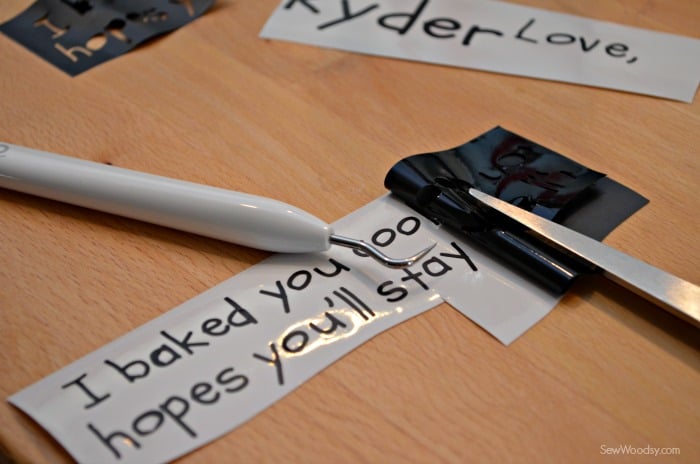 Once your design is cut it's time to weed out the the negative parts of the text.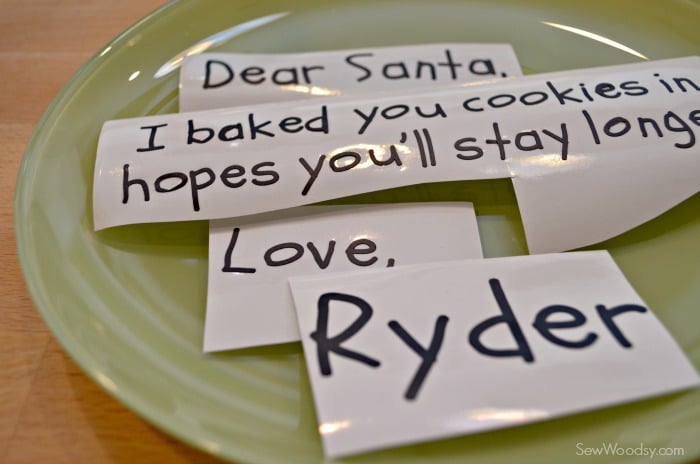 Once the text is weeded, I placed all the text on the plate to figure out exactly how I wanted it to look.
Apply the Vinyl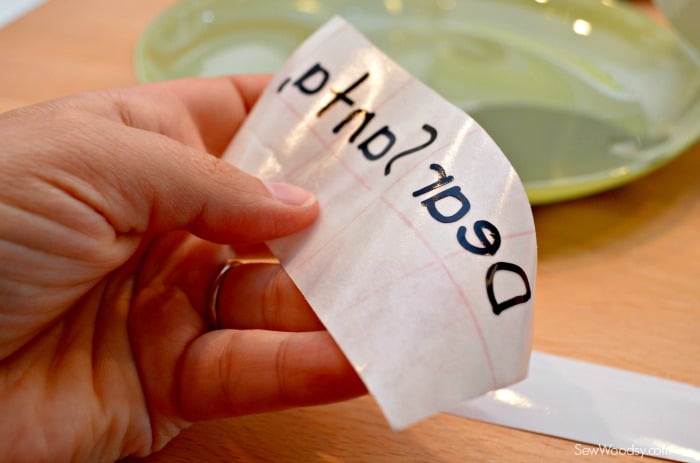 Then, I applied the transfer tape to the vinyl.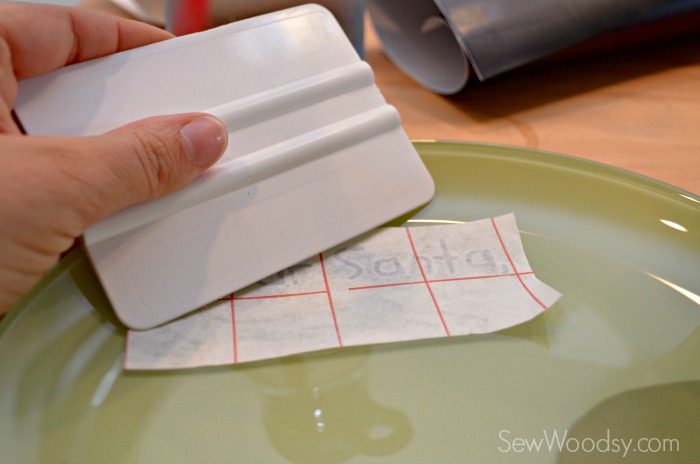 Using a vinyl applicator or squeegee, I placed the transfer tape on top of the platea and began to adhere the vinyl to the plate.
Pro Tip: If you don't have a vinyl applicator a credit card works just as well!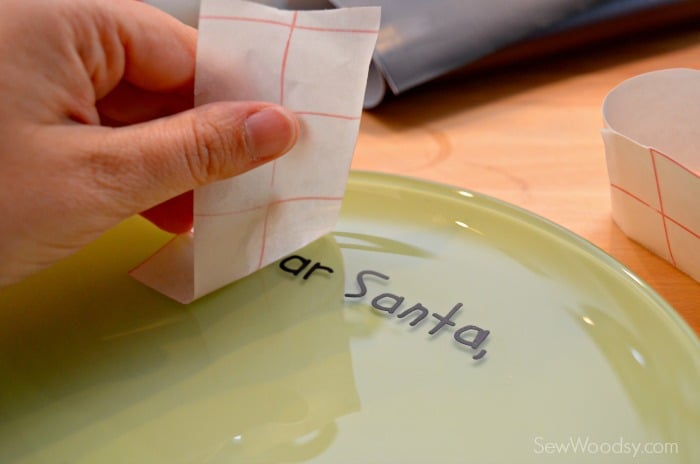 Carefully (and slowly) remove the transfer tape from the plate.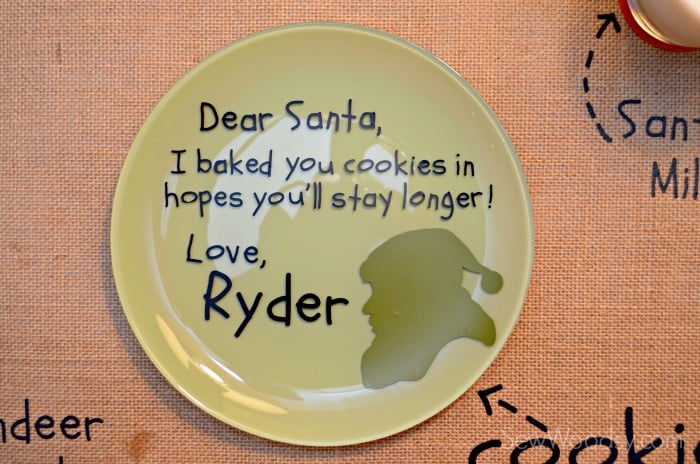 Within a half hours time you should have a Santa cookie plate that looks similiar.
Santa Cookie Plate FAQs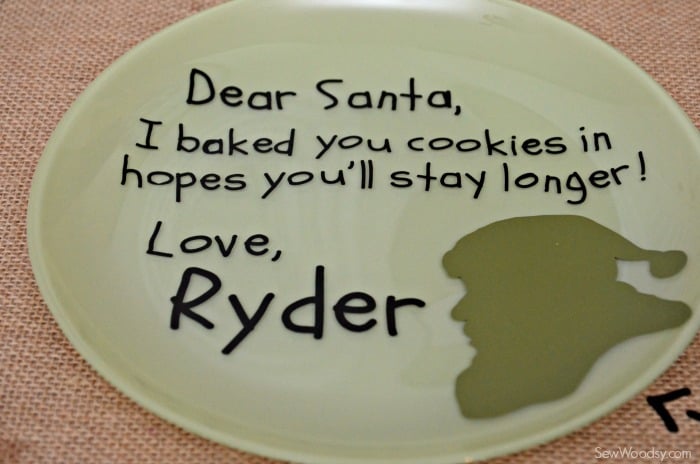 Is this plate dishwasher safe?
The plate itself should be dishwasher safe, but depending on what type of vinyl you use will depend if you need to hand wash the plate (regular vinyl). If you use permanent vinyl it will be top rack dishwasher safe.
Can I make multiple Santa cookie plates?
Yes, you can make as many plates as you would like. I suggest making one first to get the hang of it then working on making other plates.
What is the most popular cookie left for Santa?
The most popular cookie left for Santa is chocolate chip cookies! You can find a delicious recipe over on Katie's Cucina.
Tips & Tricks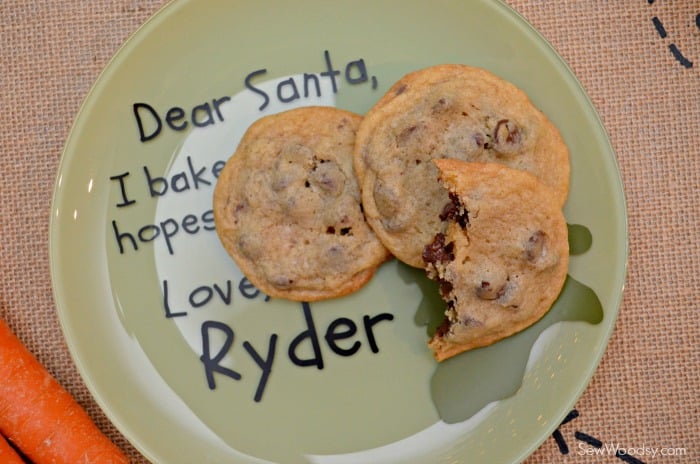 Here are a few of my tips and tricks when making this cookie plate.
Text in Cricut Design Space – When creating this design you will need to type the words out a few at a time to ensure they cut out to the size you want. If you type it all in one sentence, Cricut Design Space will show that it cannot cut the text because it exceeds the size of the mat.
Weeding – This terms means to remove the negative from the vinyl of the design.
Transfer Tape – If the transfer tape doesn't seem to stick to the vinyl design, place the transfer tape on the design. Flip it over so the design is facing down and with firm pressure, run a vinyl applicator on top of it. Then, carefully, start to peel the paper back, so that the design is exposed on the sticky tape. If the transfer tape is a few years old, I've found it looses it's stickiness.
Bubbles – Once your design is on the plate if you see a bubble. Carefully, run the vinyl applicator over it and start to squeeze out the bubble under the vinyl sticker.
DIY Christmas Projects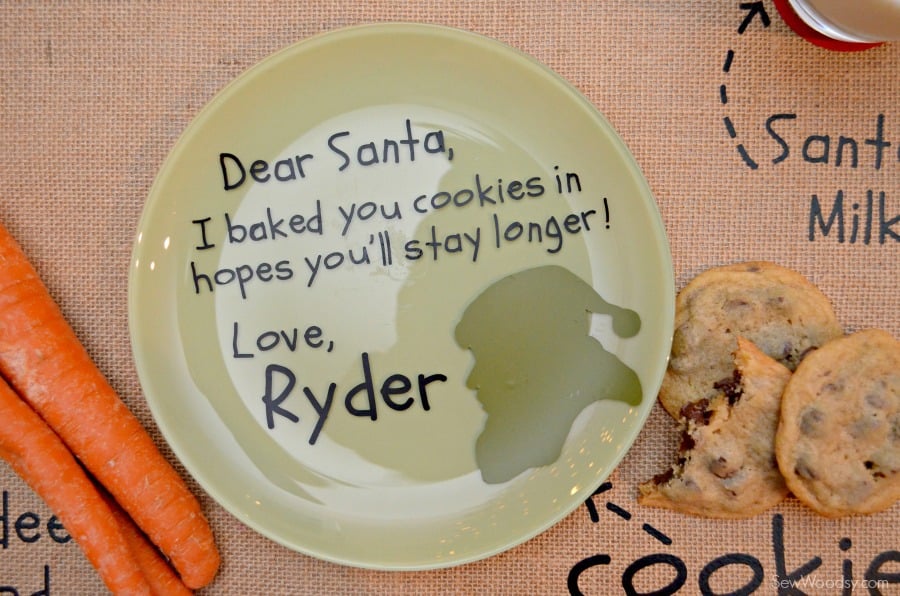 If you are looking to make other Christmas DIY projects here are a few others I would love to recommend.
If you make this Santa plate, I would be honored and love for you to take the time to leave a star rating and comment! I spend hours developing and testing these projects, and always love to hear feedback and user experience!
Don't forget to FOLLOW ME on Facebook, Pinterest, and Instagram, and subscribe to my email list!