Today, we have our sweet friend Karah from the space between sharing her tutorial on how to make DIY Sisal Coasters! We officially met Karah in real life last year at Haven. Before that we had chatted with her via email and twitter! Karah use to live in Curacao and when we found out we were traveling their last summer I immediately emailed her. She gave us so many great tips and really made our day in Curacao complete. Not only does is she the go-to gal on Caribbean living, but she's also writing a book! So give her a warm welcome, and visit her blog after your done reading about this awesome tutorial!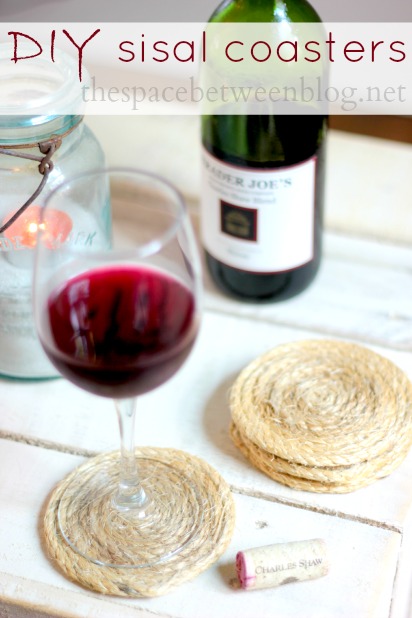 Hey my Sew Woodsy friends! I'm Karah and I blog at the space between.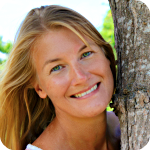 Maybe we haven't officially met yet, but I know we'd be fast friends. I mean, we both love Katie and Jon so we are sure to bond over that, and probably that most adorable baby of theirs, and let's toast to a belated Happy Birthday to Katie!! Aren't they the best?!?!
One thing I'll let you know right up front is that I am currently knee-deep in renovating our 1950's Key West conch style home inside and out, on DIY project at a time … and there was a stretch there where we were the dog of the neighborhood, 'cause nothing says "we've got class" like plywood and tarp.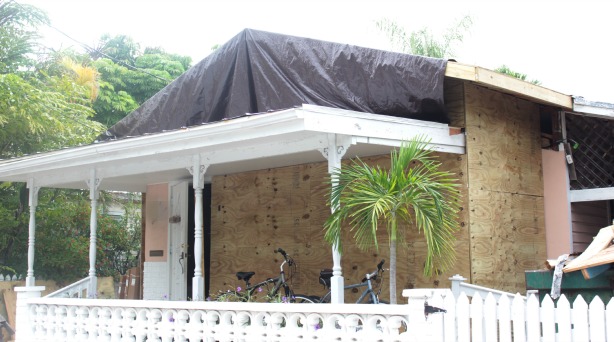 Thankfully, we are not still at that stage, but we still have a long way to go.
Which is where my second point of business comes in, do it yourself coasters.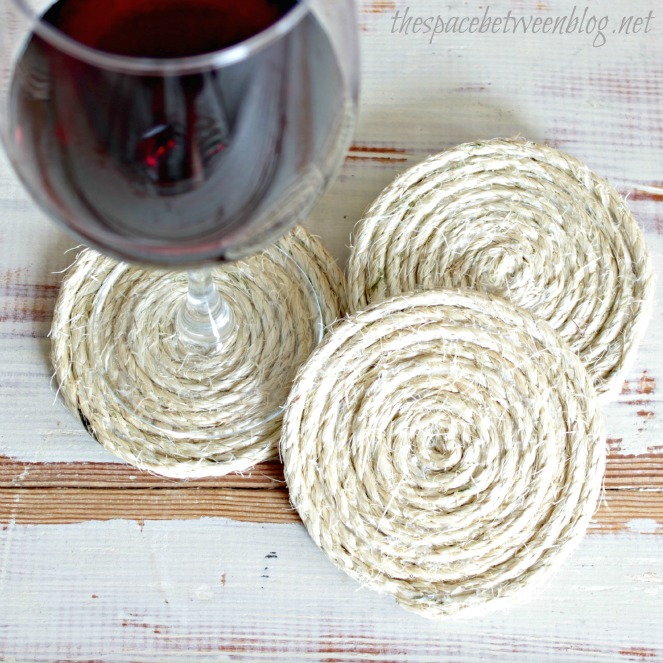 Because after a long day of work we like to drink indulge in adult beverages relax in the evening. And I actually made these easy little coasters about a year and a half ago and they are still going strong with everyday occasional use.
All you need: sisal, hot glue and scissors
How to: put a dab of hot glue on the end of the sisal and start rolling the sisal around itself, hot glue every so often and keep rolling.
I'm not sure exactly what this next picture illustrates, but I took it so it's only fair that you have to see it. 😉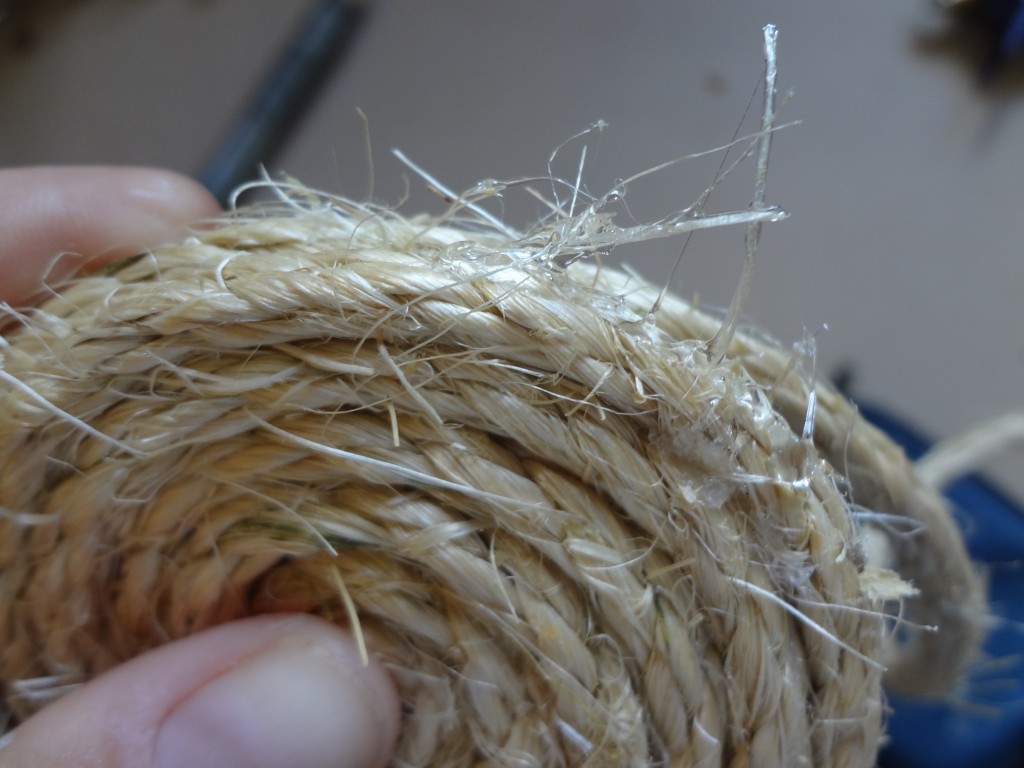 Cut the end off at an angle and then trim the sisal stringy thingys.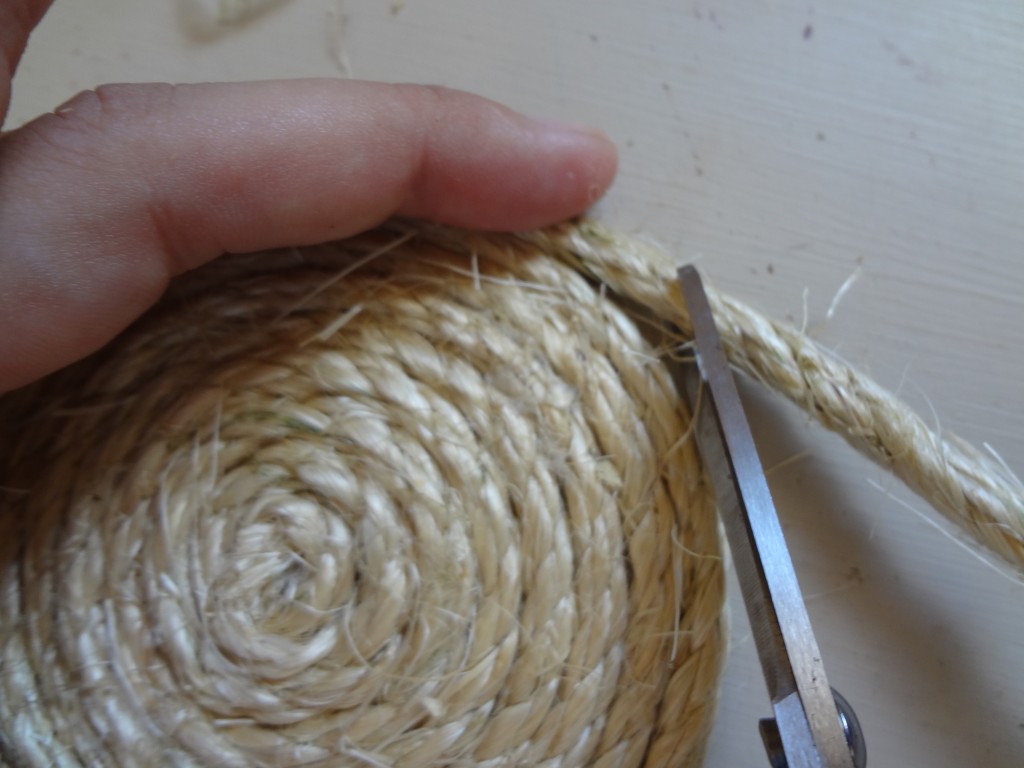 I found that an unsharpened pencil worked great to scrape off any glue that squeezed its way up to the top (or bottom) of the coaster. Your precious finger tips will thank you for this tip.
I don't know about you but I feel like I need hot glue finger tip protectors … and leg protectors … and feet protectors. I just might have dropped the hot glue gun on my foot twice once. 😉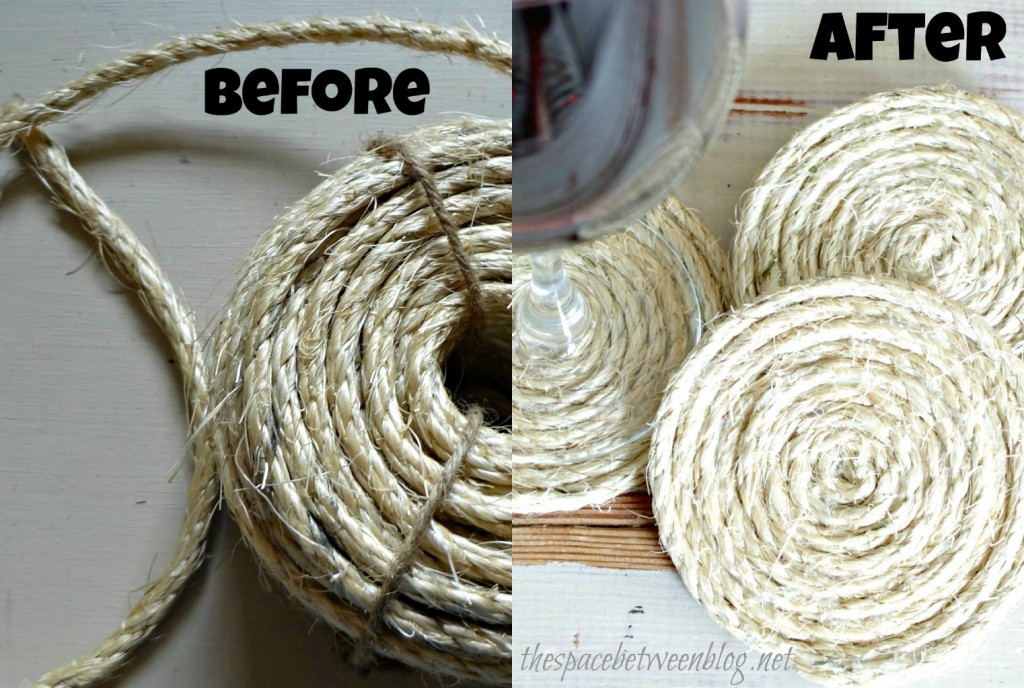 The whole roll of sisal was about $5 and I used about half to make 4 coasters.
Wrapped in a beautiful ribbon these would make a great, inexpensive gift. Maybe for a neighbor, or a housewarming gift with a bottle of wine, or for a co-worker.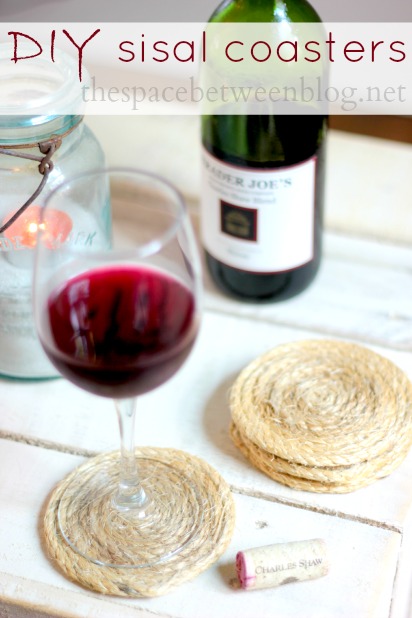 What do you think? Are you a homemade gift giver? Coaster user? Sisal lover?
And if you're interested in following along our full Key West conch home renovation you can check out the scary before video and see the projects we've managed to tackle so far here. These days we're finishing up the exterior upgrades and preparing from some big floor plan changes. I'd love to have you stop by and say hi!!
And I'm usually sharing the in between details on social media. Follow along on Facebook, Pinterest, Instagram and Google +.
Thanks so much for Katie and Jon for having me …