This is a sponsored post on behalf of Martha Stewart Crafts.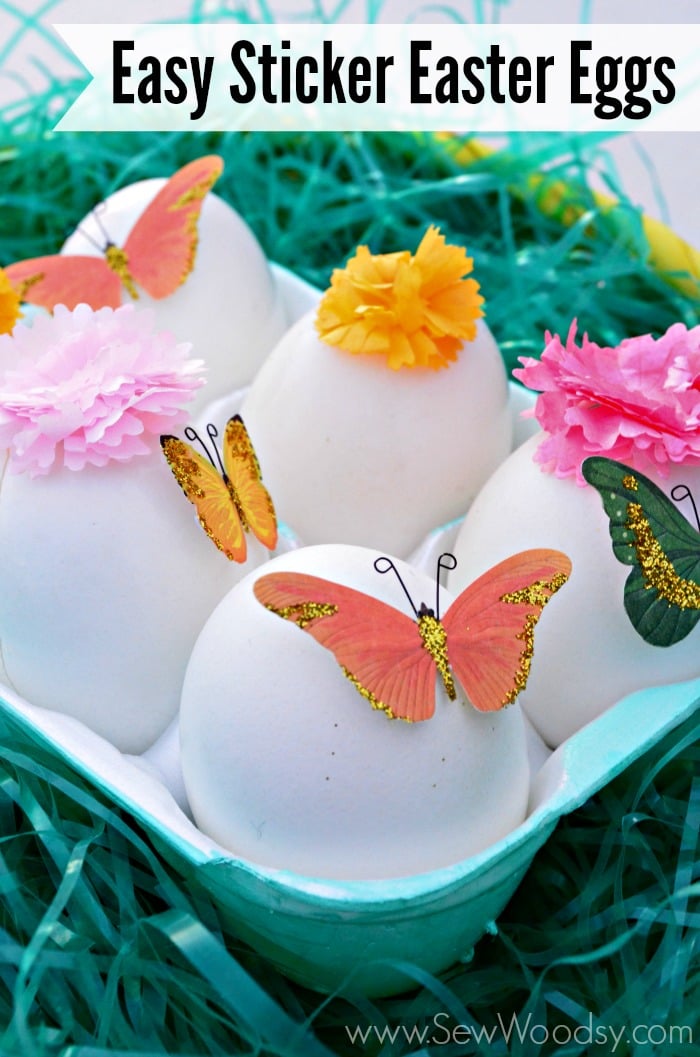 I can't believe Easter is this weekend. It totally snuck up on us, but I guess that's partly because of the new little human being that is ruling our lives right now. It's Ryder's first Easter and although he has no clue about Easter and dyeing eggs and the massive amounts of candy that are dished out in cute Easter baskets, we still felt the need to decorate Easter eggs. But let's get real–when your living on 2-3 hours of sleep at a time, who the heck has time or energy to decorate Easter eggs?!?! Enter, easy sticker Easter eggs. Yes– stickers. And because I felt a little guilty about how easy these were to make, I decided to make a cute decorative Easter egg holder. I only made a half dozen eggs, because I don't eat hard boiled eggs. Jon on the other hand loves them, and was so excited to see that I was "decorating" Easter eggs this year for Ryder.
Last month, I received my box of supplies from the 12 Months of Martha campaign. It was fully of beautiful spring colors and products.
Here are all the items I received in my box:
Pink Layered Pom Pom Stickers, Doily Lace Gold Thread, Vintage Girl Specialty Ribbons, Fabric Camelia Stickers, Vintage Acrylic Flower Embellishments, Garden Butterfly Layering Punch, Cherry Blossom Deep Edge Punch, Vintage Girl Pink Pom Poms, Vintage Girl Cupcake Wrappers, Vintage Girl Food Picks, Vintage Girl Coasters, Doily Lace Cupcake Stand, Garden Strawberry Mini Treat Wrap, Dimensional Zinnia Stickers, Butterflies, Circle Edge Punch Starter Kit, Fabric to fabric decoupage, Multi surface decoupage – gloss, Decoupage Brush Set, Geometric Lace, Floral Lace, Craft Paint (Bubble Gum, Lemon Drop, Winter Mint, Blueberry Slush, Blue Sky, Pink Dahlia, Pea Shoot, Meadowlark)
After I sifted through the box I knew I wanted to make some sort of Easter egg with the product. That's when it hit me to put stickers on Easter eggs.
Supplies:
Egg Carton

Hard Boiled Eggs
Butterfly Stickers
Scissors
Beach Glass Acrylic Paint
Paint Brushes
First up, cut the egg carton using scissors.  I cut eight slots first to practice, then trimmed it down to 6 which is what I needed. This all depends on how many eggs you decide to decorate. 
Next up, apply the acrylic paint to the carton. A thin coat goes a long way and dries fast. Once the glossy color is dry, add the glitter coat. It gives a nice little shine.
While the egg carton is drying, boil your hard boiled eggs. I highly suggest this tutorial from Simply Recipes on how to make perfect hard boiled eggs. I didn't add the vinegar in like Elise suggest (I was lazy and didn't feel like digging it out), and I had one cracked egg. I did salt the water, though.

Once the eggs cooled, I dried them completely so that the stickers would adhere on to the eggs. You may have to dry them multiple times.
I added the butterflies on first (only on a few of them).
Followed by the Dimensional Zinnia Stickers. Really, the sky is the limit. Once the stickers were done, that was it… the eggs are ready for Easter. Of course, I don't recommend you store the eggs with the stickers on them in the fridge. This quick and easy version is really meant for the day of when the eggs are being placed in baskets!
I love the little container I made too. I've always admired the ceramic containers, but to be honest–this homemade free version is just as good (and free)!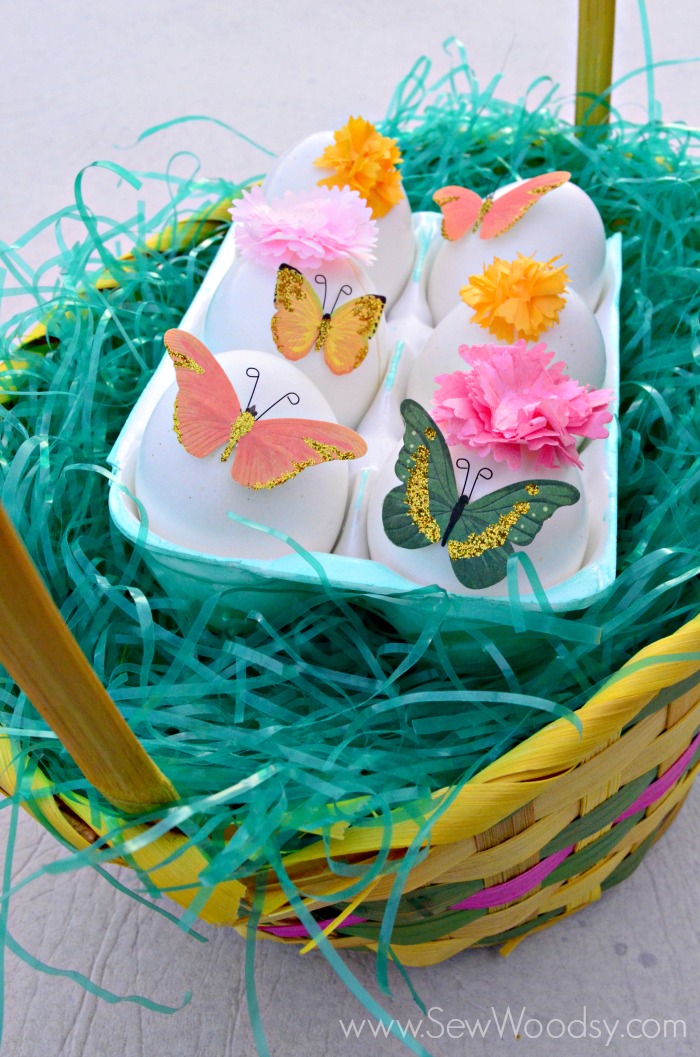 Now, all we need is a visit from the Easter bunny!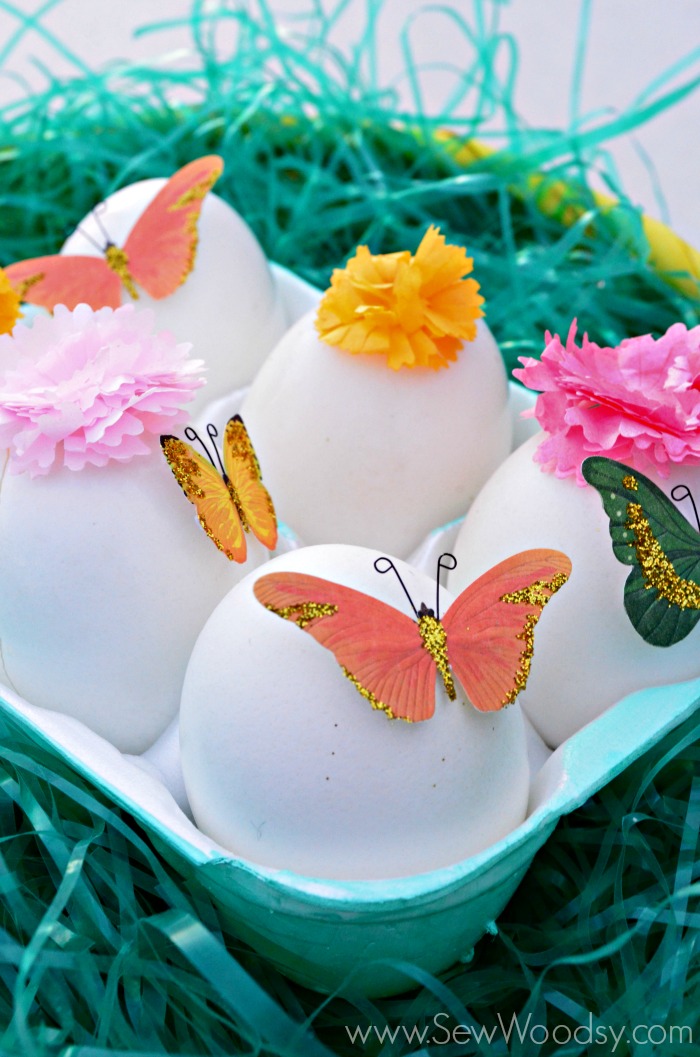 Disclaimer: This is a sponsored post on behalf of Martha Stewart Crafts. I received product and was asked to create a project using the product. As always all opinions are my own.