This post brought to you by Meister Cleaners. The content and opinions expressed below are that of Sew Woodsy.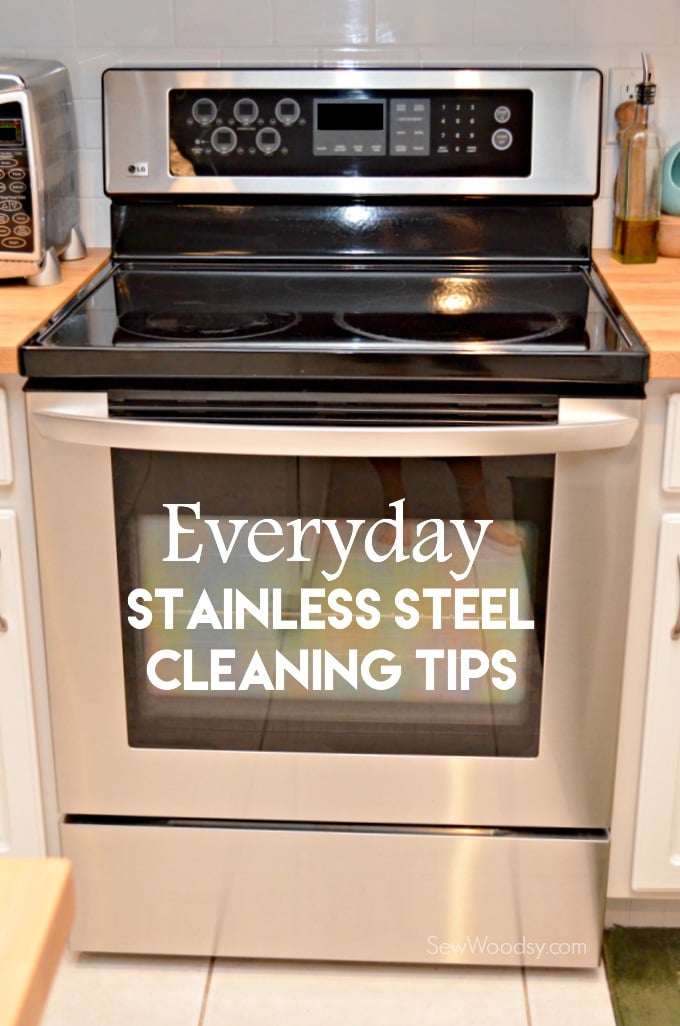 If there is one thing I hate to do it's cleaning. I dread it like the plague. I'll cook all day long, and do loads upon loads of laundry. But give me a vacuum or worse a rag to clean stainless steel and I'm miserable. While I was pregnant we hired a cleaning service to clean our home once a month. It was a glorious thing! I knew after I gave birth we would not be able to afford the cleaning service any more. And since I'm at home (even though working from home) I try to clean when I can. I hate cleaning our stainless steel appliances. I've never been one to be able to really get them clean. I would always see streaks or marks from where the cleaner was applied to the appliance. At times I've thought about how in our next home we will not get stainless steel appliances because I just don't want to have to put up with cleaning them. I was recently introduced to Meister Cleaners. Let me tell you, after using this product I no longer am dreading cleaning the stainless steel appliances. I was actually excited to clean the rest of my appliances. Jon thought I had lost my mind, until he saw the before and after difference. The holidays can be a busy time of year and I find that breaking up the cleaning day-by-day makes it so much more manageable. I'll dust one day, and then vacuum the next. When it comes to the kitchen I try to clean it up daily that way it doesn't get too out of control. Cleaning the stove top off after cooking is an easy thing to do (although something I sometimes forget to do). And you can easily clean the stainless steel at least once a week. For the holidays I like to clean the stainless steel the week family is coming to town, then the day before everyone arrives, followed up a nice polish and touch-up the day after.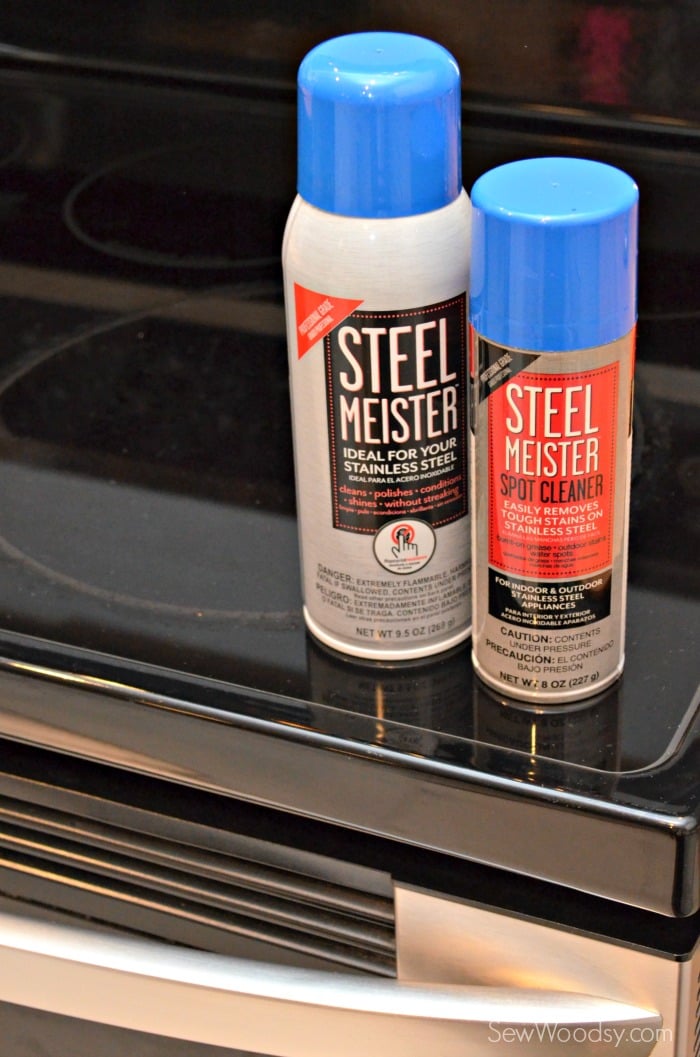 There are two stainless steel formulas by Meister. There is the Steel Meister Spot Cleaner which is great for getting off the hard grimy stuff or even water spots (which we have a lot of on our appliances). And then there is the regular Steel Meister cleaner that you use almost as a polish after you've removed all the hard stuff off the stainless steel. Make sure to combine the Steel Meister and Steel Meister Spot Cleaner products for the best result.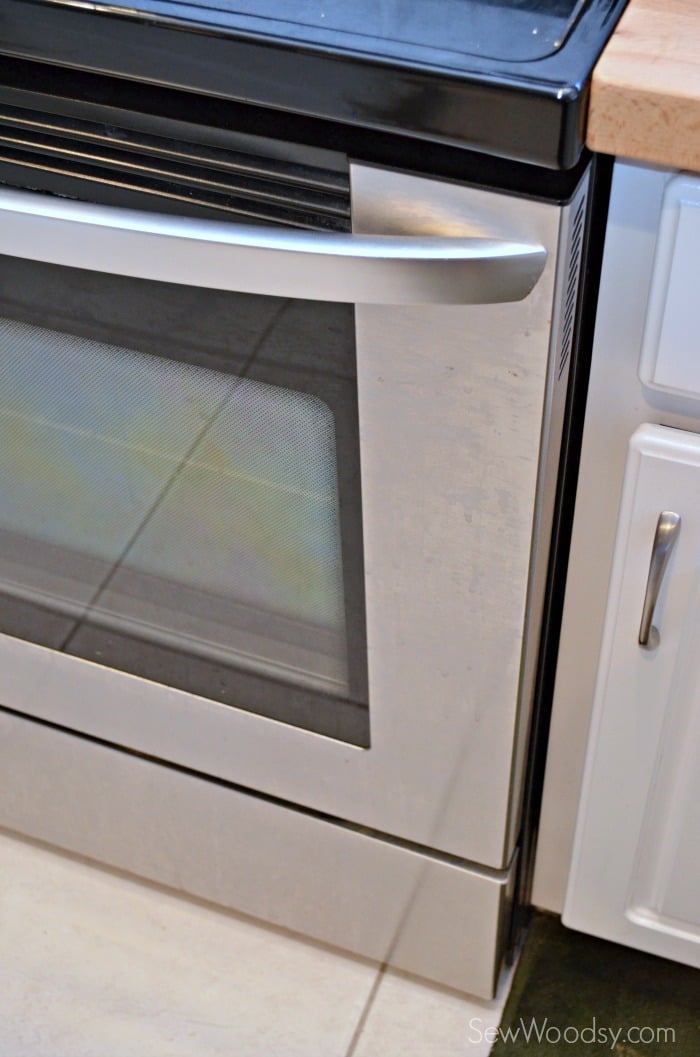 Here is the before of our stove. A little hard to tell from the photo, but we have waterspots and fingerprints galore.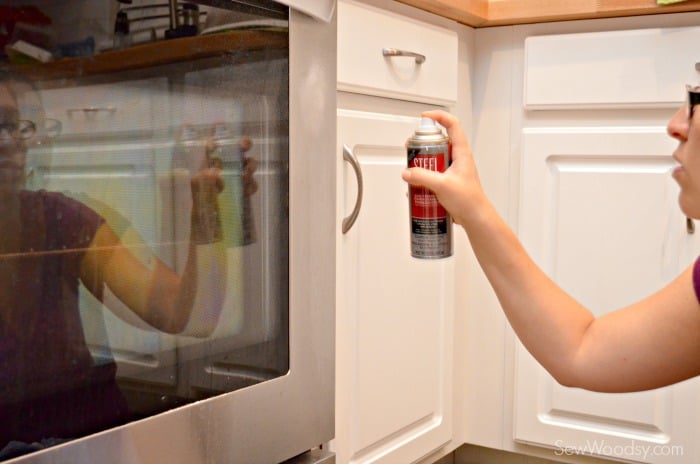 I did one coat of the Steel Meister Spot Cleaner to get off the water spots. Then I did one coat of the Steel Meister to buff it all out.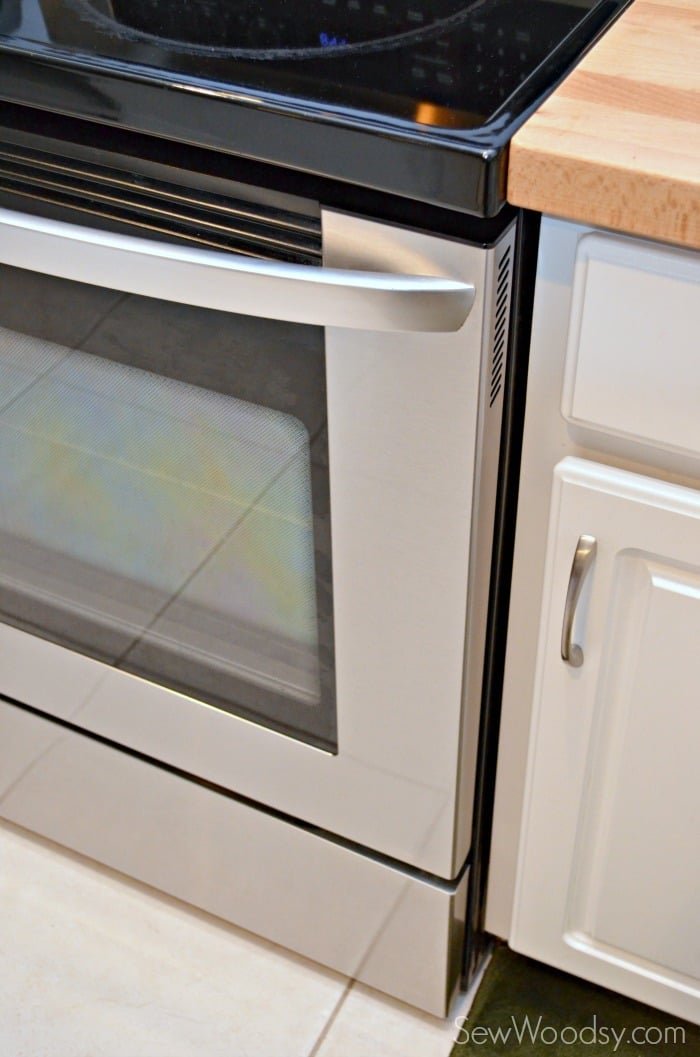 Beautifully cleaned stainless steel without any water spots or smudges. I thought for sure our stainless steel was ruined! Now I just need to get a little glass cleaner and clean the stove glass!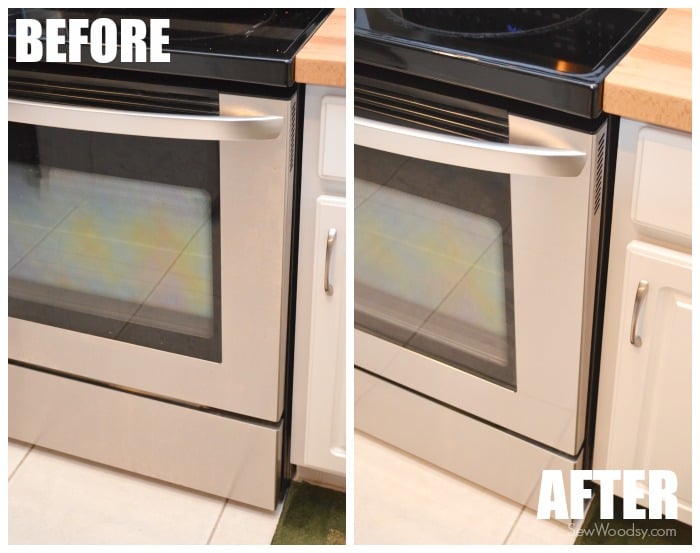 The before and after… a little hard to see but the before had water spots and fingers prints and the after is glimmering stainless steel without any finger prints or water-spots! Here are a few tips when cleaning Stainless Steel Appliances:
Always use a microfiber rag when cleaning
Apply a light coat of spray on to your appliance
Wipe with the grain of the stainless steel
Clean stainless steel appliances weekly or as needed!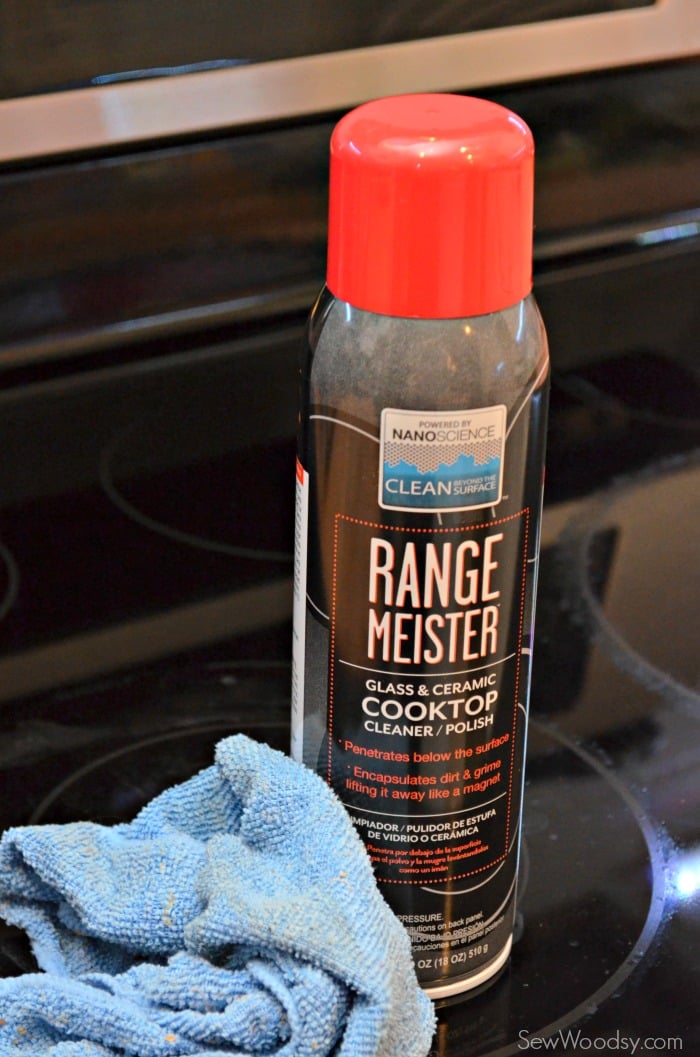 I also got to try the Range Meister which is made for glass and ceramic cooktops. I cook on our stove at least twice a day if not more, and our glass top gets dirty quickly. One thing I'm really bad about doing is cleaning up messes after cooking. Sadly our glass top of 5 years is pretty badly stained. It's our one complaint with our current stove. The Range Meister was able to take most of the stains right out. Some are definitely permanent and didn't think they could be removed.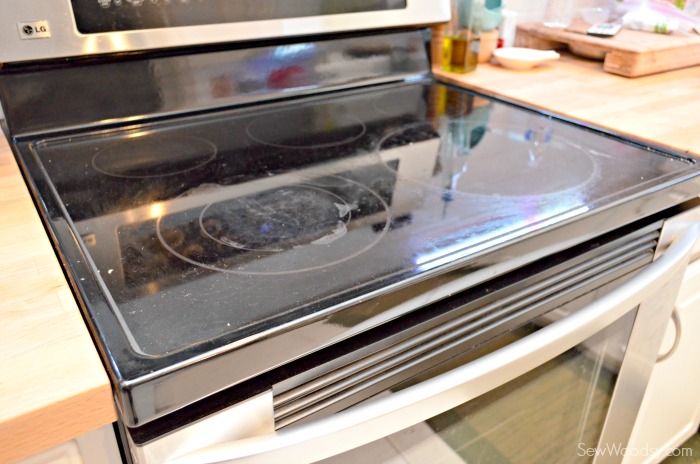 Here is our dirty glass top before.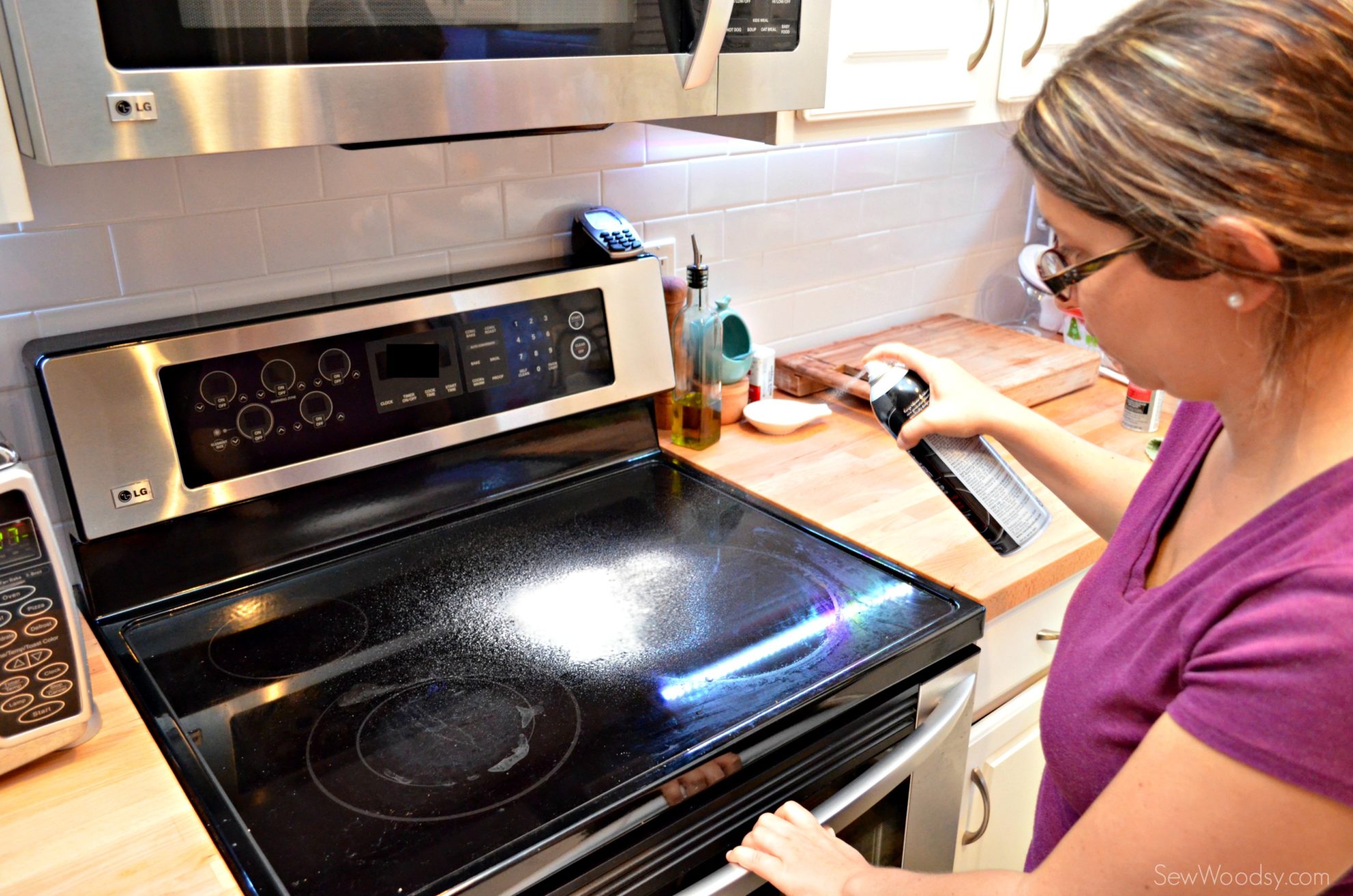 I applied a few coats of Range Meister to the glass top. Let the cleaner do its job and sit for a few minutes, and then cleaned it off.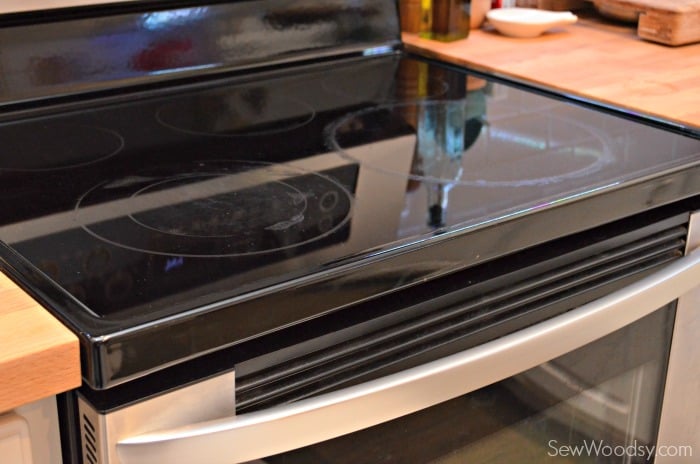 My glass top looked much cleaner (although a little hard to tell in the photos). Trust me–it was MUCH better than before!
Meister products can be purchased exclusively at Home Depot in the appliance department!
In need of a new refrigerator? Your in luck! Meister Cleaners is having a Stainless Steel Refrigerator Giveaway! You'll receive $2,000 to use towards a brand new Stainless Refrigerator! Contest ends on December 31st, the winner will be announce in the Meister Cleaners website on January 5th. Meister Cleaners Giveaway – Upgrade your Kitchen with $2000!
Meister Cleaners Giveaway – Upgrade your Kitchen with $2000!
Get social and join the Meister Facebook Page!