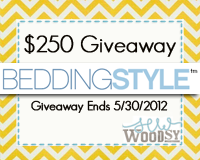 I have the most amazing giveaway today. I've been hinting for weeks that I had an amazing giveaway for my readers and the day has finally arrived! I can finally unveil the most amazing giveaway that has come to Sew Woodsy! Back in March I was approached by Bedding Style and I instantly said yes to the offer! This could not have come at a better time since we are in full swing with our Master Bedroom Revamp Project!
Bedding Style is celebrating 7 years in business and wants to spread the love by giving one lucky blog reader a free designer bedding set. If you haven't heard of Bedding Style, you should, they carry a large variety of brand name bedding at great prices online as well as bathroom accessories, they have great customer service, and all their bedding is high quality, check out the bedding they sent to us: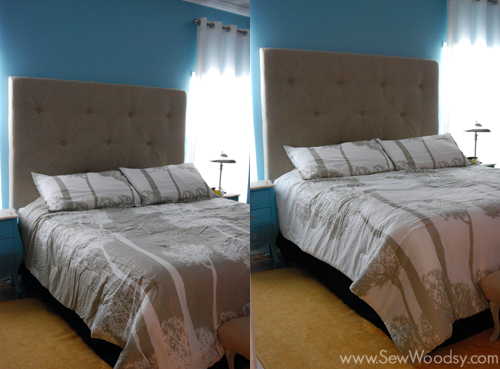 If you guys remember it took us over a year to pick out our blue comforter set, so when I was told to pick out a set immediately I panicked. Mr. Woodsy like to have the say in decorating and designing our home. So to streamline the process I picked out my top 5 comforter sets and then showed them to Mr. Woodsy. This honestly took a week and after I was tired of waiting around for his decision I made an executive decision and went with the City Scene Tree Top by Revman Tree Top. I love the contemporary design and I figured it would be a nice contrast to our current crazy busy comforter. Yep, that's right our comforter is REVERSIBLE! So it's like a 2 for 1 when we get bored with one side we flip it over and enjoy the other side! I'm so excited to now have 2 comforters for our massive king bed. If we don't want the busy comforter we aren't stuck with it–we can switch it up each month changing the look and feel of our room!
Use rafflecopter below to enter to win a $250 credit to Bedding Style!
Disclaimer: I was provided a $250 credit to BeddingStyle.com where I chose a King Comforter Set and Sheets. 1 Blog reader will have the same opportunity to receive a $250 credit to BeddingStyle.com. I was not paid to write this post. All opinions are always my own! There is an affiliate link in this post.