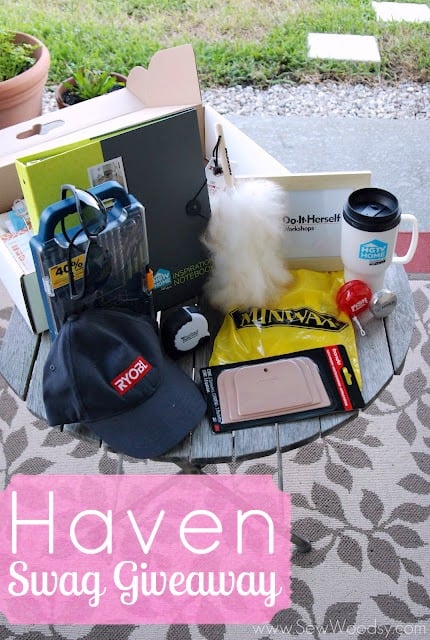 I posted my part 1 of Haven Conference Recap the other day, and part 2 is coming up shortly. As I mentioned in the first post–we got a lot of swag. Towards the end of day 2 we were feel ultra guilty because our names kept getting drawn for more prizes. So we've emptied our bags and put together a mini Haven swag bag for one lucky reader.
1 lucky reader will win:
Haven zipper bag
Ryobi Drill Bit Set, Safety Glasses, & Hat
PureBond Tape Measure
Bondo Brand Scrapers
HGTV Home/Shaw Floors planning notebook and coffee mug
Oreck duster
Home Depot "Do-It-Herself" picture frame
Minwax notepad, pen, and staining info
Please fill out the multiple steps using rafflecopter for a chance to win some fabulous Haven swag!
a Rafflecopter giveaway

Disclaimer: We received all of these products for free and were not required to give any of it away. We are giving away some swag out of the kindness of our hearts. Because of this we are footing the bill on shipping: unfortunately, this giveaway is only open to United States residents because let's face it–this is a pretty heavy box!