We shared this tutorial last month on Ucreate. This is an easy tutorial on how to make your own Halloween Graveyard Crosses. This is a beginner woodworking project that requires basic tools. If you don't have a circular saw–don't worry. You can use a different saw to make this project. It's quite adaptable, and I'm sure you could get creative with it. The best part about this project is that it didn't cost us a single dollar, just time! We gathered old pallets from a shipping company (since we were going for a rustic feel), and all the rest of the supplies we already had on hand!
Supplies:
Recycled wood (or old pallets)
Drill
1-inch Screws
Miter Saw
Chisel
hammer
Optional: Scroll or Jig Saw
Gather your recycled wood. If you are using old pallets make sure to remove nails from the wood. Next you will want to cut your horizontal and vertical boards (which will form the cross). We made our crosses 3-½ foot tall by 2 foot 4 inches wide. *Size can be adjusted to preference. On the horizontal board you will want to find the center. *The width of the pallets we were using was 4 inches wide. Divide the center marking by the width of your board. In our case we marked two inches on each side of the center point. Using a circular saw you will want to cut a slot half the thickness of the board (in that 4 inch space) every quarter inch. This will make it easier to chisel the wood out. *You will repeat this step for the vertical portion of the cross; however, measure 10 inches down to mark the center then cut 4 inches.
Next, you will want to start chiseling out the slots.
This is what it will look like once you have both pieces chiseled out.
Next you will "lap" the two pieces of wood together (as pictured above).
Once you've ensured that the wood fits snug against each other you can begin to drill two screws into the wood around one inch apart.
Next, you will want to make the "stake" for the cross. This will allow the cross to be easily placed in the yard. Using a miter saw (or any other type of saw) cut a point at the bottom of the board.
This is what your graveyard cross will look like.
Get your hammer ready and start hammering your Halloween Graveyard Crosses into your yard!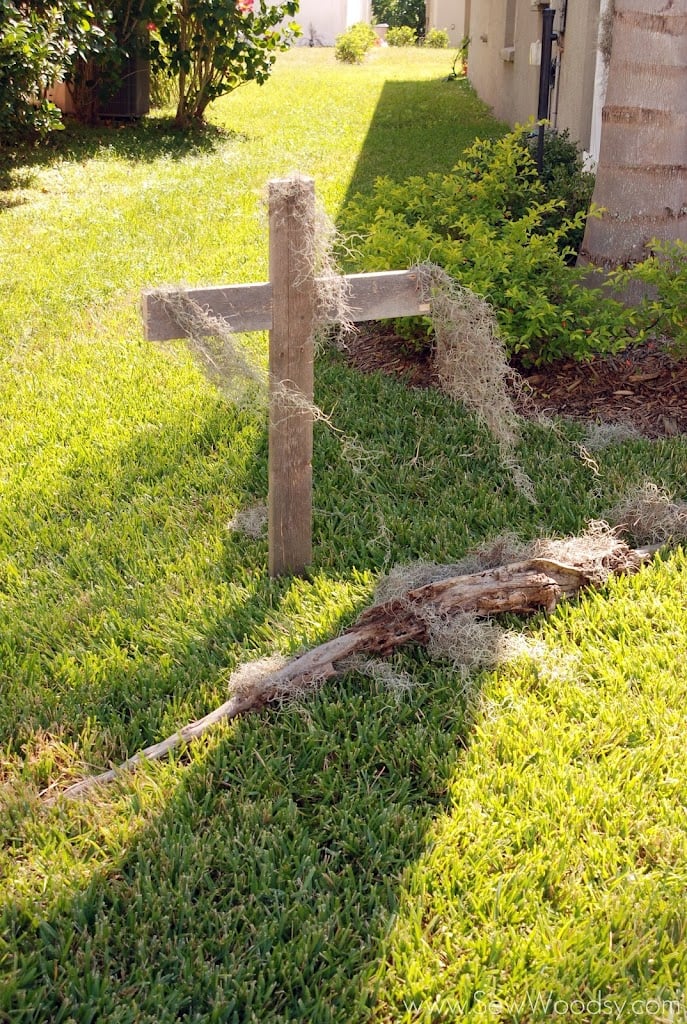 Mr. Woodsy went into the woods and found piles of moss and broken tree limbs which he used to help decorate our "graveyard" (for free)!
Optional Design:
Of course, after Mr. Woodsy mastered the traditional graveyard cross he wanted to add rounded edges to a few of the crosses. He used his scroll saw to round the edges of the wood.
This is what the finished rounded-edge cross looks like.