Today I'm so incredibly excited to have Bev from Flamingo Toes here to share one of her amazing Halloween dish towels with us! If you aren't familiar with her blog you must go visit it! She makes the most adorable and unique dish towels!
———
Hello Sew Woodsy Readers!
I am so excited to be here today!! My name is Bev and I blog at Flamingo Toes.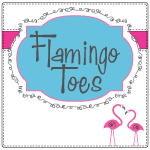 Halloween is one of my favorite holidays – I love getting into the spirit and decorating. We're kind of all about the slightly spooky, silly decor (think Disney's Haunted Mansion) – not so much the super scary decor (no Freddy Krueger or anything having to do with clowns).
Last year we did a Spooky Mantel and Wreath with lots of gothic style – though we did have a bit of a bug problem.
I also have a thing for cute little mummies – you can see my little Spider Mummy family from last year here. They are super easy to do.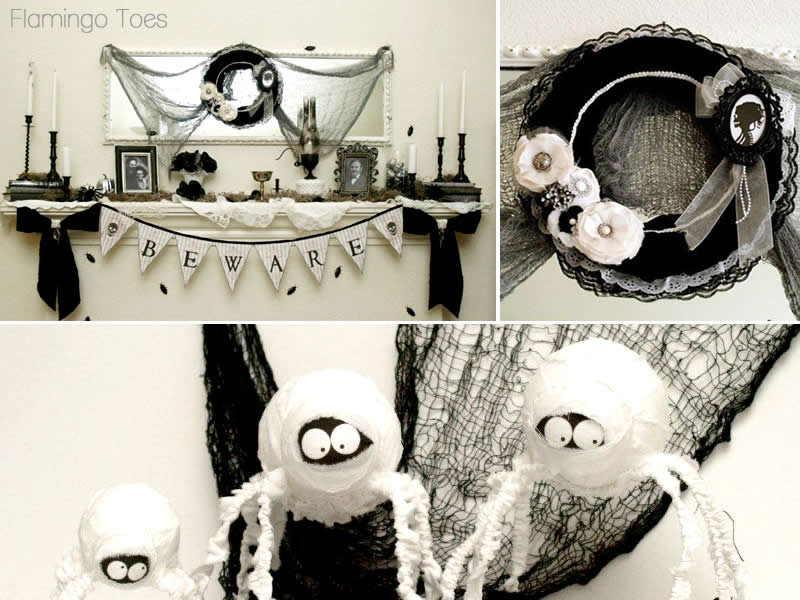 I thought it would be fun to share another Mummy project today – it's a cute little Mummy Dish towel! Perfect for adding some Halloween fun to your kitchen – or as a hostess gift for all the costume parties you'll be going to.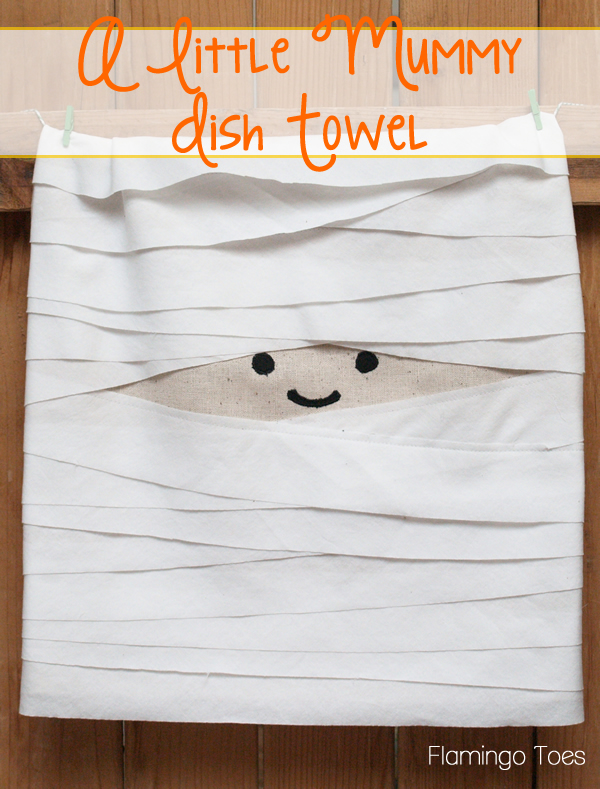 Isn't it cute? It's really simple too!! It's just strips of white muslin sewn with a cute little face peeking out!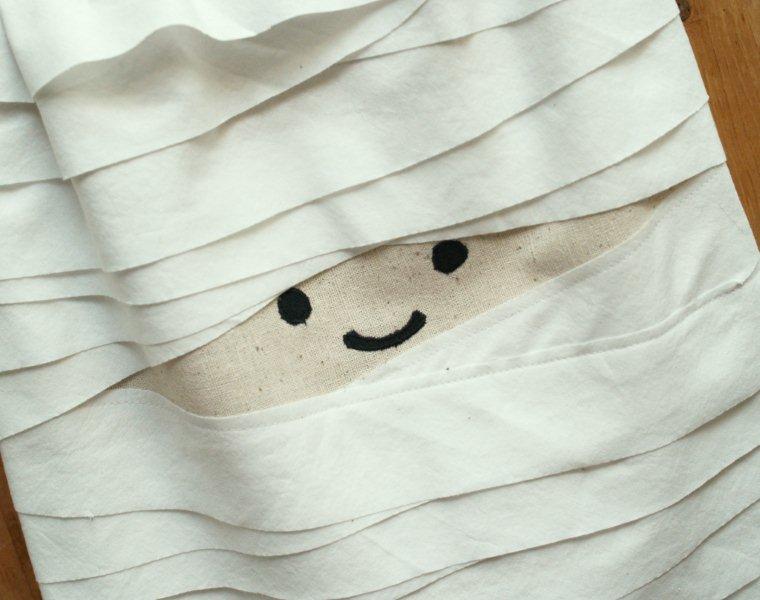 I think it would be a pretty cute little pillow too.
This is really simple to put together – here's what you'll need to make your own!
• 21″ x 28″ piece of fabric for dishtowel – or use purchased dishtowel. I used Osnaburg for mine.
• strips of white fabric cut on the bias (diagonal to the selvage) – about 336″ of 2″ wide strips
• scraps of black fabric for eyes and mouth
• white and black thread
• Wonder Under fusible webbing
Begin by cutting out your eyes and mouth. The eyes on mine are about ½″ – but you can make them any size you'd like!
Iron the eyes and mouth to one side of the fusible webbing. Remove the paper backing and iron the face to the lower half of the dishtowel piece.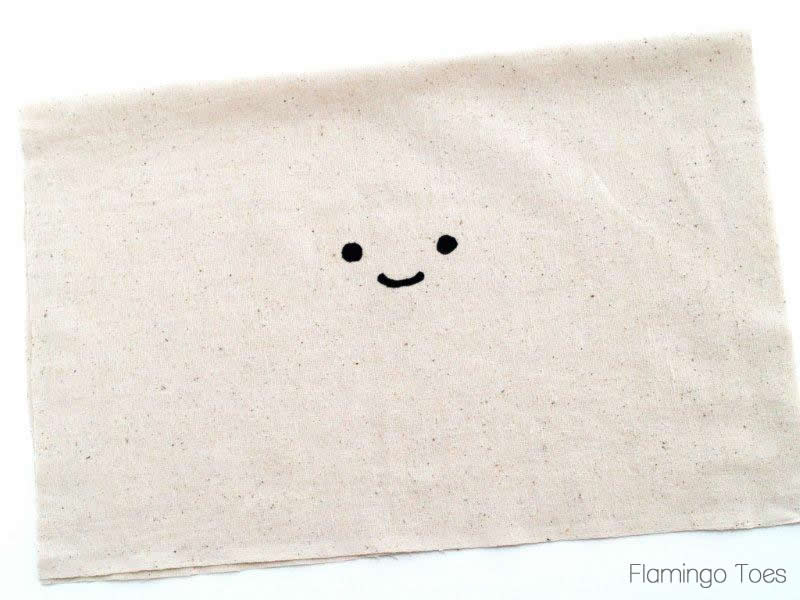 Machine stitch around the pieces with a small zig zag stitch. (you can also embroider them on if you'd prefer.)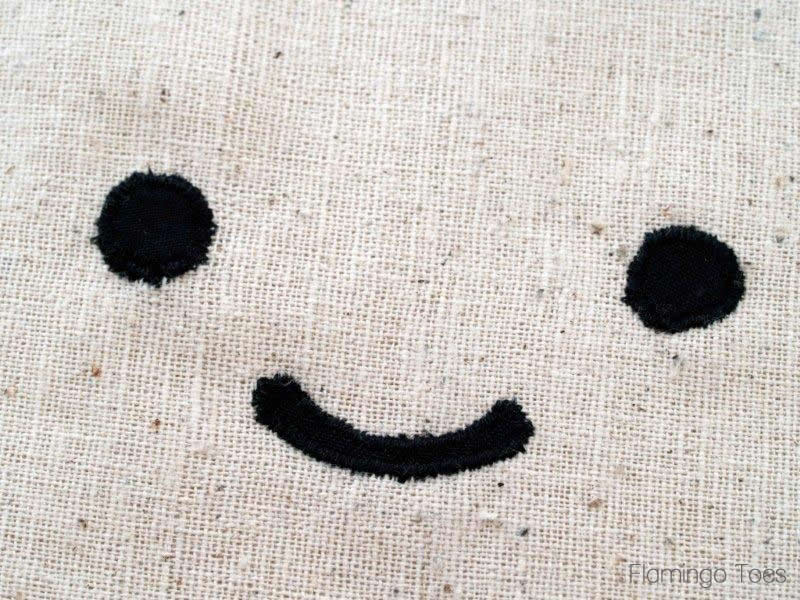 Begin laying on your white fabric strips, starting at the bottom of the dishtowel. (If you are not using a store-bought dishtowel, hem the bottom edge of the towel first.)
Trim the first strip so it's just slightly larger than the width of the dishtowel. Sew the strip to the dishtowel ¼″ inside the top edge.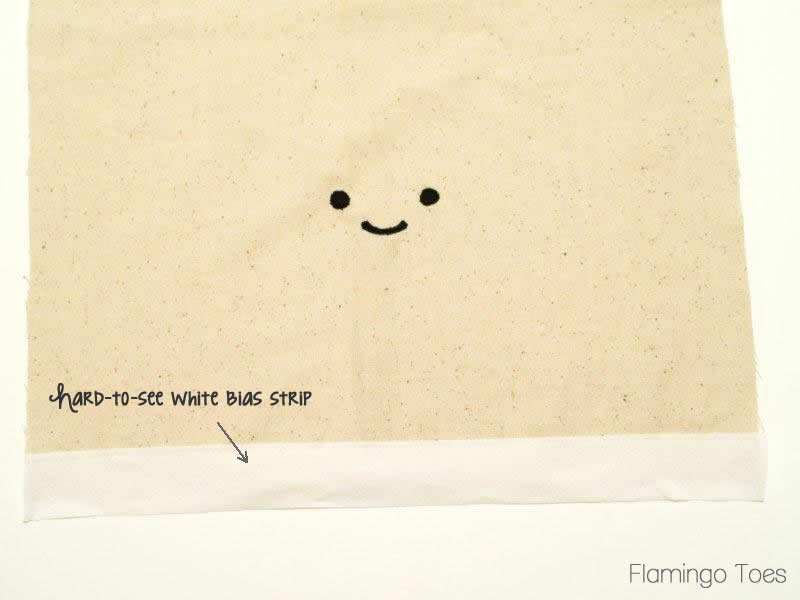 Keep layering and sewing your strips on, working your way up towards the face. Angle the strips a bit so they look like mummy wrappings.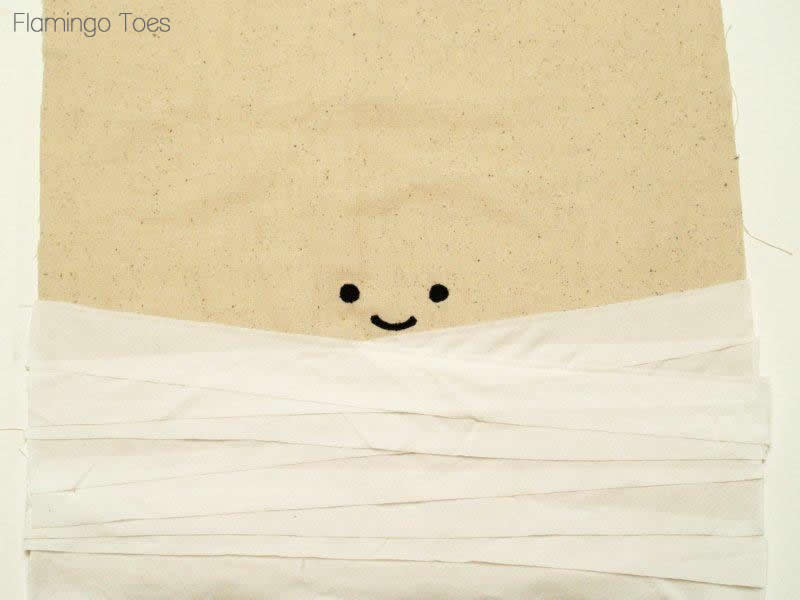 Once you reach the smile, leave that section open in the center and continue sewing on strips until the bottom half of the dishtowel is covered.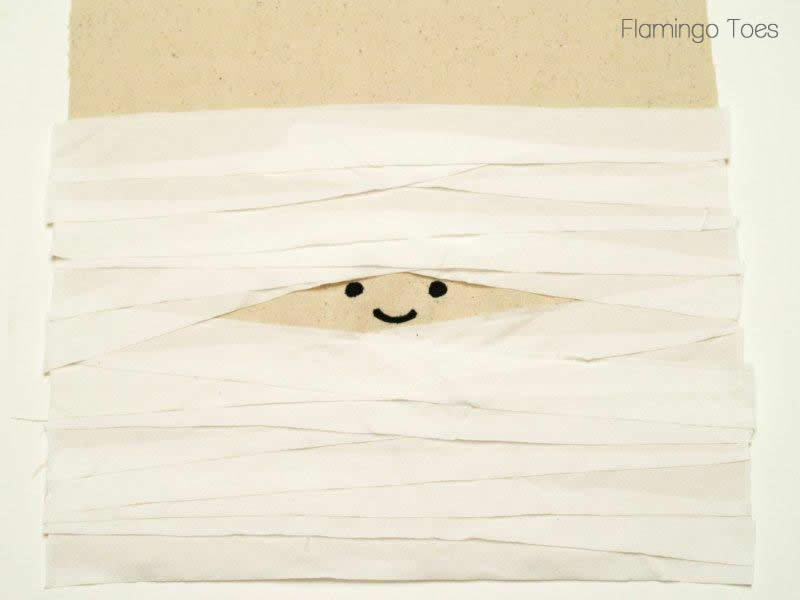 Once you have your strips on, trim the extra white fabric on the sides. Hem the two sides and the other short end of the towel.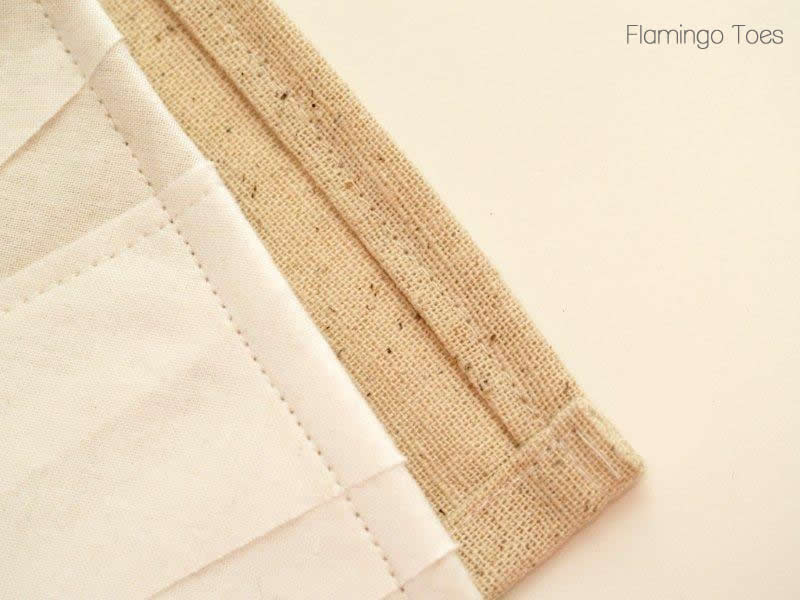 And that's all there is to it! You now have a cute little mummy dishtowel to show off!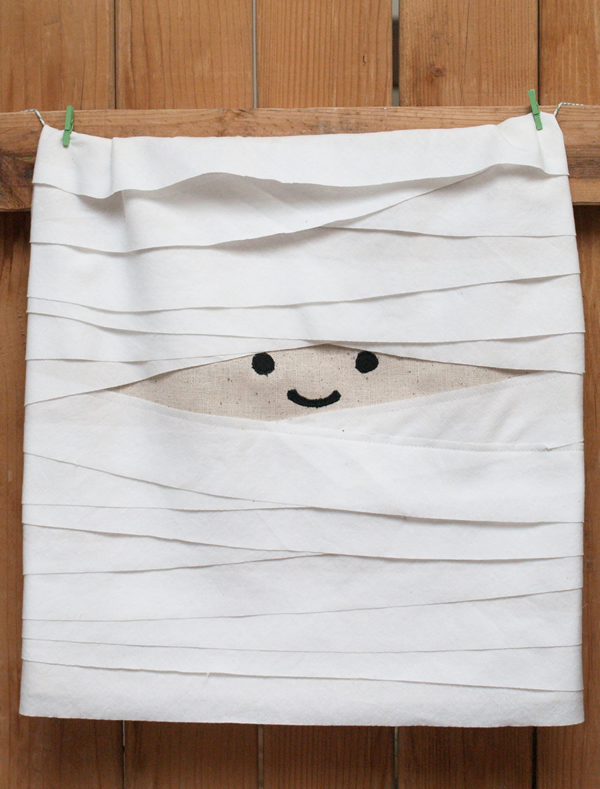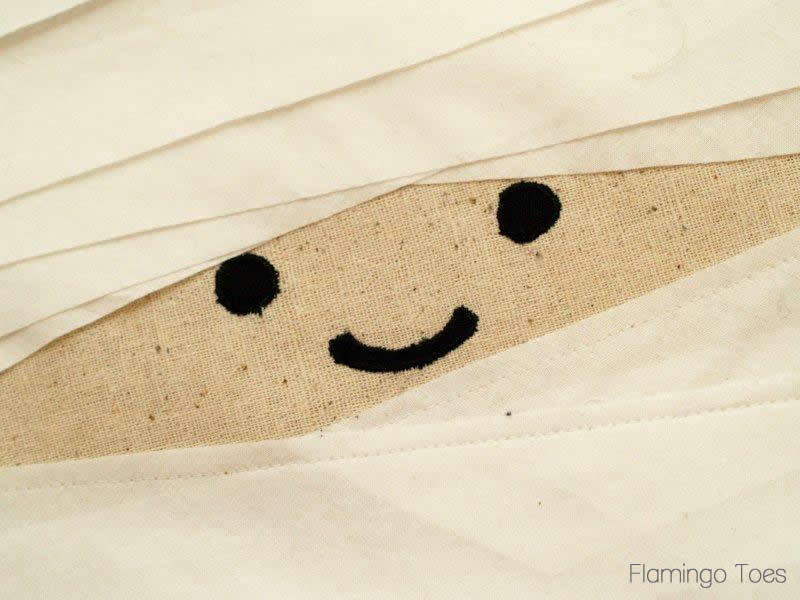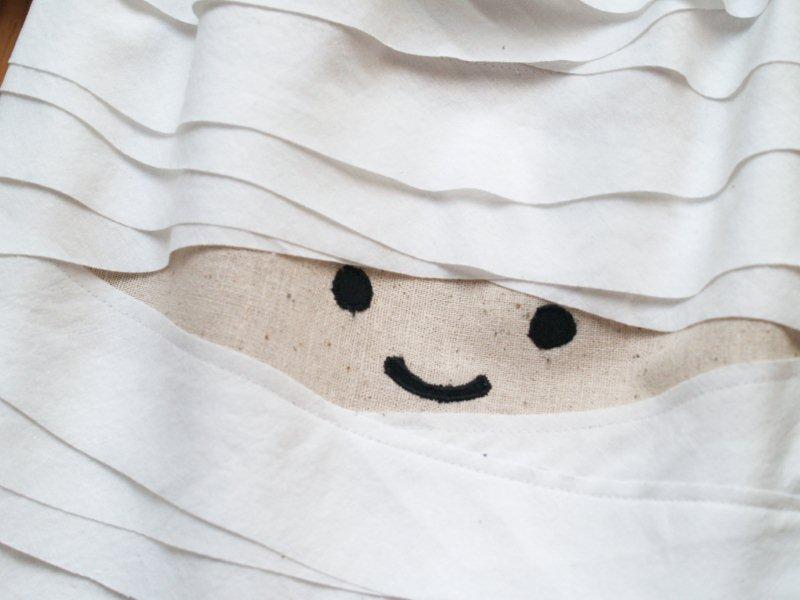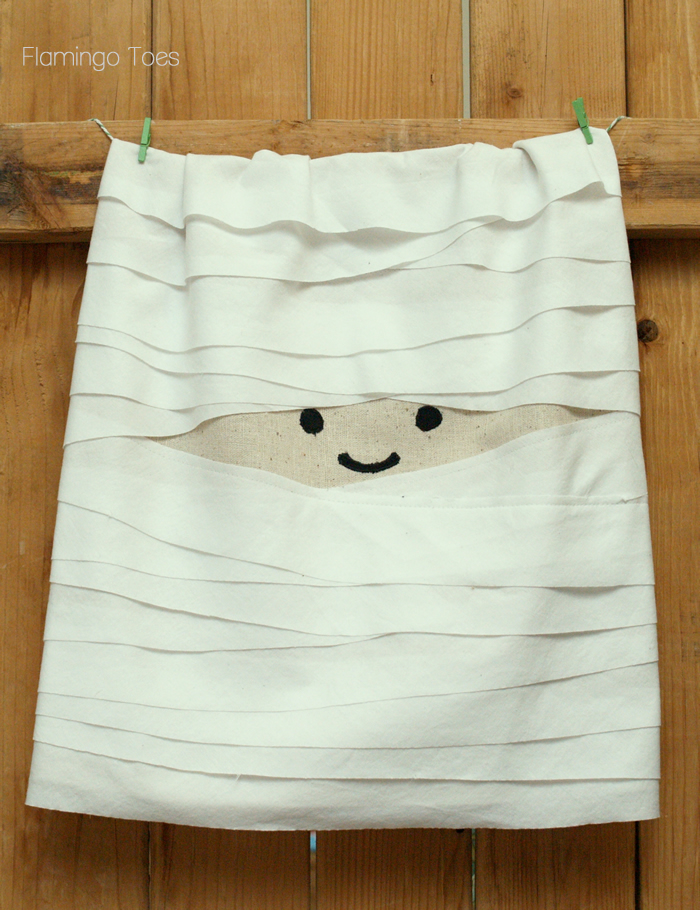 I hope you like it!!
I'd love for you to stop by Flamingo Toes and check out my other projects! You can find my Tutorials Page here.
Thanks you so much Katie for having me!