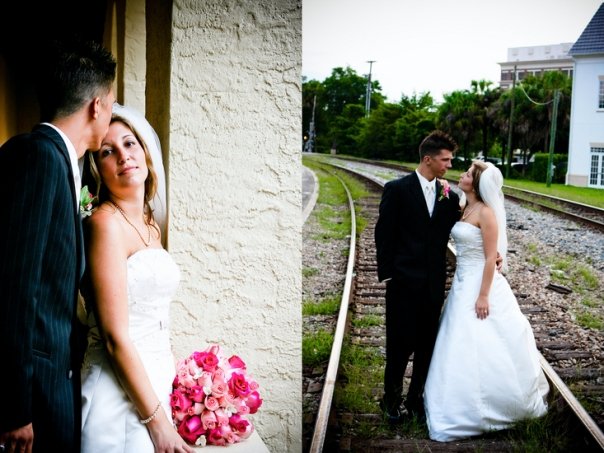 Happy first day of summer! We are celebrating our anniversary. No, not a blogiversary–a real anniversary! Our 4th wedding anniversary! Last week, we celebrated 10 years together. It feels like it's been 10 years since our wedding. Such a distant memory–I swear, it never gets old to look at photos! Over the past year readers have asked to see wedding photos and to hear about what DIY stuff we did for our wedding. You know, doing creative wedding projects is what got my creative juices flowing.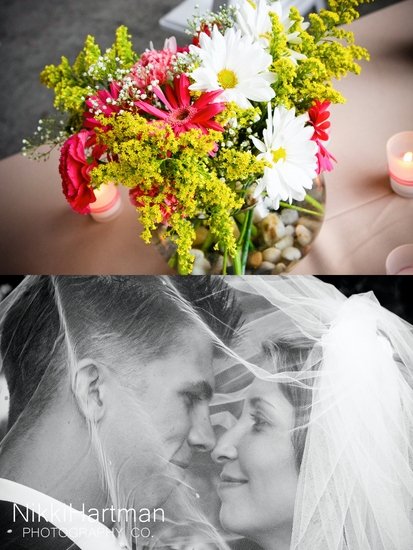 We hired a florist to do our centerpieces but the entire concept was ours. My theme in my head was an Italian Garden–what that looks like in real life–I have no idea! lol. But I knew in my head it was a warm, inviting, romantic place. Filled with colorful flowers and lots of greenery. That's what we did. I worked with our florist to create the perfect centerpieces (that did not break the bank). I loved the bright vibrant colors. Originally, our wedding colors were going to be pink and green, but I saw photos from other weddings with bright fuchsia dresses and I hated the way they photographed. Thankfully, before I had picked out bridesmaid dresses I decided to change my colors. I went with an elegant and timeless color pallet; champagne, taupe, and fuchsia. The color pallet partly came from Jessica Simpson's wedding (many years ago). Getting back to the centerpieces; I provided the river rocks and bubble bowls. You'll also notice there are candles around the center pieces. My mom, mother in-law and myself wrapped 150+ votives with pink ribbon. That was before hot glue gun helpers were invented. Boy could we have used some!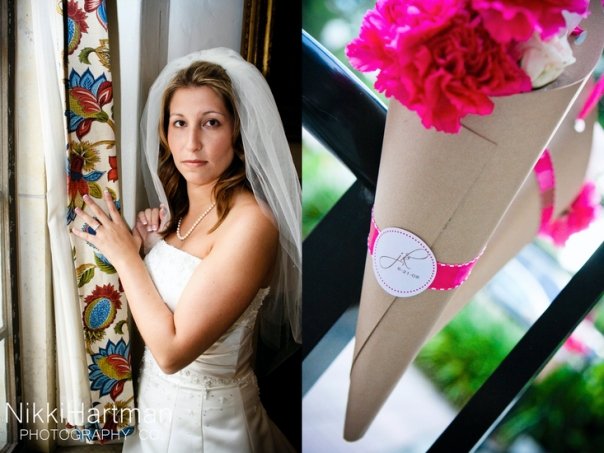 I don't know why, but I was so darn adamant about lining the pews in the church with flowers. I wanted pew cones. I couldn't find any that I liked and so I dreamed up an idea in my head. I ordered taupe metallic card stock and we played around with a wrap until I loved it–we hot glued the thick shiny card stock, wrapped a coordinating pink ribbon around it, followed by a monogram sticker. These served double duty and were used on the rails of the stairs leading up to our reception. I could not have been happier with my pew cones! Super inexpensive–yet big impact!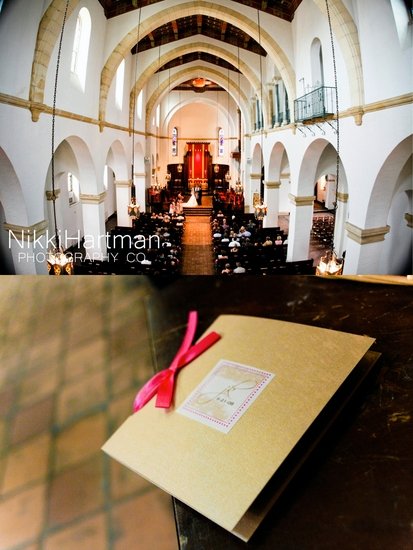 Take a look at the church! We got married at the Knowles Chapel at Rollins College, where we both graduated from. This church was built in 1892 and only students, alumni, and children of alumni can get married at this church.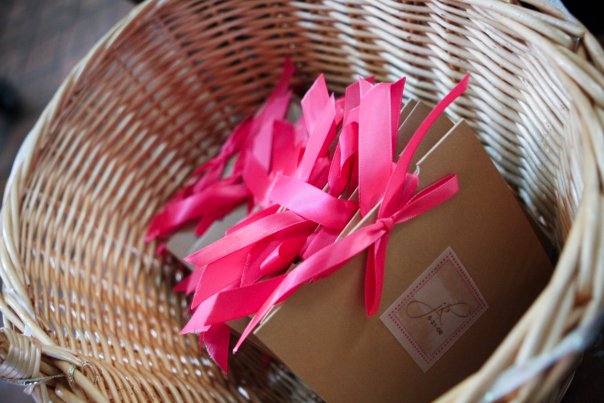 Pictured below the gorgeous church was our DIY programs. We used the same metallic taupe card stock, printed our monogram on vellum, adhered it with double stick tape; used ivory linen paper (often used to print your resume on) for the interior pages. It was 8 pages in total–all designed by me. We did a double hole punch and secured the pages with pink silk ribbon. We didn't get to making these until a week before the wedding–at that point I was in panic mode because I wanted to be done with wedding tasks not assembling my programs a week prior. Mr. Woodsy invited over one of his groomsmen and his girlfriend Ashley and we got them all cut, punched, assembled within a few hours. What a big relief and great help!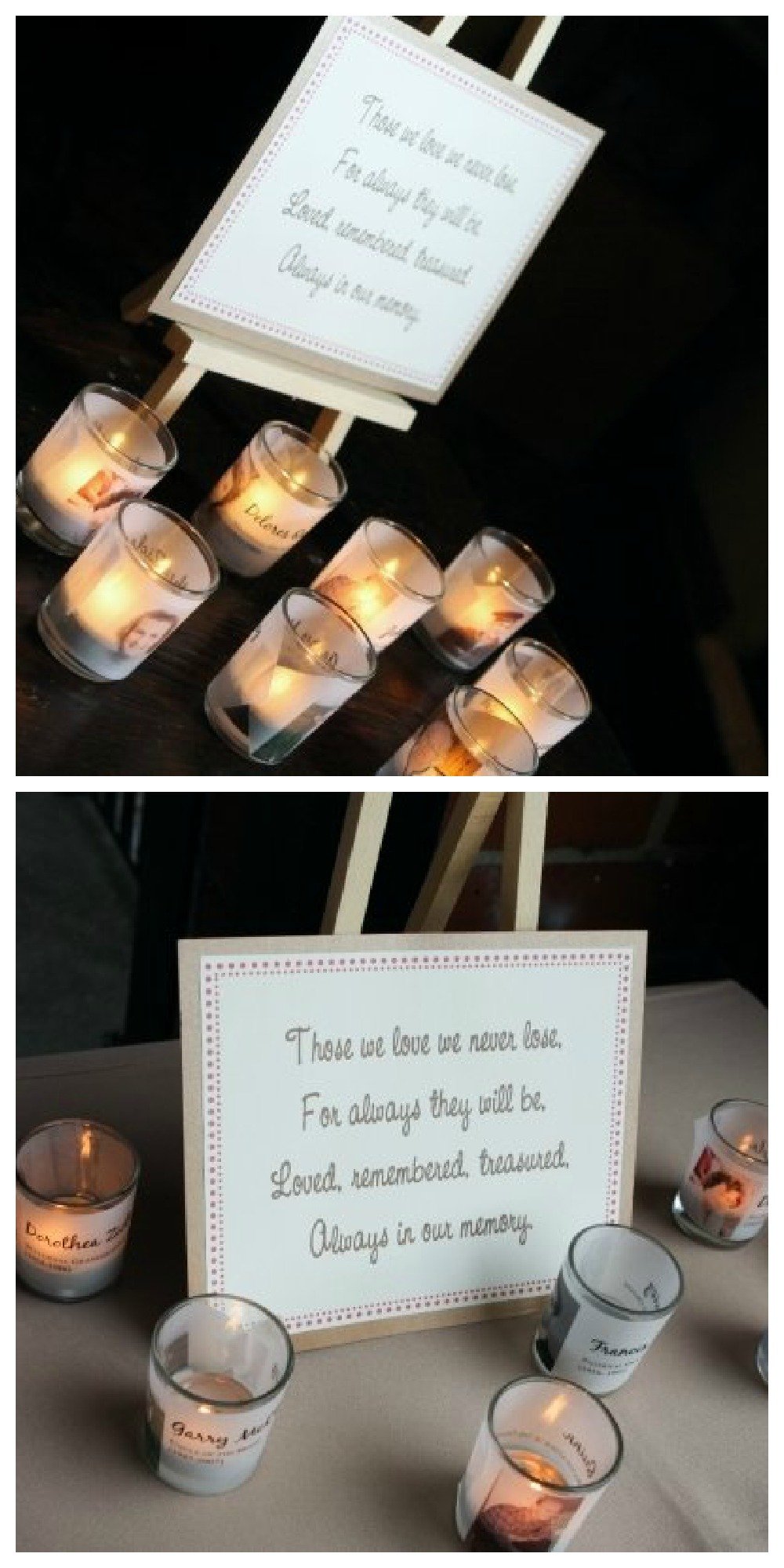 Mr. Woodsy and I really wanted to honor all of the family members that couldn't be with us on our special day. So, we made memory candles. I printed a photo of the loved one, along with their name, relationship to the bride/groom and the birth/death year on a vellum paper. We simply cut, wrapped the vellum paper around the votive and secured with double stick tape! Everyone loved them and it was a touch tribute.
Those we love we never lose,

For always they will be,

Loved, remembered, treasured,

Always in our memory.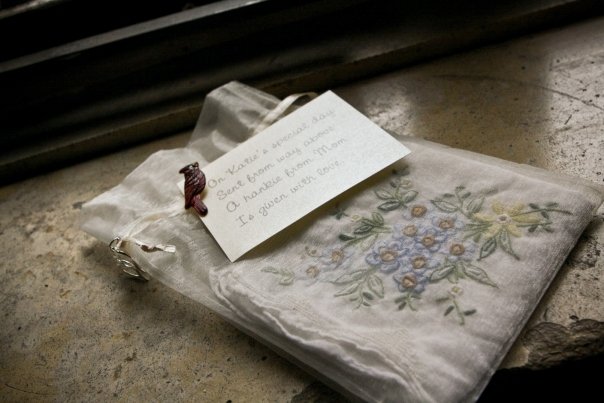 My mom even got crafty on me. She inherited all of her mother's hankies years ago when she passed. She held on to them for 20+ years and finally found a use for them. She not only gave me a special hanky, but all of her siblings and their childrens hankys before the wedding. Each hankie was tucked into an organza bag that had a little phrase on it
On Katie's special day

Sent from way above

A hankie from Mom

Is given with love.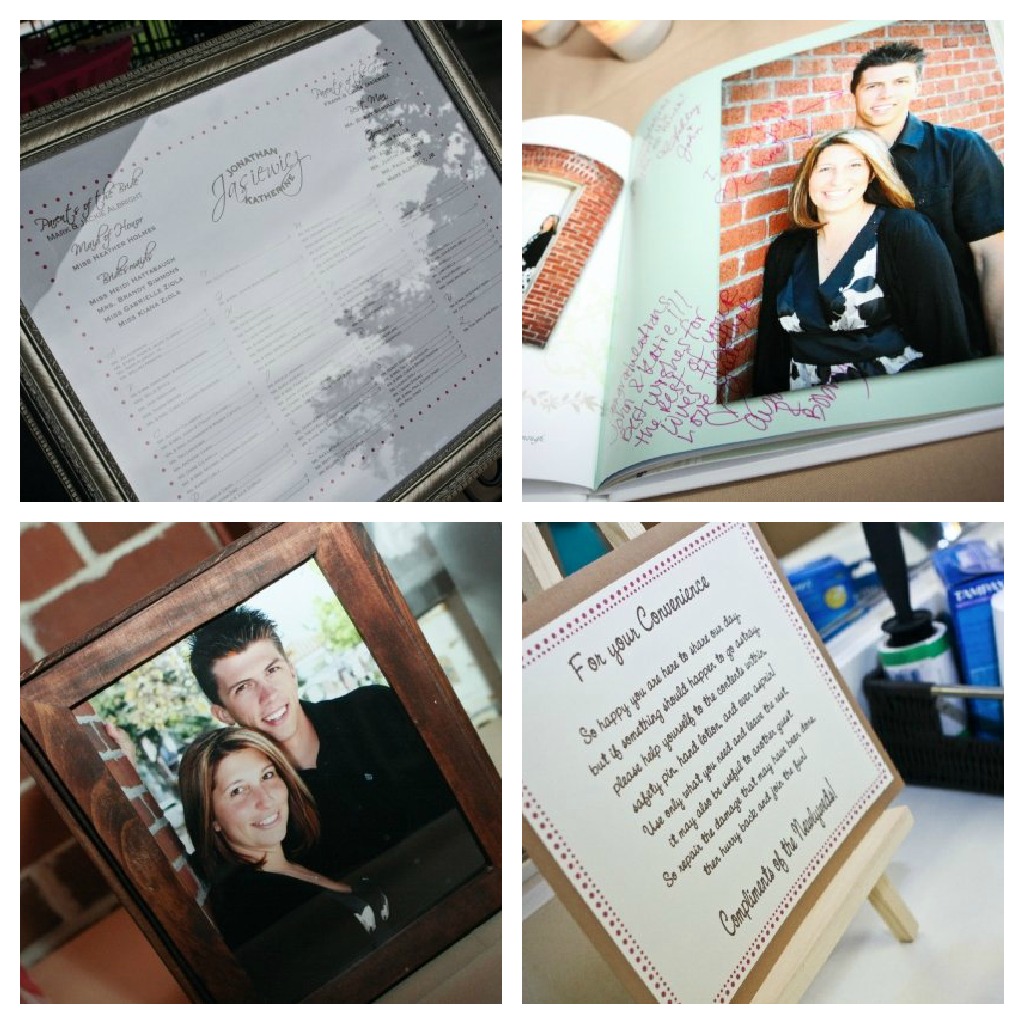 Here are a few of our reception details:
Top Left Corner: We made a poster size seating chart and borrowed a frame and easel from a friend!
Top Right Corner: We made our guestbook as a picture book from Shutterfly! I'm addicted to the books so it was a perfect fit!
Bottom Left Corner: Mr. Woodsy made our card box out of 4 very very inexpensive Ikea 8×10 frames. He made an actual box, and then attached the four frames around it. He stained it a dark cherry color and  nailed the top shut so no one could break in and steal our cards! lol. We still have our card box to this day–same photos holding storage in the craft room!
Bottom Right Corner: We made an amenities basket for the men and women's restrooms incase anyone forgot something. Everyone loved the additional little touch.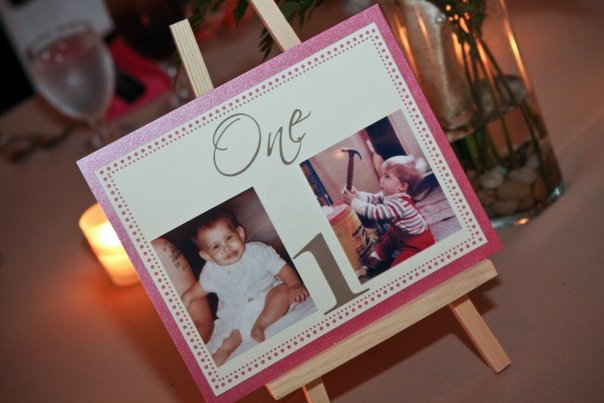 We went with a less traditonal table numbers. I decided to have a picture of Mr. Woodsy and I at the age the table was numbered. So, our parents sat at table number 1 which was a photo of me sitting next to my dad and Mr. Woodsy starting young with a hammer in his hand! It was a great conversation starter, and everyone loved walking around the reception looking at photos! We found the mini easels at Ikea for .99 each!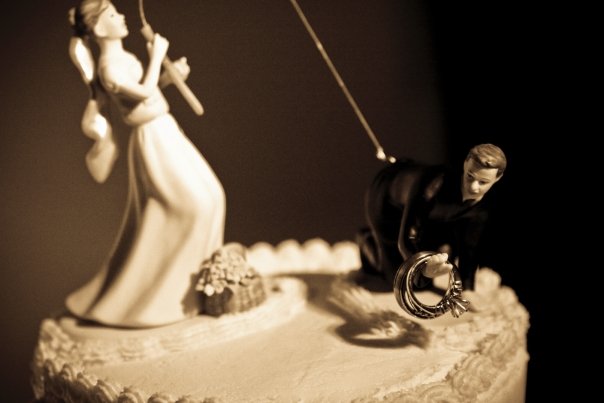 And, because we both like to be funny–we felt the most appropriate wedding topper out there was the bride fishing the groom in. Mr. Woodsy is an avid fisher and could appreciate the topper.
Lastly, happy anniversary to the most amazing husband a gal can have. I honestly could not imagine not being married. You experience a love that is like no other. But what people fail to tell you is that being married is hard work. I remember, my mom telling me this months before we got married and I shrugged her advice off and didn't think anything of it. Now, I think about it any time the going gets rough. Being married is hard work–it's an ever-evolving relationship that constantly needs nurturing, love, and care.
I hope y'all enjoyed looking at some of our wedding photos and if you are planning a wedding became inspired by some of the projects I made.
All photos by Nikki Ross Photography