Happy Wednesday–the last Wednesday of the month! How the heck did that happen? Let me give you a little kitchen update: We are installing our butcher block on our kitchen island tonight and built our shelf over the weekend. Our pantry door has officially been ordered and as long as shipping is correct our countertops arrive next week! We are progressing nicely (not on the schedule I was hoping for, but I'll take it)!
Do you feel like you need a weekly reminder that we are having the Life Inspired Link Party? Subscribe to our mailing list for a weekly reminder! Remember to visit my four other amazing co-host;  Balancing Home, Sweet C's Designs, Poofy Cheeks and While They Snooze! So let's take a look at a few of my favorite projects from last week!
*Don't forget to enter our Martha Stewart Crafts Decoupage giveaway that ends next week!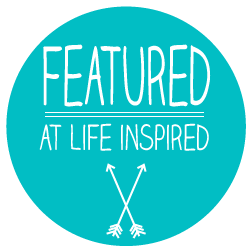 COPY and PASTE THE CODE BELOW:
<a href="http:www.sewwoodsy.com"><img src="https://sewwoodsy.com/wp-content/uploads/2013/07/featured.png" alt="Life Inspired Link Party" /></a>