Celebrating love all year round and make my "Love is my Religion" pillow cover plus get the free PNG file to make your own pillow!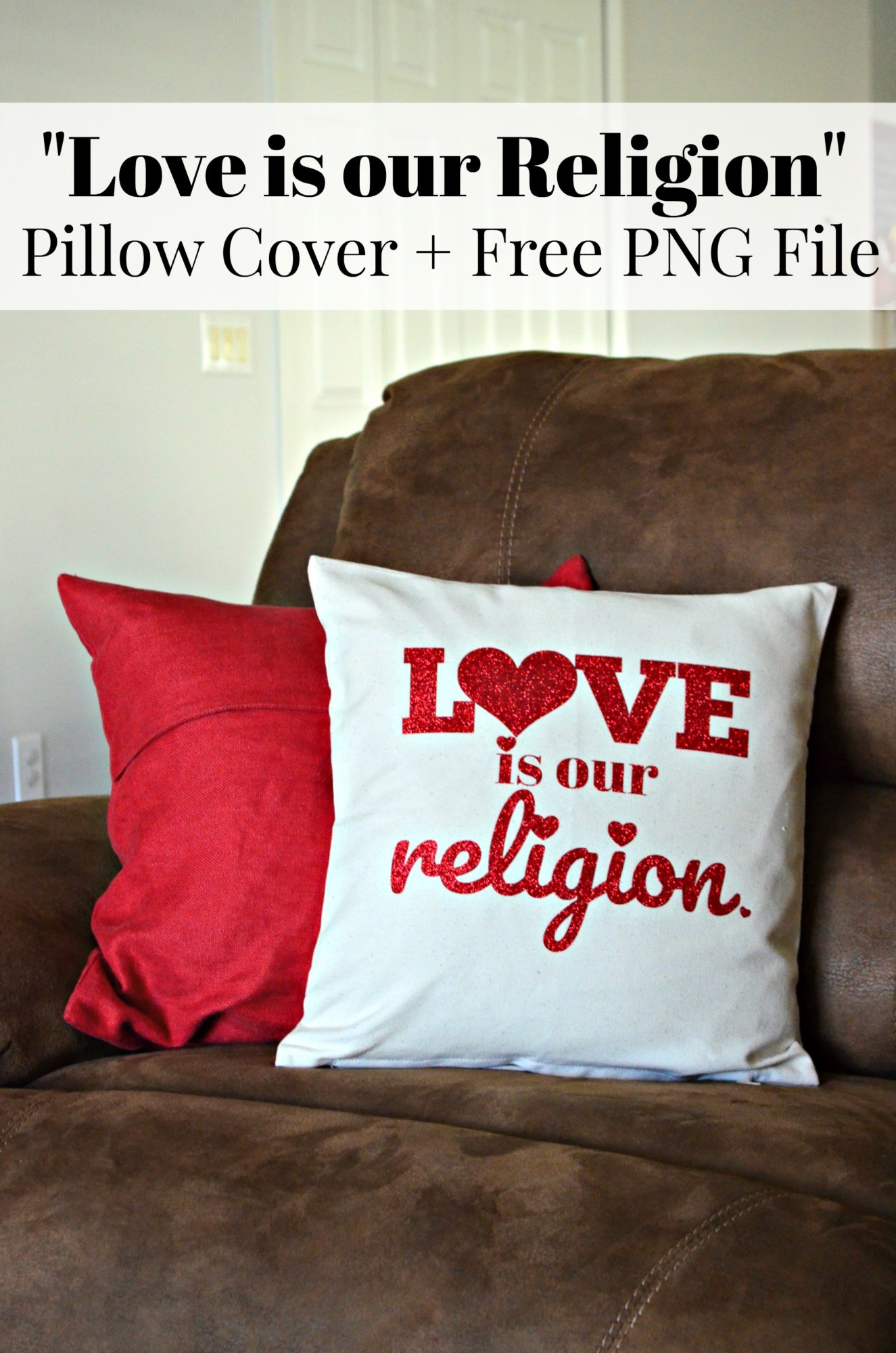 You guys… Valentine's day is almost a MONTH away (that also means the count down is on for my babies first birthday, too)! Thanks to my babies birthday and the fact that I'm having over 50 people at my home to celebrate her (and us keeping her alive) I've already taken down ALL the Christmas stuff. This is probably the earliest I've taken my tree down in years. Always good to have motivation of people coming over to give you the kick in the butt you need.
I'm also starting to decorate for Valentine's Day. Like decorating like I've never done before! I'm doing a Valentine's Day theme for her party since she was born so close to Valentine's Day so all the things red, white, light pink, and gold. The first of my decorations is this adorable "Love is our Religion" pillow. Years ago, I made a "Love is our Religion" wall art that is still in our bedroom to this day. The phrase comes from one of our favorite songs by Ziggy Marley. We actually walked out to the song at our wedding reception almost 10 years ago! This pillow is easy to make and done all during a nap time from start to finish. Of course I used my Cricut to make this project possible.
Supplies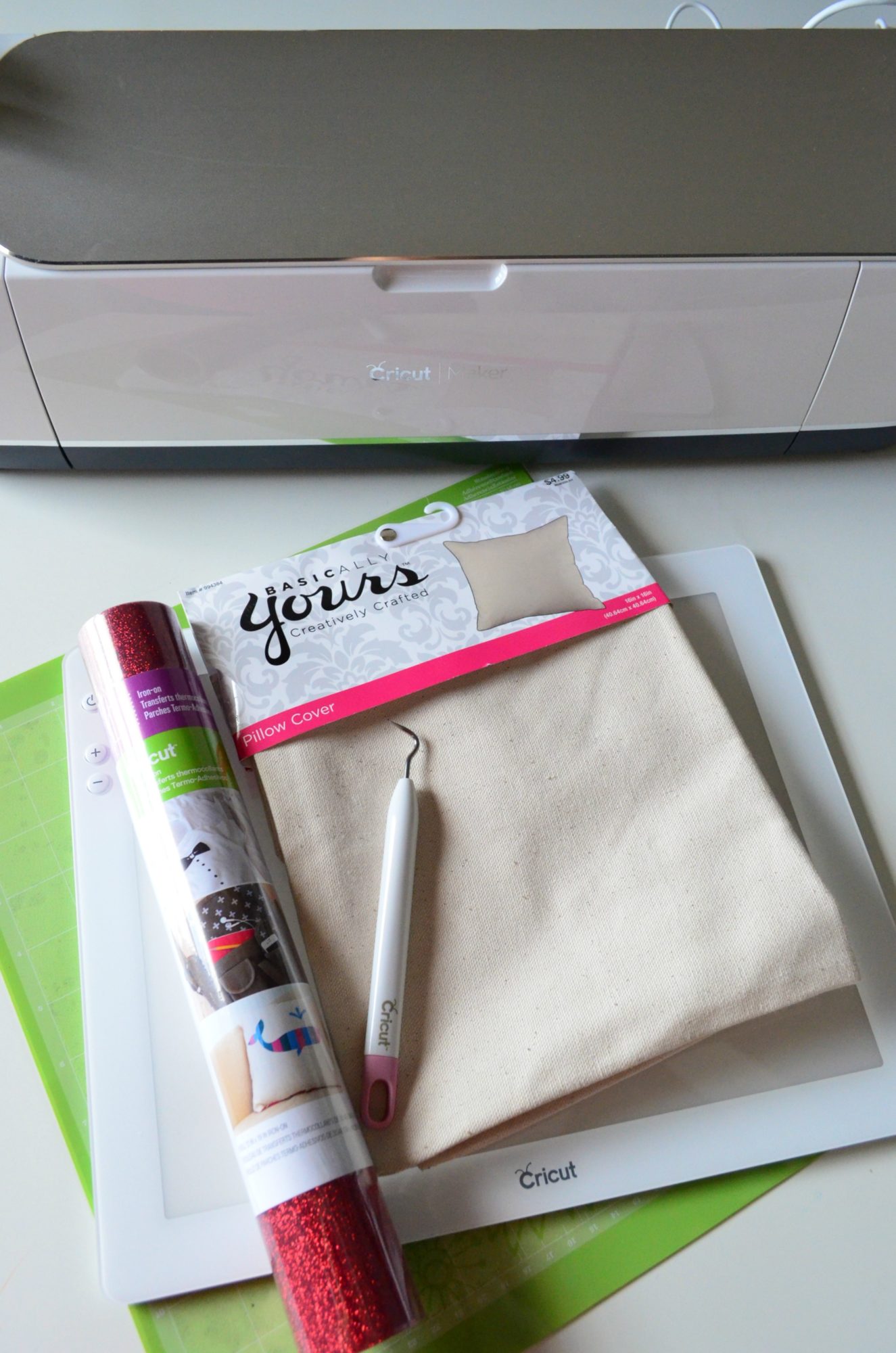 "Love is our Religion" PNG File (download below)
Cricut Mat
Cricut Glitter Iron-On Vinyl; red
Cricut Tools
Cricut BrightPad
18 x 18 Pillow Cover
Cricut EasyPress
Linen Cloth
How to Make a Personalized Pillowcases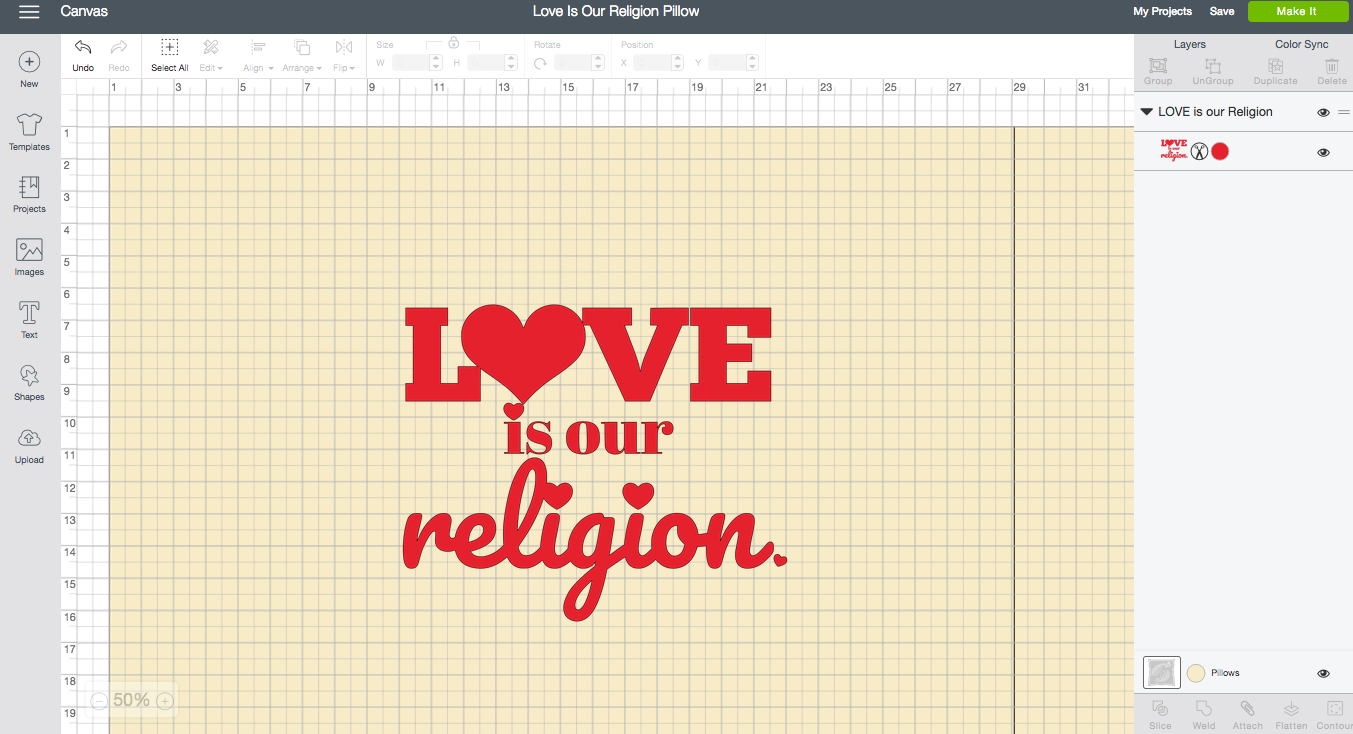 First up, upload the "Love is our Religion" PNG File into Cricut Design Space™ Size the image to how large you want it on your pillow (or even a shirt or a bag or whatever you want to place this on). Then select the image to cut. Remember to MIRROR the image since your using Iron-On Vinyl.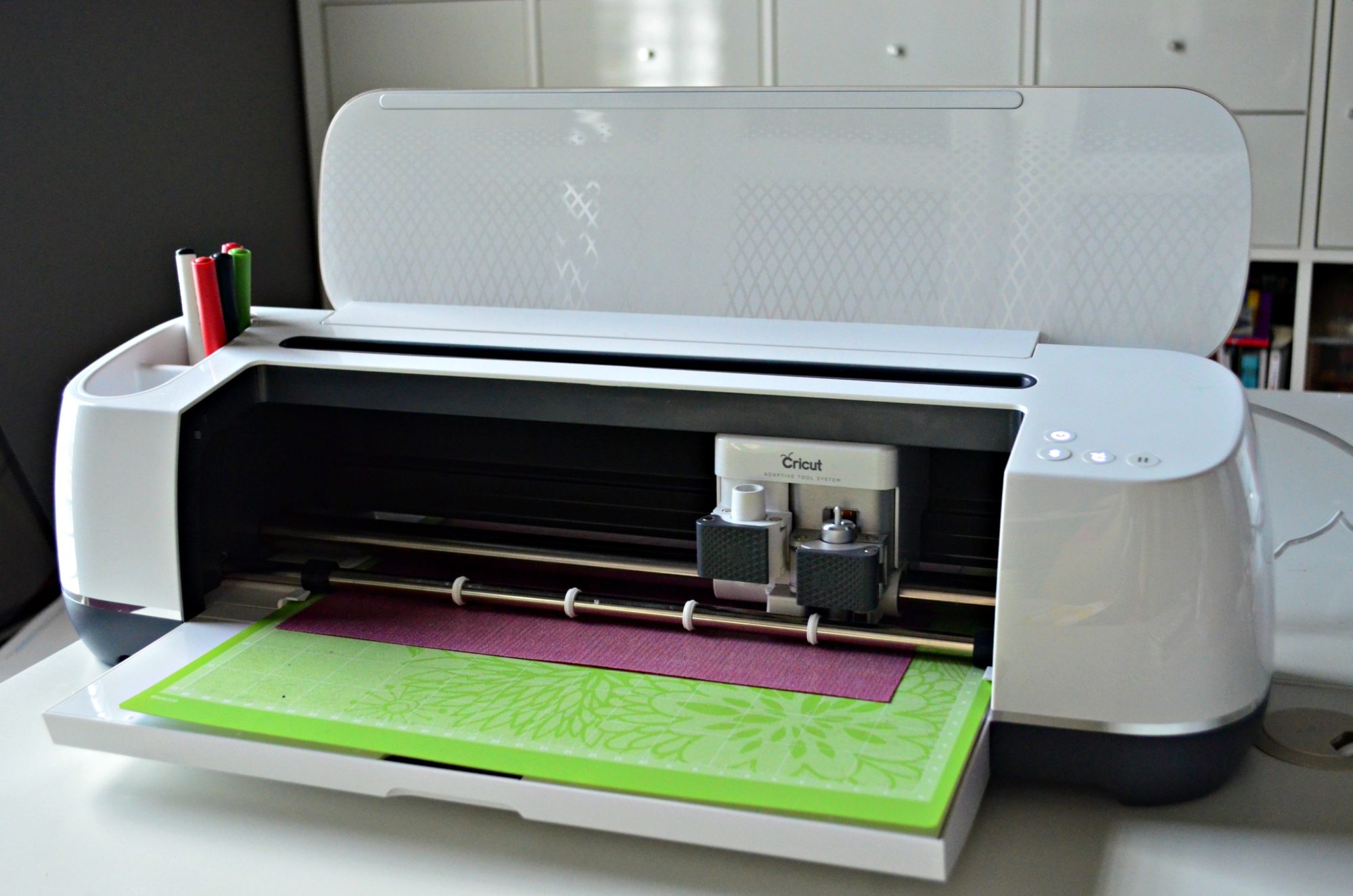 Next, let your Cricut Maker do the work.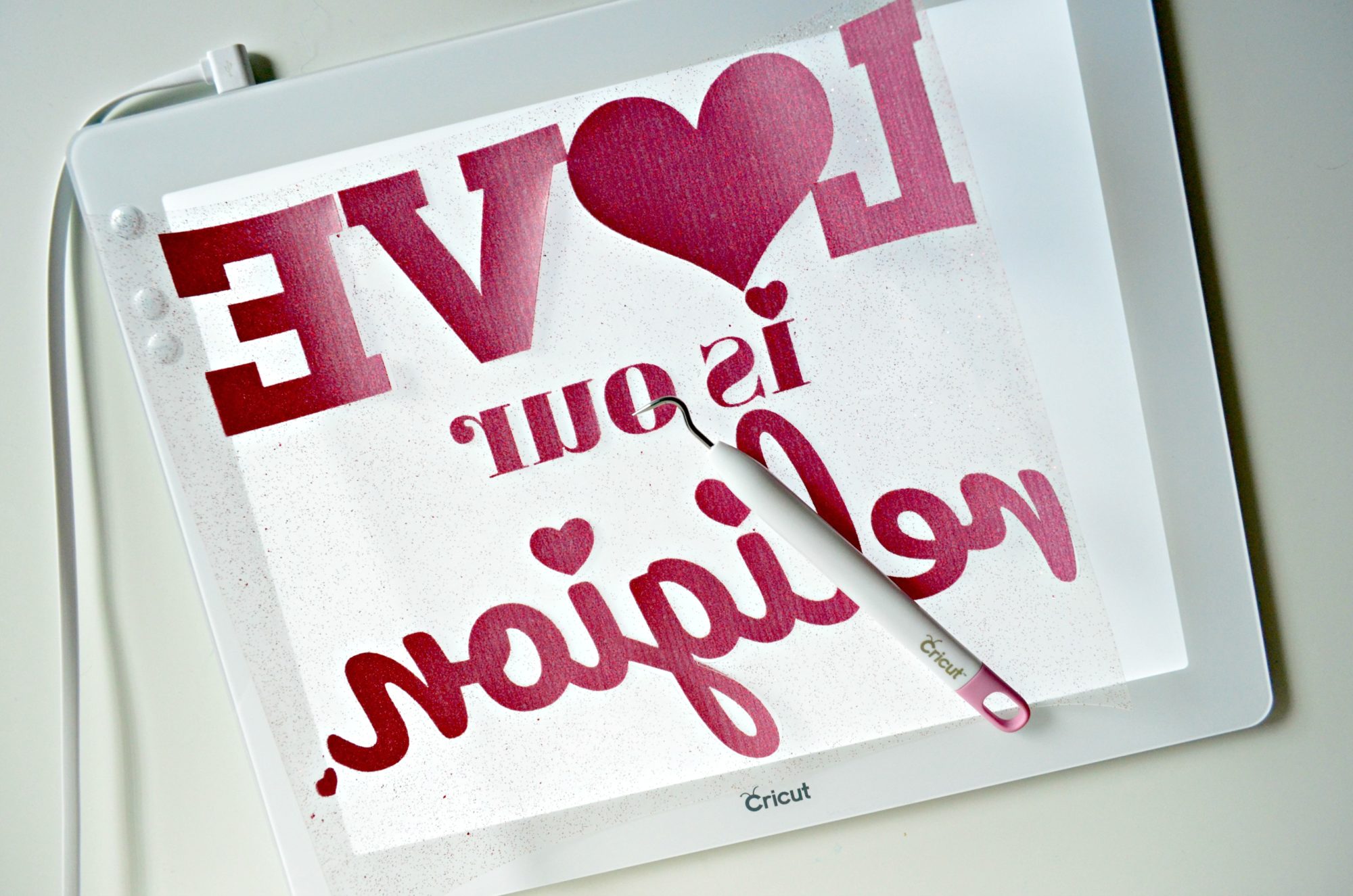 Carefully, remove the design from the mat. Using Cricut Tools like the flat spatula and weeding tool begin to weed the negative from the Iron-On vinyl. I love using my Cricut BrightPad to weed designs. Especially when working with glitter Iron-On Vinyl. It makes seeing the lines so much easier.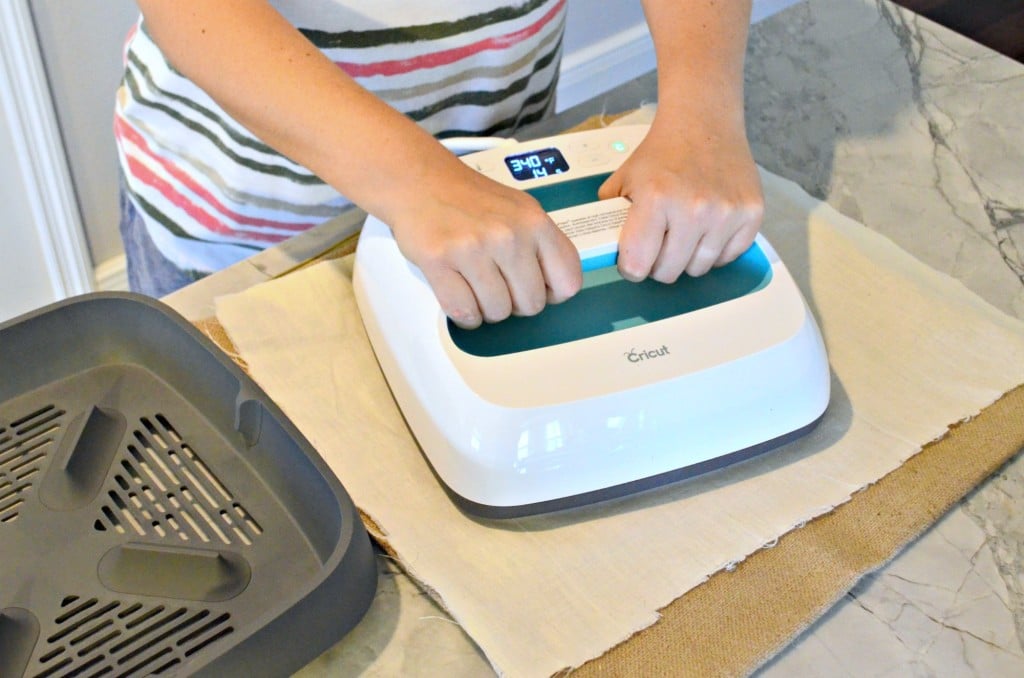 Next, it's time to fire up the Cricut EasyPress and adhere your design onto your pillow cover. I use a light linen cloth to protect my EasyPress and design on the pillow. Make sure you follow the press instructions for pressing the pillow.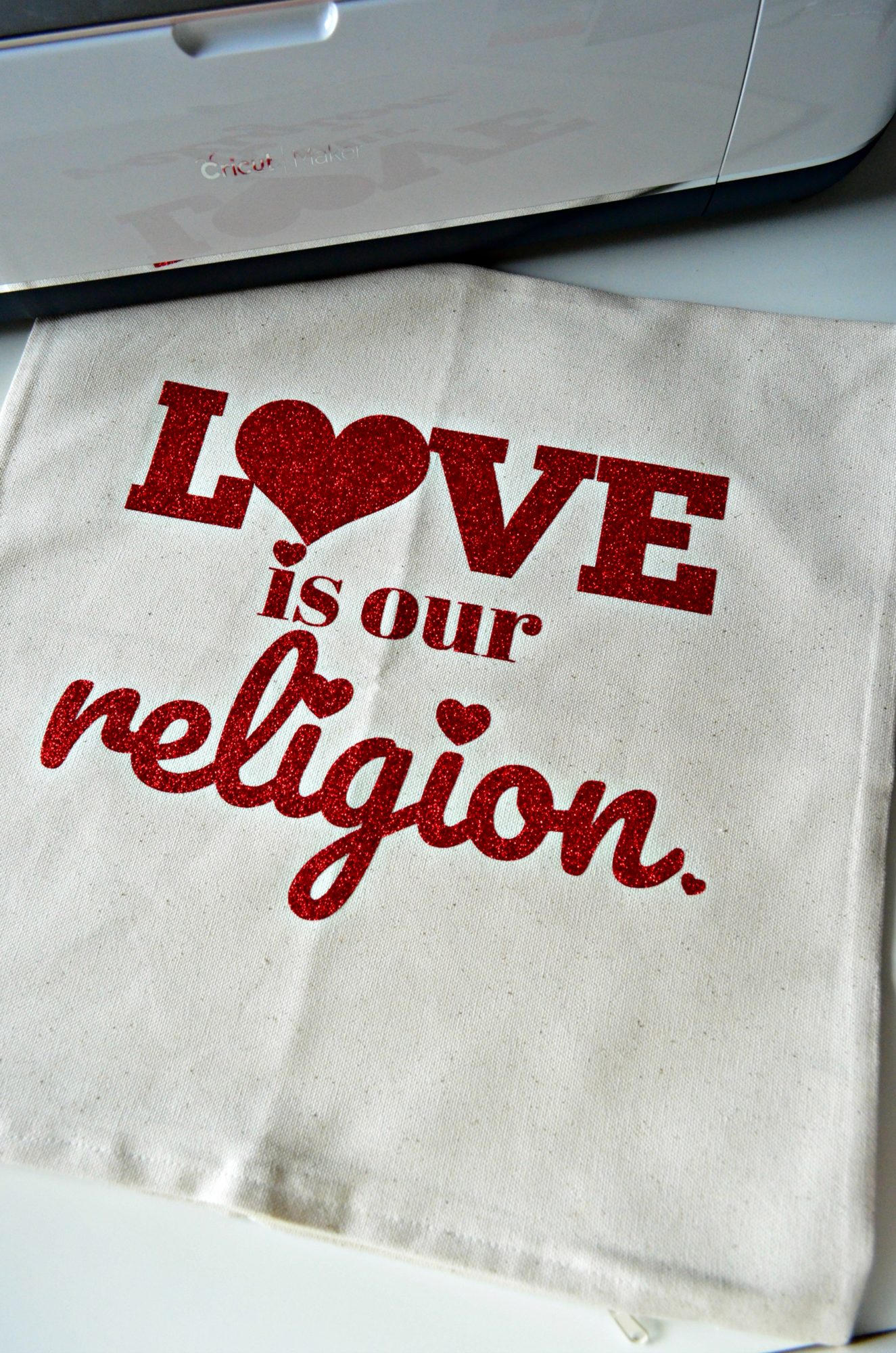 Easy as that the pillow cover is done.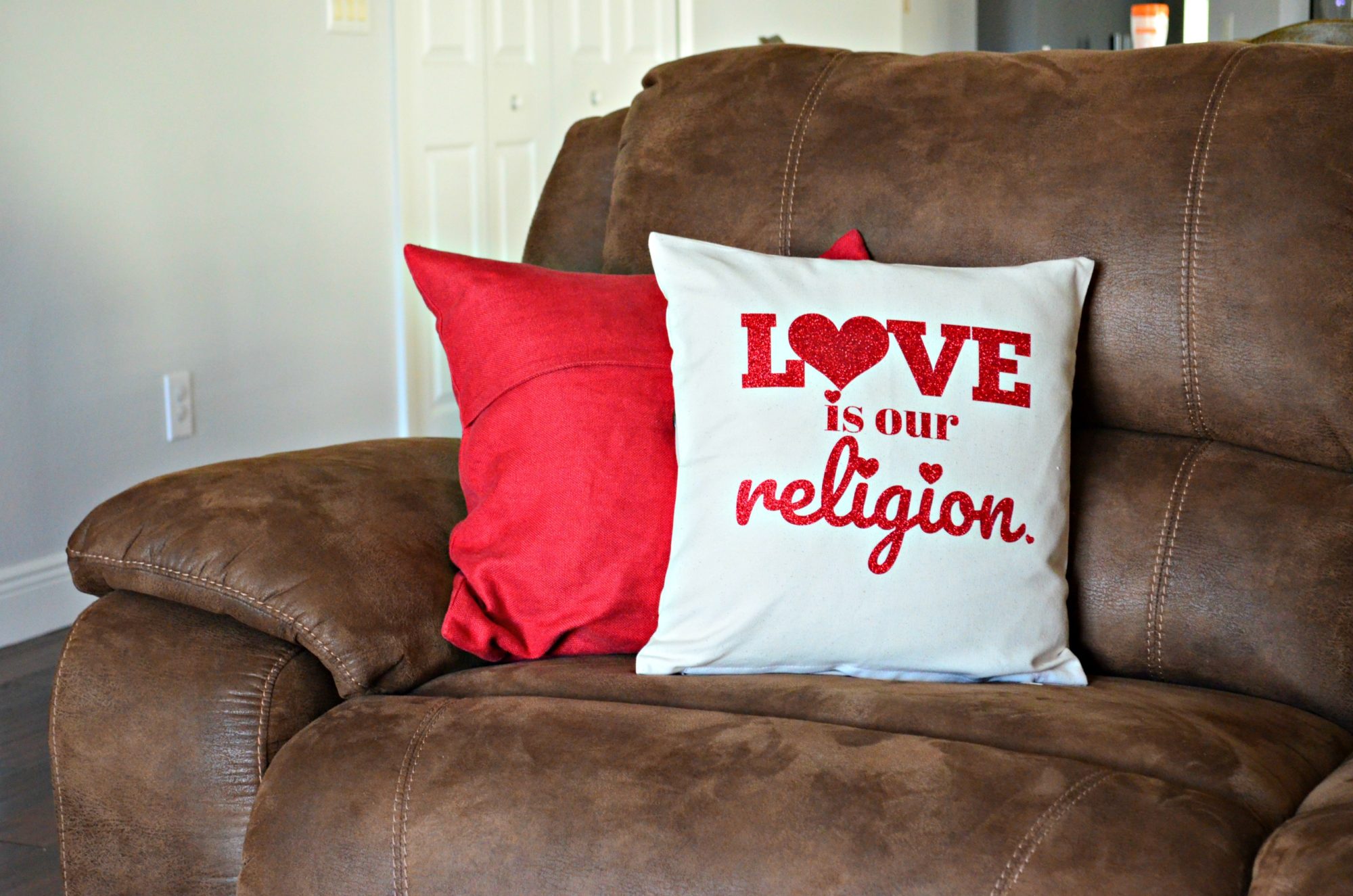 I have tons of extra pillows at my house, so I just grabbed a pillow and placed the pillow cover over it. Now I have a cute new Valentine's pillow to add to all the other decor I'm working on for Valentine's Day and Reagan's birthday!
Love is our Religion PNG File
Please fill out your name and email address to download the PNG file. If you have never uploaded an image on Cricut Design Space I highly suggest you read my blog post.
"Love Is My Religion" PNG File
Valentine's Day Crafts
Here are a few more Valentine's Day crafts you might want to make.
Burlap & Felt Heart Garden Flag
Pillow Covers
Looking to make more pillow covers? Check these out!
Disclaimer: There are affiliate links in this post. That means if you purchase from a link I make a small percentage at no additional cost to you. Thank you for supporting Sew Woodsy!