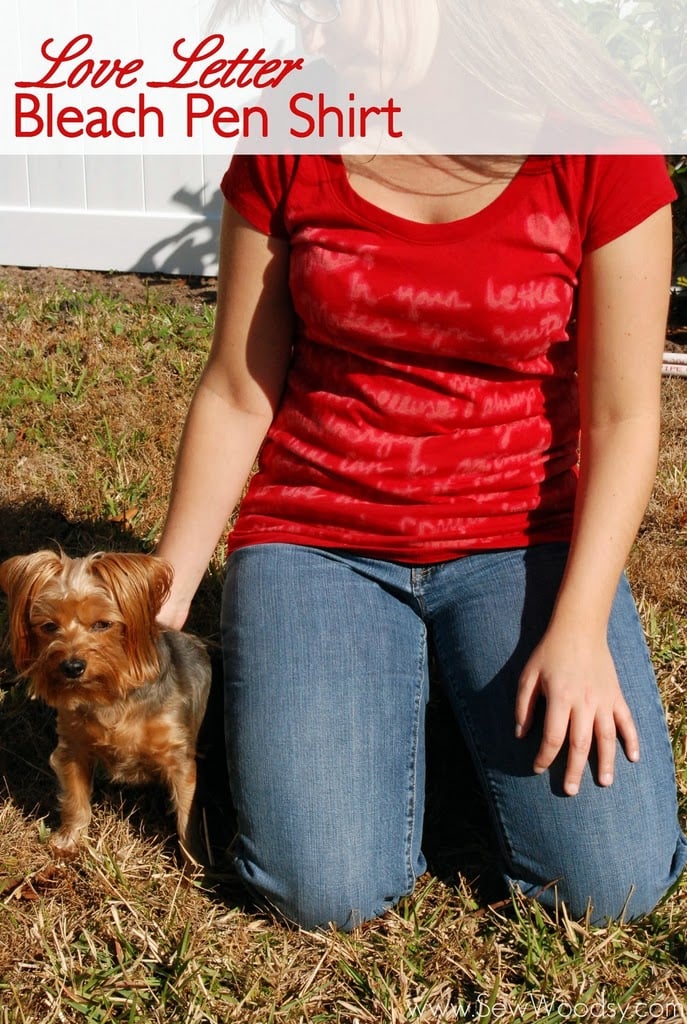 I've seen a variety of bleach pen crafts over the past year and have wanted to make a creation of my own. I bought a few inexpensive solid color tee's at Target a few months back and got the idea to create a one-of-a-kind original shirt for myself recently. I scoured the internet for famous love letters. I found this love letter written by Winston Churchill in 1935. I only used the first half of the love letter since it was on the longer side and I was writing rather large.
January 23, 1935
My darling Clemmie,
In your letter from Madras you wrote some words very dear to me, about my having enriched your life. I cannot tell you what pleasure this gave me, because I always feel so overwhelmingly in your debt, if there can be accounts in love…. What it has been to me to live all these years in your heart and companionship no phrases can convey.
Time passes swiftly, but is it not joyous to see how great and growing is the treasure we have gathered together, amid the storms and stresses of so many eventful and to millions tragic and terrible
years?
Your loving husband
(Winston Churchill)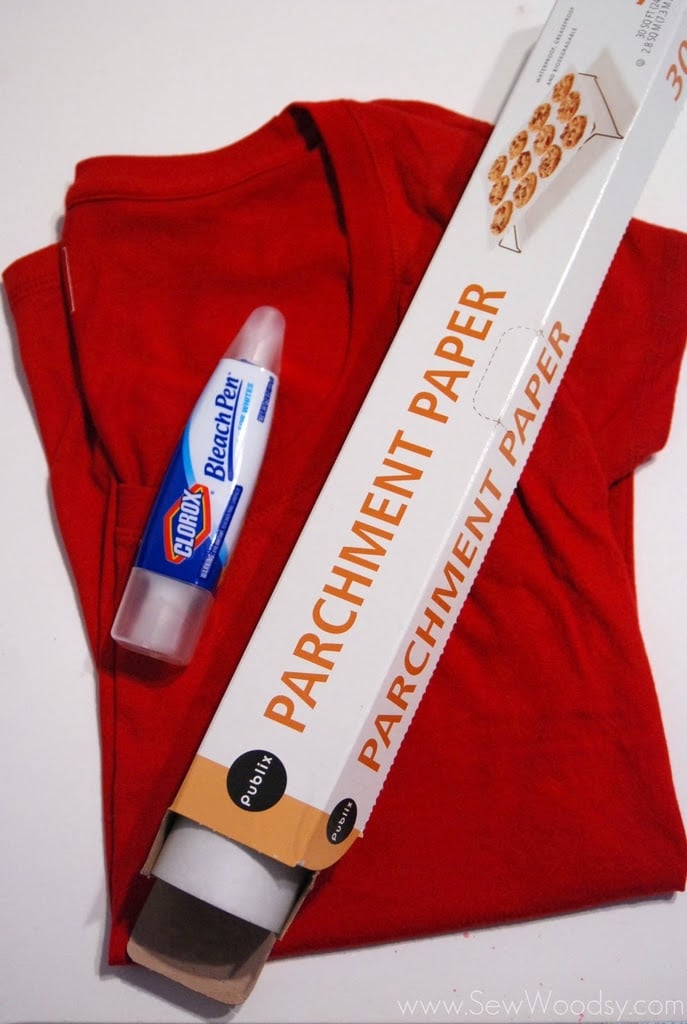 Supplies: Bleach Pen, Parchment Paper, T-Shirt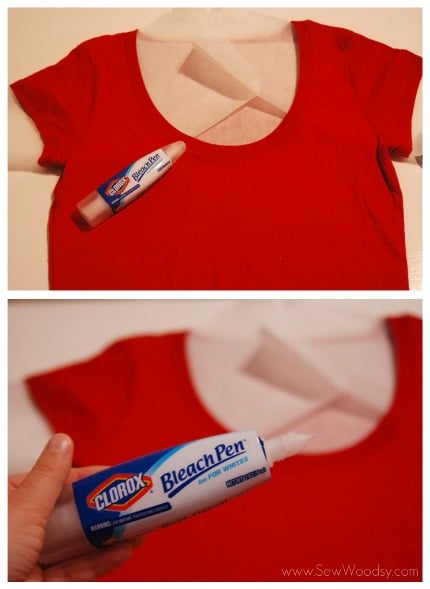 Line your shirt with parchment paper (or anything else you have on hand that will block the bleach from touch the other side of the shirt). Once your shirt is lined open your bleach pen.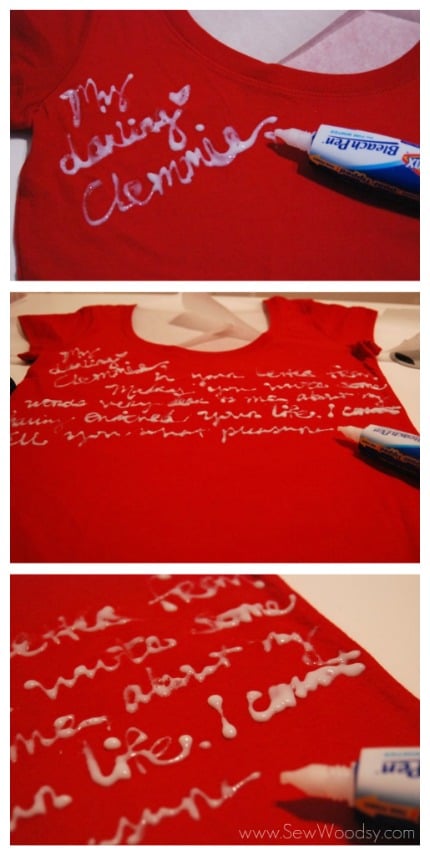 Carefully, begin writing on your shirt. You'll notice that most of my words came out in blobs. I knew going into this project that I did not want the words very legible.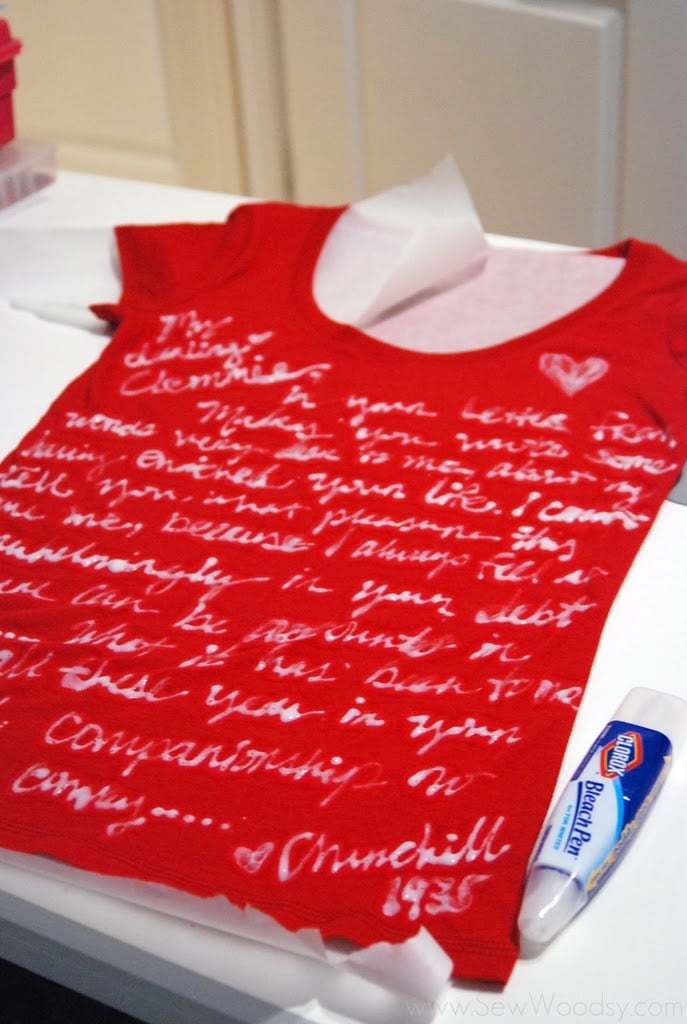 After about 15 minutes of bleach pen writing this is what my shirt looked like. I let my shirt sit for 30-45 minutes. Once I saw that the bleach was bleeding through the shirt I carefully brought it to my washing machine.
*Remember, this is bleach. It is going to stink–you are most likely going to get a headache from this. Just an FYI fair warning! I probably used about 3/4 of the bleach pen on just the front of the shirt. I'm sure if you can get the pen to not "blob" you might be able to use less.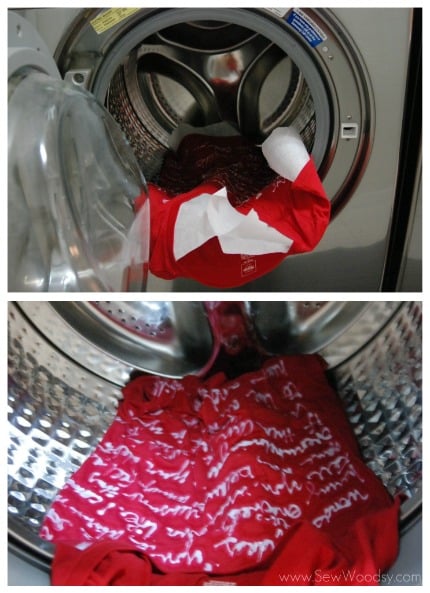 I carefully laid the shirt in my washing machine and then pulled the parchment out of the shirt. I turned the washing machine on immediately (on a normal cycle), and let the washing machine do it's job. After it was done washing I dried it like I would any other t-shirt I own.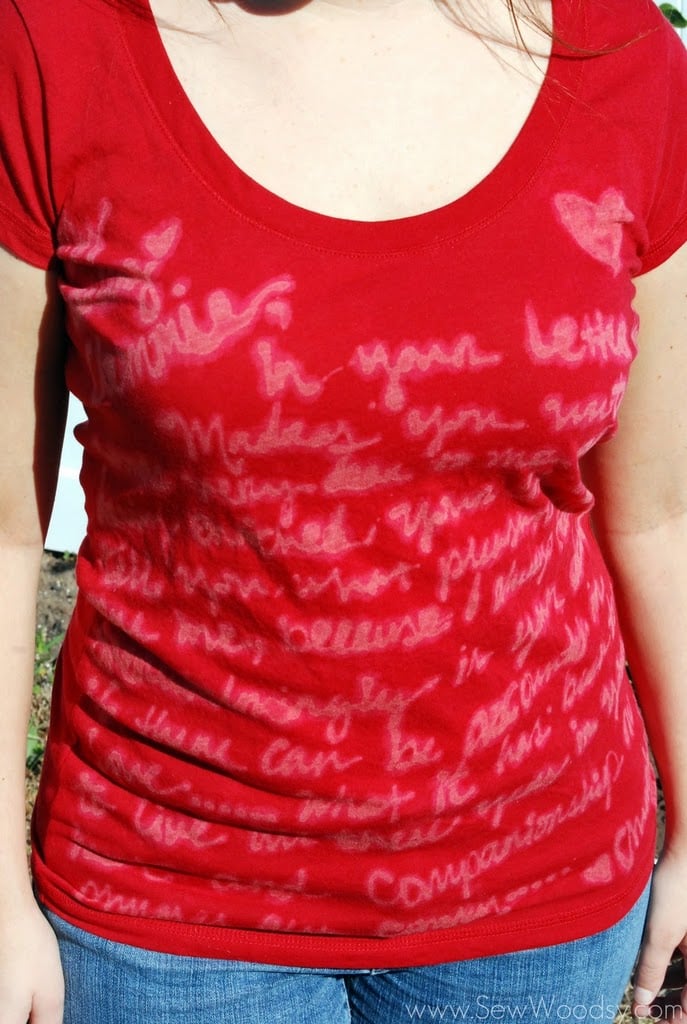 For about $10 I have myself a custom one-of-a-kind T-shirt! Some words are a little more legible than others, and I'm ok with that. If I was to make this shirt again I think I'll start at the top so that my sleeves had writing on them as well. I can definitely see me making another shirt in the coming months! Maybe even a dress or skirt!
Side Note: A reader left this comment and I felt that it was a great tip that all should consider when creating this shirt! "As an aside, bleach will continue to damage and eat through your shirt over time, so holes will eventually start to appear – if you don't want that to happen, you can soak your shirt in white vinegar after you wash it to help neutralize the effects of the bleach. (This is what we were taught in a surface design class I took in college.)" -CathGrace