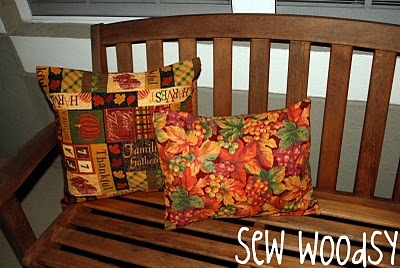 Pillow covers are super easy to sew; yet some how I missed the memo on this! I just started sewing earlier this year, and my first project out the shoot was an elastic waistband pencil skirt! One would say it's just as easy as sewing pillow covers, but I never realized how simple the pillow covers really were until my neighbor showed me hers! That's when I got inspired to make my own. I have these really bright and vibrant out door pillows for my bench on our front porch, and in the winter months I want them to be more season appropriate. Last year (prior to owning a sewing machine) I made pillow covers using stitch-witch (iron on adhesive). They came out ok, but nothing to really be proud of. I recently found awesome fall/Thanksgiving material at Wal*Mart and new I needed to make some pillow covers for my front porch! I am going to walk you through the steps as best as possible. If you don't understand my steps, you might want to go
HERE
and read this great tutorial! Same concept as what I'm about to demonstrate!
-material to cover one pillow (about a yard and a half)
-thread, scissors, and seam ripper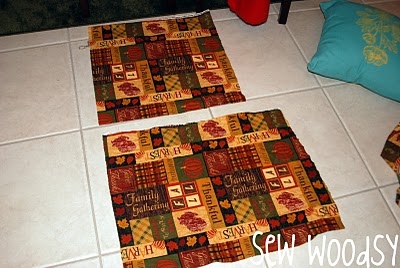 1. Measure your pillow. My pillow was 20 x 20, so I cut one piece 21×21 inches long and another piece 30×21 inches long. You can cut the 30 inch piece in half. Then overlap the material, so that it measures to be about 21 inches long.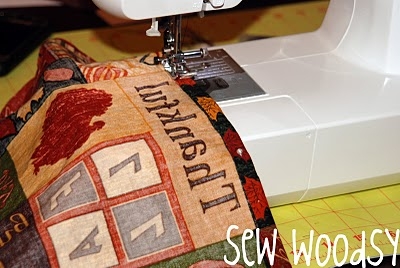 2. Next you will want to hem the inside of each of the 15 inch pieces of fabric. I folded each of the interior pieces about ¼ inch and sewed a straight stitch.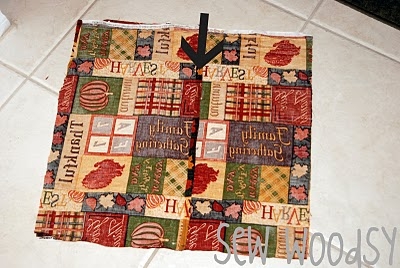 3. Now that you've hemmed the middle two pieces of fabric pin them together so that they make a 21×21 inch square, and that one piece of fabric over laps the other (see the arrow above the picture? Can you see the one sewn seam). Take the other 21×21 whole piece of fabric and face that towards the already pinned together 2 pieces. The whole pillow should be pinned together and ready to be sewn. **Make sure that the corners line up. I used a ½ inch seam allowance and sewed using a straight stitch (to be honest you can use whatever seam allowance you want)!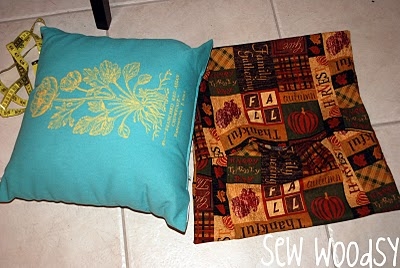 4. Once you've sewn around the perimeter of your pillow you can flip it inside out (patterned side), carefully stuff the pillow inside, and enjoy!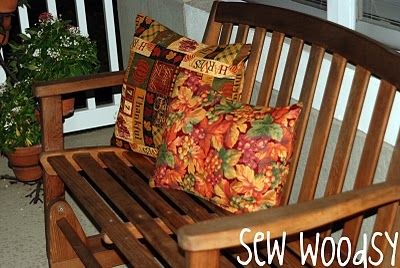 Now I have two festive pillow covers for my front porch bench!