Obviously, I've been posting way to much this week, but I still have so many cool Halloween projects to post about and need to get them all in by Sunday!!!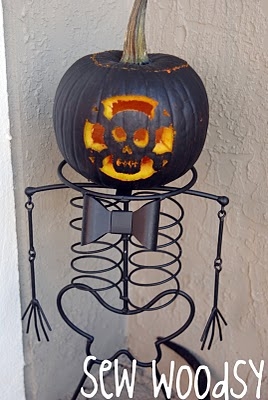 One of Mr. Woodsy's favorite things to do during the month of October is carve pumpkins. Typically he will carve anywhere from 3-5 pumpkins. But this year due to our extremely warm weather in the South he only had a chance to carve one pumpkin! I knew I wanted a small pumpkin for my skeleton pumpkin holder and I knew I wanted the skeleton cut out from the Pumpkin Carving Solutions Cricut Cartridge!
If you love to carve pumpkins, please go invest in a deluxe scraper scooper. We bought one after Halloween last year and Mr. Woodsy literally did one spin around our small pumpkin and he had ALL the guts out of the pumpkin. Never once had to pull the guts out with his hands… no mess or fuss! Super easy, clean, and convenient!
Mr. Woodsy had scene some black pumpkins that I sent him on the Martha Stewart site and he was determined to paint at least one pumpkin black! So he did… He used a basic black flat water based latex paint (like you would use to paint on the wall). He painted it evenly once and let it dry.
Once it was dry, he cut a hole at the top and scooped out the guts.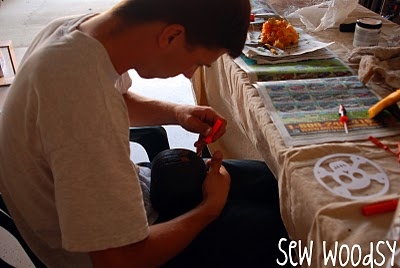 I cut out the skull and cross bones at around 4.5 inches and then we taped it onto the pumpkin. Mr. Woodsy traced the pattern, then began cutting.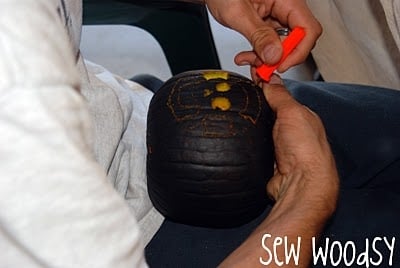 Here is the finished product!!!