Q:

The holidays make me so anxious! How can I stay organized this year?
 A:
Pre-planning; making list and realizing what your priorities are!
Let me elaboarte. Let's face it. We are in the thick of the holiday season; T-minus 10 days until Christmas Day! I use to freak out about getting everything done and many times lost focus in what the day is really supposed to be about. With these tips and tricks I'm going to share with you I hope that the next 9 (shopping) days will be a bit less stressful.
1. Make a list. Actually, make a few list. I have a list for Christmas gifts to buy and Christmas gifts to make! I have a list for Christmas Eve Dinner and Christmas day dinner. Each time you buy an item cross it off your list. It feels good to do that and it makes your life a bit less daunting seeing that you only have a few more task to complete on your list.
2. If you have procrastinated (like I have) spend an hour (or two or three depending on how many cards you have to send out) and get those Christmas cards completed. Make it a goal to have them sent out by Saturday morning. That should allow enough time for them to arrive to their destination (that is unless you need to send cards overseas and in that case they will most likely arrive late at this point in time).
Tip: A few years ago I spent the time to create Christmas address labels so that each year I just have to update a few addresses, print them out, and stick them on the envelopes. Less time I need to spend hand writing every address out! It may seem a bit impersonal, but it saves me a lot of time. And time is money people. In  my opinion, you received a card–that's what counts!
Ultimately, make sure you have all of your supplies ready, cards, stamps, address labels, and a good working pen! Being organized makes this process a bit less painful.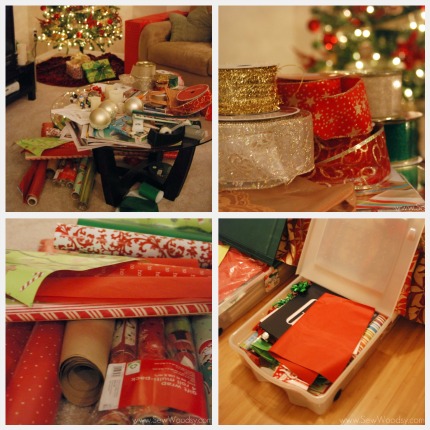 3. Dedicate a day (or two) to wrapping. If you are like me you have quite the collection of wrapping paper and ribbon, and in my case it's tucked away in every nook and corner we can find space for it to rest.
I have a three drawer bin dedicated to just Christmas ribbon (see photo below). I typically only use this once a year. Go through your arsenal and pick out what you plan to use for the holiday.
I have the same advice when it comes to wrapping paper (see above)! I have two long bins that are stored underneath our guest bed. I try to keep them as organized as possible. I also try to use up a roll or two of wrapping paper that could be close to being finished.  In the end it will free up more space for discounted wrapping after Christmas!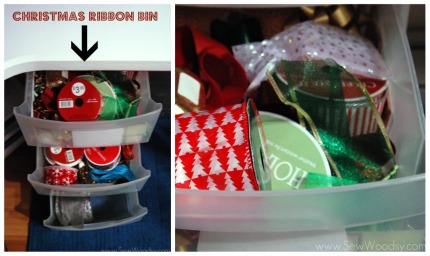 As you can tell from the pictures above I have quite a bit of Christmas gift wrapping supplies. I have to dedicate a few days prior to the holiday to gift wrapping. I also then dedicate a gift wrapping space. I try to wait until I'm about 90% finished with shopping before I begin my gift wrapping; however, that is not always the case. If I have to send gifts out to relatives or I have a few of Mr. Woodsy's gifts–those have to be wrapped first. (Mr. Woodsy is quite the little kid and likes to snoop around for his gifts).
Now… back to my gift wrapping process. I pull everything that I would need out of the bins. This helps me see what I have available. I typically wrap gifts in our living room (remember I don't have little ones, so I have no need to really hide gifts–minus Mr. Woodsy's gifts). If you have kids, plan to wrap them when they aren't around and/or secure a room with a lock on it that you can dedicate to wrapping and storing all your supplies. This helps me stay organized and focused on my gift wrapping goal!
Just remember, take a deep breath. Remember what's important this holiday season. It's not buying tons of gifts, or hosting a lavish party. It's about the spirit of the holiday and being with those you love.
I would love to hear how you stay organized through the holiday season and any tips or tricks you would like to share with us. You can also read the Life Well Lived Blog Post on BlogHer.com they offer some additional great tips to stay organized this holiday season! Feel free to leave your tips for staying organized over the holiday on their blog post as well!
Be sure to enter the Life Well Lived Moments Sweepstakes for a chance to win $250!