Happy first Wednesday of October! Is everyone as pumped as me for Halloween? I think Mr. Woodsy officially got in the Halloween spirit when he found an antique mirror on the side of the road yesterday. He sent me a picture via text message followed by: "What do u think for scary halloween mirror". That's love if I do say so myself. I'm glad to see and hear he is finally getting in the spirit (because my-oh-my do we have quite a few projects to complete in less than 2 weeks)!
On a house keeping note: Some of you might have received a follow up email with me last week after linking up. I took advantage of a very cool new tool offered by Linky Tools. I'm not writing about this because I got it for free or because they are paying me to say this. I'm writing about this because I'm a marketing professional and I could not be happier that this tool has finally been made available! Although I've had some challenges with the link party since moving to WordPress; Brent at Linky Tools has went above and beyond to help trouble shoot with me. I could not ask for better customer service than what he already provides. So if you are shopping around for a link party host I would highly suggest using Linky Tools.
*Just a reminder we are giving away a set of large & small Potion Bottle Labels.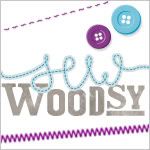 Rules for link party:
1. Be a follower of Sew Woodsy (GFC, RSS, Email)
2. Display our button somewhere on your blog.
3. Make sure our link is to your specific post not your mail URL.
4. Craft projects only (NO recipes please).
5. Get social and visit a few projects!
Disclaimer: Entering into this link party gives Sew Woodsy the rights to blog/Facebook/Tweet about and feature your blog post linked to the party.