Happy Wednesday! Hope everyone has had a productive week thus far! I've been busy working on my last few Valentine's Day projects including my coveted Valentine's Day card to Mr. Woodsy. Have I told you that each year the only thing we exchange is homemade cards. Nothing fancy here accept homemade love! Yes, he does know how to use my cricut and has no problem whipping up a card! I'll share them next Tuesday in honor of the holiday of love and all things Hallmark  handmade.  I am also getting ready to host my best friend's bridal shower & bachelorette party! I can't wait to share the decorations and favors I've created for the event. AND if I'm not busy enough I am sewing burlap table cloths for her wedding reception! If you follow us on Facebook you saw what 75lbs of burlap looks like!  Enough about what's going on in my life… let's take a look at some of the amazing projects linked up last week!
How amazing is this jacket!??! I could not–not feature this jacket. It looks like it is store bought and yet Amanda made this! AMAZING!
I'm loving this pillow!!! I've yet to try the freezer paper stenciling technique. It's on my must try list for 2012!
I transformed black flats last year using glitter and I love how these heels turned out!!!
Ruffle Curtain from Somewhere In The Middle
How adorable is this ruffle curtain? I love this idea!!!
This is amazing!!! I love the multi-purpose. I'm always a fan of the dual purpose and I love the dark wood top and the white bottom!
Reader's Choice:
Look at this stunning quilt! No wonder why it was chosen as the Reader's Choice!
Now… let's party!
This week's link party is sponsored by Pick Your Plum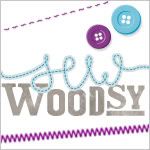 Rules for link party:
1. Be a follower of Sew Woodsy (GFC, RSS, Email)
2. Display our button somewhere on your blog.
3. Make sure our link is to your specific post not your mail URL.
4. Craft projects only (NO recipes please).
5. Get social and visit a few projects!
Disclaimer: Entering into this link party gives Sew Woodsy the rights to blog/Facebook/Tweet about and feature your blog post linked to the party.