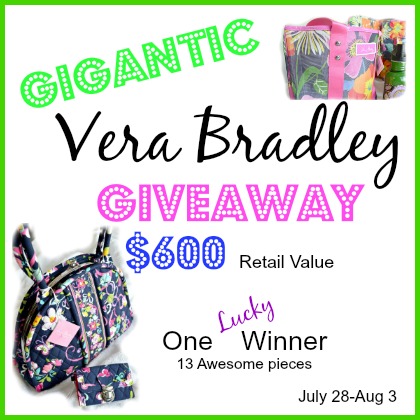 First off, sorry we were absent most of last week. I'm still trying to get into a consistent blogging pattern. For now until I figure that out and balancing our time with Ryder I will be posting a little sporadically. Because I've been feeling guilty about neglecting the blog, we've partnered up with some of our favorite blog friends to offer a Vera Bradley giveaway.
I know, some of you may be thinking, what the heck does this have to do with DIY?
Well it doesn't.
But if you love purses and all things girly than this is the giveaway for you. And let me just tell you that Vera Bradley also has the cutest baby line. A friend of my mom's gave Ryder the cutest little Vera Bradley soft blanket bunny. He plays with it, and now because we are teething, he gnaws on it daily. So, I figured our readers would love to enter in on the fun. One winner will win 13 pieces of Vera Bradley products.
If you win, what will you do with all the Vera Bradley products? Keep all 13 pieces for yourself? Maybe give some of them as Christmas gifts (it's never to early to start thinking about Christmas)! [Continue reading]
Share and Enjoy