I'm sharing all the tips and tricks on How to Host a Baby Shower at Work. These work baby shower ideas include how to decorate on a budget, gifts, and even food ideas.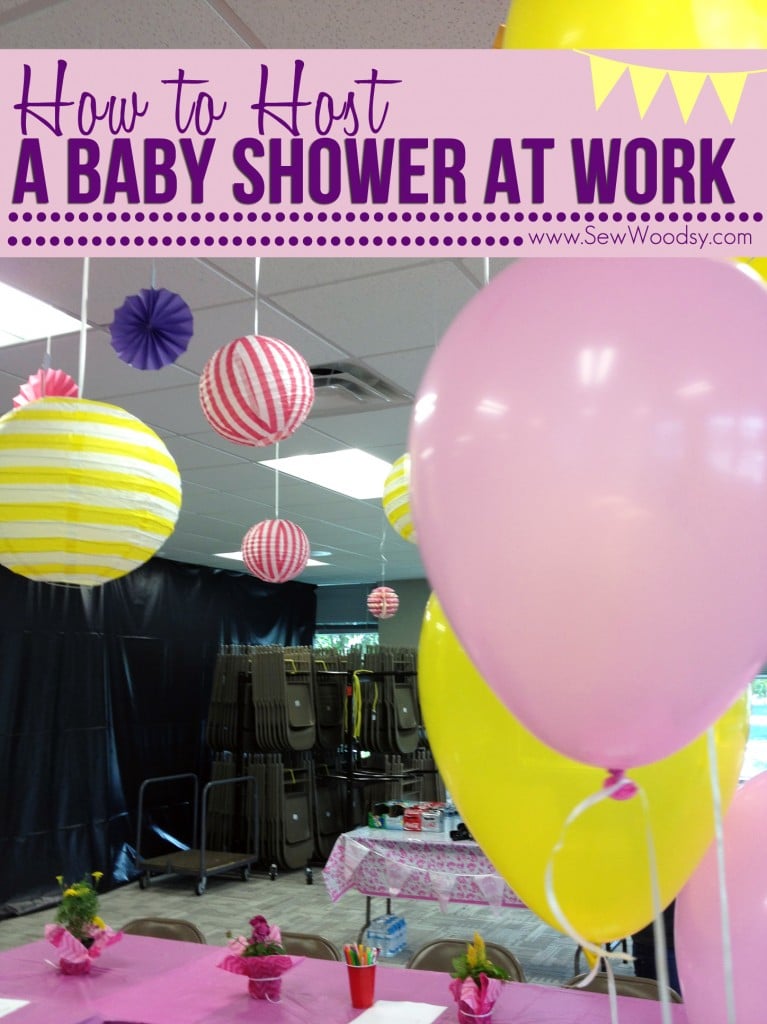 Babies are in full force right now in our lives (not us–just other people). I've hosted two baby showers at work this year and have about a handful of friends and family members all expecting this summer. I documented the last baby shower I hosted at work via iPhone and figured I would share with our readers. Entertaining of any sorts can be super stressful, but I have a few tips and ideas that will make hosting a baby shower at work a breeze!
Table of contents
Cheap Baby Shower Decorations
First thing is first. Think about your theme. We knew we wanted a modern baby shower. We also knew they style and color scheme for the babies room so we played off that. Bright pink, yellow, orange, purple. Lots of color for this upbeat shower! You'll notice our space wasn't that glamourous. We had chairs stacked, boxes, and other miscellaneous items that were housed in the space we chose to use. It's ok. Your at work. I think its expected. But you can totally dress up a place and make it look fantastic for minimal amount of money.
Instead of spending money on tons of pre-blown balloons enlist a few of your coworkers to help with the helium tank. You can purchase a helium tank for less than $50 at Walmart. It typically can get up to 50 balloons. Balloons fill a space and make it bright!
Add some life to the room and buy .99 potted plants. We spent $8 on potted plants that the mother-to-be could bring home and plant from her baby shower. Since I work with Sarah from While They Snooze we dreamed this up together. We found cute pink chevron tissue paper at Target. Sarah covered the pots with the tissue paper and secured it with a little white ribbon. For an extra buck or two you could use twine!
We spent less than $20 on paper lanterns and pinwheels at Target. We had a few of the taller gentleman at our office hang them from the ceiling for us!
Reuse decorations you have on hand! We just had a baby shower the month prior and had a few pink/girl decorations leftover. We mixed in the old with the new.
Don't be afraid to use plastic tablecloths. As much as I hate them and I think that they can look tacky if you don't choose the right color–they really can brighten up a space. And for $1 each at Walmart–why wouldn't you want to dress up your tables.
Play games… but let coworkers know that their will be no prizes. Unless someone will be providing them.
Practical Baby Shower Gifts
Let's talk about the gifts. Baby showers (or any kind of shower) at work can be awkward when doing the gift thing. Check-out what the mom-to-be still has left on her registry. If you don't feel comfortable having your co-workers buy you a breast pump maybe you might consider making a "friends only" registry?
Organize a group-gift. You'll be surprised how many more people will give gifts if someone else is organizing it. Even the new guy that might not know her will feel more comfortable chipping in for the gift!
All the gifts are online? What do we do? In our case most of the gifts left on her registry were online (with the exception of 2). I was the organizer, so I wrapped up the 2 gifts and then grabbed boxes from the office and printed out each individual gift. That way the mom-to-be had something to open.
In lieu of cards give books! I love doing this for baby showers. We did not do that this baby shower but I have done that in the past. A book can sometimes cost less than the price of a card. Why not help build the newborns library?
Throw a diaper shower and give diapers and wipes in all sizes if the proud new parents have everything they need for their bundle of joy.
Baby Shower Food
On a side note… isn't the diaper cake super cute… my friend Christy made it! I loved the chevron and birds… and the top was a "birds nest"!
Think about what food you'll serve. Does your department have a budget for a luncheon?
If catering is an option… find out what the mom-to-be's favorite restaurant is and have lunch catered in.
Host an ice cream social. Our mom-to-be has been craving ice cream lately so we opted for an ice cream bar instead of cake. We had a wide variety of toppings. We also did a few cupcakes and cookies just incase anyone wanted "cake" with their ice cream or wanted to make "ice cream cookie sandwiches".
Host a pot luck. Have all of your co-workers bring their favorite dish in. OR set a theme… mom-to-be is craving Italian food then make it Italian themed. For those co-workers that don't like to cook you could have them chip-in to order a pizza or two.
Be traditional… serve cake and punch. If your tight on money and the department isn't willing to help then utilize talents within the department and have someone bake a cake and have a few people bring ingredients to make a punch.
I hope you found my ideas and ways to host a baby shower at work not only useful but fun!
Baby Shower Ideas
If you are looking for more baby shower ideas take a look at a few more of my post.
Disclaimer: Their are affiliate links within this post. As always all opinions are my own.