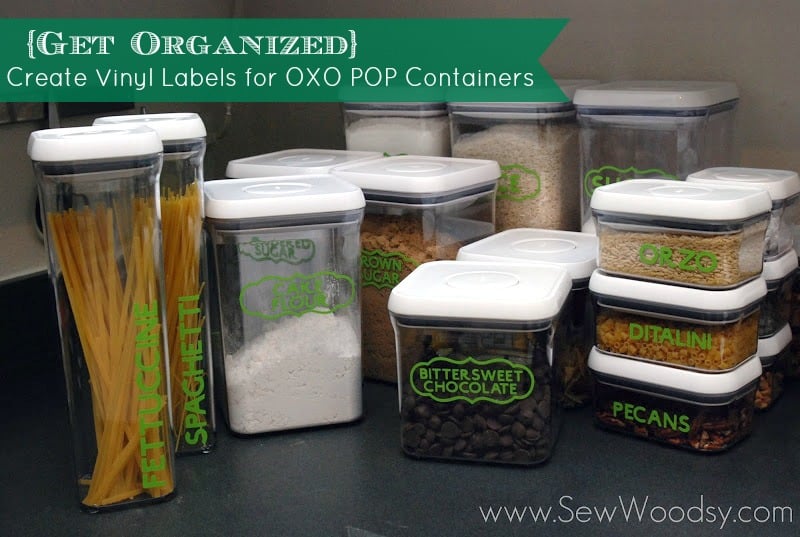 Is your pantry a disaster? Ours is about 9 times out of 10. I am also a food blogger, I cook A LOT! And that means that my itty-bitty pantry becomes a disaster in .01 seconds. Last year, I received a wide variety of OXO POP containers after winning a recipe contest on OXO's website. I choose to receive a crazy amount of POP containers to get our pantry a little more organized. Taking it a step further because after all I am a DIY blogger as well I added vinyl labels onto my containers.
Supplies:
OXO POP Containers
Vinyl
Transfer Tape
Cricut + Font Cartridge
Make sure you read the entire post because there is a clue along the way to an awesome giveaway and they might just have to do with OXO POP Containers!
Gather your POP containers (or whatever containers you have).
Clean them very well before you add your labels!
Write a list of all the labels you'll want to make. Then measure your vinyl to fit your die-cutter cutting mat.
Once your labels are designed cut them out on your Cricut Mini (or die cutting machines)! I made a "how to cut vinyl on the Cricut" tutorial way back when. You can reference it if you've never cut vinyl before.
Once your labels are cut…. cut each individual label from the vinyl sheet. Then begin pealing off the "filler" vinyl so that you can read the word clearly.
Place transfer tape on top of the vinyl decal.
Remove the backing to the vinyl sheet.
Carefully, place the transfer tape onto your container. Not to put any pressure on you but you have one time to get this right!
Then, use a smoothing squeegee smooth out the transfer tape/vinyl. If you don't have one of these, don't sweat it. You can use a credit card.
Voila! One label done… many more to go.
Here I am on my second label.
And then repeat with the remaining labels!
And then repeat with the remaining labels!
Once all the labels are on its time to fill them up!
So back to the cleaning the pantry… We removed everything
And thankfully, Mr. Woodsy tackled the funky smell coming from the pantry (it was a few rotten potatoes).
Simple project to spruce up my new POP Containers!
You'll notice I decided to make two different styles of labels. The smaller POP canisters need a smaller size design.
So you want a set of OXO POP Containers? Head on over to my cooking blog Facebook Fan Page; Katie's Cucina to enter for a chance to win a 3 Piece Round Canister Set!
Disclaimer: OXO provided me with POP Containers after winning a recipe contest. MyVinyl.com provided me with vinyl. Neither of the companies compensated me or required me to post about their products. As always all opinions are my own. There are affiliate links in this post.