As most of you know, Mr. Woodsy and I have been very busy thus not too many crafts/DIY/home renovation projects going on at our house. I put out a call for some guest bloggers to share amazing projects, and I'm delighted to introduce you to a dear friend and coworker of mine, Sarah. Our first guest blogger.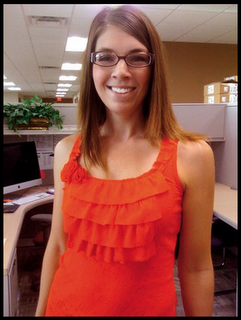 She is a busy working momma of 2 wonderful children and is very crafty, but has no time to blog about her awesome projects! Sarah will guest blog on Sew Woodsy from time-to-time and share her creativity and talent with the blogging world! *Sarah is modeling her ruffled tank top she made using the tutorial from Anngela's Pretty Little Things.
~~~~~~~~~~~~~

Hi, I'm Sarah. Follower of Sew Woodsy and friend of Mrs. Woodsy. Graphic Designer by day and full-time mommy/crafter/sewer/maid/waitress/boo boo kisser… I've gotten off track…. Anyway. I have a 3-year-old girl and 1-year-old boy at home who fuel my need to buy cute baby things. After the initial first-time-mommy, I-need-everything-new-for-my-baby, delusional world I was in wore off, I realized I was crazy for spending that kind of money on my kid's clothes. Now, I buy used or I sew! I taught myself with the help of YouTube videos, craft blogs like this one, and I read the instructions on my sewing machine.

That's it. Nothing fancy.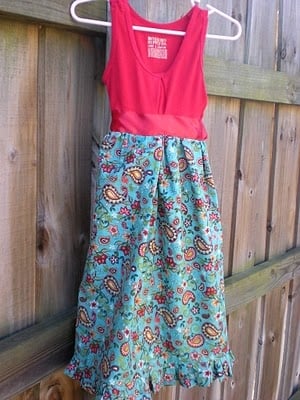 This dress came about when I took a stroll though the Walmart fabric section (dangerous lunch-break habit Mrs. Woodsy and I have) and saw this paisley. Had no idea what I was going to do with it, but I loved it. I had an old Target tank top remnant of mine (I cut the bottom off of it for another project) sitting in my fabric pile at home, put the two together, and came up with a dress for a sassy 3-year-old.

I started by measuring my kid (I got her to sit still with a combo of snacks and "Princess and the Frog"). I put the tank on her inside out, pinned the straps at the shoulder to fit her, and marked how long I wanted the tank. Then I measured (eyeballed) how long to make the skirt portion. I cut a rectangle of fabric from the paisley and sewed it into a tube. I used "french seems" which I learned from here.
Then I cut a 3" wide strip twice as wide as my rectangle, hemmed it, and sewed it into a tube. Then I pinned like crazy and sewed them together (I am still shocked this came out as well as it did).
Next, sewed the skirt portion to the tank and added the satin ribbon on top leaving the ribbon free at the back.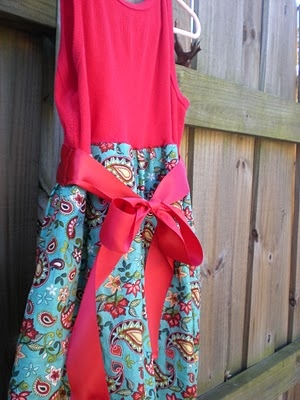 All was well until 3-year-old put it on and kept pulling the front down to her bellybutton in a very non-lady-like fashion. I figured the tank was still too big, gathered up the front a smidge, and hand sewed–like so.


Done! Total cost was about $3 and I recycled an old tank!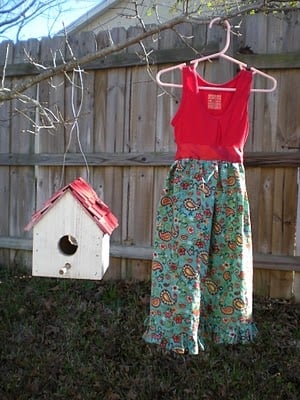 Hope you're inspired to try your own!