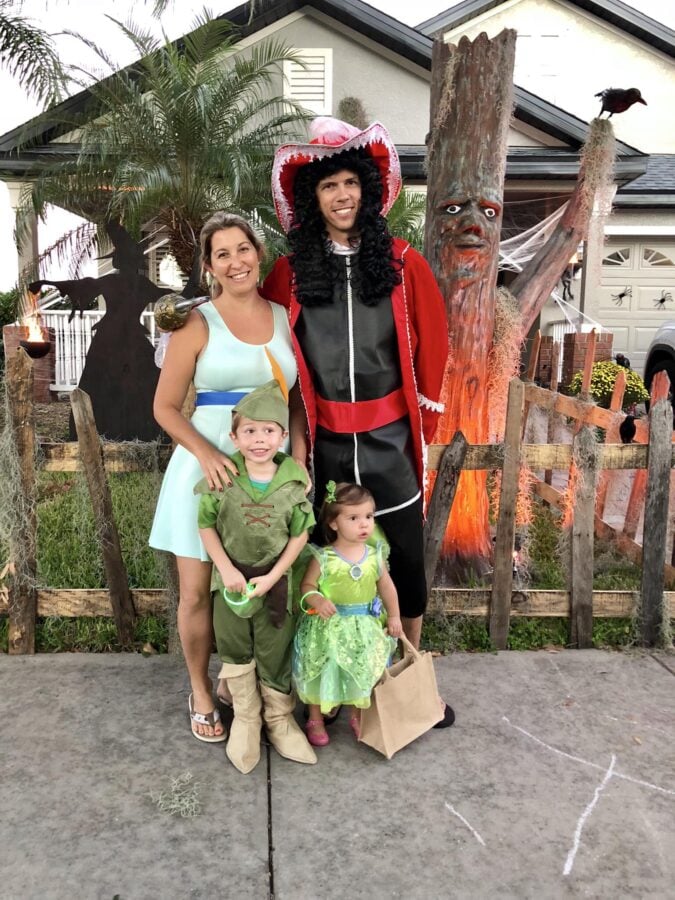 Happy Halloween! I had to hop on just to share our annual family costume for 2018. My son is now 4.5 and at the age where they are very much starting to form their own opinions! I was some how able to get him to go along with the idea of being Peter Pan! I just knew he would make the cutest Peter Pan. Let's face it I'm just so thankful he wasn't demanding to be a super hero! Before anyone starts to freak out–he did; however, get to select his costumes for our annual Halloween festival at our former college and at school.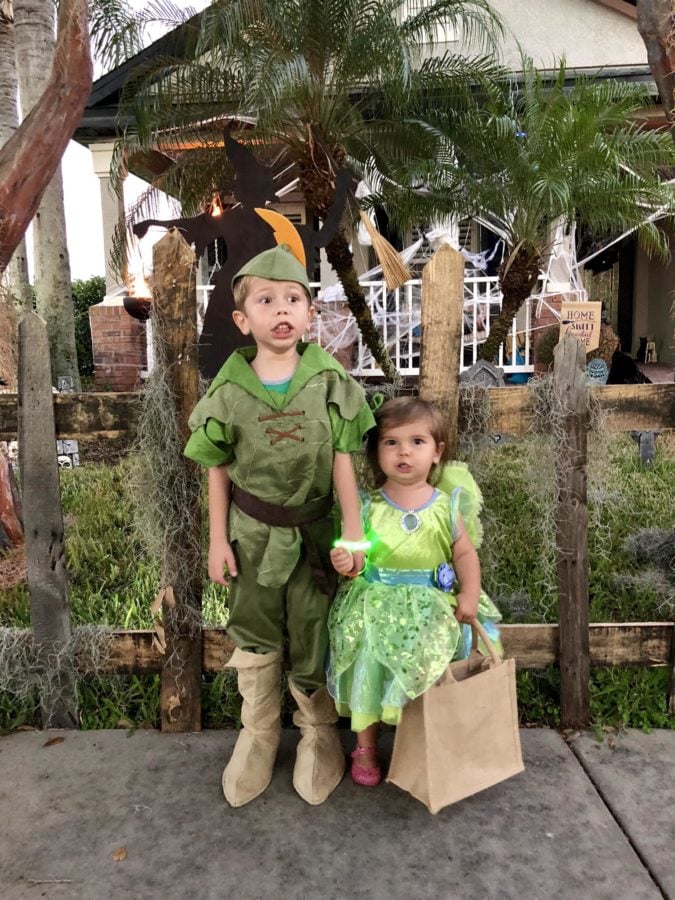 I loved the idea of Peter Pan. It's a classic and one of my favorite Disney movies. I mean, let's get real–who really wants to grow up? Peter Pan also just re-released (this year) from the Disney Vault and on DVD and it's just a classic. I figured my little toddler baby would look adorable as Tinker Bell, too! She also demanded to wear her signature pink jelly shoes. She owns multiple colors and only wants to wear her pink ones. I mean, I can't blame her either. If I had pink jelly's that is all I would want to wear too. I made her that bag she is holding; of course, it's not flipped around with her name on it. Oh well…. and I guess I'll share that tutorial next year since I ran out of time and never got to share the the tutorial here on Sew Woodsy.
Our 4 year old, Ryder, loved every minute of trick or treating. He would sprint door-to-door and then I would have to yell each and every time reminding him to stay with us. Reagan did fantastic and way better then Ryder ever did at this age. She was able to hang until we got home at 8:30! And the candy… holy candy! They got so much.
Good thing, my friend Dianna from The Kitchen Prep shared with me about the Switch Witch. It's a witch who loves candy and if you leave out most of your candy after Halloween night she will leave toys behind in it's place! GENIUS! Especially for any mom trying to limit the candy consumption. I placed a doll and book in Reagan's bag (hello, leftover Birthday toys we are still opening), and Ryder received a new Tonka Tiny set, plus 2 new Tonka Tinys, ABC Flashcards, Dino Stickers, a book, and a magic wash cloth! All stuff I've had in my box that I fill with random prizes for when I need to bribe or reward or whatever…
Ryder had no regrets giving up that candy, and my husbands office welcomed the candy! Now, I need to keep my child out of his office for the next few weeks so he doesn't realize the candy all went to daddy's office! Eek.
We hope everyone had a wonderful Halloween!