Looking to spruce up your laundry room? I have a free Laundry Symbols Printable and an additional laundry room printable sign that you can download below.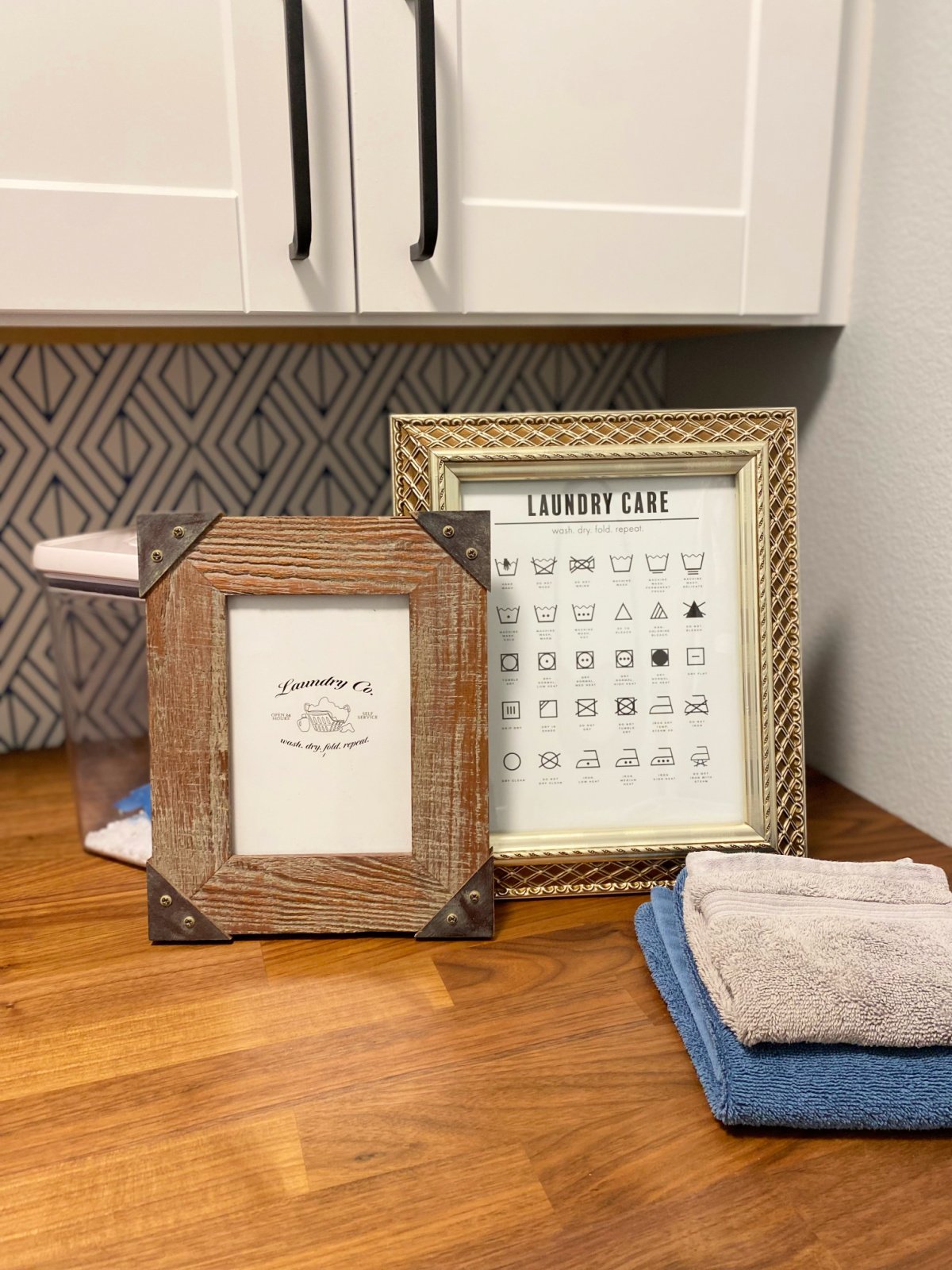 Do you dread doing laundry? That was me (and well, let's be honest still is). But I will tell you that renovating my laundry room has made it a much more enjoyable process. I created this Laundry Symbols Printable and Laundry Co. printable to add a little extra inexpensive decor to my space. I hope you love these free printables as much as I do and spruce up your laundry room this year!
Supplies
Printable File(s) – You can download the Laundry Symbols Printable and/or the Laundry Co. Printable
Printer – Any household printer will work.
Cardstock – I prefer to print my printables on cardstock but regular paper works too if you are putting it in a frame.
Scissors – In case you need to cut down the printable to fit your frame.
Frame – Any size frame and style will work!
Directions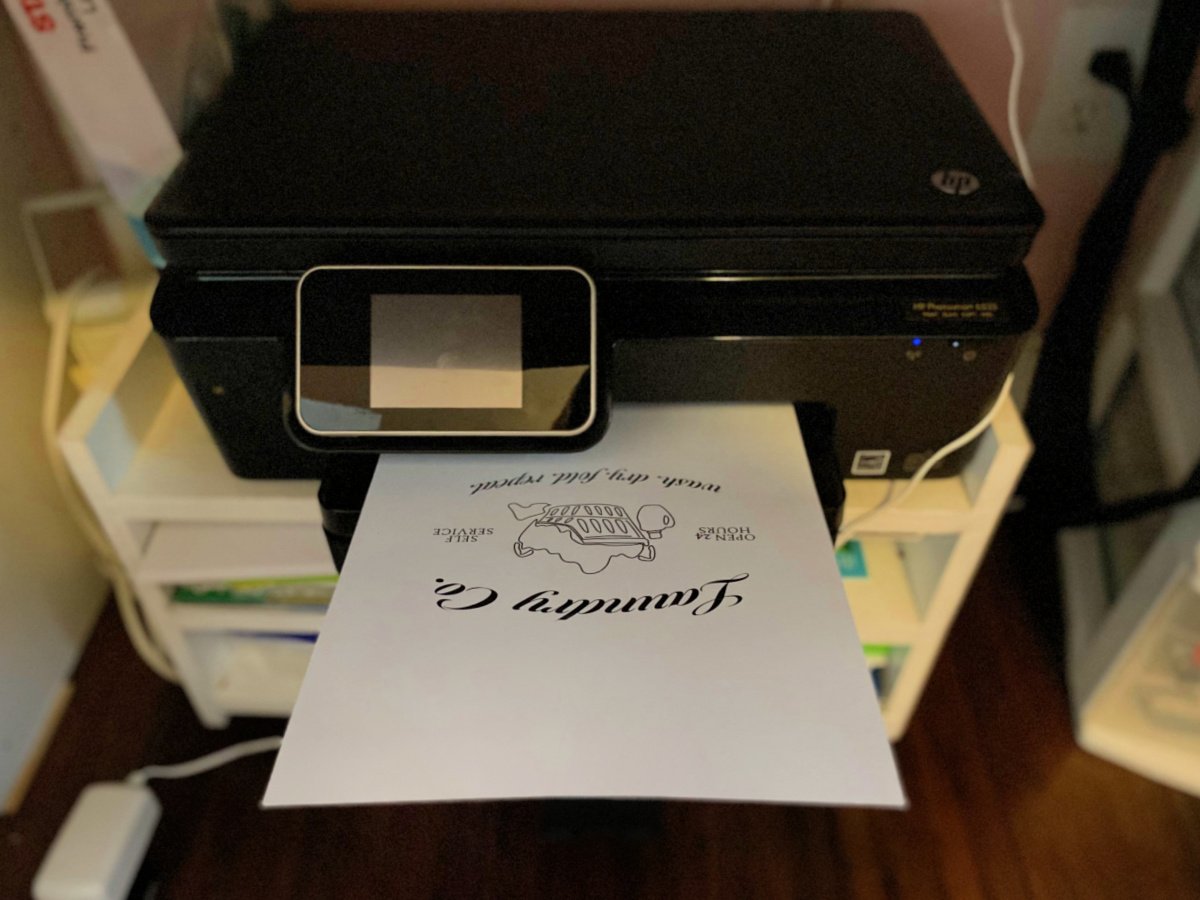 Download the PDF file (put your name and email address in one of the two boxes below. You need to do this on a desktop computer–it will not download on a tablet or cell phone.
Print out the design(s) of your choice.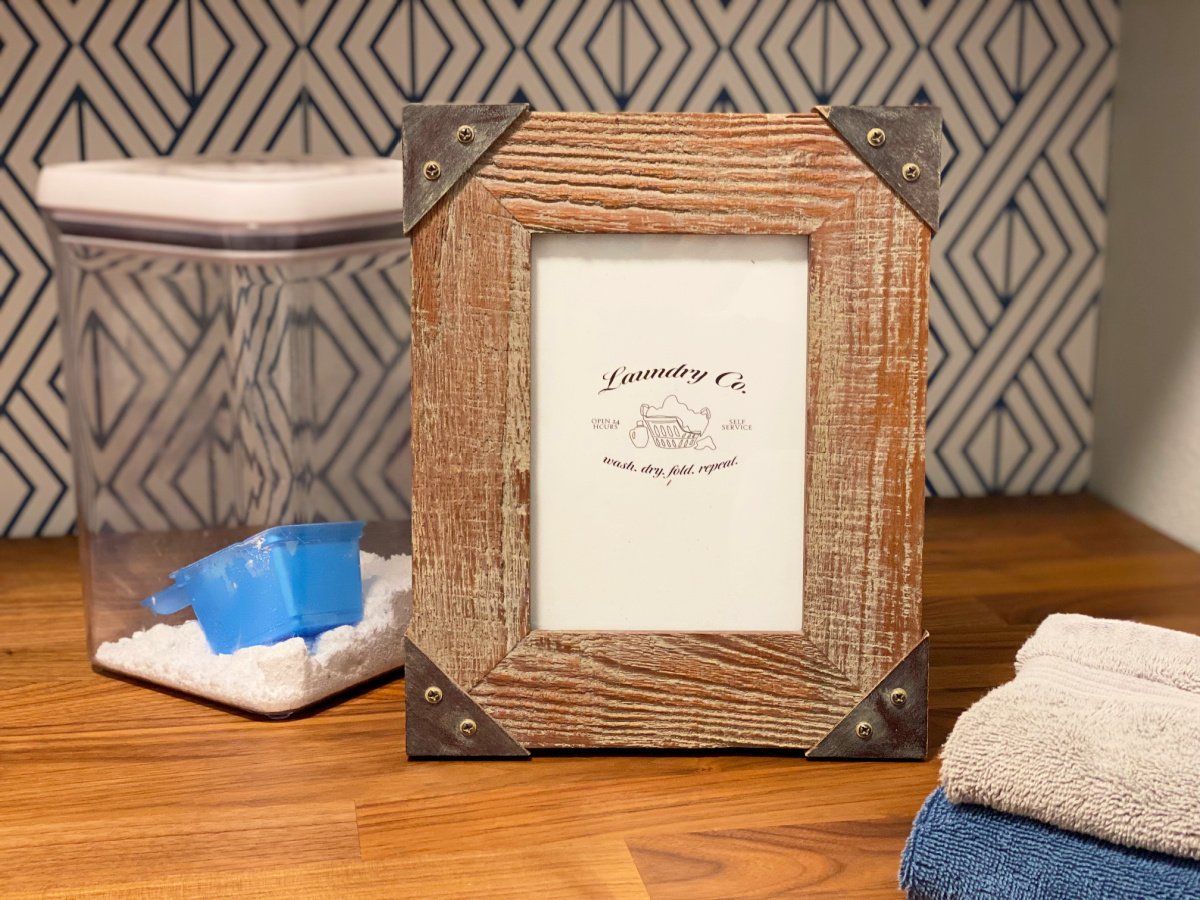 Find your favorite frame and place the printable in the frame. Then display where desired in your laundry room! I have a counter, so I can display on the counter; however, you may want to hang the sign. If that is the case you will need a hammer, nail, and level.
FAQs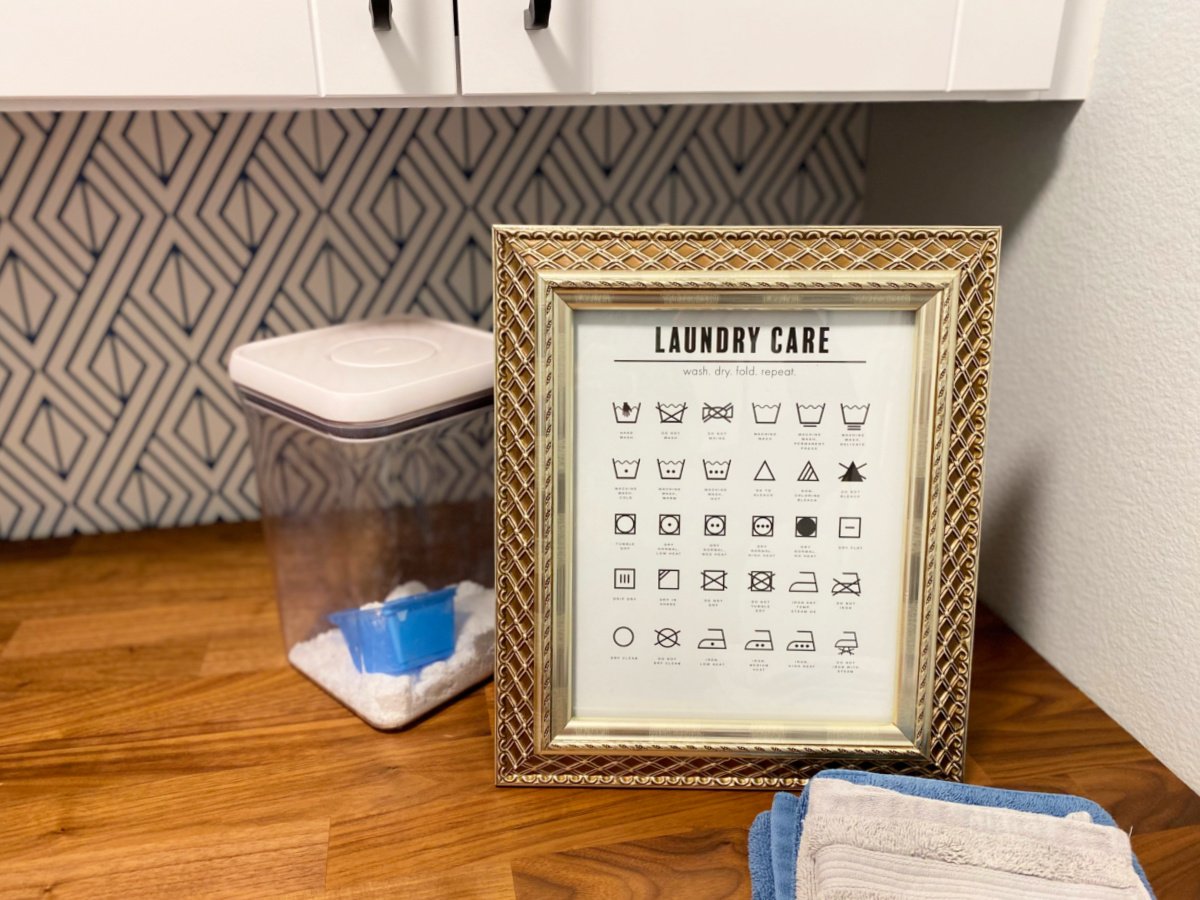 Is this printable free?
Yes, the printable is 100% free. All you need to do is fill out your name and email address to download the file(s).
Do I need a desktop computer to print out this printable?
Yes, unfortunately, the system I use to download free printables require a desktop computer to download the Laundry Symbols Printable.
My printable won't download. Why is this?
If you are having a trouble downloading the file it may be because you are trying to download on a phone or tablet. You have to use a desktop or laptop computer in order to download. It does not matter what type of computer you have (PC or MAC) it will still be able to download.
What are the 5 basic care symbols?
Washing: This symbol is a trapezoid-shaped tub with squiggly lines representing water.
Bleaching: This symbol is a triangle
Drying: This symbol is a square.
Ironing: This symbol is an iron.
Professional Textile Care: This symbol is a circle.
How to wash silk
If you have a silk shirt or silk pillowcase you might be wondering how to wash it. It's actually easier then you may think. Since silk is a delicate fabric you will need to hand wash the garment.

1. Fill a sink with cool water.
2. Place a few drops of your favorite laundry detergent in the water. Agitate the water with your hands so that it gets mixed around.
3. Soak the garment for 3-5 minutes making sure it's fully submerged.
4. Agitate the garment in the water then rinse with cold water.
5. Do not ring out the garment instead use a towel to help absorb the excess water.
6. Hang dry until it's dried.
How to do laundry step by step?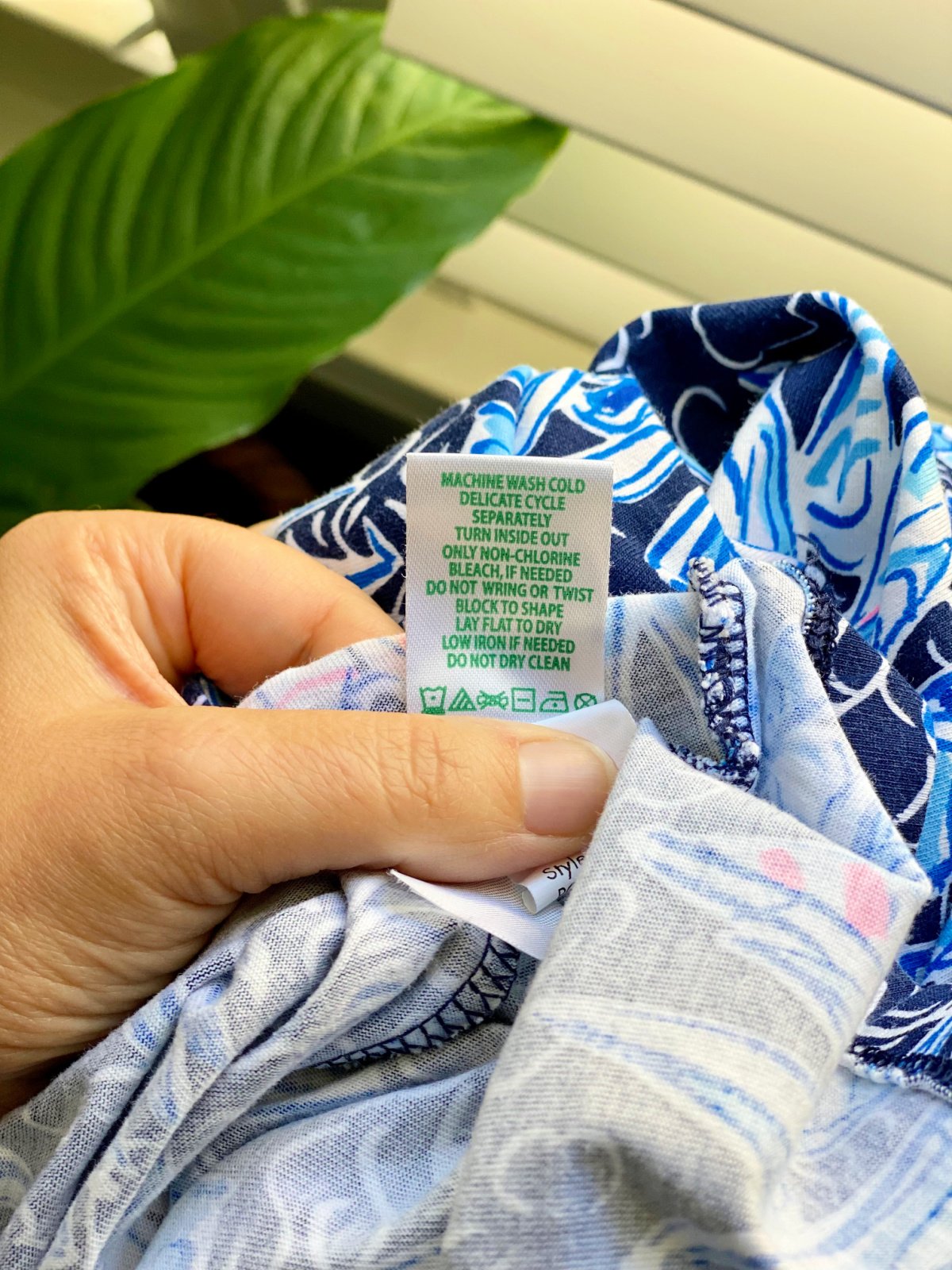 If you are new(er) to doing laundry it can seem like a daunting task. After doing laundry for over 25 years I've come to figure out a routine that works for me, and I'm here to share it with you.
SORT – First, sort through all the dirty laundry. I like to sort in piles in front of my laundry room.

I have a pile for hand wash / delicate washes
Dry Cleaning
Dark Colors
Whites
Reds/Pinks/Oranges
Mixed colors
Towels
Bed Linens

READ TAGS – Before you start your first load I like to read the tags of any items I might be questioning to make sure they are in the correct pile.
START – I typically start with my white load followed by my reds/pins, mixed colors, and darks. If I have delicate items to wash that I know will end up getting hung dried (hello ALL my Lilly Pulitzer pieces) I will wash these in between the whites and reds or reds and mixed colors depending on the colors of the pieces of clothing I'm washing.
FOLD/HANG – Fold and hang your clothes the minute that they are dried. This is essential to ensure you don't end up with wrinkly clothing.
PUT AWAY – This seems to be my hardest part of the laundry system. Putting away the clothes! I try to put them away the minute I fold to ensure that I don't have a massive amount of clothes to put away at once. Sometimes this doesn't happen and that's okay too.
One of my biggest tips is trying to dedicate one day a week. If we are home on the weekend I typically dedicate my Sundays to doing all the clothing wash, and Monday's to wash all the towels, sheets, and throw rugs in my home. I find this system helps me. Once you get into the groove it will become second nature to you!
PRO TIP – If you happen to have kids don't hesitate to get them involved! My kids started helping me sort clothing to be folded around age 3/4 and folding laundry by ages 4/5! Young kids especially are eager to learn and want to help. Start them young, and they will be laundry pros before they graduate high school!
Download the Laundry Symbols Printable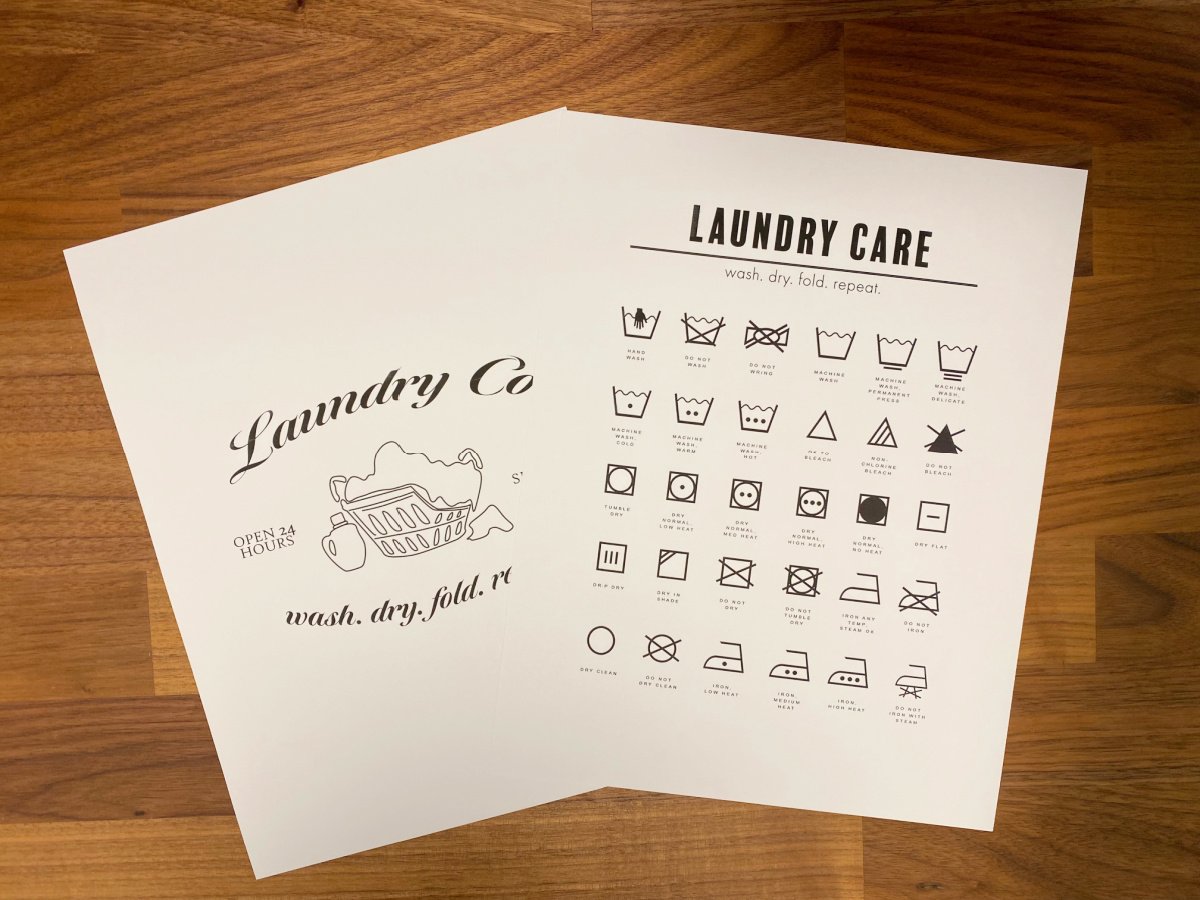 To download the file(s) below simply type your name and email address in the box. You MUST download using a desktop or laptop computer. The download will not populate if you are on a smart phone or tablet. This is for private use only. Commercial use is forbidden unless written to for paid permission.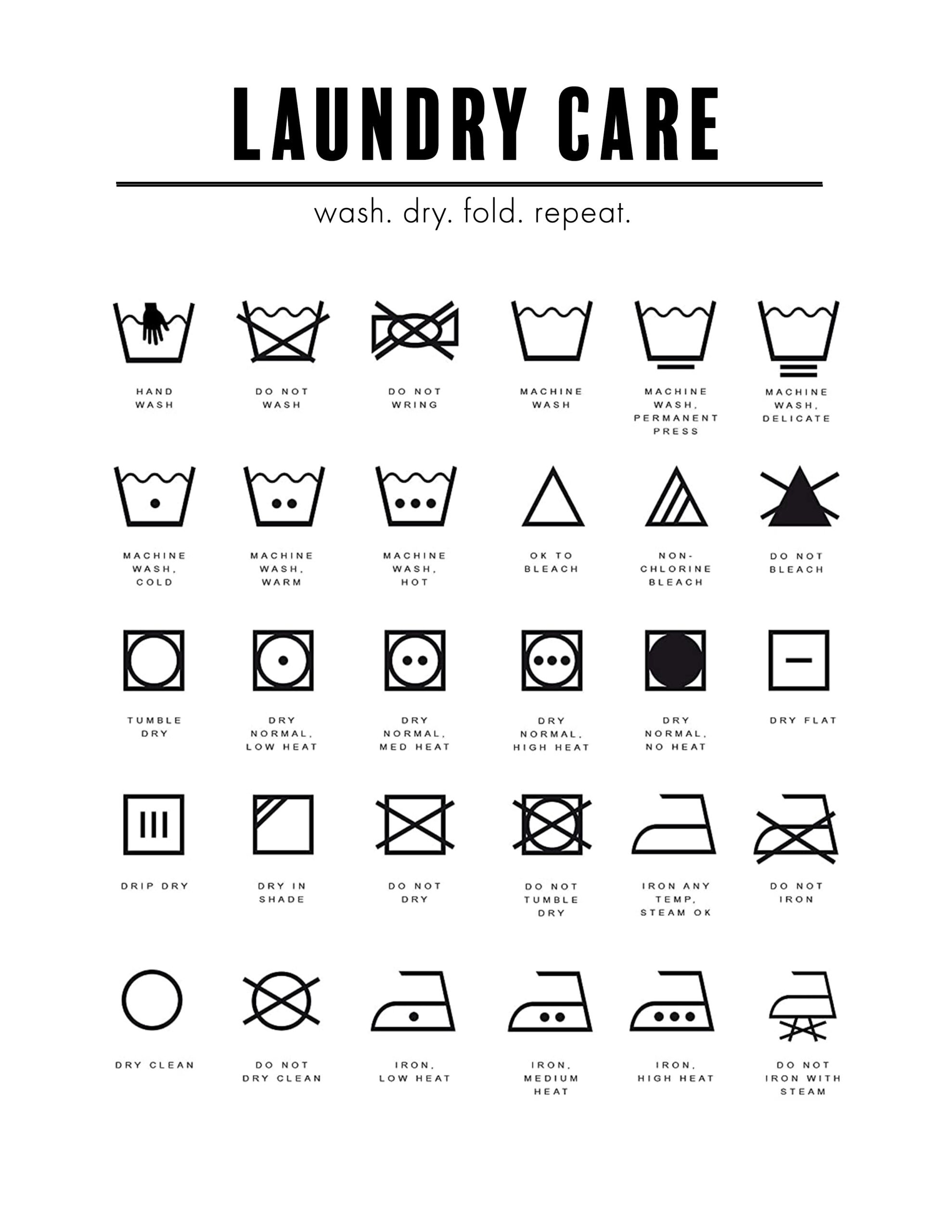 Laundry Symbols Printable
Download this Laundry Symbols Printable today. Simply print, place it in a frame, and display in your laundry room to keep the guess work out of all those tag symbols!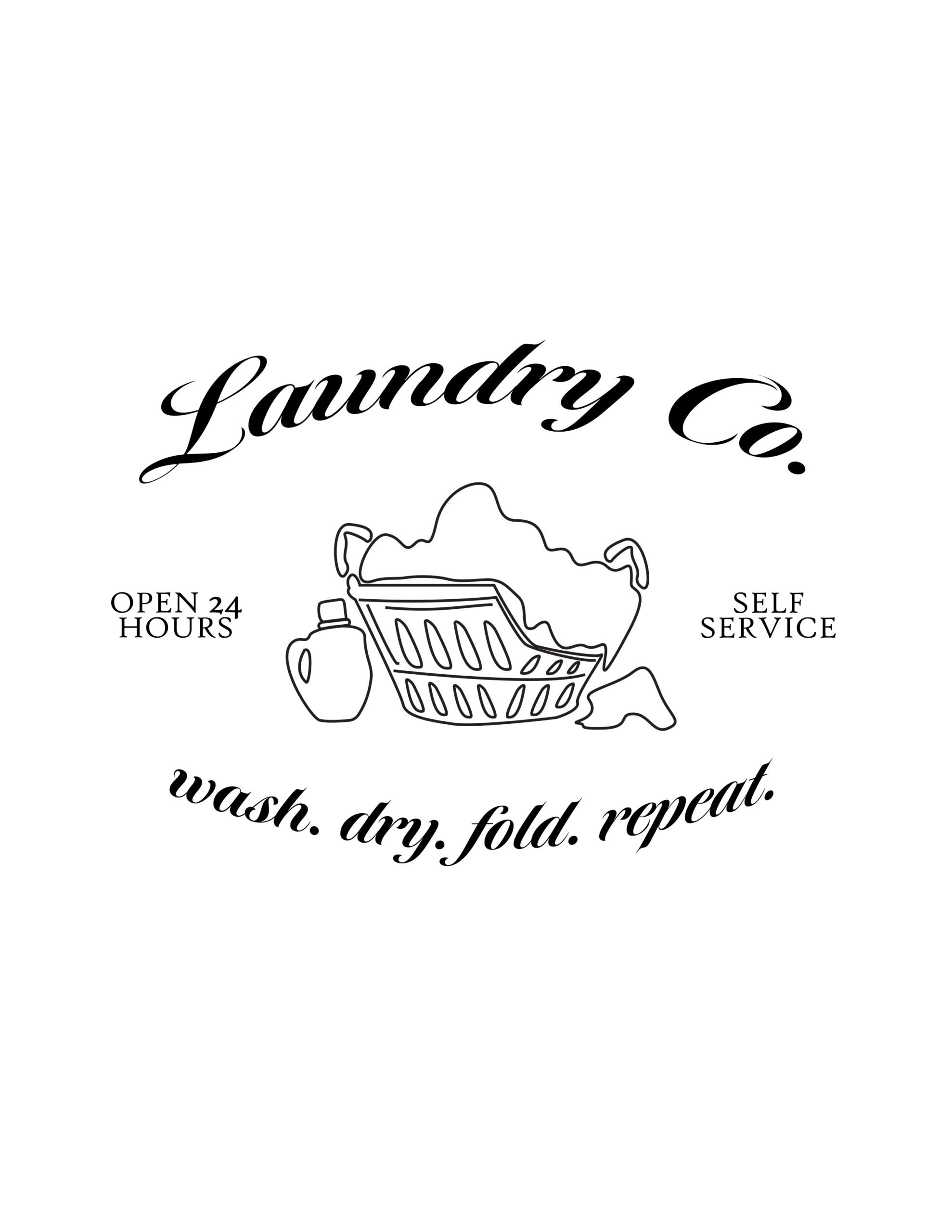 Laundry Co. Printable
Download this Laundry Co. Printable today. Simply print, place it in a frame, and display in your laundry room. After all, it's loads of fun!
More Home Tips
If you are looking for more home tips, here are a few more post you can read!
If you download this Laundry Symbols Printable or Laundry Co. Printable, I would be honored and love for you to take the time to leave a star rating and comment! I spend hours developing and testing these projects, and always love to hear feedback and user experience!
Don't forget to FOLLOW ME on Facebook, Pinterest, and Instagram, and subscribe to my email list!