This is a sponsored post on behalf of Cost Plus World Market. As always all opinions are my own.
Hosting a Halloween party is a topic that we have quite a bit of experience doing. We've hosted some pretty crazy Halloween parties in the past. I say crazy because of the decor and food not because of the drunken debauchery (that never happened). Ok, wait, maybe our first party when we were 23 and just had moved into our first place together. But that was it. Sadly, the past two years we didn't host one and we are still on the fence about this year. Let's face it–our adult-only Halloween partying days might be are shifting to kid-friendly parties. Which is ok too. We've hosted kids in the past, just not a party with our own child. We love to decorate. We love to wear costumes, and well we all love to eat great food and drink a seasonal beverage!
Today we are sharing our 5 Tips on how to host a successful Halloween party. These are 5 tips we live by any time we entertain for Halloween and we hope that these tips will help you have a successful party. Whether its your first or your fifth time hosting a party we think you'll benefit from our tips.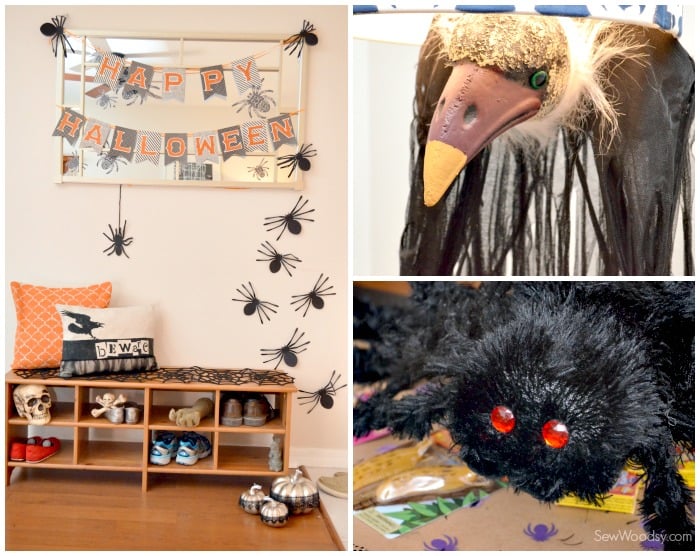 1. Set a theme. Do you want to have a "haunted house" what about a Mad Scientist room, or a creepy crawly spider room. It's always fun to set a theme. And if you can — even better to theme your entire home. I stalk the World Market site each summer waiting for them to release their Halloween decorations. They always have awesome Halloween home decor!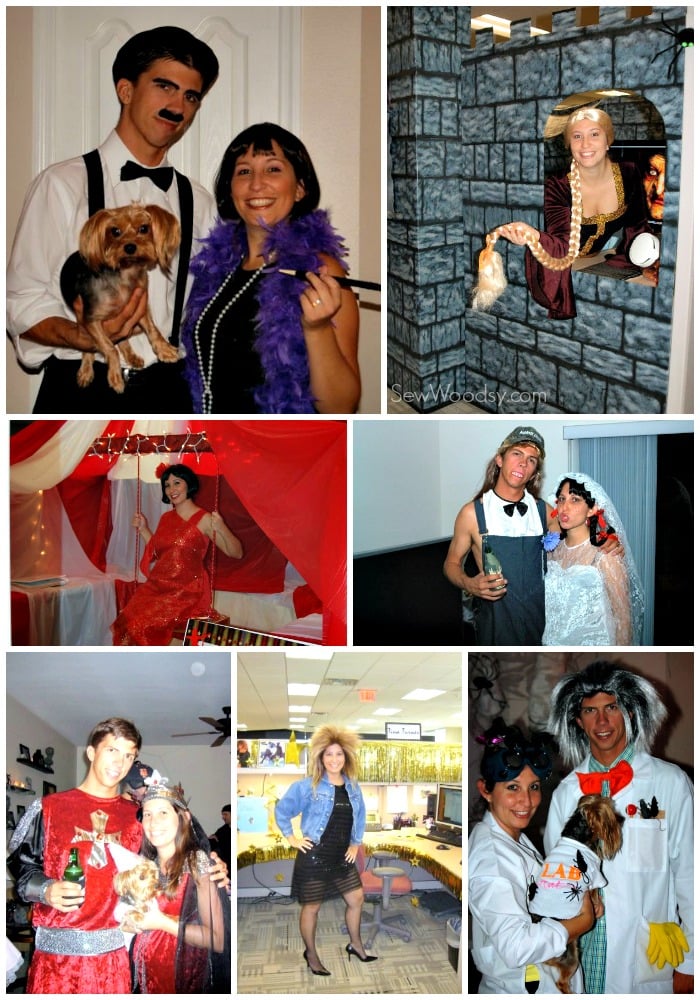 2. Make costumes required. Period. You cannot come to the party if your not in costume. I've had people fight us on this before, but no ifs, ands, or buts. You must be in a costume. Let's face it everyone needs to laugh–you won't be alone. I promise! Some of our best costumes were homemade like our 1920's Flapper and Charlie Chaplain… 100% homemade no pricey costume store shopping needed!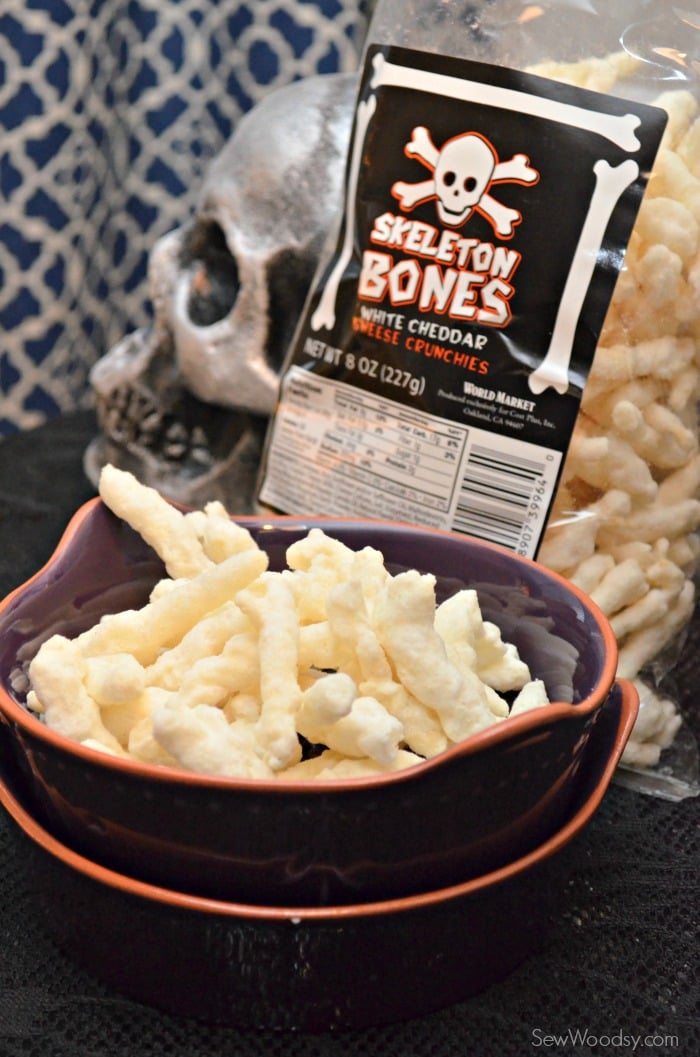 3. Theme the food of your party. Are you going for scary gross food? Or maybe you've themed by a decade. To cut down on the cost of the party I always like to make our parties pot luck and share the theme with my guest. Most go with the theme and others don't and that's ok. Whatever works best for you and your guest. When I do pot lucks I always like to have snacks out for my guest like these Skeleton Bones, candy, and other seasonal snacks.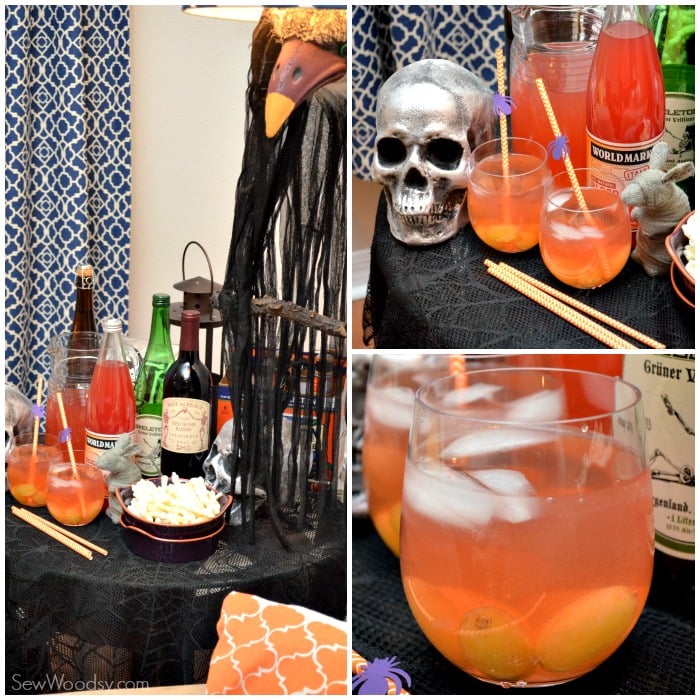 4. Serve a signature cocktail, mock tail, and seasonal beer and wine. I created a Blood Orange Sangria that is the perfect signature drink for any Halloween party. The best place to go for beer and wine is World Market. They have a wide variety of seasonal beverages!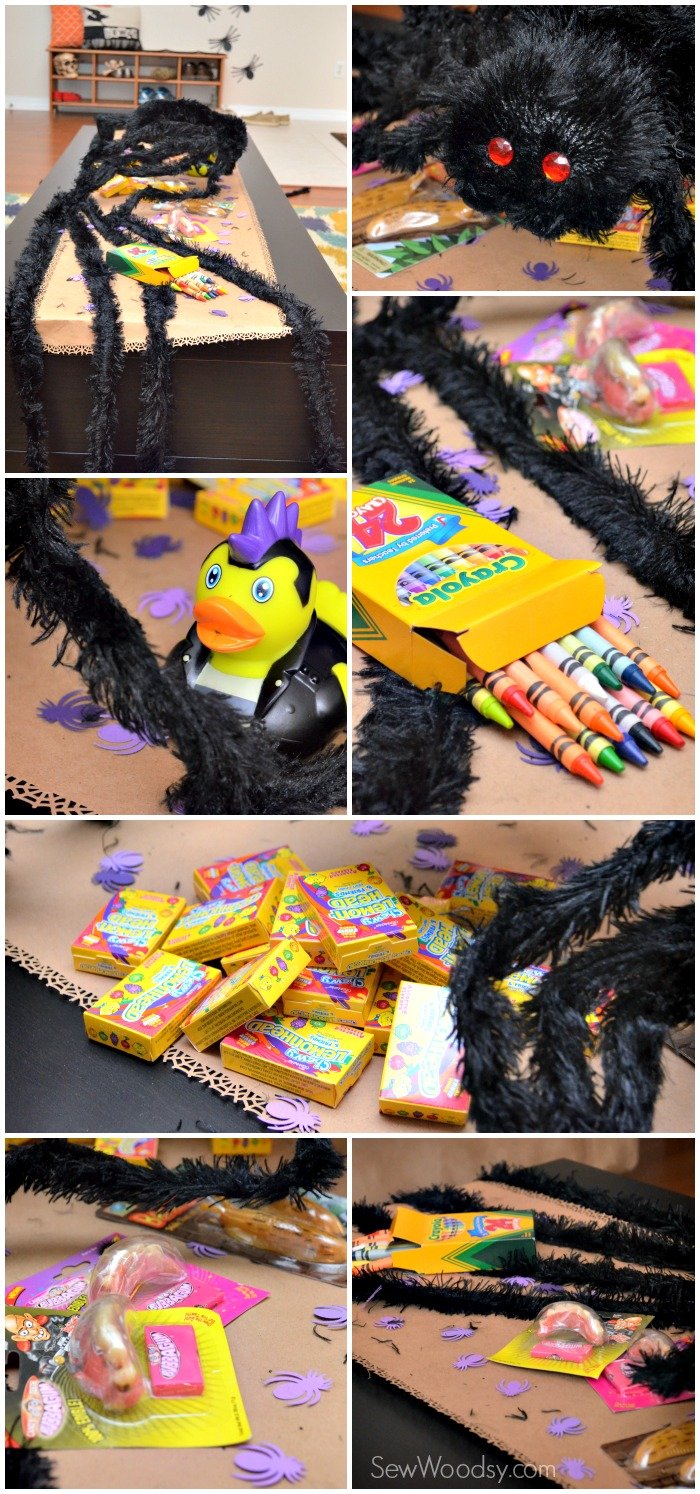 5. If inviting families with kids make a kids table with coloring pages, toys and treats from World Market. I like to set out craft paper on a table and let the kids color on the table cloth. Using a spiderweb punch you can give the ends a decorative finish. I'll share how I did this later this week. I also like to have Halloween candy on the table for the kids, and either make goody bags for them or let them pick a small toy to bring home and remember the party. I love the pooping monster toy, and the bubba teeth gum are pretty funny! Have super small kiddo's attending the party? Try a punk rock rubber ducky!
I hope you've found these tips helpful and keep them in mind as you start to plan your Halloween party! Now, let me tell you about a fun sweepstakes that World Market currently has going on!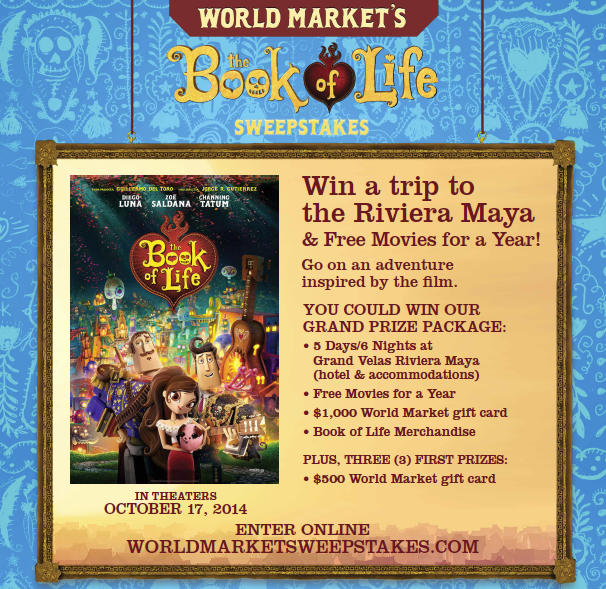 What is the Book of Life about?
An animated movie of a Romeo and Juliet-inspired love story set during a Day of the Dead celebration: Manolo (Channing) is a young matador who wants to shed the expectations of his family to follow his dreams of being a musician and his best friend, Joaquin (Diego), is the successful pride of the town. They compete for the heart of Maria (Zoe). In order to win Maria's heart and save her life, Manolo must face his greatest fears and follow his heart to rewrite his destiny.
In Theaters October 17, 2014.
You could win a trip to the Riviera Maya & FREE Movies for a Year!
Grand Prize Package:
5 Days/6Nights at Grand Velas Riviera Maya
Free Movies for a year
$1,000 World Market gift card
Book of Life Merchandise
Plus, three (3) first prizes: $500 World Market gift card
Sweepstakes ends October 24th, 2014
Enter to win here.
Get social with World Market on Facebook, Twitter, Pinterest, Instagram & Tumblr.
Disclaimer: I received gift cards to create this recipe and share about the Book of Life Sweepstakes. As always all opinions are my own.