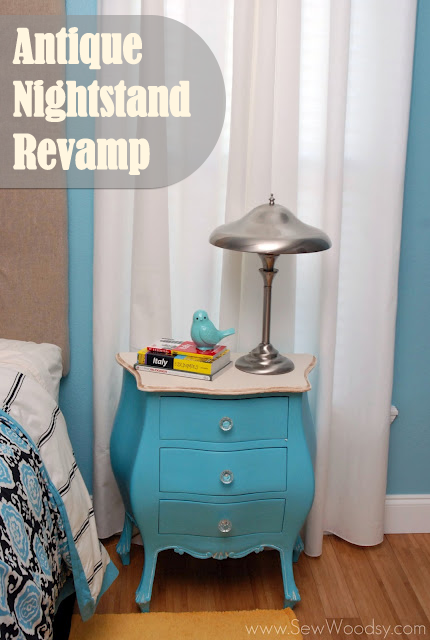 I'm so excited to finally reveal our nightstands. Seriously. We have been looking for nightstands for over a year now. I would scour Craigslist on an almost daily basis–we would stop at garage sales, antique stores, and everything in between. Mr. Woodsy wanted two what I like to call "matchy-matchy" nightstands where as I just wanted 2 night stands in general. On Easter weekend we met a friend of a friend whose mother is an antique broker. She gave us her mom's number and I was planning to call her that monday morning–that was until I perused through the furniture section of Craigslist and found these two beauties. I frantically sent multiple text messages to Mr. Woodsy followed by multiple phone calls to the person who was selling the beauties.

After communicating back and forth that day we were all set to go later that evening after work to pick up the night stands. The hour drive each way was well worth it and luckily we were able to take our Prius instead of the gas-gusling SUV! Look how nice they fit in the back of our car?

Of course, we got home late that night but we were both wired on teh amazing deal we scored! Two matching nightstands with personality for $70! Of course the gentlemen was asking for $100 but I was able to talk him down a little bit (30% a little bit)! We both were curious to see the nightstand next to our bed so we brought it into our room and put it in front of our messy old black lacquered night stands. Doesn't it look goregous!?! We were both so giddy from our amazing Craigslist find!

Unfortunately, like most projects, the nightstands sat in our garage for a few weeks until we had enough time to dedicate to them. Plus it gave us time to decide what we wanted to do to the nightstands. I did love them the way they were; however, I knew with our dressers becoming a shade of white that I wanted the nightstands to be a different color. I had thought about painting them yellow, but since they were going to stand right next to the yellow rug… yellow was out of the question too!

Instead, we went with BEHR's Tropical Tide for the body.
First, thing was first–we needed to remove the existing knobs before we could paint.
The way that the people installed the knobs was the half ass way of installing knobs. They literally twisted the knobs on with a screw! needless to say only some of them easily twisted off.
Mr. Woodsy had to take pliers to a few of the drawers where the screw was stuck on the front but the knob had came off.
Then, using a sharpie, Mr. Woodsy numbered each of the drawers before painting *just in case they get moved out of place.
See the number on the back of the drawer?
Now, that the knobs are off we can begin sanding!
Mr. Woodsy ran the orbital sander over the fronts of the nightstand drawers just to rough up the surface before painting.
And then the painting started. We decided to keep the tops of the nightstands white–we liked the idea of the two-toned nightstand.
Mr. Woodsy used both a mini roller and a brush to apply the paint to the nightstands.
He propped the nightstand drawers on the floor behind him using a thin piece of wood to keep the blue portions off the ground.
Then Mr. Woodsy decided he wanted to start intricately painting all the finer details on the bottom. I was not happy. This is not what I envisioned. Seriously, we got in a very heated argument over this. It was not fun and could have ended our marriage. In the end I ended up painting over the perfectly painted white lines with Tropical Tide again and did a paint on wipe off technique with an Antique White that BEHR carries. This was not pictured because 1. Mr. Woodsy would not talk to me for days 2. I was too angry and tired to set up the tripod. This is also when I decided that I hate how "smurfy blue" our nightstands looked. Ultimately, it was because both were an eggshell finish and I just wasn't feeling the glossiness. Oh, and maybe because Mr. Woodsy decided to paint the tops of a stark white. So, once we both were able to gain composure (days later) I went to the store and bought BEHR Antique White and Mr. Woodsy repainted the tops. I also finished the detail work on the bottom of the night stand.
A week or so later once my glass knobs arrived Mr. Woodsy installed them on the drawer fronts. Drilling a hole where the existing half-ass hole was.
Then, Mr. Woodsy began working the glass knob into the drawer front.
Then we began distressing with paint. We simply painted on some brown paint with a paint brush, and then blotted it off with a damp rag.
I love how the finished turned out.
I then ran a little sand paper over the edges to rough them up a little more.
And then they were finally ready to move into our room; however, that meant cleaning out our old nightstands and filling up the new nightstands! At this point it was close to 11:00 at night–but the nightstands were done and in our room, next to our beds!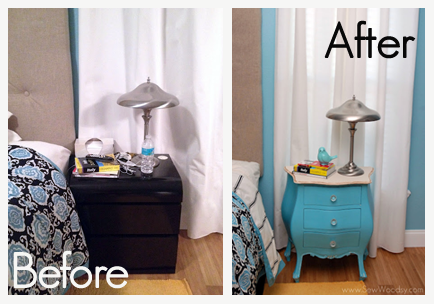 So here we go… her is what our new nightstands look like–way better than what we use to have!

I could not be happier with how the edges of the top of the nightstand turned out.
Look at those sexy legs!
Can you tell where our next vacation is planned for?