This is a sponsored conversation written by me on behalf of Cricut. The opinions and text are all mine.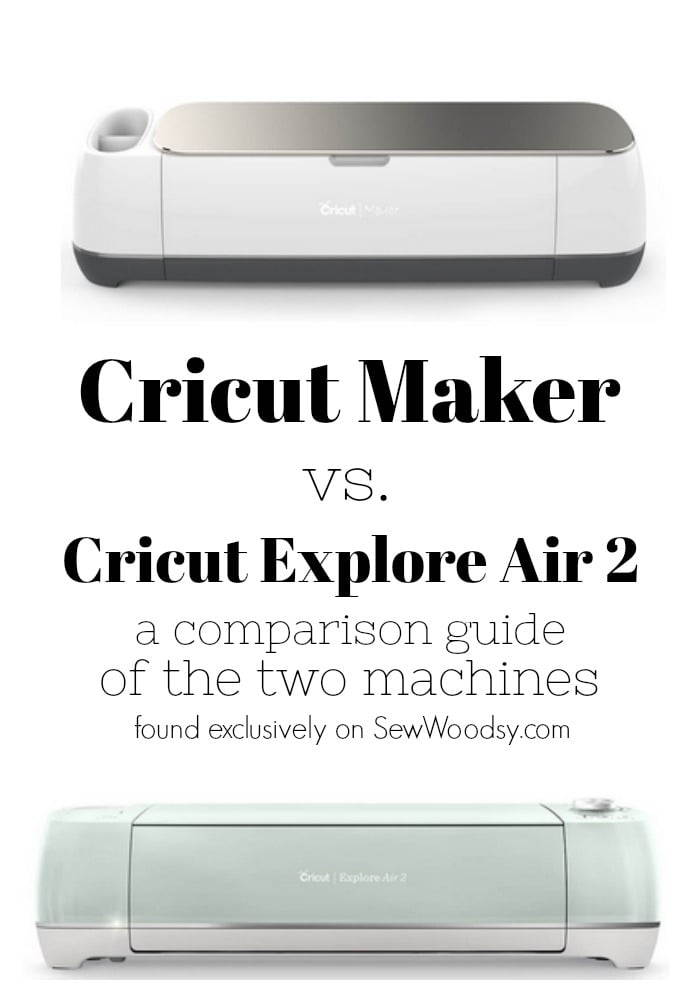 Calling all Cricut owners! I've had many questions from both family, friends, and followers on social media asking me the difference between the Cricut Maker vs Cricut Explore Air 2. I'm here to share all the information so that you can figure out if your ready to upgrade (or maybe you don't own a machine and want to buy one). I'm gonna share all the in's and outs and I'll also share about the Explore Air and Explore One as well. I've used a Cricut for over 10 years now (back when it was just the personal) and have went through all the various upgrades through the years. Each time a new machine is released I'm always in awe that the machine can do even more then the last machine was able to do. The one thing I love about Cricut is that they are always trying to think a step ahead of us and figure out more ways to make crafting easier and quicker!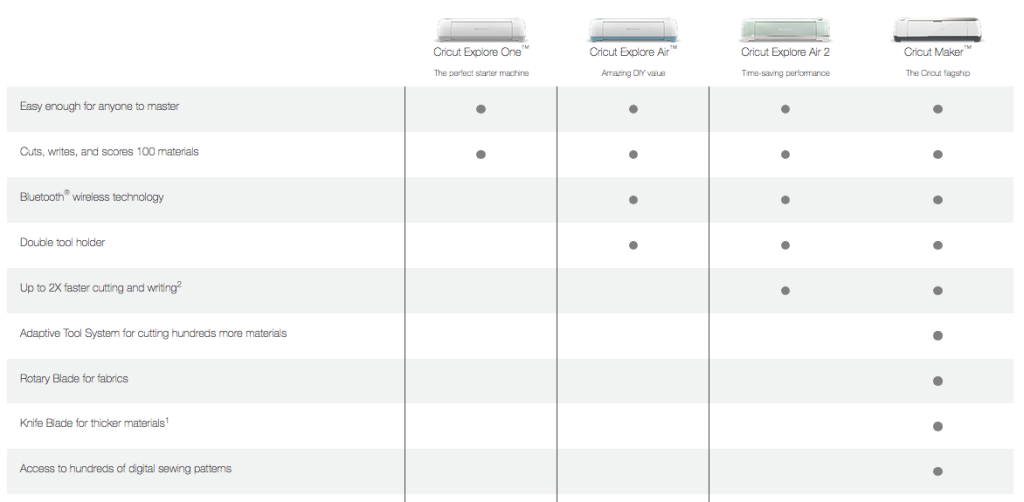 Here is a great comparison chart compliments of Cricut. It breaks down what each machine can do. Clearly, the Cricut Maker can do the most because well let's face it, it's brand new!
Double Tool Holder.
Both the Cricut Maker and the Explore Air 2 each have a double tool holder so that you can cut & write (or cut & score) in 1 step.
Bluetooth Compatible.
The Cricut Maker and Explore Air 2 have built-in Bluetooth that you can use with your mobile device or to cut wirelessly from your computer. I'll be honest I've never been one to use the Bluetooth, but after crafting at my neighbors house over the weekend I think I'm going to remove my cord from my computer and start crafting wirelessly!
2x Faster Cutting.
Both the Cricut Maker and the Explore Air 2 have the 2x faster cutting option. If you have an Explore Air or Explore One you'll love that the Cricut Maker now has the 2x cutting faster feature built-in. That was one of the few upgrades the Explore Air 2 had that the other previous machines did not have.
Cartrdiges.
You might be wondering what about cartridges? For those of us who have been with Cricut since they started you might still want to use cartridges. The Explore Air and Explore Air 2, and the Explore One all have a built-in slot for cartridges. For the Cricut Maker, you'll need to buy a separate cartridge adapter to make your cartridges compatible.
Flexibility to upload your own designs.
Both machines allow you to use your own images and fonts for free in a variety of standard file formats.
Machine Colors.
The Explore Air 2 comes in the following colors:
Mint
Blue
Rose
Anna Griffin
Lilac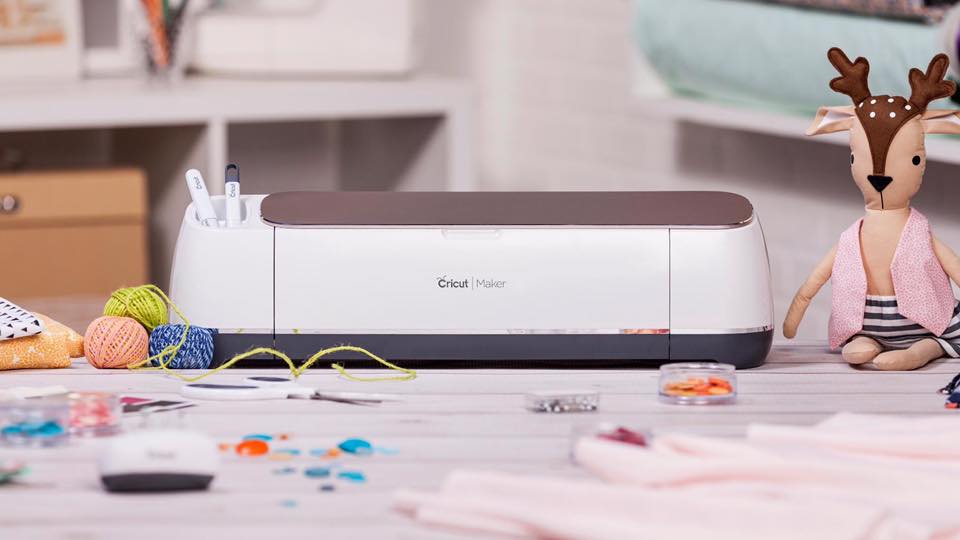 The Cricut Maker only comes in Dark grey with Champagne lid. But, I'm guessing (totally not confirmed) that I'm sure that new colors will be released over time once the Cricut Maker has been on the market longer.
Cuts, Writes, and Scores over 100+ materials.
We all know that the Explore Air 2 can cut, write, and score about 100 materials. But let's take a minute to talk about the Cricut Maker. This is where the machine becomes a game changer! When I was in Utah they were at 275 materials it can cut. The Cricut Maker quickly and accurately cuts hundreds of materials, from the most delicate fabric and paper to the tough stuff like matboard, leather, and balsa wood. It can cut fabric–not just cotton, but think felt (not backed), denim, fleece and more.
The extra-deep Knife Blade (only compatible with the Cricut Maker) cuts through dense materials up to 2.4 mm (3/32") thick with unprecedented ease and safety, almost like an automated X-ACTO® blade. It's ideal for thicker materials like balsa wood, matboard, and heavy leather.
Tools.
Do all the tools I already own from my Cricut Explore Air 2 still work with the Cricut Maker? Yes! Are there new tools? YES! Because of the sewing feature they now have a washable fabric pen. It automatically mark your pattern pieces so you'll always know how they fit together. Other new sewing related products from Cricut will be the new FabricGrip Mats in both 12×12 and 12×24, Applicator and Remover, Brayer, Cricut Sewing Kit, Fabric, and more! The new extra-deep Knife Blade should be released later this year.
Storage.
The new Cricut Maker has not one but two tool cups. The front cup is the same size as the Cricut Explore Air 2 tool cup and the back cup is double the length allowing for the longer tools to sit in without falling out.
The tray is built better in the Cricut Maker too. It's much larger and you can store more–no need trying to play Tetris to get all your tools in!
Final Thoughts.
I hope that this break down has helped you decide on what machine you want to purchase and/or if your ready to upgrade. The Cricut Maker is full of thoughtful touches to make your DIY experience easier. Extra built-in storage keeps your tools organized and within reach. A helpful docking slot holds your tablet or smartphone. They even have a convenient USB port that lets you charge your device while you craft. I'm in love with that feature since my phone always needs a charge! The new Cricut Maker also doesn't "click" when you open and close it. You simply pull up the lid and the bottom tray rolls out seamlessly. Overall, if your ready to branch out from making paper crafts, vinyl, and t-shirts then the Cricut Maker is for you!
Disclaimer: There are affiliate links in this post. Comments submitted may be displayed on other websites owned by the sponsoring brand.