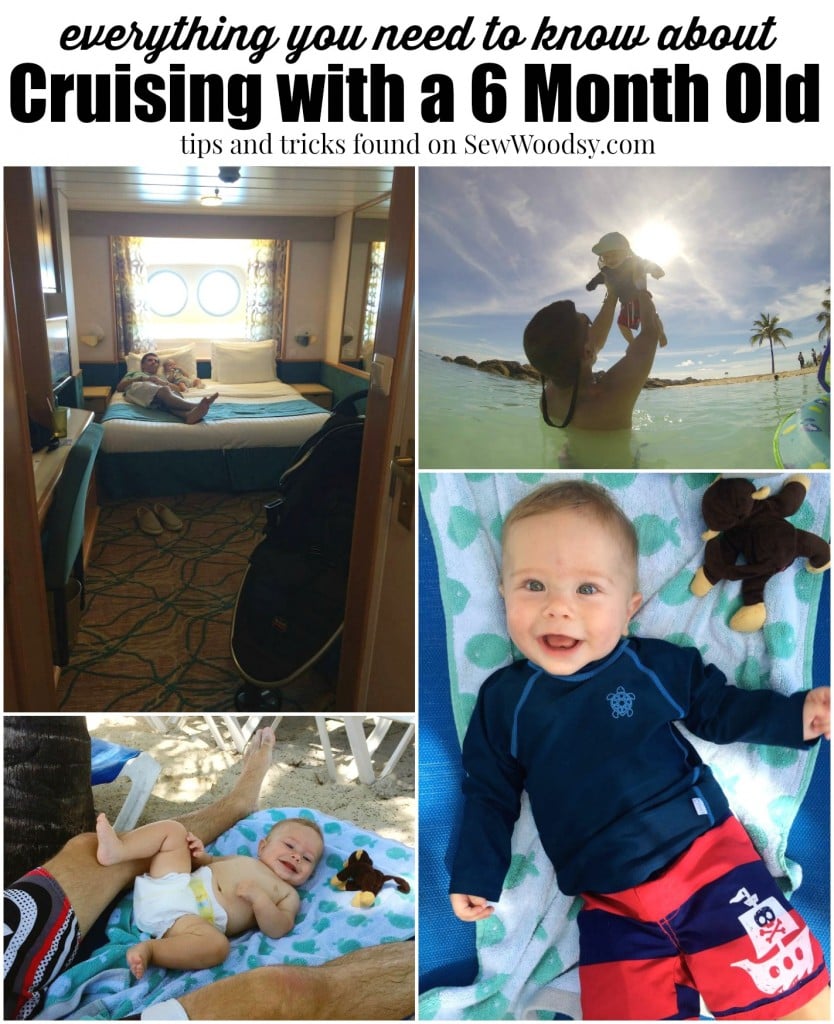 I started writing this post right after we returned back from a cruise with our son, Ryder, who had just turned 6 months old. And the holidays started to creep up on me, and well it's a new year and Ryder is 9.5 months old. Better late than never.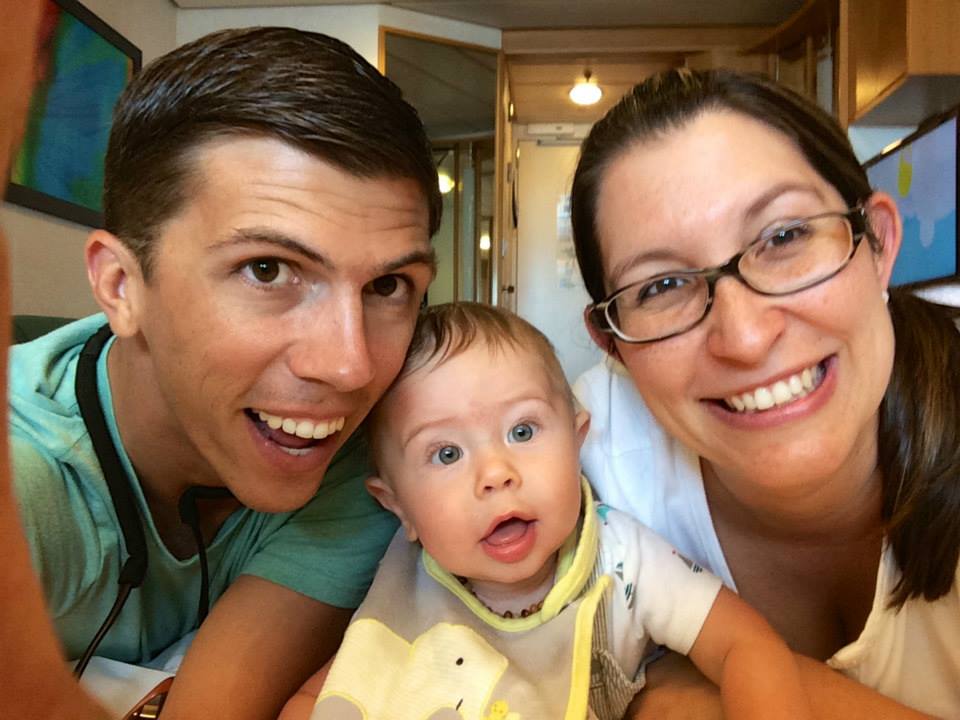 We love to cruise. I've been on 15+ and Jon has been on 12+. We've done all the cruise lines. So today I'm sharing my insight in cruising with a 6 month old. Prior to leaving for our cruise, I researched and researched and found very little info. So if your a parent with a little one. I really hope this helps and helps put your mind at ease!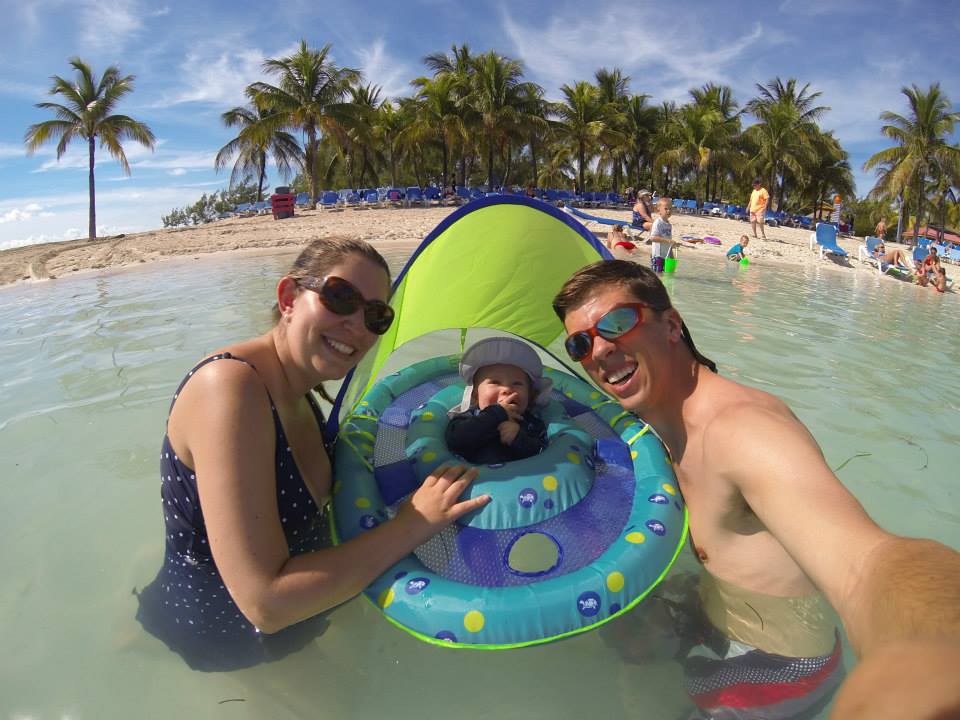 We celebrated Ryder turning 6 months old by taking him on his first cruise. Like I mentioned above, we are "cruisers". We live in Florida and the cruise ports are just a drive away. Prior to le bebe we would cruise 1-3 times per year. We knew we wouldn't stop cruising after baby… It would just be a whole new cruising experience! Legally, on most cruise lines, babies can not cruise until they are 6 months of age (with exception to Disney Cruise Line where they allow babies 12 weeks and older). We've always preferred to cruise Carnival Cruise Lines. In 2013, we both finally made platinum status before the December 31st cutoff where the new program went into effect.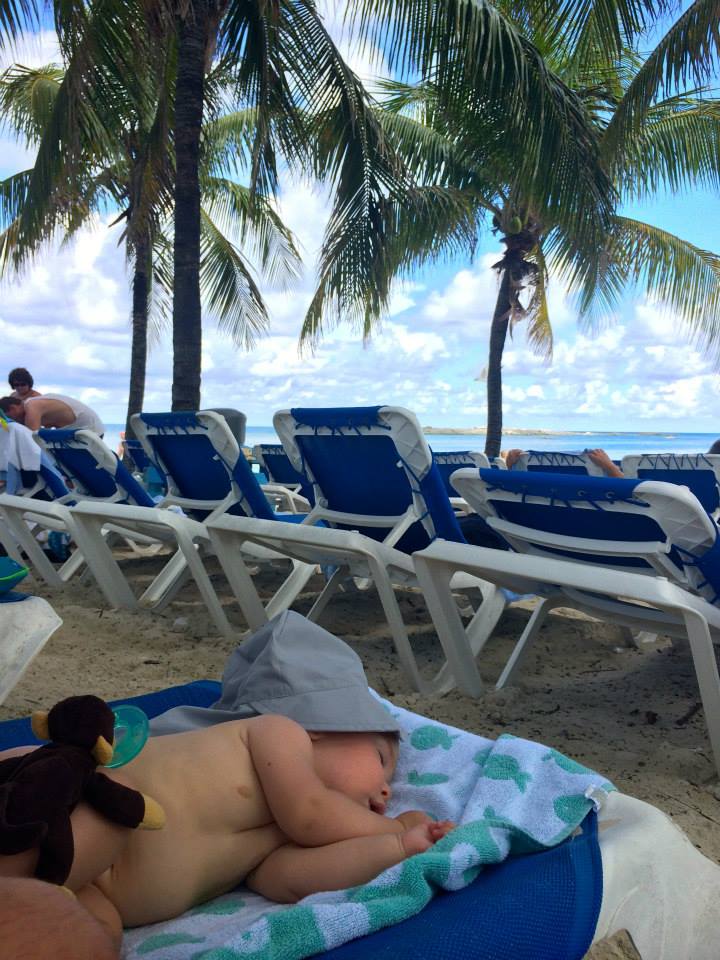 Like I stated above, we knew cruising with baby would be a whole new adventure and boy was it. First off, we chose to sail on Royal Caribbean for one main reason; they offer nursery services for babies under 2 years of age that are not potty trained. The only other cruise line that offers this is Disney. I've cruised on Disney before but it was going to be double the price of our 4-night Royal Caribbean Cruise. I figure we will spend the money in a few years once Ryder is older and can really appreciate what's going on!
I started researching all of this and keeping an eye on cruise prices probably around the time Ryder turned 4 months. I've always lived for vacationing and just escaping from life. I've realize over the past 6 months that I don't have the crazy urge to need to travel. I think not working in corporate America and being my own boss has a big part to do with it. So the urge to vacation every other month has partly escaped me. So I'm not stalking travel websites on a daily basis.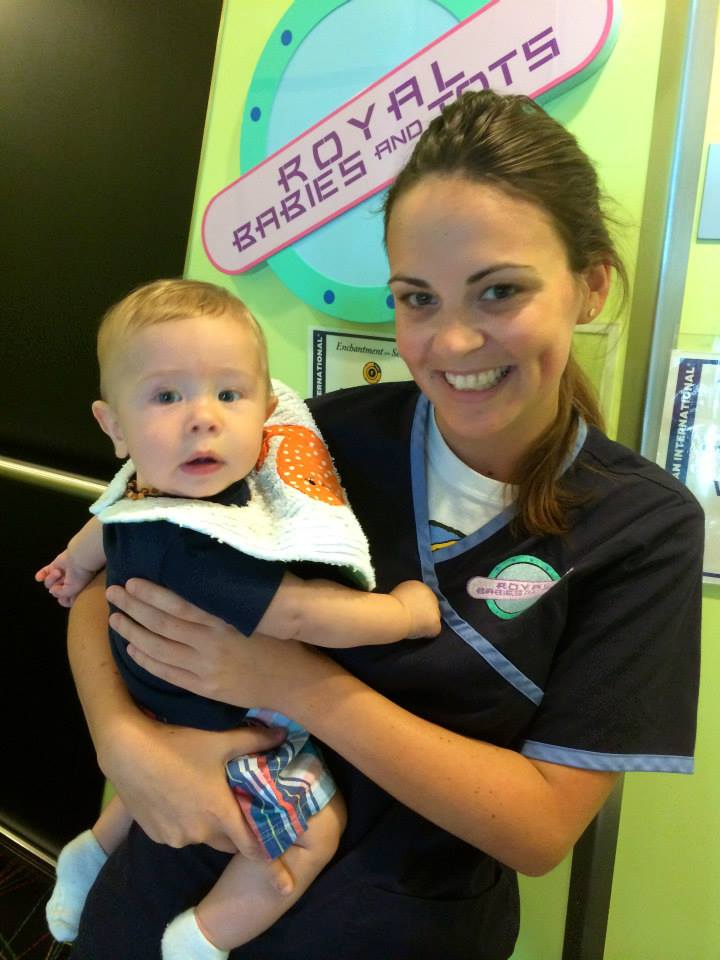 I want to note that not all Royal Caribbean Cruise Ships have the Royal Babies & Tots Nursery. This is a newer program only offered on select ships. There is also a fee associated to using the nursery. $6 per hour before 5pm and after 5pm it's $8 per hour. Once I found all of this out I told Jon "gone are the days of crazy drink tabs–instead we are about to have a crazy nursery tab". This was the first time we have EVER left Ryder with someone other than our parents, and the first time we have ever had to pay anyone to watch him. He did so good with the nursery staff and they were excellent to Ryder. He was the youngest on board (duh… we sailed on his 6 month birthday)! All of the other 1 and 2 year olds loved Ryder too and were so sweet and gentle near him. The nursery on the Enchantment of the Seas was rather small. No windows and very claustrophobic like, but it works for them. They have a thick playmate and toys for the kids to play with. They also have a few cribs in case the babies want to nap and a changing table to change them on. It is rather bright in the room and they have movies playing on the loud side. Just an FYI.
Prepping to go on this cruise felt like we were leaving for a year. With a baby I fully believe that you should over-pack and think of all scenarios. Especially when you are on a boat and can't get to the store right away. And of course in a foreign country.
Here are my tips on what to pack for baby:
Feeding Supplies:

Bottles (this depends on how many bottles you know you normally use in a day – quantity varies if you formula feed/breast feed). We packed 3 bottles. I exclusively breast feed and the only time Ryder get's bottles is when I pump and he is with someone other than me. I.e., the nursery.
Portable bottle washing drying rack and brush. We love the OXO Tot On-The-Go Drying Rack and Bottle Brush, Green. It worked perfectly for us.
Dishwashing soap you normally use to wash bottles. We bought a travel sized version of Dapple Baby Bottle and Dish Liquid.
Don't forget to pack your breast pump if you breastfeed and plan to pump.

Milk Storage Bags
Extra Pump Parts
Pump wipes to help sterilize

Hygiene Supplies:

Diapers, diapers, and more diapers. The weeks leading up to the cruise I was trying to take note how many diapers we were using a day. You can buy diapers on board but they are insanely expensive. I'd rather pack too much and not use them. I think we packed 10 per day + 10 night time diapers (so for a 4 day cruise I packed 50 diapers). We had more than enough.
Wipes. We brought a small wipe package with us. It was the easiest thing to do. Plus we had a small wipe package in our diaper bag.
Diaper rash cream. Even if your child does not use it–if he/she breaks out in a crazy rash while your on vacation you'll be happy you packed it.
Travel size bath wash

Infaltable bath tub if you choose (we just held him in the shower with us)
Towel and wash cloth

Baby Lotion
Digital Thermometer, Baby Tylenol, Baby Advil, Teething Tablets, Pedialite (You probably won't need these but great to have just "in case")

Pack a "mini" diaper bag. That way you aren't stuck having to carry your big bulky diaper bag around the cruise ship.
Pack your regular diaper bag for when you bring them to the nursery.
Pack 2 sets of fitted pack 'n play sheets. You can request a pack 'n play for your room. It comes with a very ill-fitted sheet. I packed my own sheets because I didn't want his skin to be bothered by the detergent they are using.
Baby carrier (we packed both our ring sling and buckle carrier)
2 outfits per day of each cruise + socks & shoes (equal parts pants and shorts since if they are indoors a lot it can be cold)
2-3 pairs of pajamas
10 bibs (Ryder was really drooly and we kept alternating bibs)
5 burp cloths
2 soft blankets that remind them of home (we did one thick blanket and one muslin blanket)
1 hooded light jacket (for when it's chilly inside)
Reusable Swim Diaper (for the beach) (we love this swim diaper. It dried fast enough to use it each day)
i play. Unisex-baby Infant Long Sleeve Rashguard Shirt (Love this shirt and used it everyday on the cruise)
i play. Babywear Sunhat (we have this one and LOVE it–adjust for when he grows too)
Beach towel for baby (also great to lay down when your laying on lido deck on your chair)
Water Float (optional but totally worth it on our day at Coco Cay)
baby sunscreen
Like I mentioned above. You'll pretty much want and need to pack everything but the kitchen sink. Ryder didn't wear a few of his outfits and I was ok with that. At least he had backups in case he had any accidents. He re-wore bibs a few times and by the end they were getting pretty crusty and stinky. Same went with the burp cloths. We only had one swim diaper, board shorts and rash guard for him that we would dry each night and have him wear each day.
Here are a few tips once you are on the ship:
Once you've boarded the ship, eat lunch, and then head to the nursery. Fill out the forms and pre-book ALL of your sitter times. They will have a list of times available. They only have 8 spots per hour and if there are a lot of babies on board the nursery can book up fast. When we were on board we had over 50+ babies and 100+ kids on board. The best part if you pre-book you can always change it around free of charge. Double check with them, but they let us change it around often and we were never penalized with any fees. They were super flexible with us and we loved that.
Once you get to your room–if your pack-and-play is not in your room call the guest service desk and make sure they know you need one. Also, talk to your housekeeper. Let them know everything you need.
On the last note, if your a breastfeeding mother and have fresh milk to store (which you'll have if your using the nursery) request a refrigerator. Not every room has one and by law they have to provide you with one. I didn't realize that not every ship has this feature and didn't pre-request. Luckily, I was able to get a refrigerator.
Bring a baby carrier with you and wear your baby proud. It's not always easy to maneuver your stroller around the ship and on port.
Coco Cay is not a paved island so maneuvering a stroller around the island can be difficult. We choose to baby wear and it was the best decision. A little hot and sweaty but worth it. We did forget to bring our umbrella to shade the sun from Ryder, but we used the towel when we could and he didn't get burnt at all.
Don't forget to pack an extra change of clothes for your baby at Coco Cay. If you decide to dress your baby in his swim clothes, just know you'll want to change him out of it once they get wet. So you'll need another change of clothes.
A big hat that covers both the face and neck is key in helping protect their delicate skin. Ryder had the hat on most of the cruise!
Know your babies schedule and try to follow it as best as possible. The first day we missed almost every nap and it was torture.
If your budget allows it… get a balcony. While the baby naps you and hubby can sip on a glass of wine, read, and gaze out at the ocean on your balcony. Because this was a last minute decision we didn't get a balcony, but hope to get one for our next cruise.
Don't be shocked when you don't find changing tables in any of the public restrooms. I knew this going into the cruise. Jon did not and he didn't believe me until he was faced with a dirty diaper that had to be changed. He changed him on the counter with the sinks. You'll have to improvise on where to change diapers. We carried a changing pad around with us in case we weren't close to our room when a diaper needed to be changed.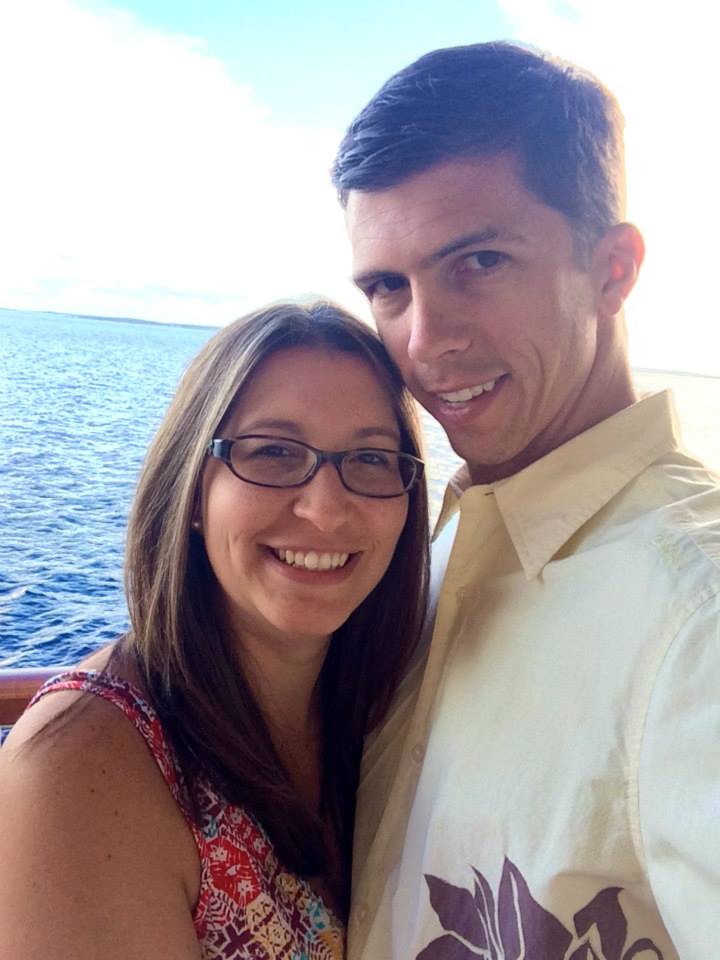 If your gonna use the nursery we highly suggest you book it for dinners. It gives you a chance to have dinner with your spouse each night uninterrupted. We would schedule an extra hour so we could enjoy the hot tub after dinner or a show without entertaining a baby! There was one evening where the hot tubs were packed and nothing interested us on board so we picked up Ryder early. They were completely ok with that and didn't charge us extra.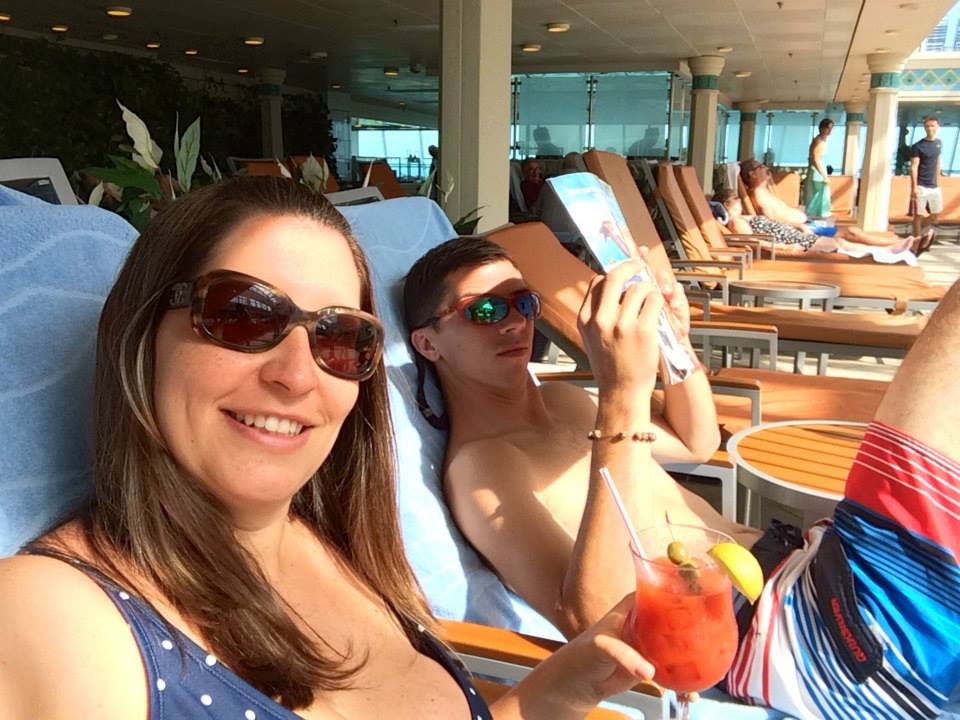 We also scheduled a few hours each day in the morning so we could enjoy a little quiet time by the pool. It was worth every penny and gave us a chance to unwind as a couple.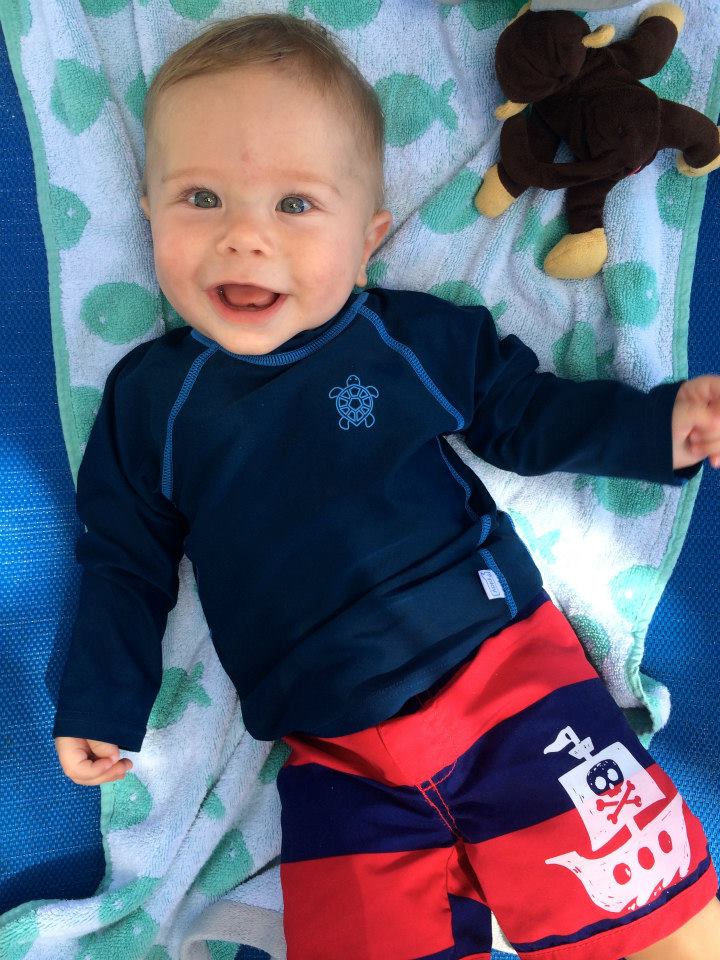 Because Ryder wasn't mobile yet, we could lay him on our chair. He would just lay there. Ahhh the days when he wouldn't move. Now, that he's 9 months and moving like a crazy kid I know cruising would be a totally different experience. I'm so incredibly grateful we had the chance to cruise right when he was 6 months old.
We are so glad we packed both ring sling and buckle carrier. We used them more than we thought we would.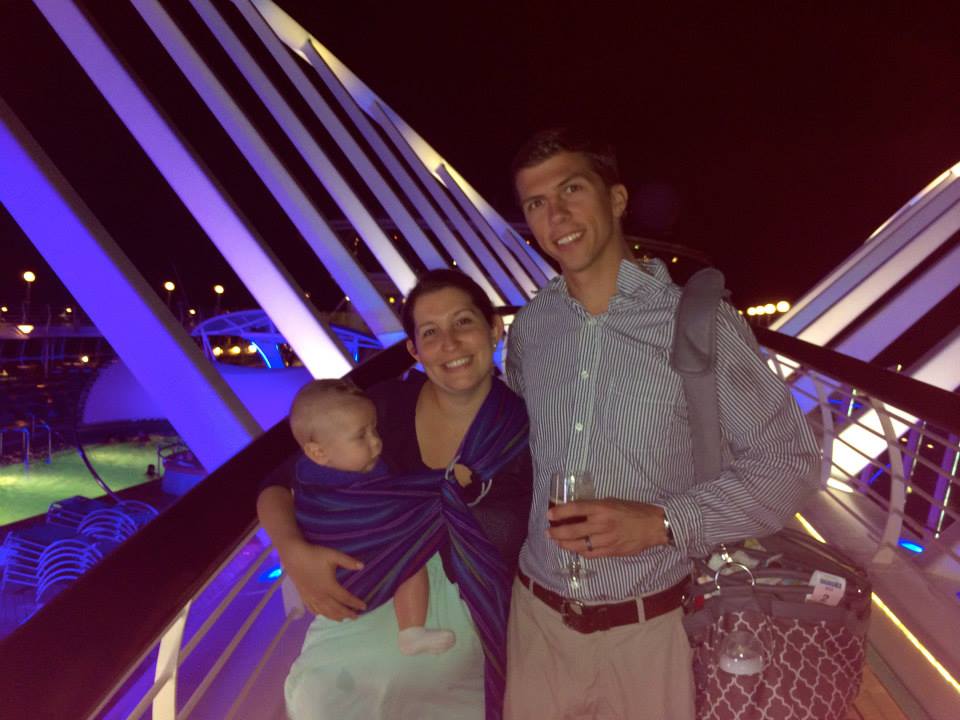 I would use the ring sling in the evenings taking him to and from the nursery.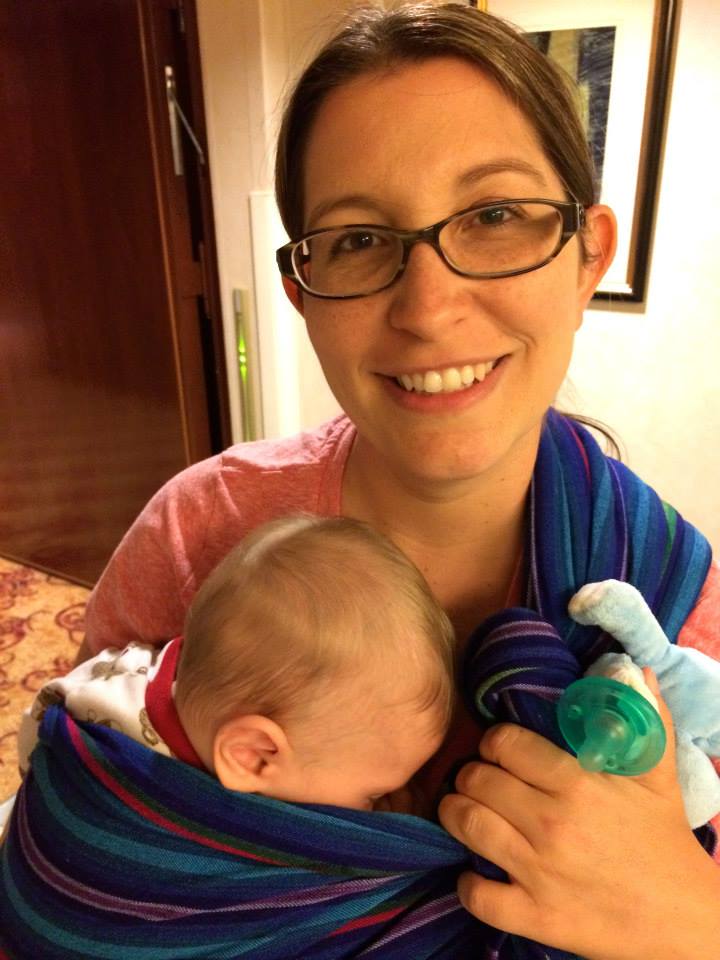 I also used it one night to get him to sleep. We walked around the ship and he finally gave in and fell asleep.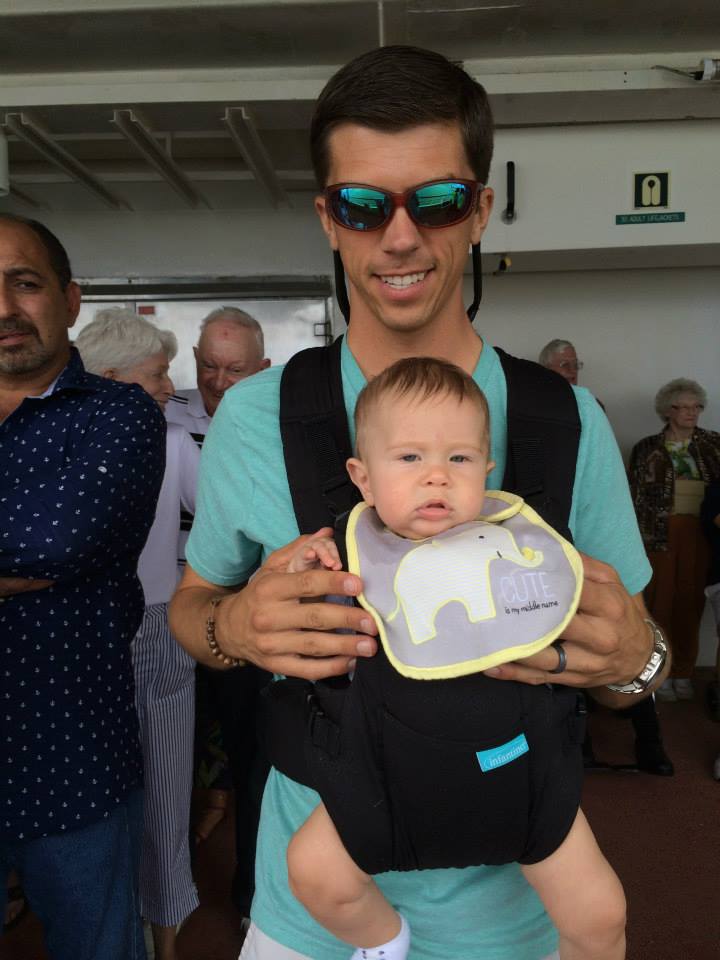 We used the buckle carrier during the muster drill. It gave Ryder a chance to look out and see what was going on. As you could tell he was just as happy as everyone else was to be at the muster drill.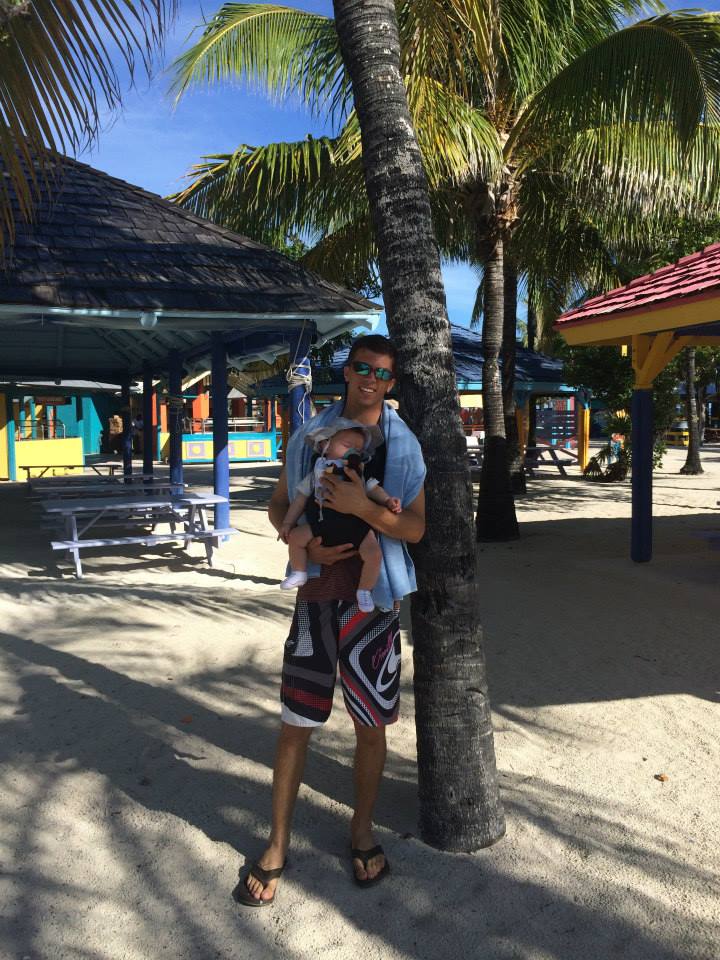 We also used it on when we were on the private island; Coco Cay. No need to schlep around a stroller when you can carry your baby and not take up any space! Plus who wants to maneuver a stroller on a shaky ferry.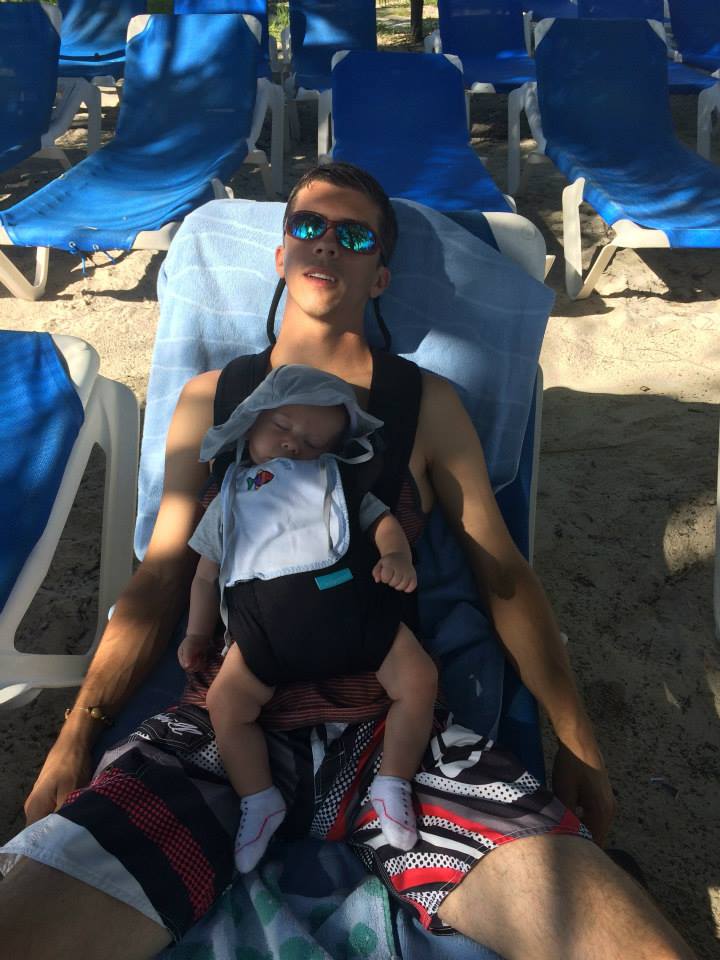 Ryder fell asleep as soon as we got to Coco Cay and Jon was afraid to take him off and wake him so he sat like this for a good 10-15 minutes until we gathered the courage to lay him down.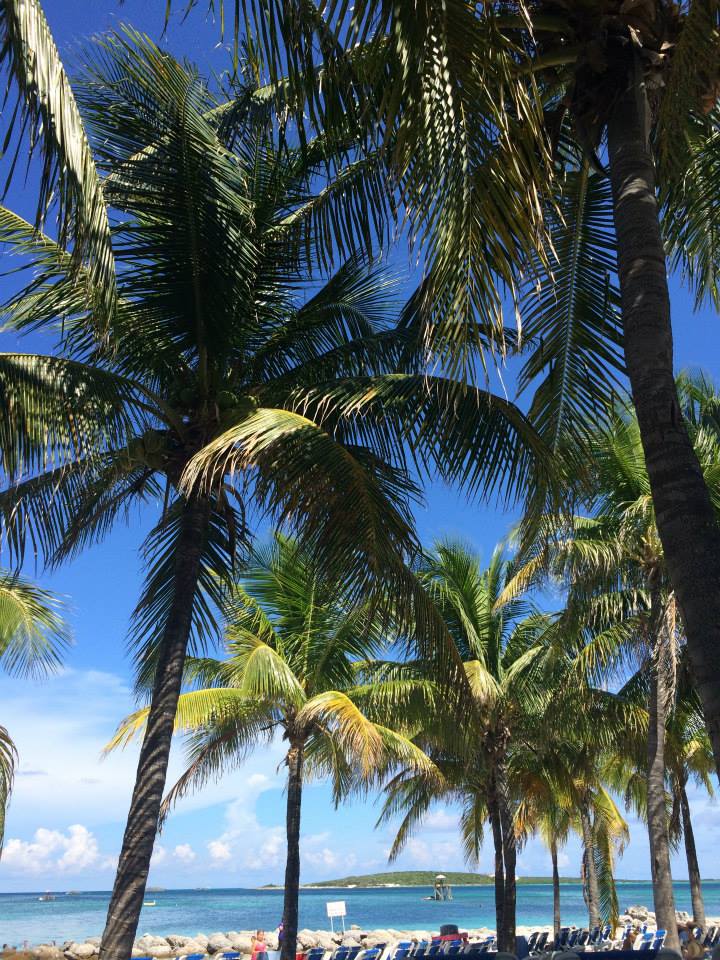 Our view from our chairs. We loved Coco Cay. We wish every cruised stopped at the private island. Heck, just skip Nassau and stay for two days!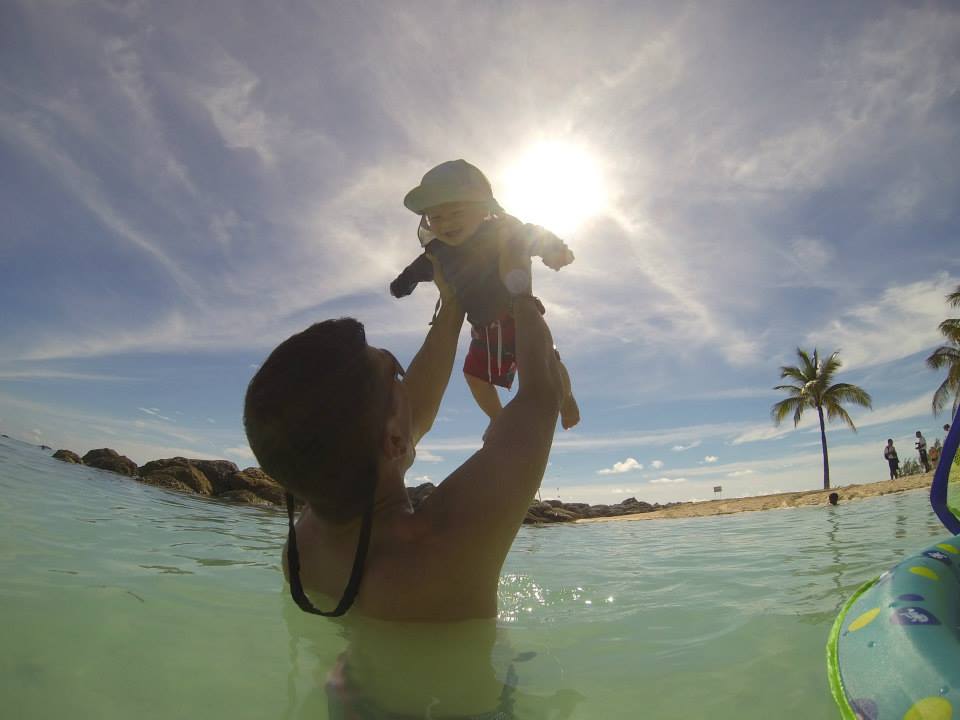 After he woke up we took him in the water. This wasn't his first time at the beach. The first time he went he was only 3 months old. He loved the water and we stayed in for over a half hour. We took turns holding and playing with him and we also sat him in his float.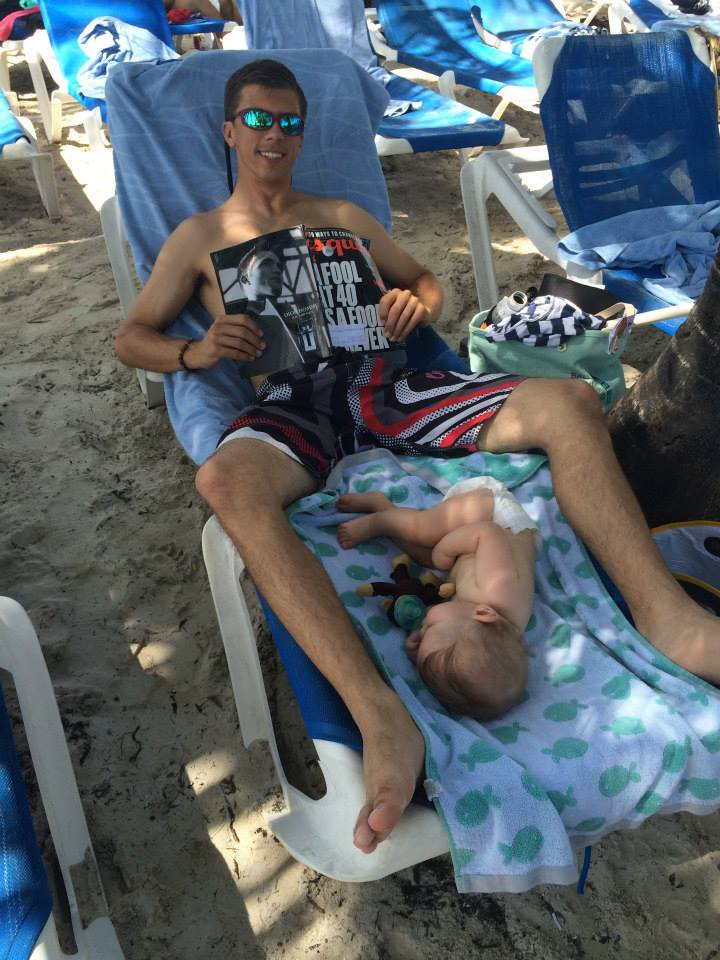 After we played in the water it was time for a nap! He slept for almost 2 hours on the beach. I think he loved the cool tropical breeze and the ocean waves crashing in the background. I went up to the buffet and brought back lunch to the chairs where we ate in peace and quiet!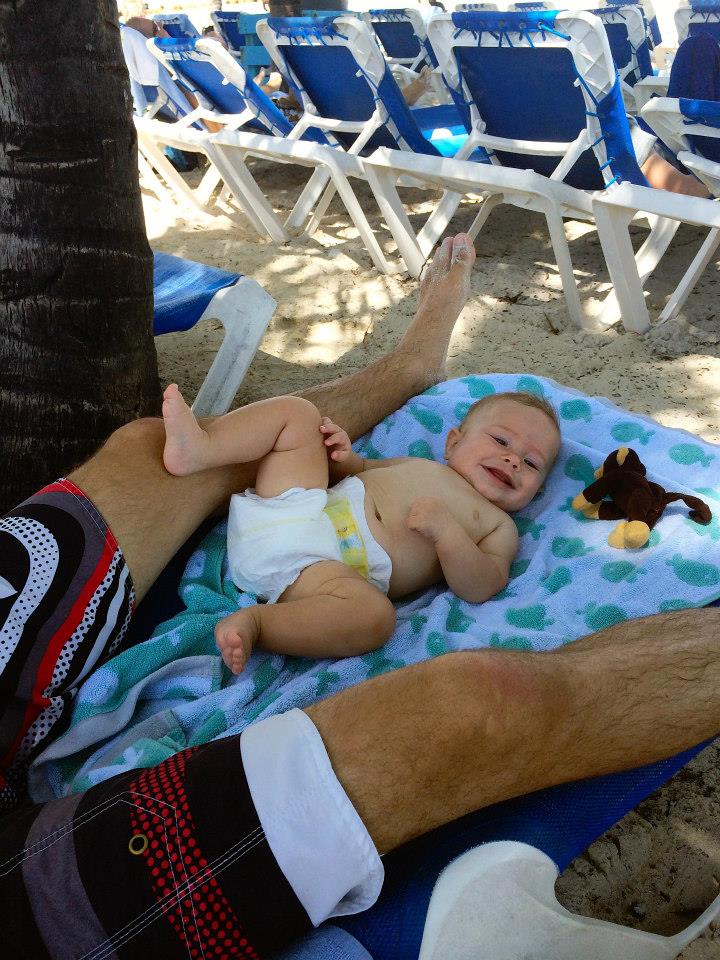 And then when he was up (for the most part) he laid on the chair in between Jon's legs. He loved looking up at the palm trees and everything else going on.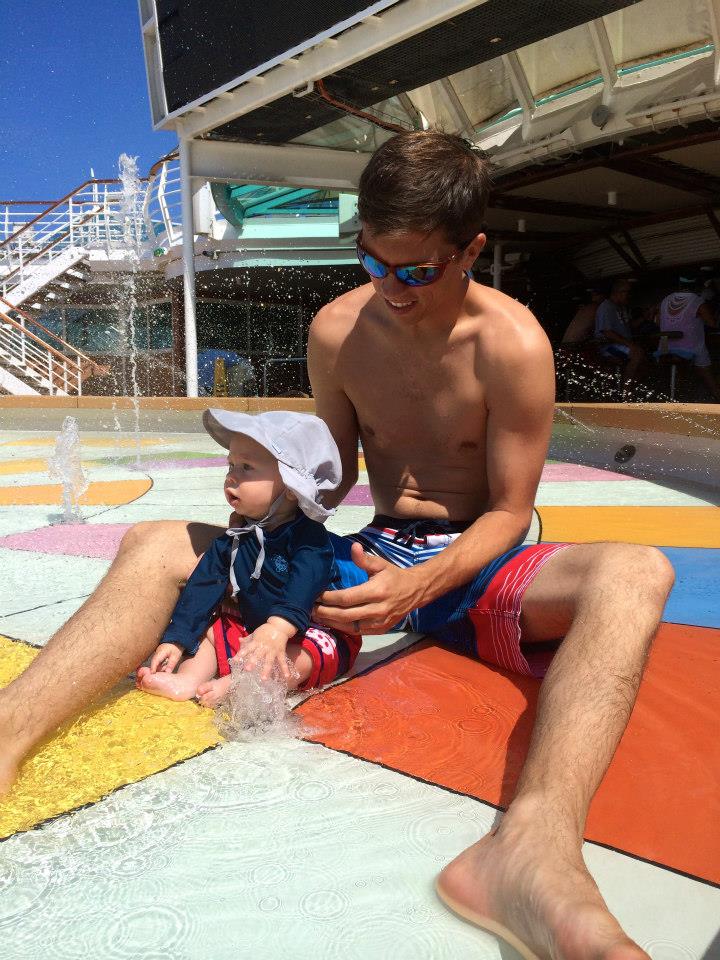 On our day at sea we dressed Ryder up and brought him to the splash pad on the lido deck. He loved it. Although it's not shaded so we tried using our bodies to shield him from the sun as much as possible.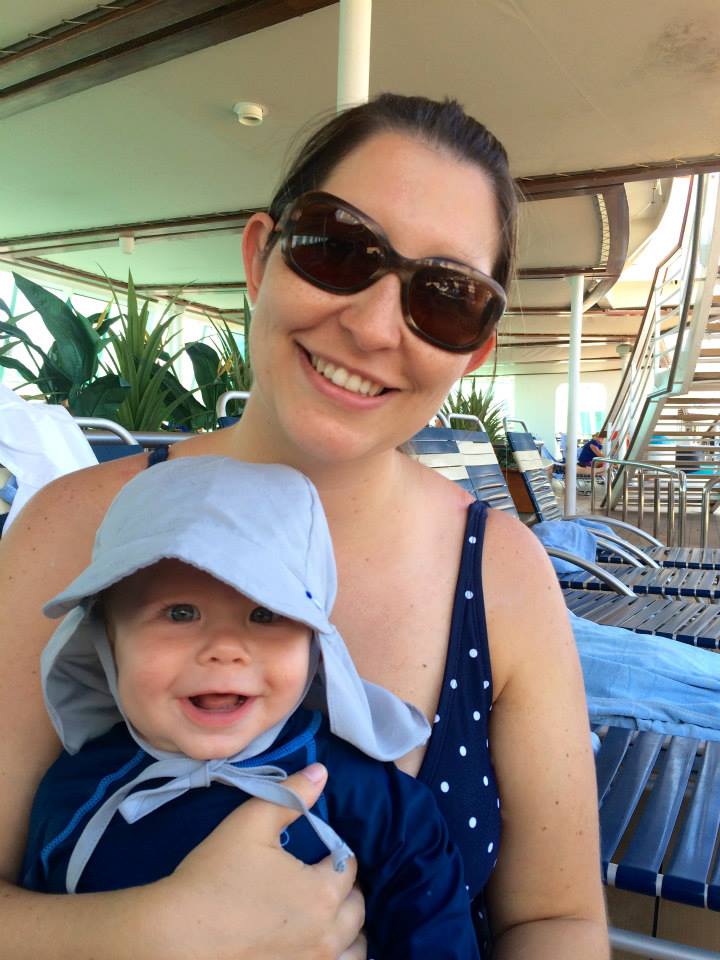 We tried to find the quieter spots on the Lido deck. Ryder got scared by the loud music on the first day so we kept that in mind.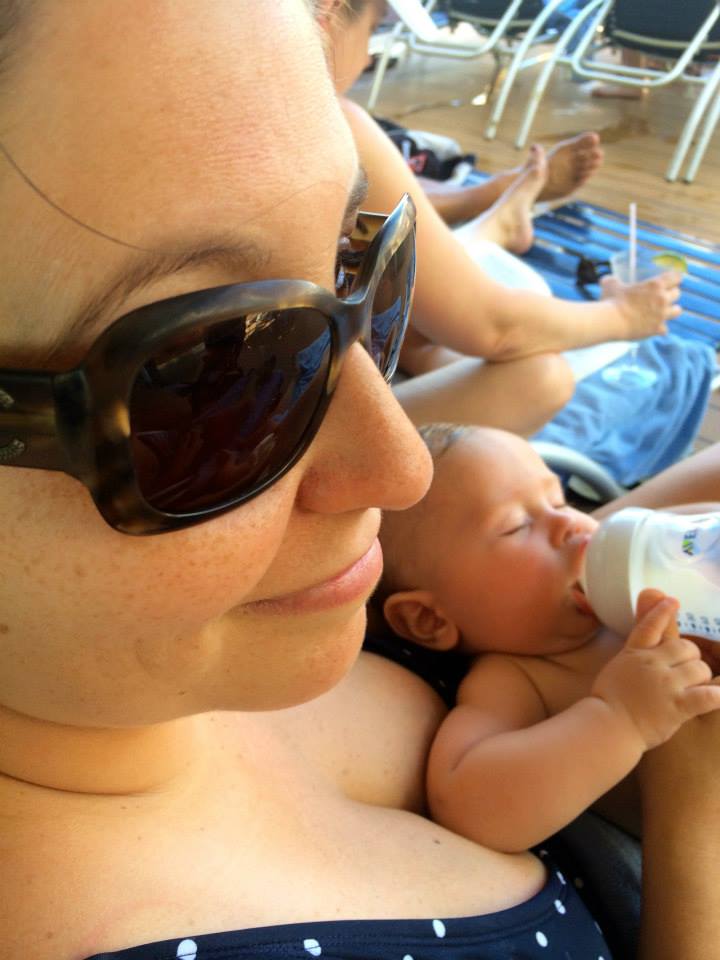 We had milk leftover from him being at the nursery earlier in the day so it gave us the chance to feed him on deck… he was out in no time!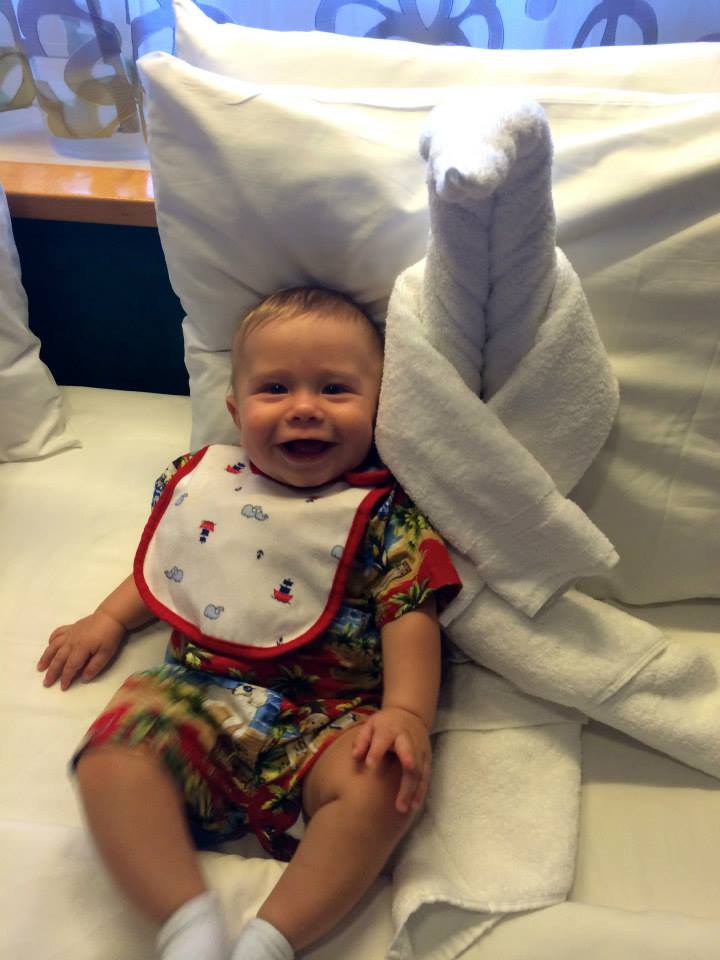 Ryder loved the towel animals each day!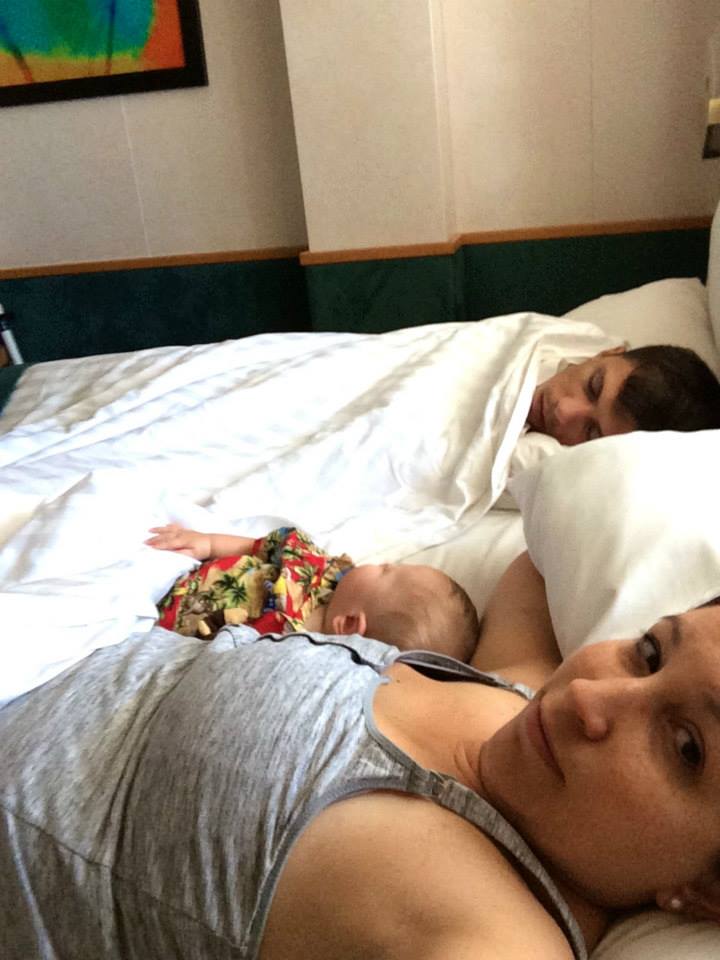 And one of the days we even took a family nap… a 3 hour family nap that is! It was awesome!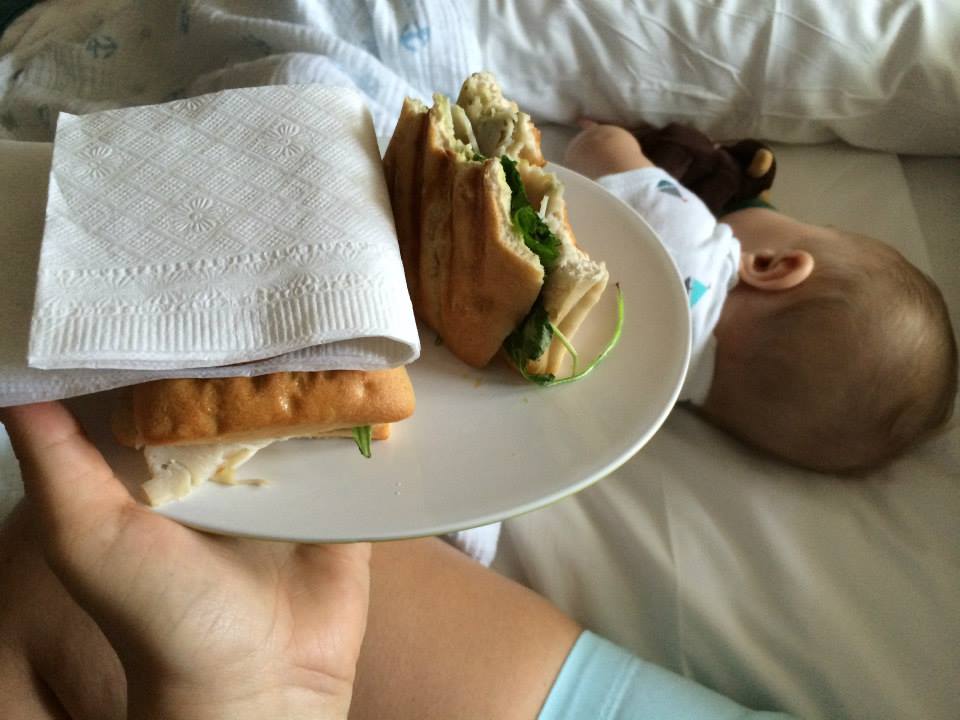 Of course remember you can always get room service or take food back to your room. That's what I did on the first day so he could get in a quick nap before the muster drill.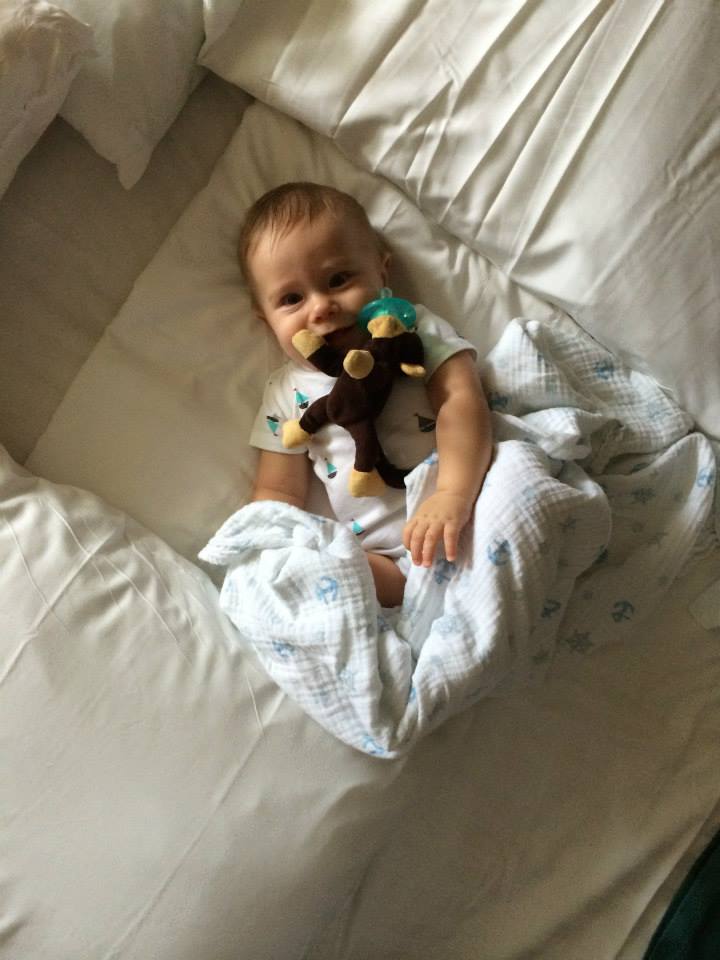 Oh and don't be afraid to improvise if for some reason your pack n' play isn't set up in your room on day 1. Our's wasn't so we just put him near the middle and placed pillows all around him. He wasn't moving too much in his sleep at that point so we were ok. Plus we were right there in the room.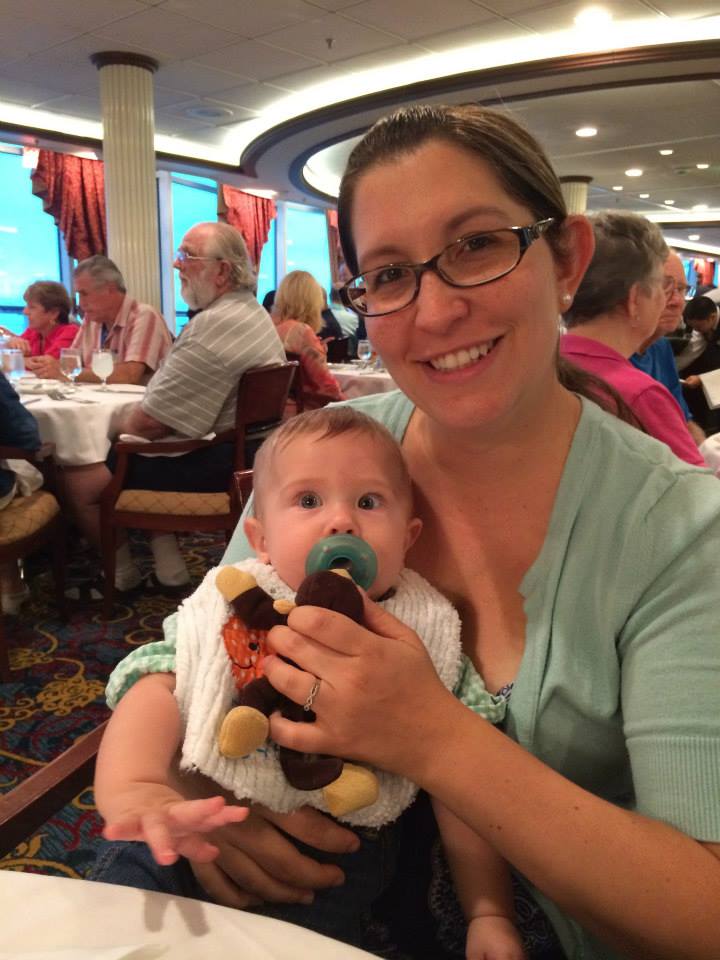 If you choose to take the little one in the dinning room with you make sure you have stuff to occupy them with. Unfortunately we didn't have nursery service on the first night because they opened up around 7 and knew it would be around Ryder's bedtime (little did we know that stinker was going to stay up extra late). So we took him to dinner with us. With little to no naps this kid was on meltdown mode. We spent most of our dinners walking around with him while the other ate in peace (and the others in the dining room didn't have to hear him cry).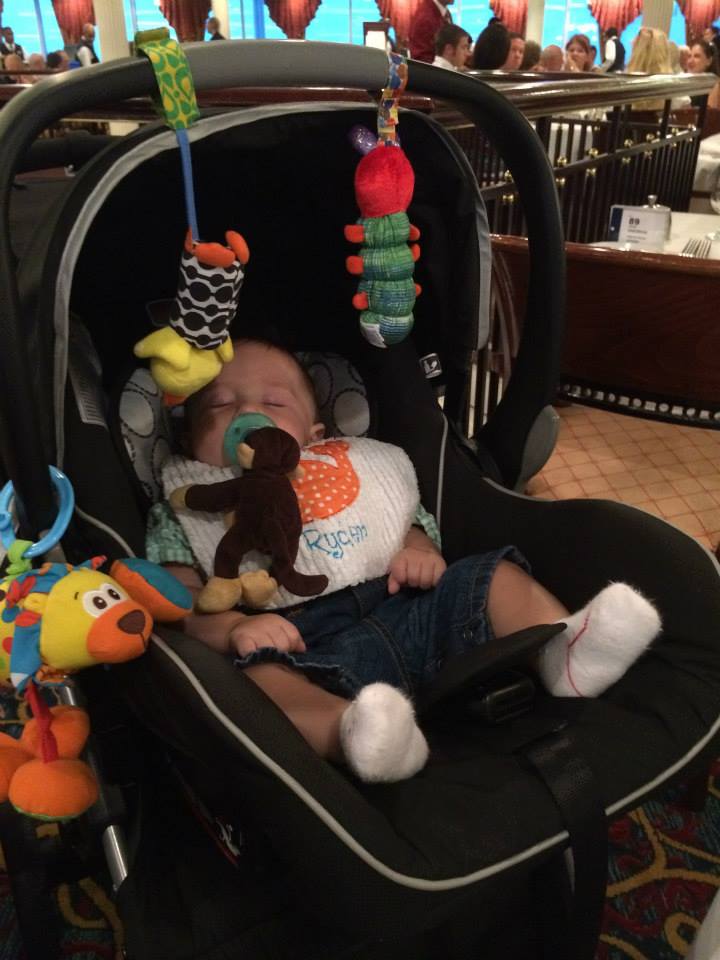 Jon worked his magic on him and he was out for the count allowing us to enjoy our dessert together!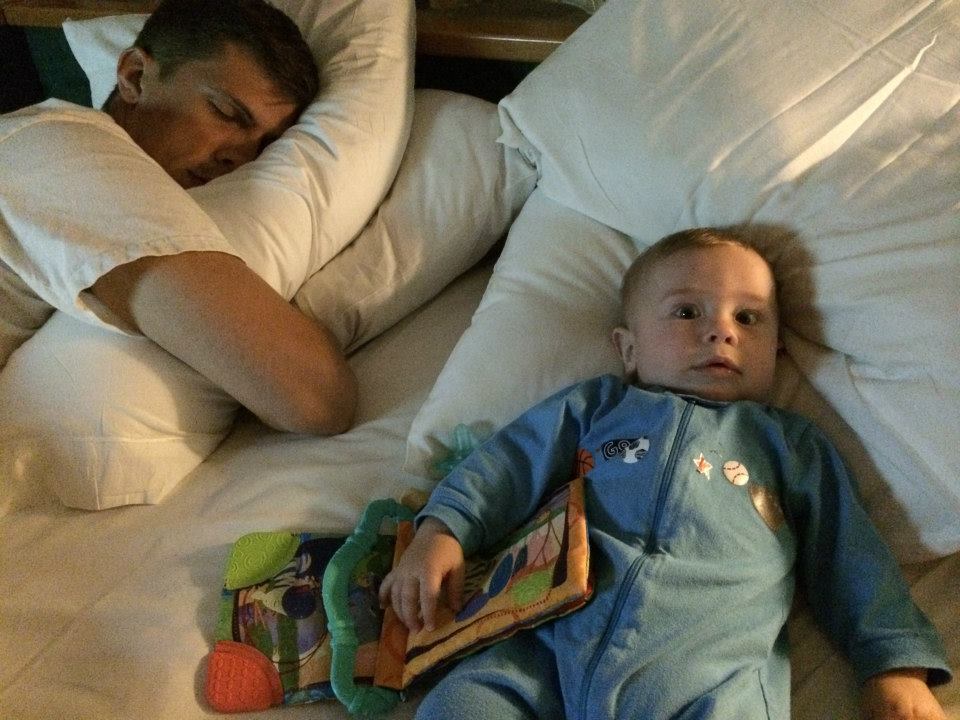 And then he was UP and didn't go to bed until close to 11:00 at night (totally unlike him). I think he was just ready to party. We tortured ourselves staying in the room. The following nights when he didn't go to bed right away we would throw him in the sling and walk around. It typically tired him right out!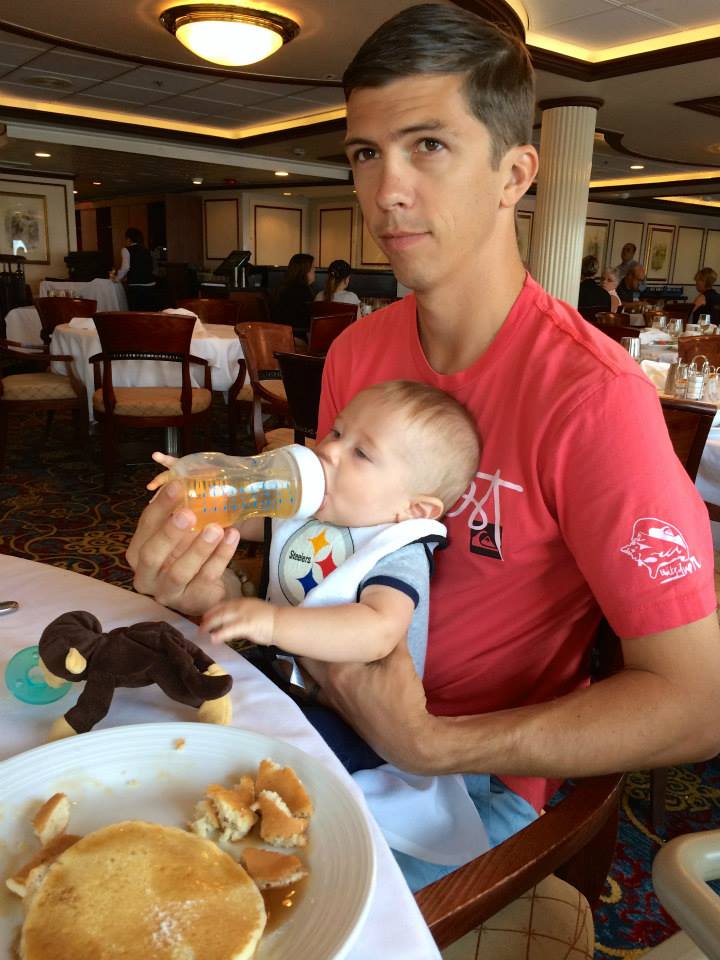 I prefer to do buffet breakfast at Lido. I find it's easier for each of us to take turns eating and entertaining the baby. Now that he is old we could totally all eat together. Jon insisted on eating sit down breakfast one morning and Ryder was not happy with that decision. You just have to do what's best for your family at the end of the day!
So if you are tinkering with the thought or planning a cruise with your 6 month old I hope our insight was of value to you. I know that if we were to cruise with Ryder right now at his current stage (crawling) he would be miserable because all he would want to do is crawl. Don't be surprised if you get dirty looks or rude comments. We had a few people who didn't understand why we would take a baby on a cruise. We even had an older couple get angry that he was being loud in the buffet area. You just have to ignore the haters.
We plan to cruise next fall when he is a year and a half and walking around. I'll have another update then to share how our experience went with that and how it might have differed from our 6 month experience. If you've ever cruised with a 6 month old and have advise that I didn't include in this blog post, please feel free to comment below.
Disclaimer: Their are affiliate links in this post. If you purchase from our links we will receive a percentage from your purchase.