For those that don't know Mr. Woodsy and I are heading off today for our "once in-a-lifetime" vacation that we've been planning for a very long time. We are going to Europe! Don't fret. While we are enjoying our vacation we've enlisted some of our favorite blogs and friends to share Fall and Halloween projects with our Sew Woodsy readers.
Our first guest blogger for us is Brittany from Pretty Handy Girl. We met Brittany in real life at Haven this summer and instantly fell in love with her. Mr. Woodsy couldn't stop talking about wood working projects with her and well Brittany and I just clicked instantly. So today she is here to show you how to make the worlds easiest Toilet Paper Pumpkins!
———
Fall's here! The temperatures are staring to drop in North Carolina and the leaves are slowly starting to turn colors. This is usually the time to change out my summer décor and bring in the warm colors of autumn. Creating toilet paper pumpkins is a simple no sew project that even the kids can help with! Give me five minutes and you'll be finished in no time.
But, before we get to the tutorial, I think some introductions are in order. Hi, everyone, my name is Brittany (aka Pretty Handy Girl).
I write a blog, called what else, Pretty Handy Girl! My blog is filled with DIY tutorials for building things (like my son's closet turned into a reading nook,)
or sewing things (like this bistro table cover-up,)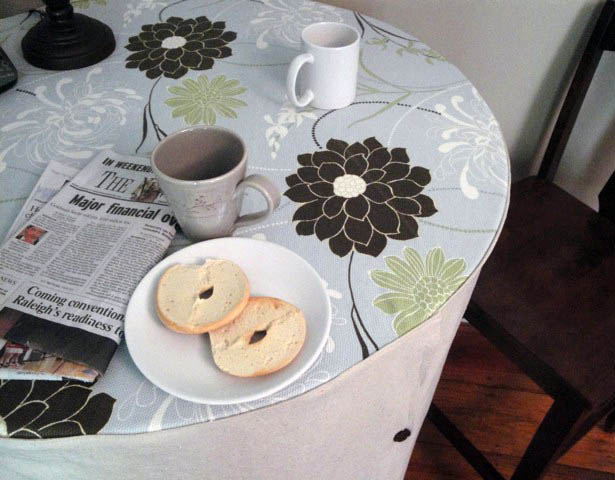 or fixing things (like replacing an old almond colored outlet)

and crafting things like this Goodwill sweater wreath.
Now I'll show you how to create these fun toilet paper pumpkins that take about 5 minutes or less to make! You'll spend more time gathering the supplies than you will creating it.
My sitter came over to make these pumpkins with my boys. I was a little skeptical when she asked for three rolls of toilet paper, but the results were so stinkin' cute!
Materials:
Toilet Paper Rolls
Fat Quarters of Fabric (or fabric scraps)
Sticks for stems
Ribbons
Tissue Paper
Scissors
optional: acorn, sweet gum tree ball, other natural elements and hot glue to adhere them.
Step 1: Lay out your fabric, and set your roll of toilet paper in the middle.
Wrap 1-2 sheets of tissue paper around the sides.
Step 2: Tuck one corner into the center of the toilet paper.
Step 3: Continue tucking in the fabric, folding any fabric under that won't quite meet the center of the toilet paper.
Step 4:
Fluff your pumpkin sides and work with the fabric until you have a nice round pumpkin shape.
Step 5:
Add your stick to the center. You can glue an acorn to the top, or tie your natural elements on using your ribbon.
Add ribbons or other embellishments if you wish.
Step 7: Enjoy! But don't tell your prim and proper friend that you have toilet paper on your dining room table! It will be our little secret.
Thank you to Katie & Jon, and the Sew Woodsy readers for having me over today. I hope you'll stop over for a visit and learn how to create this book page leaf garland:
Happy beautiful fall y'all!