This is a sponsored post on behalf of Martha Stewart Living.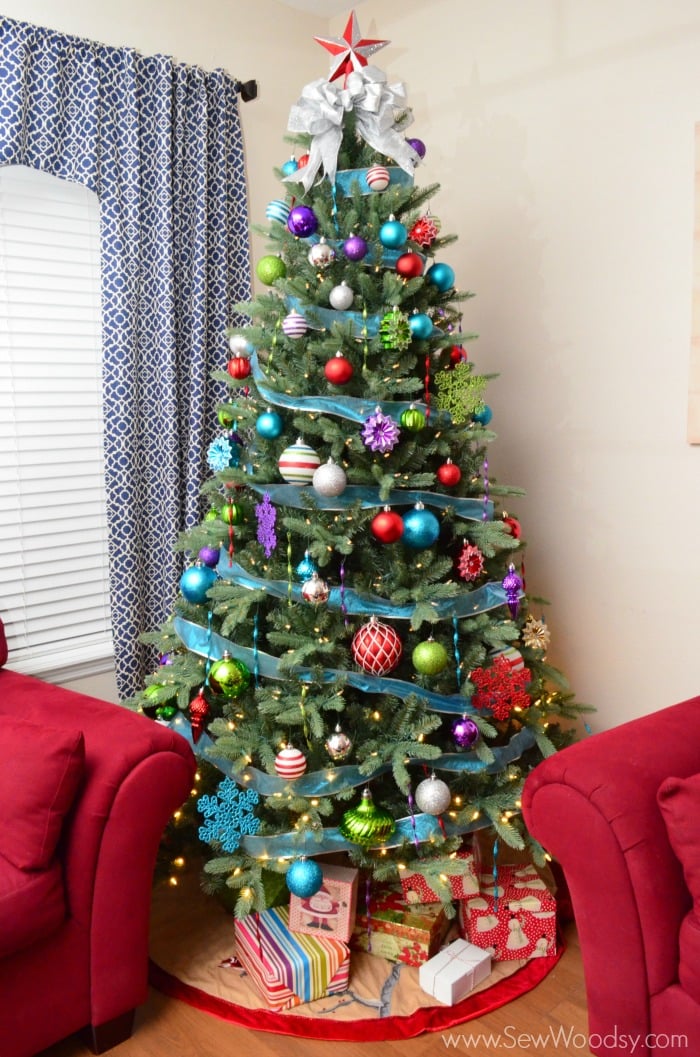 Last year, we had the opportunity to participate in a Martha Stewart Living holiday campaign– we decked our entry hall. And boy did we ever with all the amazing decorations we found at The Home Depot. This year we got a similar opportunity except this time we were decorating a Christmas tree. We've talked about getting a new tree for a few years now–our current artificial tree was a slim pine and was over 7 years old. Not that anything is wrong with it, we just wanted a larger tree. So when our friends over at Martha Stewart Living sent us this Martha Stewart Living 7.5 ft. Feel-Real Artificial California Cedar Christmas Tree with Clear Ready-Lit Lights we were over the moon excited. It was exactly what we wanted, a fuller tree. And let me tell you–artificial trees have come along way since the last time we purchased one. Gone are the days of the itchy branch. The one thing I hated about decorating our tree was the way it felt. Now, I have no problems touching this tree!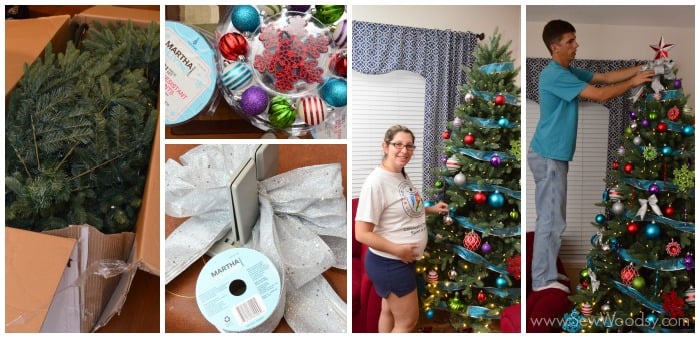 Our tree and ornaments arrived on Halloween day. As soon as we had Halloween put up (just a few short days later) we started decorating for Christmas. In past years, Christmas has been neglected in our home, but not this year. I think its because we didn't spend all of our time and energy on Halloween. We received the Martha Stewart Living Jingle Brights Assorted Christmas Ornaments with Tree Topper (100-Pack), Martha Stewart Living Jingle Brights 100 mm Christmas Poinsettia Ornament (6-pack), Martha Stewart Living 30 in. Tiffany Gold Cedar Artificial Wreath, Martha Stewart Living 30 ct. Warm White LED Battery Operated Snowflake Light, Martha Stewart Living 56 in. Ivory Velvet Birds Christmas Tree Skirt, and an assortment of Martha Stewart Living ribbon!
We wrapped ribbon around the tree and then I used my Bowdabra to create the gorgeous layered bow! Me and my big pregnant self (at the time I was only 19 weeks) hung ornaments and I tasked Jon with putting the star on top of the tree. Which by the way, I do not recommend standing on the arm of your couch. Multiple times I though he was going to fall right into the tree. Not the safest way to put up a star.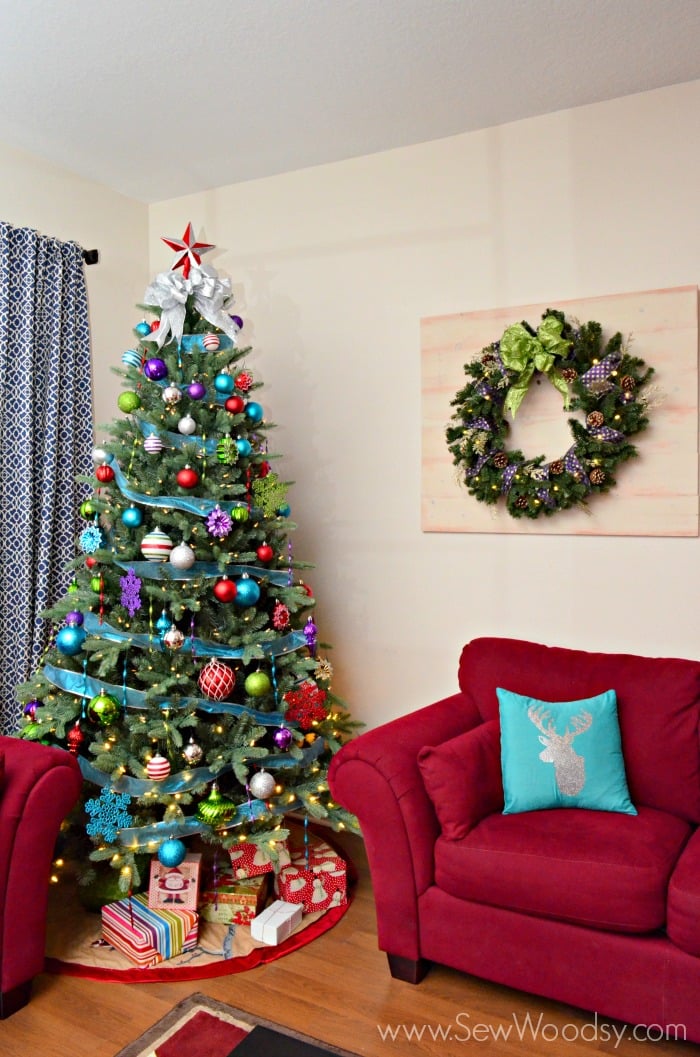 We love the Jingle Brights collection. It's fun and festive and totally different then what we normally decorate with. Our normal color scheme is red and gold with hints of brown and silver. It was nice to change it up this year and get something colorful! We also changed the area where are tree resides. In past years we have put it in our living room, this year we put the tree in what would be considered our formal living room. Although, its far from formal and I typically refer to it as "pool table room" or our "front room".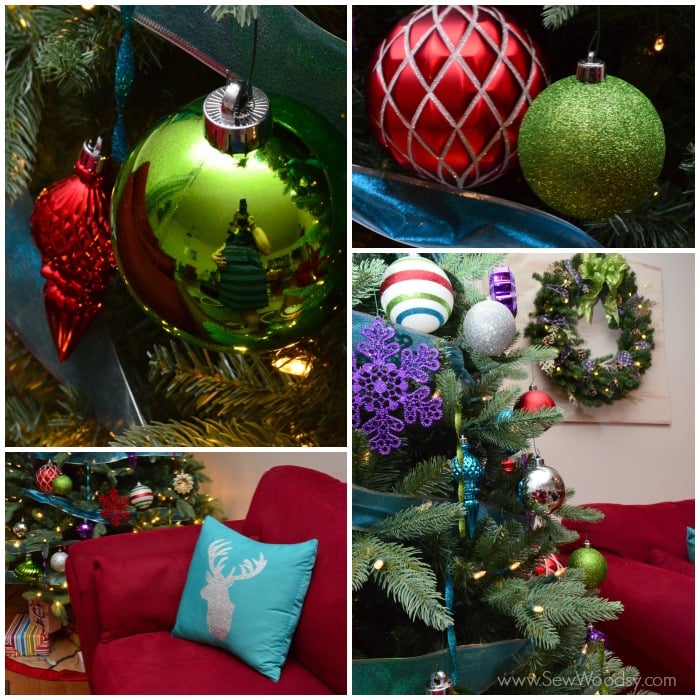 Our bright red couches and dark blue curtains went perfect with the Jingle Brights collection! I loved the variety of ornaments that this collection brings. And you can kind of see my baby bump in the reflection of the green ornament!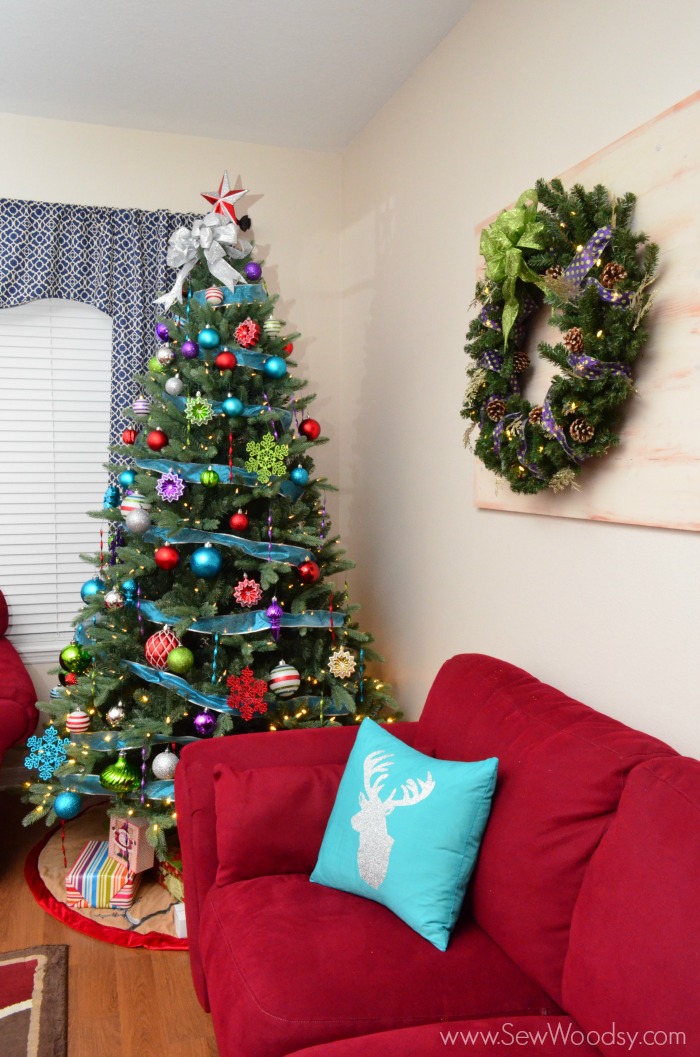 And of course I got craft and created that super cute buck silhouette pillow and the wreath art. I'll be sharing those tutorials this week. Both are super easy projects that anyone can do!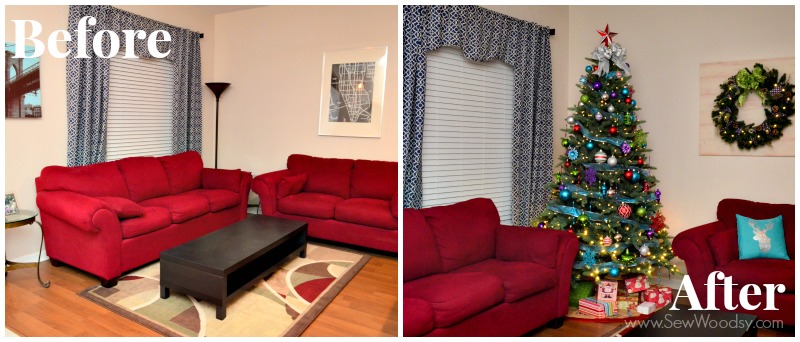 So what do you think about our before and after!?!? Pretty dramatic, right? I love our home more when its decorated for the holidays!
What is your Christmas decorating style?
Disclaimer: This is a sponsored post on behalf of Martha Stewart Living. I was compensated to share my Christmas tree. We Love Martha Stewart Living products! As always all opinions are our own.