Today's first guest of the 12 Days of Handmade Ornaments is Vivienne from
The V Spot blog.
I'm so excited she is sharing her monogram ornament with us today. She likes to up-cycle and find inexpensive things to turn them into amazing crafts!

Hi Sew Woodsy readers!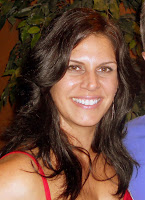 I'm Vivienne from The V Spot and I am so pleased to be here today!
I'm going to show you how to make the World's Easiest Monogrammed Ornament.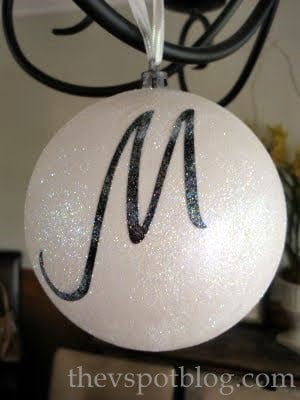 Take horrible, plastic, over-sized ornaments from the Dollar Store….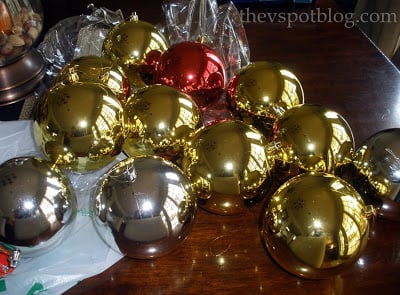 Spray paint them. I really like the black and white the best, but you can do any color you'd like.
To make the monogrammed letters, I used a Cricut (with calligraphy cartridge) and black cardstock.
I watered down a little ModPodge in a shallow dish, then floated the cut letter in there for a moment or two. It made the cardstock more pliable. Regular paper was a bit hard to work with. (If you wanted to, you could use vinyl.)
Then I just placed it onto the ornament, tapped it down with my finger. Once it dried, I put a coat of ModPodge (non-dilluted) over the whole thing and sprinkled it with glitter… A spray adhesive would work too, but I like Mod Podge for this project the most.
You could also use a stencil and paint the letter onto the ornament.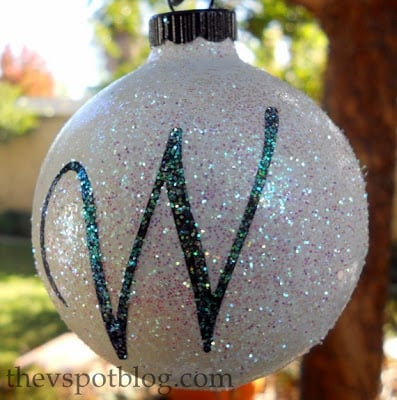 You can use smaller ones as embellishments on Christmas gifts, wire them onto wreaths, make a garland that spells out a holiday word or phrase… there's lots you can do with them. Have fun and happy holidays!
Thanks for having me Katie!