Today's guest for the 12 Days of Handmade Ornaments is Carolyn from Homework! I strongly encourage you to visit her blog if you have never visited before! She does some amazing craft projects. I love her style–super clean and always unique! She is so creative, and that is why I invited her hear today!

I'm Carolyn from homework – I post about crafts, diy, home décor, gardening, food and all types of creative inspiration. The name homework was originally the name of my marketing consulting business since I worked from home. When I started blogging, I kept the name since it still fit. I've always loved being creative and blogging has opened a whole new world of creativity for me.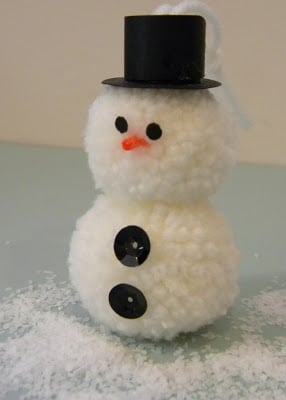 I'm so happy to be here at Sew Woodsy for the 12 days of Handmade Ornaments. I love making and collecting handmade ornaments. It makes a Christmas tree so personal and unique. The ornament I'm sharing with you is one of my favorites – a pom pom snowman.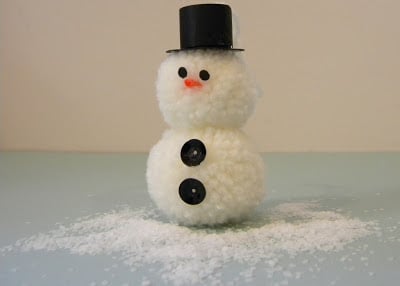 If you need a tutorial on how to make a pom pom, you can find one
here
.
To make a snowman, just make two pom poms, one slightly smaller than the other. I made the hat and eyes out of black cardstock and the nose out of orange cardstock rolled into a tiny cone. The buttons are black sequins.
You can use your pom pom snowman as an ornament or tie it onto a package to make someone's gift extra special.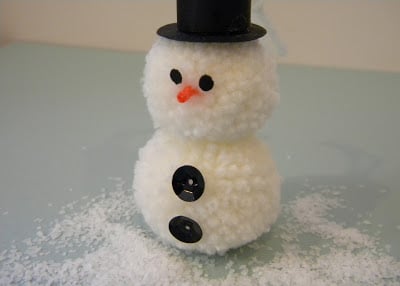 This little guy is ready to hang on the tree but for now, I'm going to leave him in his little snow flurry since he seems so content.
Thank you so much Katie for having me over at Sew Woodsy.