Learn how to make a last minute Personalized Burlap Trick or Treat Bag for your little one for Halloween using your Cricut!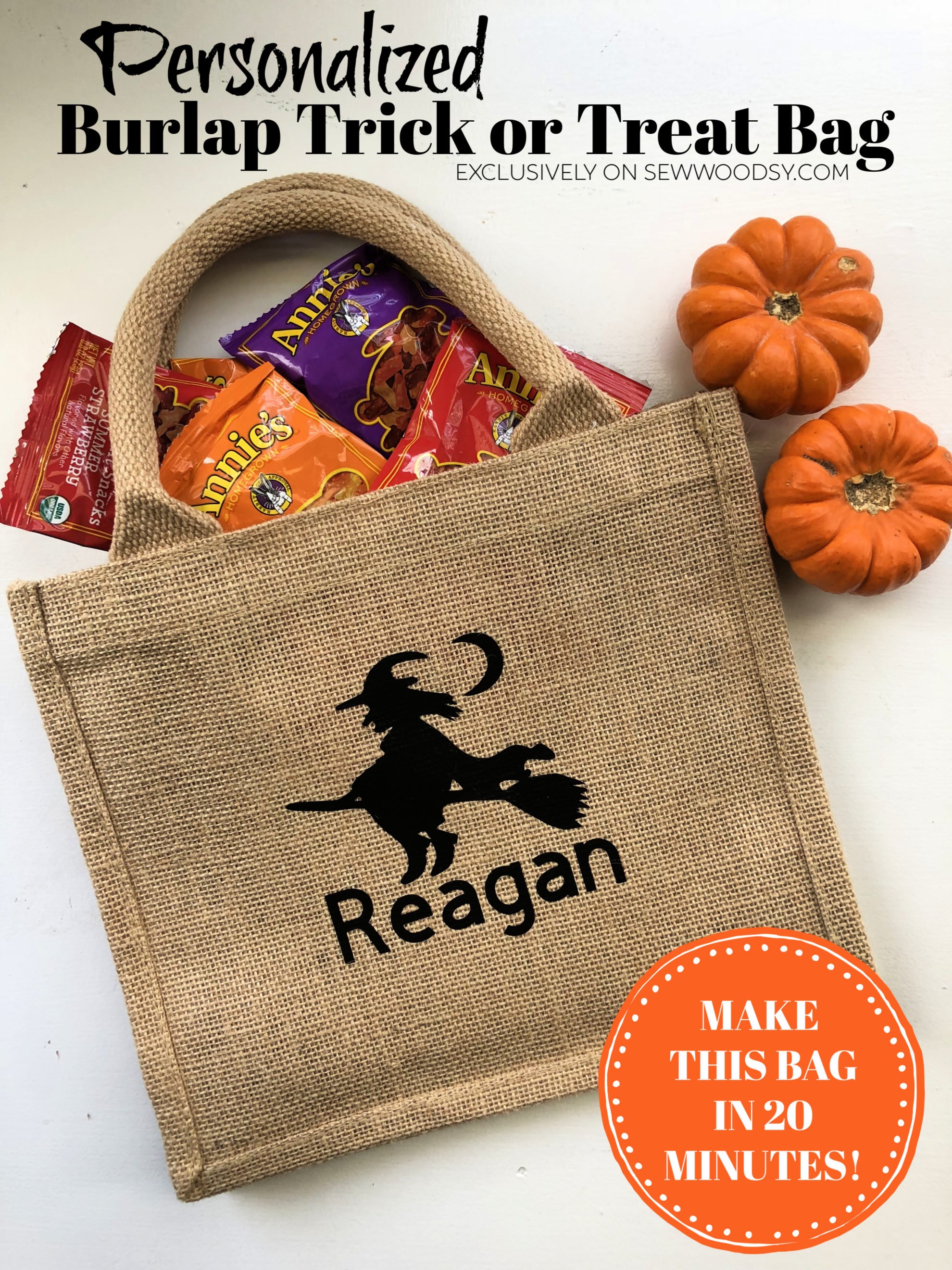 I made this adorable personalized burlap trick or treat bag for my daughter last year. I whipped it up in less then 20 minutes a few days before Halloween. I forgot that she didn't have a trick or treat bag and wanted something custom that she could use for many years to come. I loved how durable and sturdy the bag seemed, so I ran with it. I picked this bag up at Hobby Lobby, but you can also find a similar one (for more money) here on Amazon.
Supply List for Burlap Trick or Treat Bag:
Cricut Design Space with Personalization File
Cricut Mat
Cricut Black Iron-On Vinyl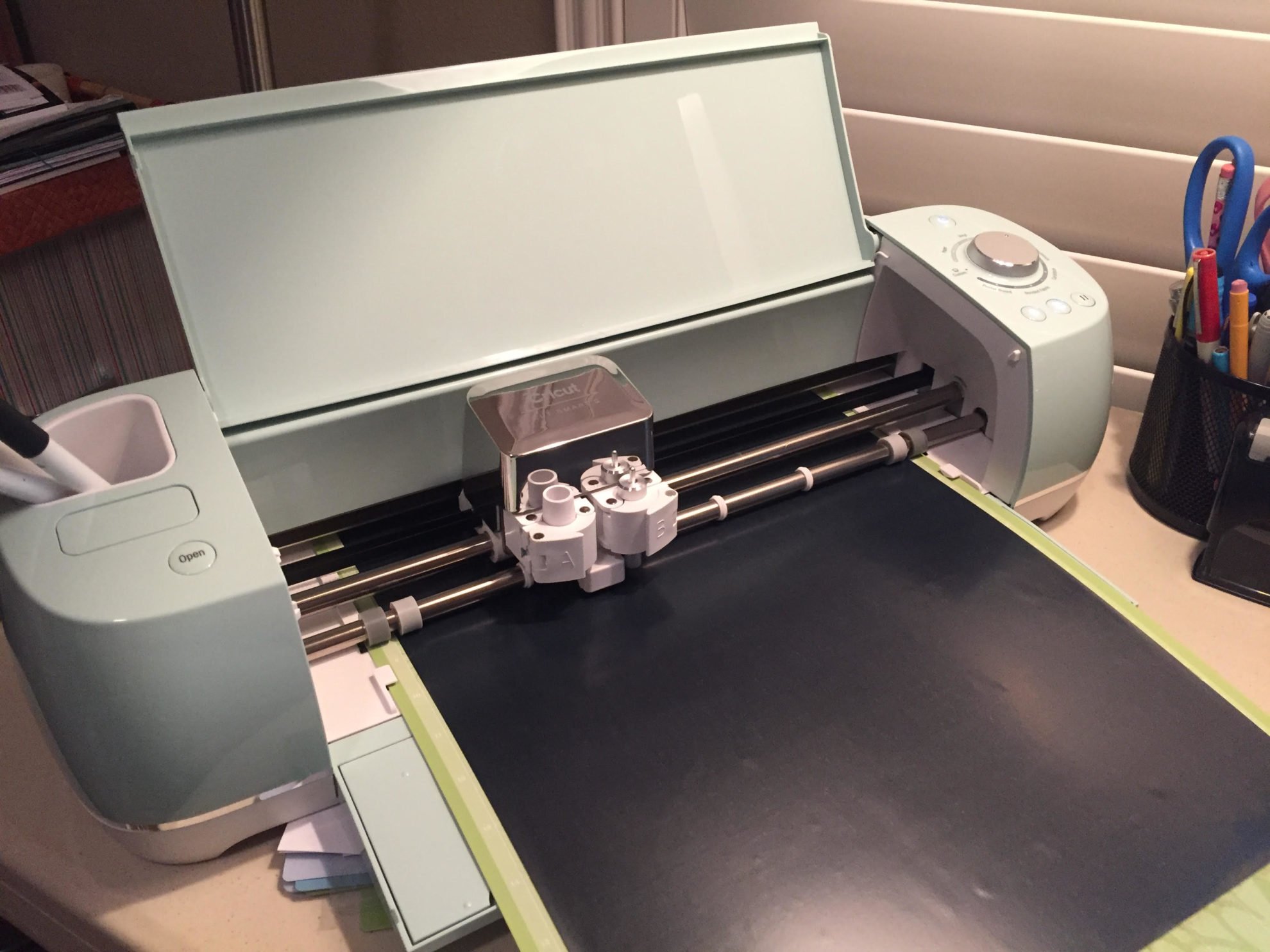 First, cut out your image on your Cricut. Remember you are cutting Iron-On vinyl so you want to make sure you face tthe shiny side down and mirror your design before cutting!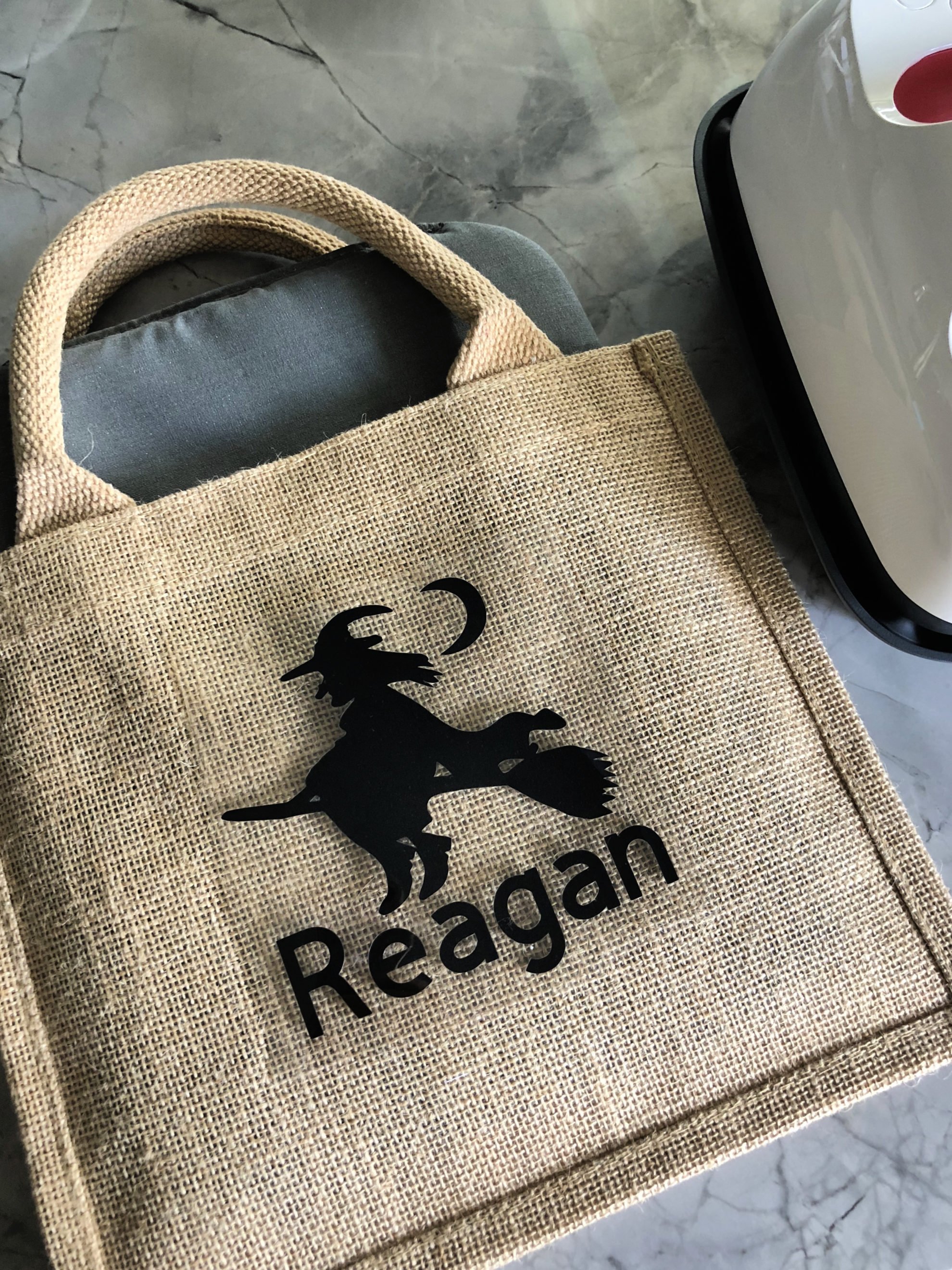 Once your image is cut, weed the negative from the design. Then once your done weeding design it's time to press the image. I kept it one color to keep things simple. Loved the simple silhouette of the witch!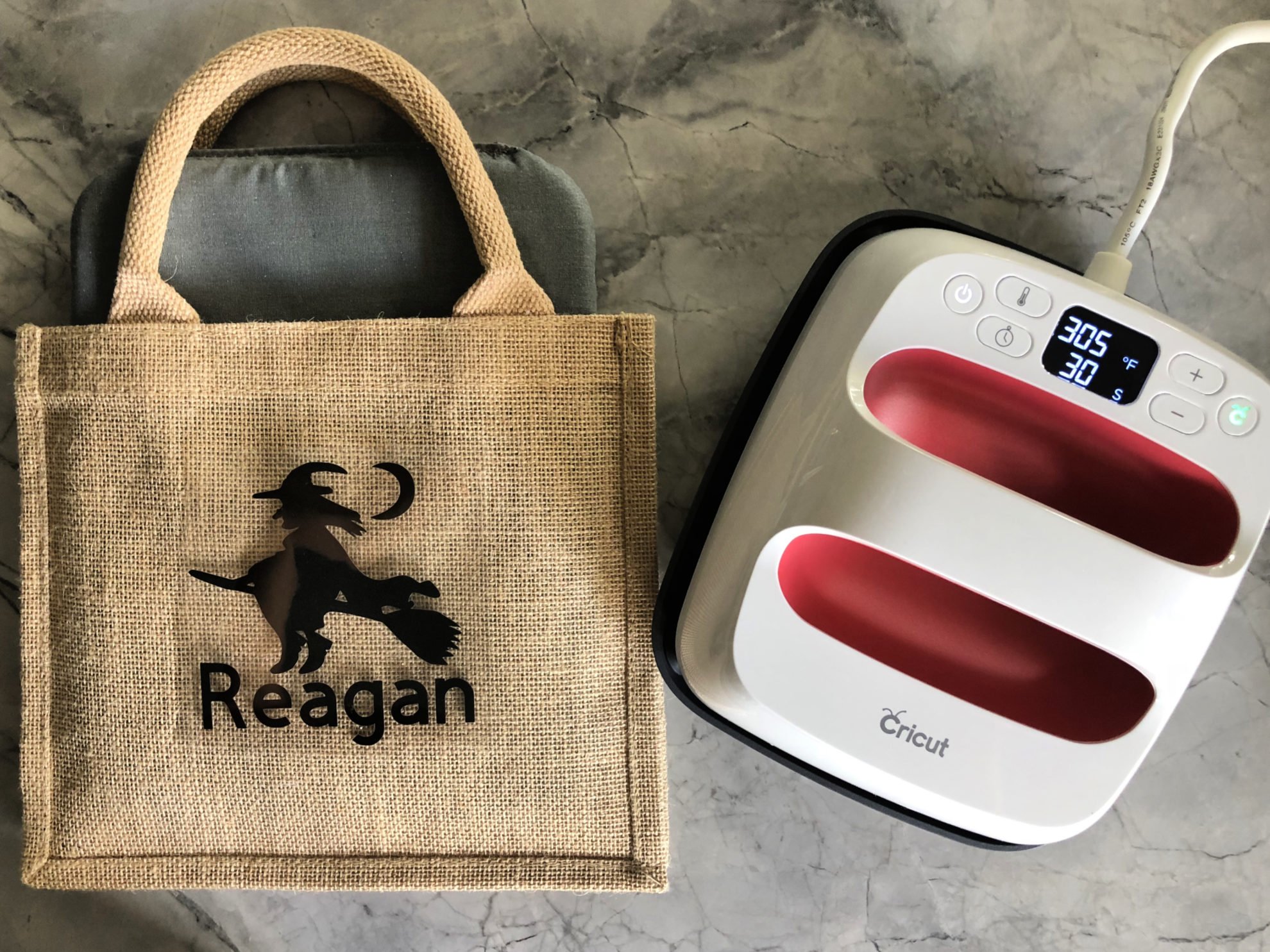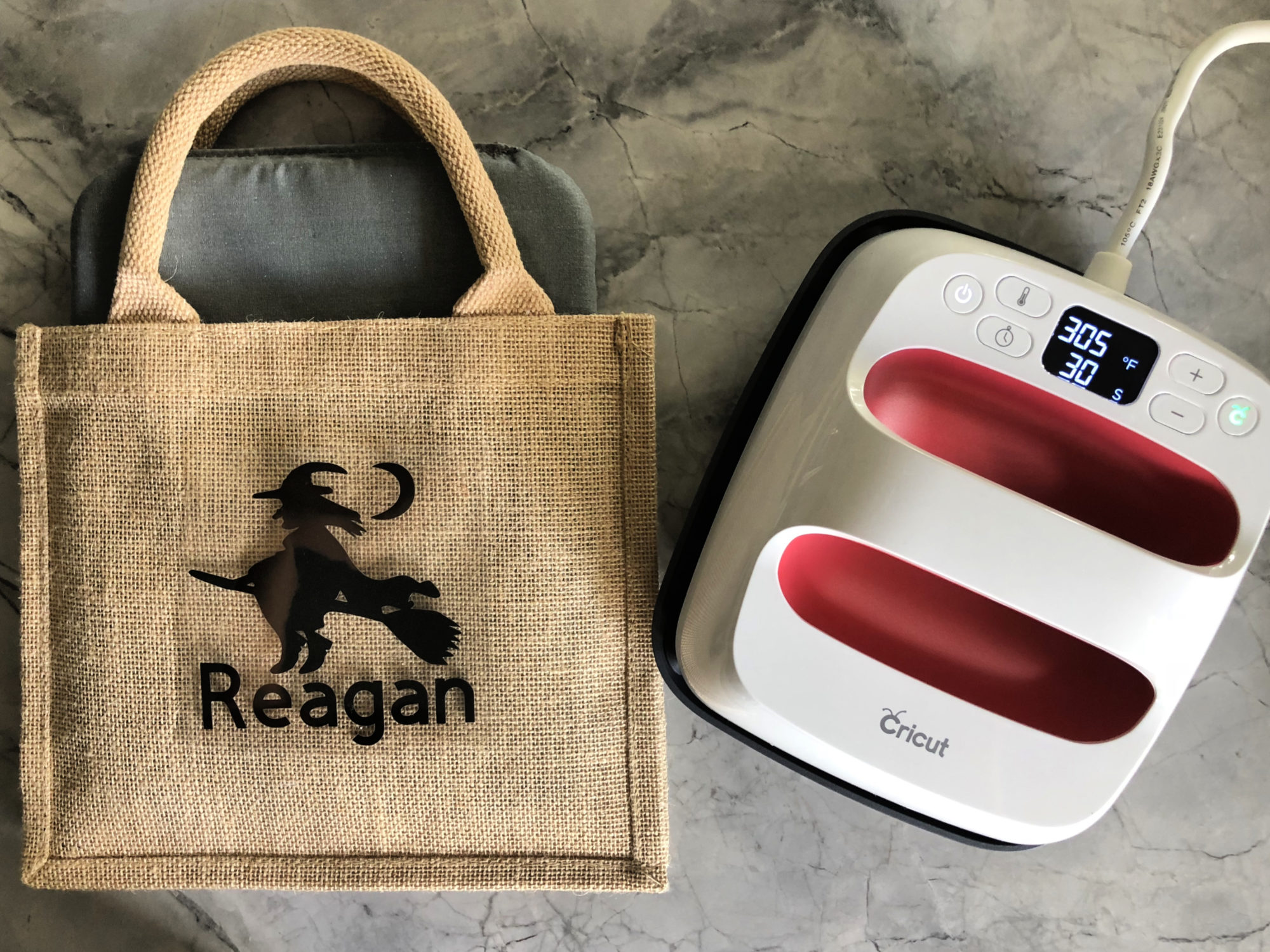 Heat up the Cricut EasyPress 2 (6×7) to 305 degrees. You will want to press the burlap first for 5 seconds, then press for 30 seconds with the Cricut Iron On Protective Sheet. Flip burlap over and press for an additional 15 seconds. *Always refer to the Cricut EasyPress Heat Guide when working with any materials.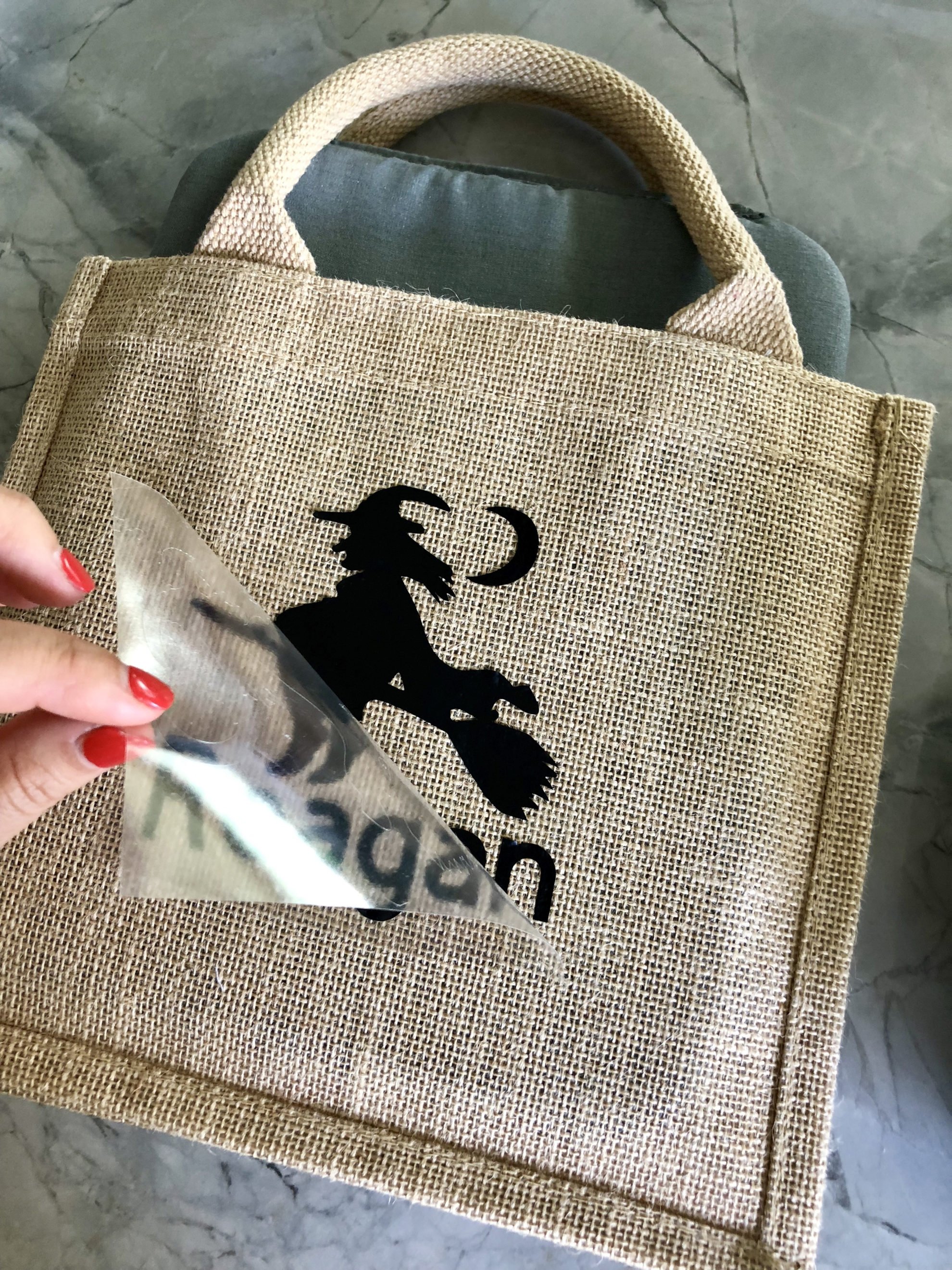 Let it cool just a little then do a warm peel. After you peel the plastic covering off it. I like to place the Cricut Iron On Protective Sheet and press again for another 10-15 seconds. I find this especially helpful when creating with burlap.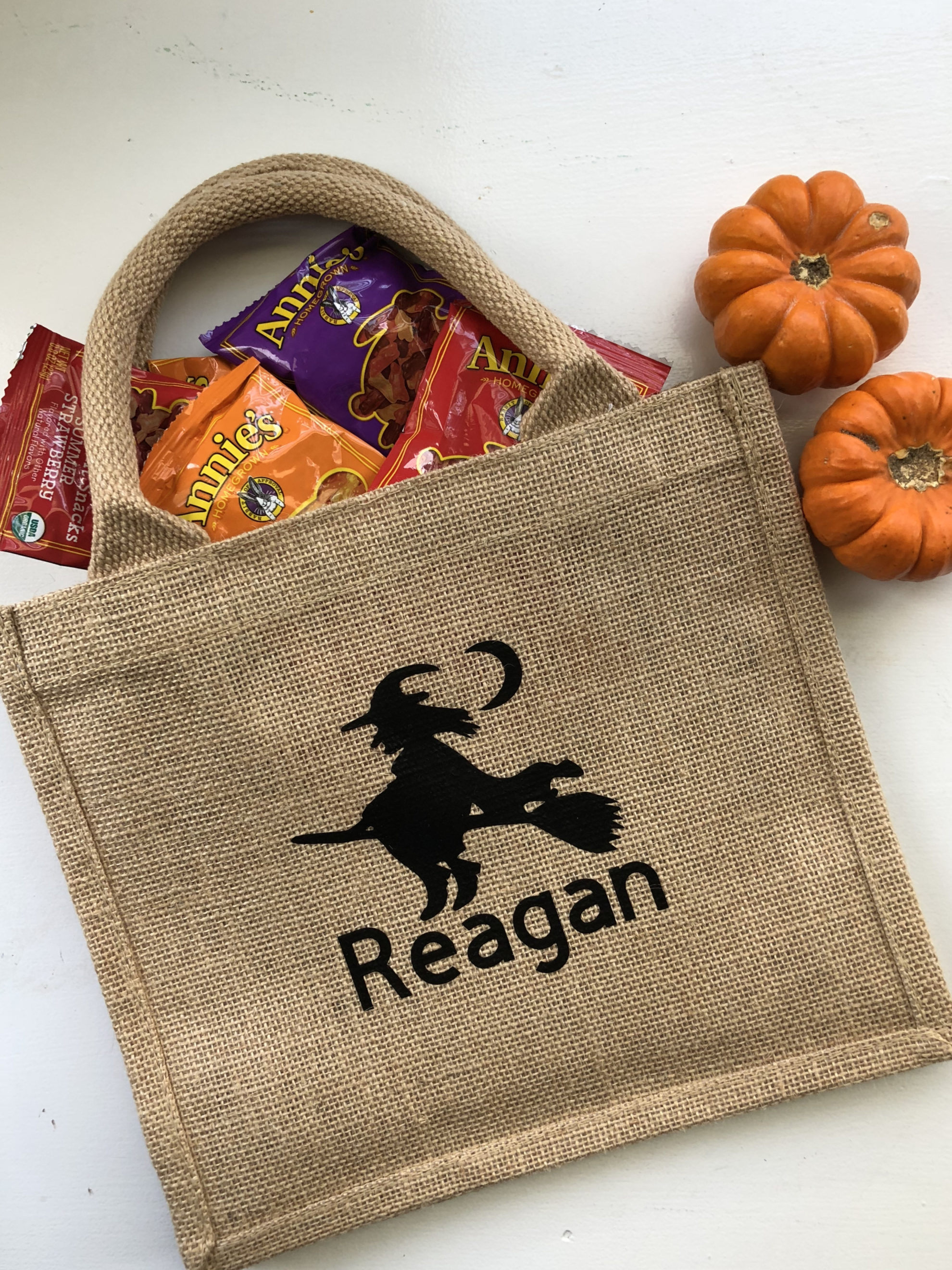 In less then 20 minutes you have a personalized burlap trick or treat bag! Of course, you can change up the image you want, but this gives you the idea of what the possibilities could be.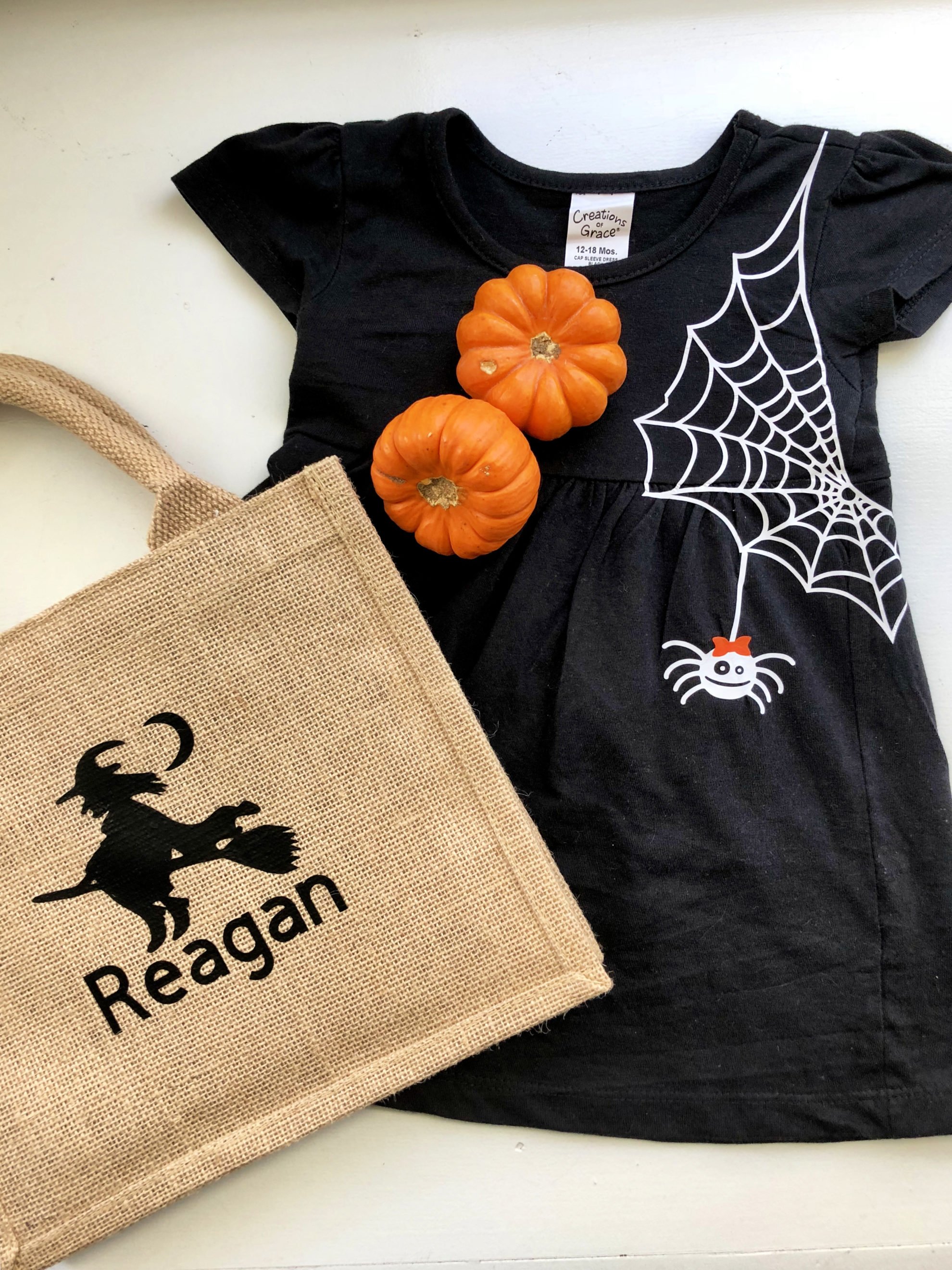 Here is the Toddler Girls DIY Spider Web Dress I made for her last year! It was super cute and also whipped together last minute!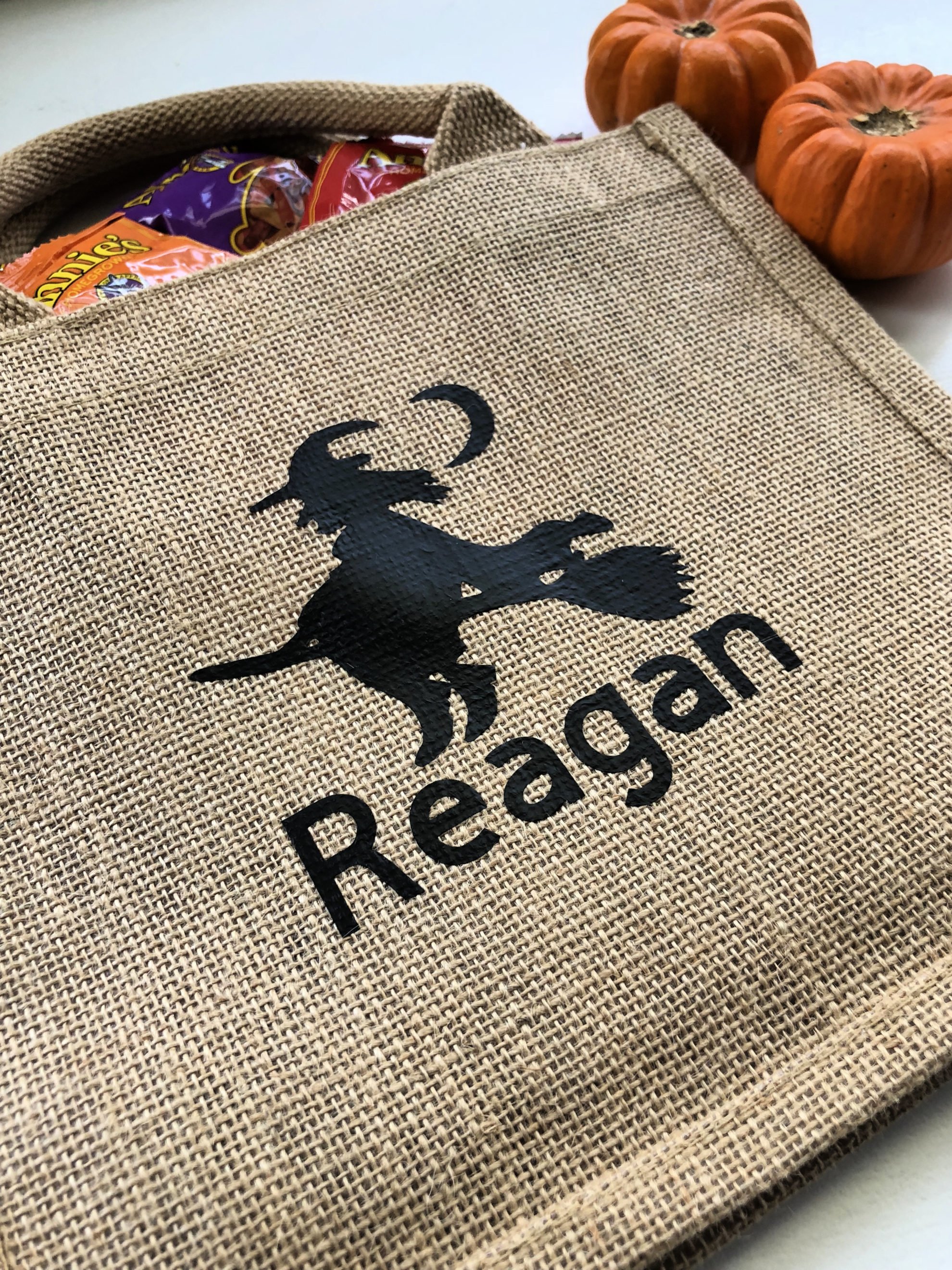 I love how you can see the burlap patern through the Iron-on vinyl.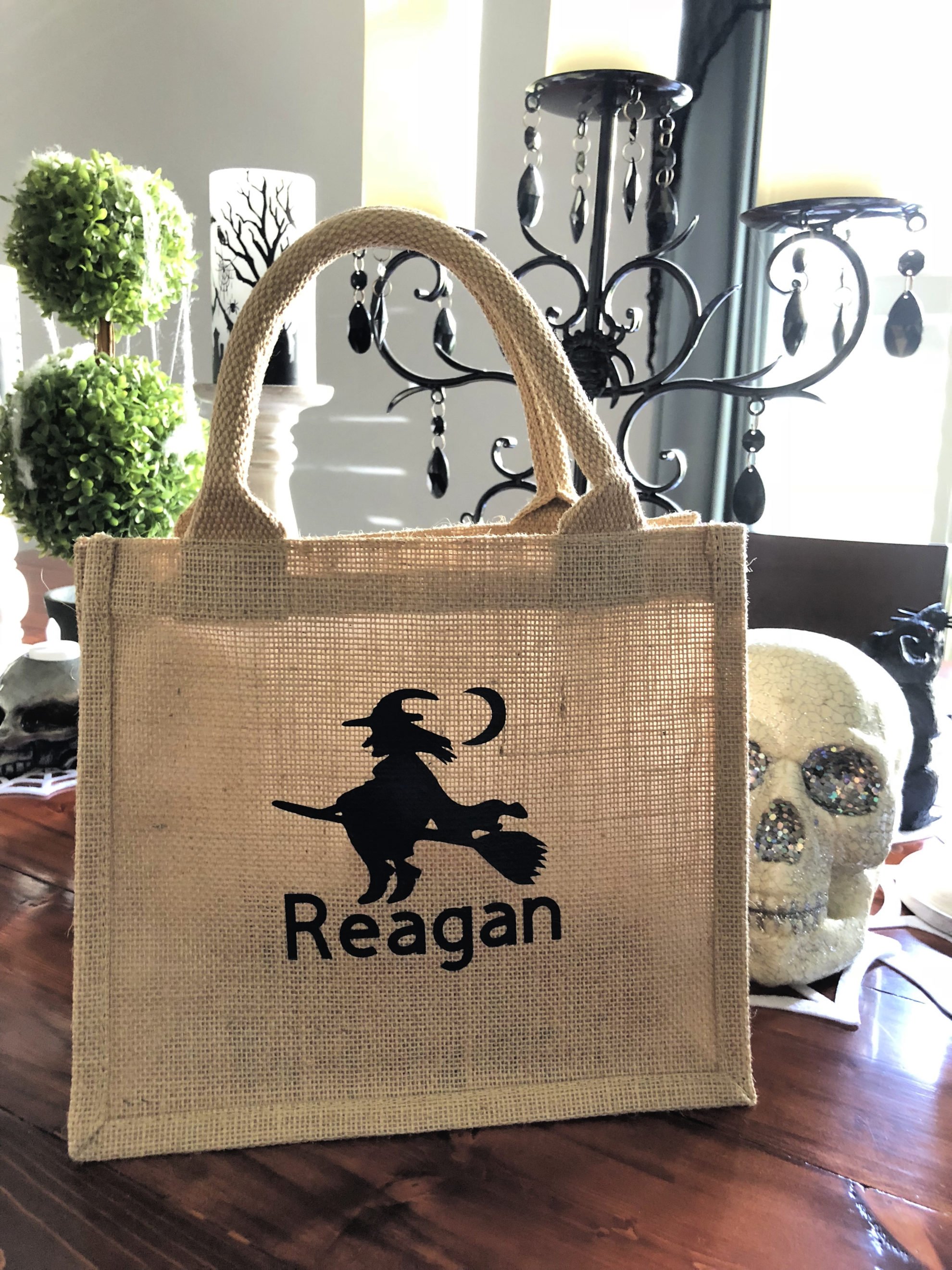 This little witch is ready to go trick or treating!
Cricut Deals
If you are in the market to buy a new Cricut or supplies here are a few deals I have exclusively for Sew Woodsy readers!
Disclaimer: There are affiliate links in this post. That means, if you click on a link and purchase something from it we will receive a small percentage of the sale at no additional cost to you.